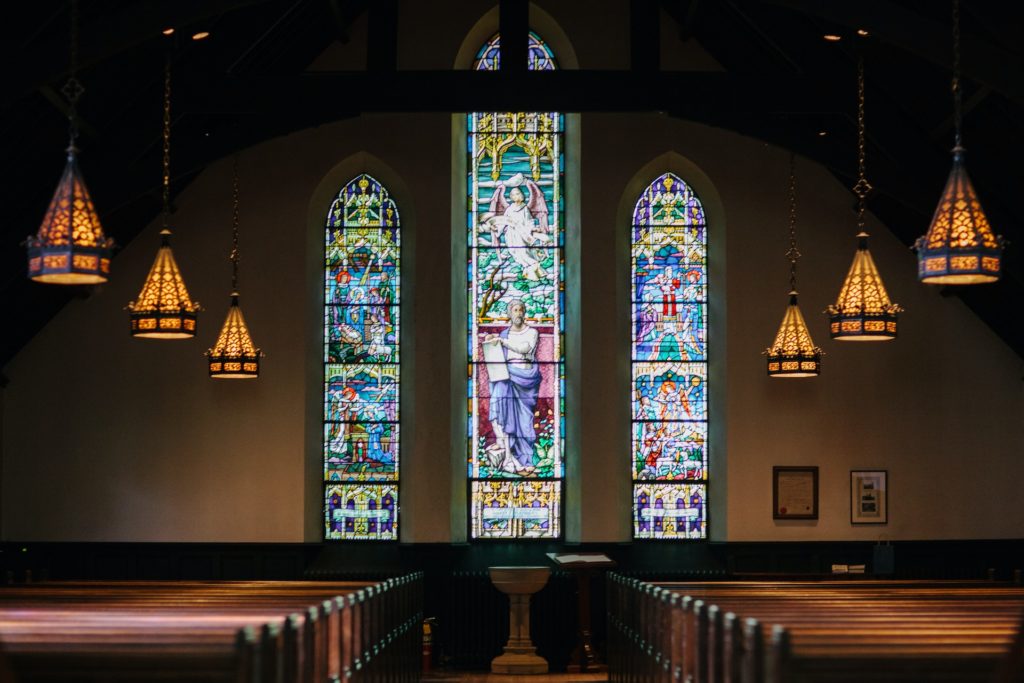 By Lauren H. Dowdle
A church's goal is to engage with people, but that shouldn't be limited to when they are there in-person. To expand and improve the religious organization's reach, start incorporating these best practices into your church email strategy.
1 Ask for emails
You can't engage online with members, guests and the rest of your digital audience if you don't have their email address. Regularly ask people during services and events to register their attendance and submit their email address—whether that's on a slip they fill out in person, a QR code they scan, via your organization's app or on the online form.
This is also a good opportunity to ask them questions that will help you better segment them in your email lists (more on that below). Telling them what they will receive—like the church newsletter and events calendar—can encourage them to sign up, as well. Be sure to follow up with valuable content and resources to keep them subscribed, like these family resources:
2 Segment into lists
The more targeted the email content, the better the engagement will be. The best way to achieve that is by segmenting your email lists. You can create lists based on the contacts' interests, ages, children's ages, involvement, and other information you've gathered on them. Then, craft emails just for each of those lists.
For example, send parents information about upcoming events for kids, or let senior adults know about ways they can specifically get involved. You can also personalize the emails by adding their names to either the subject line or email body. Show your audience you know (and care about) them.
3 Create base template
Designing an eye-catching newsletter shouldn't require HTML or technical experience. So, choose an email service provider that offers a variety of templates and intuitive drag-and-drop design tools to craft an engaging email. Then, plug in your organization's logo, colors, content, photos, and links to make it your own.
Once you have the template in place, you can swap out the text and images as needed for future emails—streamlining the process going forward and helping subscribers recognize your emails.
4 Share what you believe
People want to be a part of groups and churches that share their same beliefs, so let them know what your religious organization is all about through email campaigns.
For example, send messages that share what your church believes, how it supports its members and the community, and ways they can get involved. You can also feature different staff members (their backgrounds, experience, families, etc.) to give a face to the organization and make those beliefs more tangible.
5 Send event reminders
Keep members in the know with emails about upcoming events. Tell them what the event will include, the date/time, why they should attend, who's invited (ex. certain ages), and where it will be held. Also, include links for each event so they can click through for more information or to sign up, like in this example: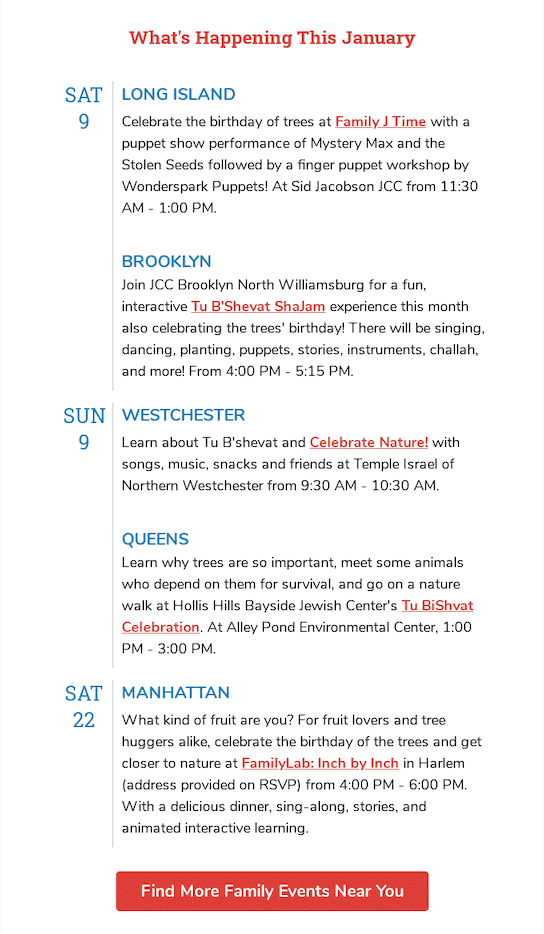 Subject lines like, "Don't miss these events in [Month]" or "Registration for [Class/Event] closes soon," will catch their attention so they open the email. Event email campaigns are some of the most engaging for religious organizations and other industries, so make them a regular part of your marketing strategy.
6 Feature members
A church isn't a building—it's the people in it. Share their stories, updates and prayer requests with the entire organization. Whether you have a handful of members or thousands, featuring them in the email marketing campaigns will help them all connect. People like seeing and reading about others, so this approach will also improve your email metrics.
You can do this with Q&As from the staff, articles about something interesting a member did, or news from a missionary or group. If the content is more than a few short paragraphs, link to the rest on your organization's website. Too much text in an email will overwhelm them, and having the link will also drive site traffic.
Also, be sure to include photos of whoever is mentioned in the email, and encourage subscribers to submit their stories or nominate someone else to be featured. Include a call to action (CTA) in the email to make it easier for them to submit, and make sure you're not sending from a "no-reply" address.
7 Use photos
Give subscribers a reason to open your organization's emails by including photos in the design. Images from church events, mission trips, or something fun going on in the children's department are great for emails. People want to see if someone they know is featured, which will improve engagement. Also, the photos break up the text, making it easier for them to read.
The best images to use are original ones—meaning photos of real people from your church (as opposed to stock images). Encourage members to submit their photos from events so you have plenty to choose from.
8 Ask for contributions
Religious organizations depend on tithing and contributions, so don't be afraid to encourage giving in your email marketing campaigns. Include a CTA at the bottom of the email like a "Give Now" button that links to where they can contribute online, or include a list of ways they can give (ex. mail to address). Here's an email example from Passion City Church.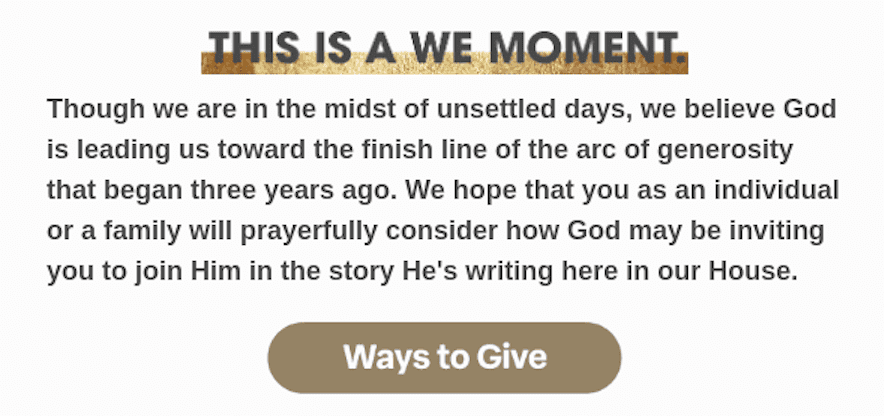 If there's a special ministry, event, or project you're raising money for—like a holiday offering, student trip, or family—send a specific email to raise awareness. Tell them how much you need to raise, what the money will be used for, and include photos of people it will help support.
9 Stick to a schedule
Consistency is key when it comes to email marketing campaigns. A church newsletter that's sent on the same day each week is a good place to start. Members will begin anticipating the email, which will improve their engagement.
Then, build your schedule out from there with other types of campaigns, including holiday messages, staff features, targeted content for each list, and event information. Schedule out your campaigns to take away the stress of remembering to send them on time. That also allows you to plan out content for the future.
10 Test email components
From topics and subject lines to when you send the emails, find what works best for your congregation using A/B testing. These split tests involve sending out two different versions of the same campaign to see which elements perform best. The more you test, the better you can craft a winning email marketing campaign for your audience.
Robly offers A/B testing—along with the other intuitive tools you need to create, send, and engage with your church members. Start incorporating these tips and tricks today!