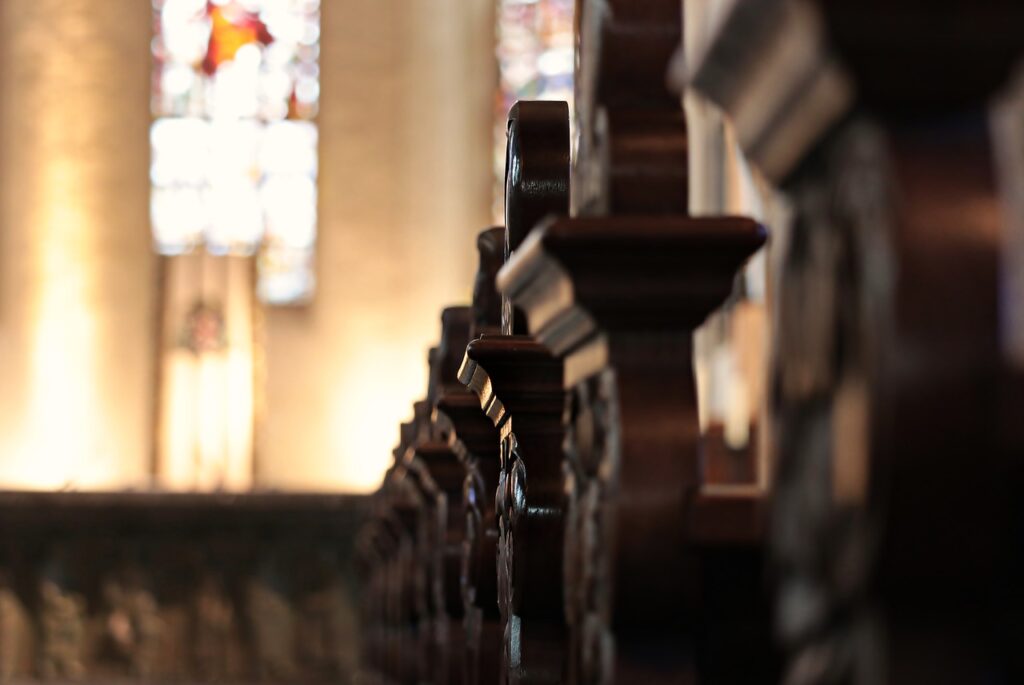 Whether you're a church wanting to keep members updated or a religious website sending daily devotionals or content, crafting an engaging email marketing campaign can help you effectively reach your audience. However, not all email campaigns are successful, so it's important to find what works best for your organization and subscribers.
Luckily, you don't have to go at it alone. We've put together nine of the best and worst examples of religious email marketing campaigns to show you what does (and doesn't) work.
Best Examples
Some organizations make sending an engaging campaign look easy, and that's when you know they've done a great job with it. Here are some examples of good religious campaigns—and what we love about them.
Aish
Email campaigns should catch the reader's attention, clearly show who it's from and provide valuable content—which are all things this email from Aish achieves. They used a cohesive, eye-catching template to showcase their Top 5 stories. Who doesn't love a good list? They also have images or video previews with each story to break up the text and provide clear CTAs.

Christianity.com
When someone first signs up to be on your email list, they want to know what to expect. This email from Christianity.com thanks them for subscribing and then lists exactly what type of content they send. They follow that up with what they will receive next, along with visuals to keep the email from only including text. Finally, they provide a list of CTAs the reader can check out in the meantime while they wait for the upcoming content.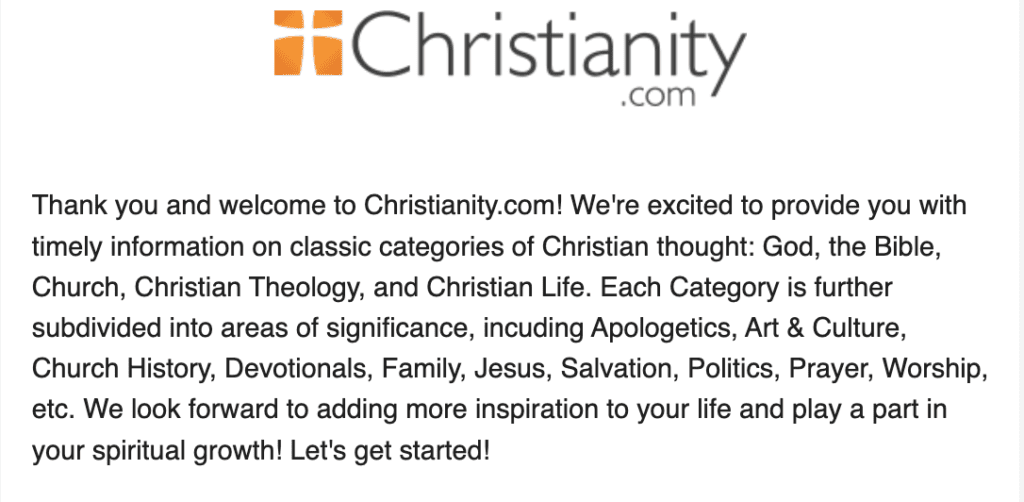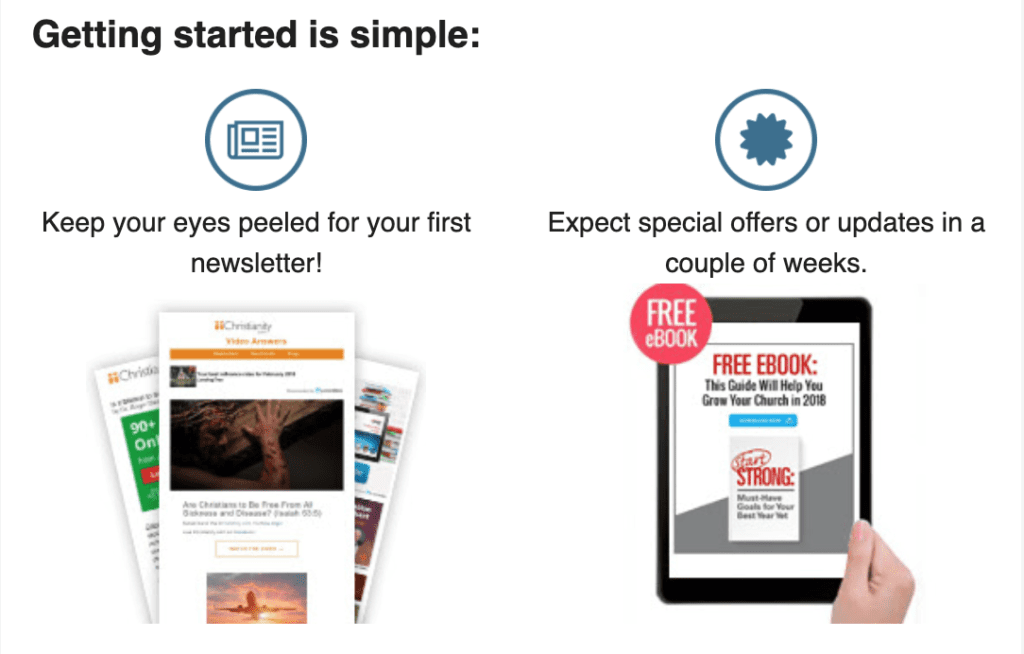 Crosswalk
Taking a similar approach as the Top 5 email above, this campaign from CrossWalk shows its subscribers what's trending. Each article has an image and CTA, but what we especially like about this email is the "Trending for Plus Members" marker. That shows readers what they could be enjoying if they were a plus member, which is a great way to drive signup engagement.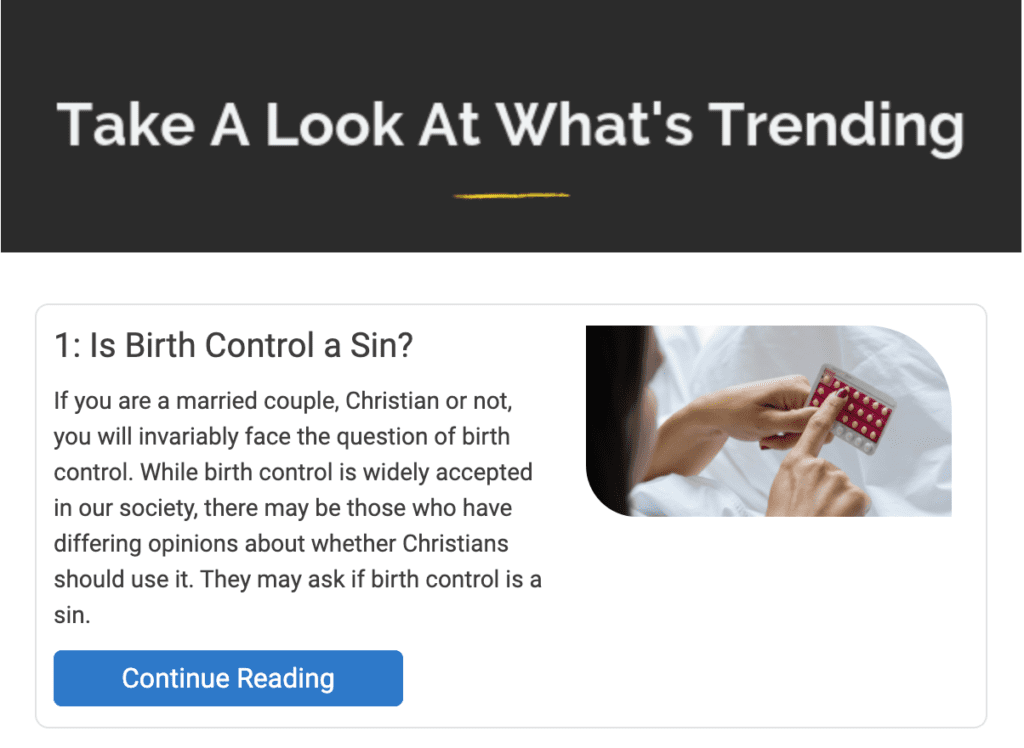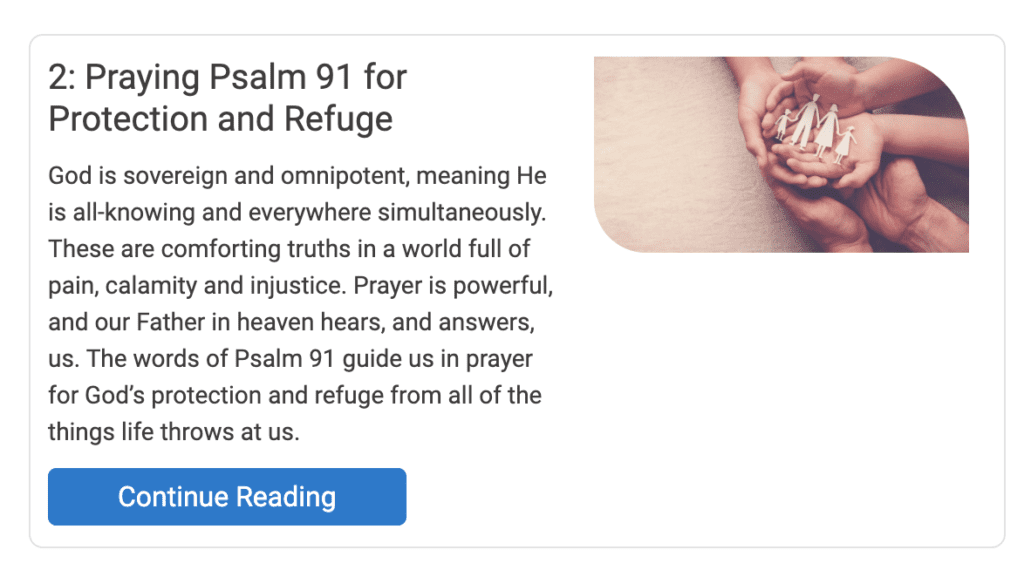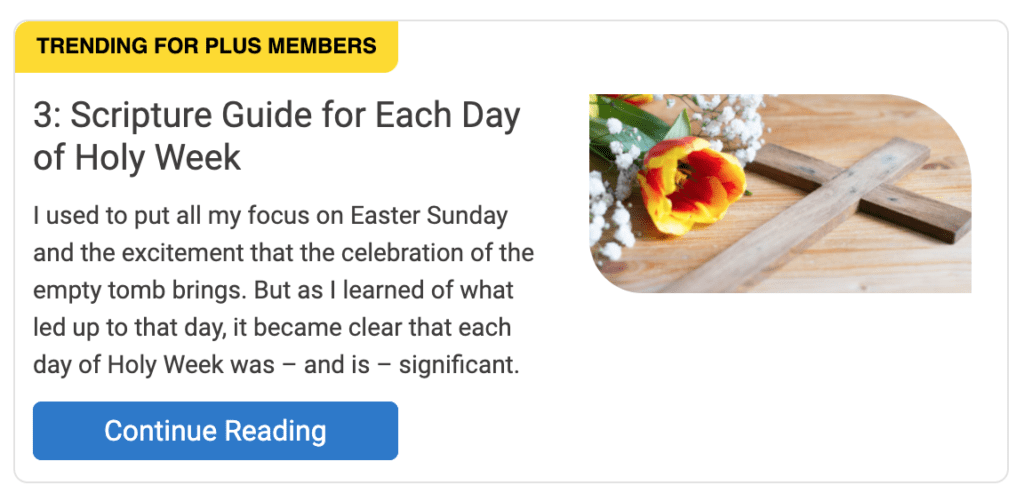 Hunter Street
Each Sunday morning, Hunter Street Baptist Church sends out an email to its members that serves a variety of purposes. Members can click the top CTA to register their attendance—or follow a CTA to prepay for the Wednesday meal, view the sermon notes or find more content. The email also provides information on upcoming services and events, and all of their social accounts are linked to at the bottom.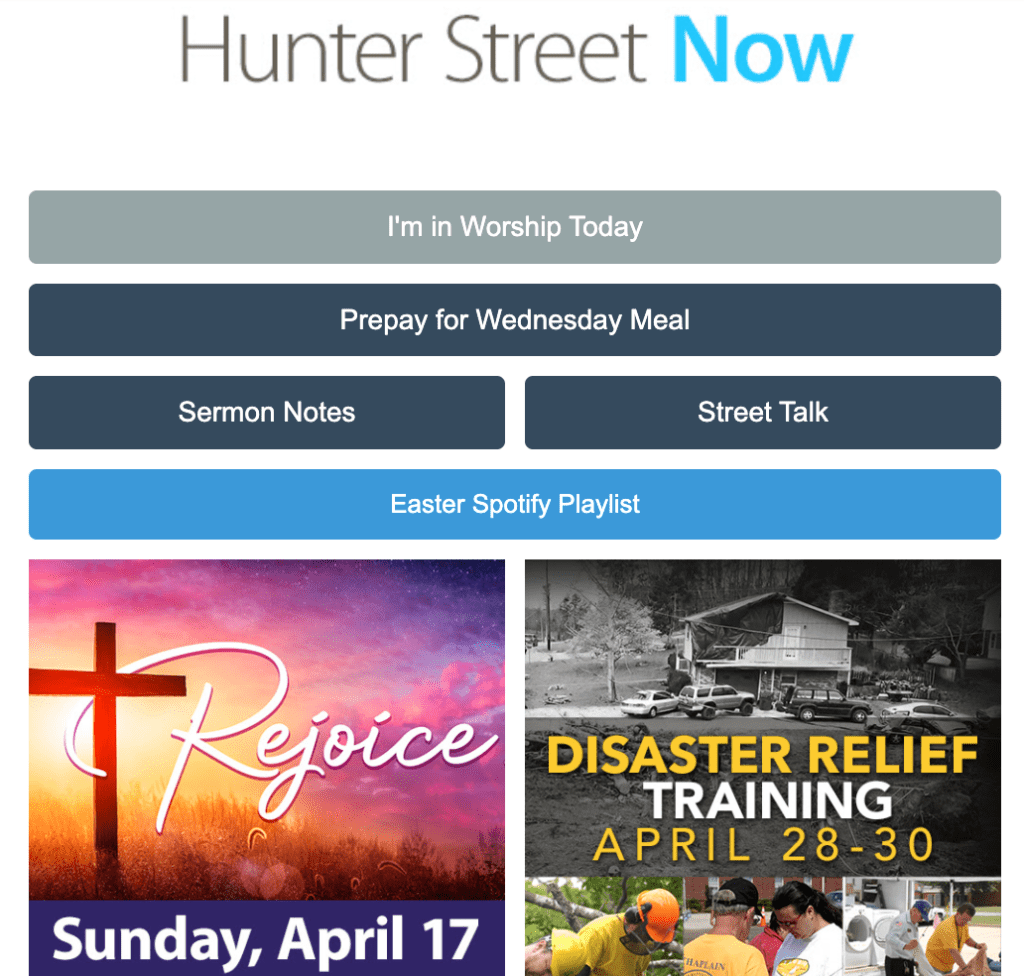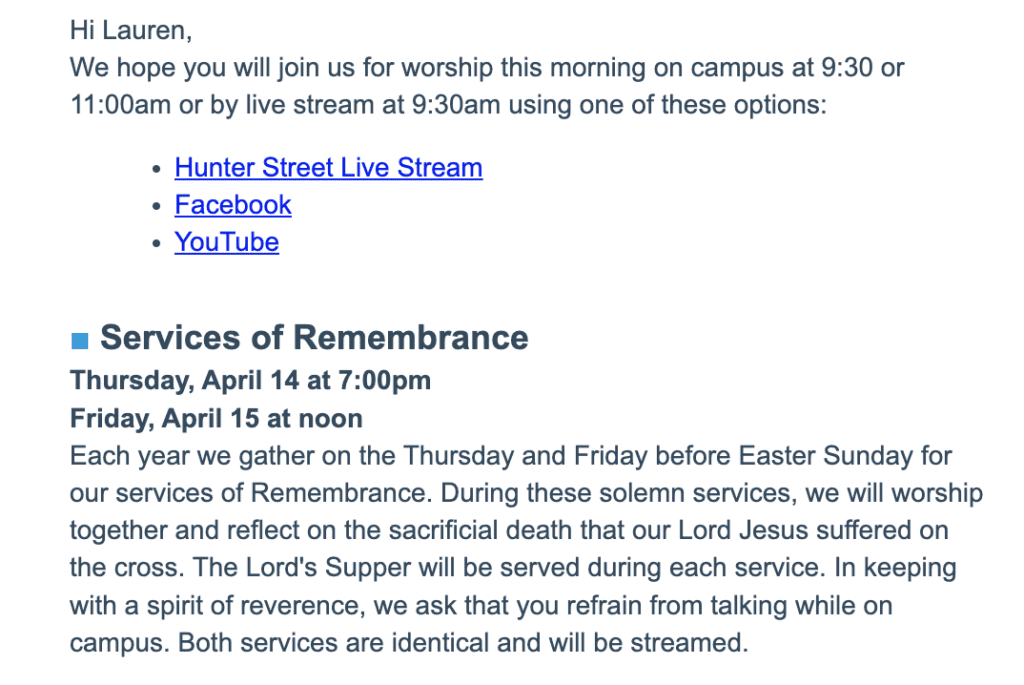 Passion City Church
Email designs with a lot of colors can often be overwhelming—but not in this example from Passion City Church. The text is not only legible amidst the colors, but it stands out for all of the right reasons. They use two main text blocks and CTAs, along with photos of real people, which helps personalize the email. Anytime you can put a face to your organization, you're doing a good job.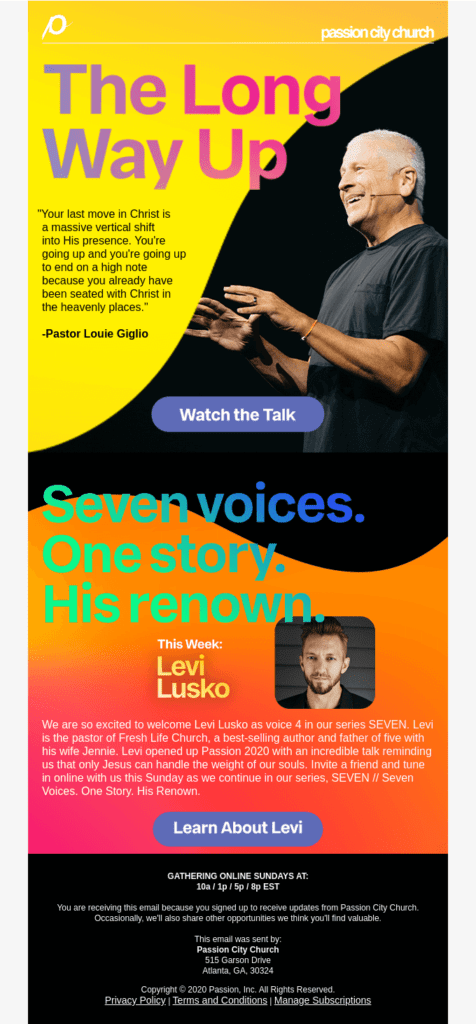 Worst Examples
Not every campaign hits the mark, as you can see with these examples. Check out what didn't work for these emails and try to avoid the same pitfalls with your next one.
Christianity.com: Daughters of Promise
Ads pay the bills: We get it. But when the first thing someone sees is a banner ad at the top of your email like in this example, they might think they opened the wrong message (we sure did). There's nothing wrong with the ad—it's a great ad targeted to the subscriber. We just don't want that to be the first thing we see and feel confused. An easy fix would be just to move your main content above the first ad so that you know what the email is about before you begin seeing ads.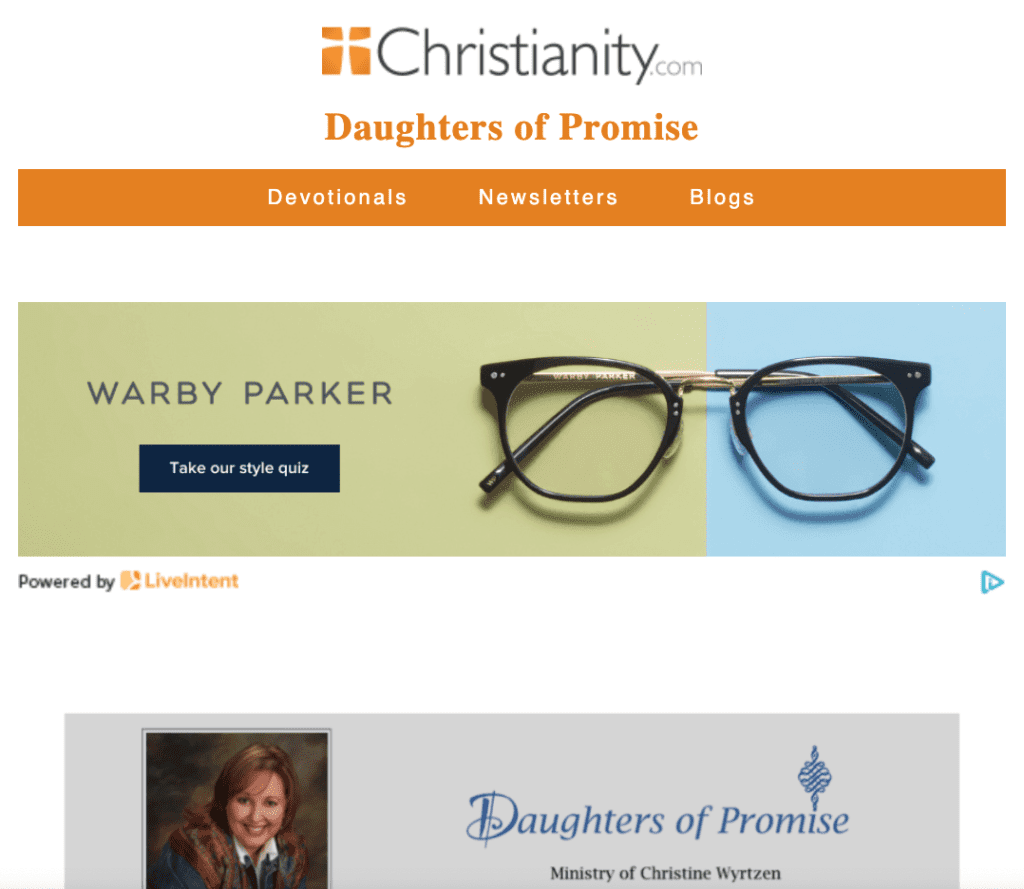 Passion City Church
Even the best organizations can't get it right all of the time, as shown in this example from Passion City Church. While the email we liked from them was full of color and photos, this example was the exact opposite. We had to do a double take to confirm it was from the same group. They seem to have been going for a newspaper-type design, but what they ended up with was a lot of black and white text. The pull quotes help break it up some, but that's still a lot to digest, especially if subscribers are reading on their phones.

Center for Action and Contemplation
While this one from Center for Action and Contemplation does have an opening image, unlike the last example, it has a lot of text with nothing breaking it up. By adding another image, subheads or even shortening the text with a "Read More" CTA, they would have drastically improved this campaign. Remember: More than half of all email campaigns are viewed on phones. When you give subscribers large chunks of text like this, it can be difficult for them to consume on a small device.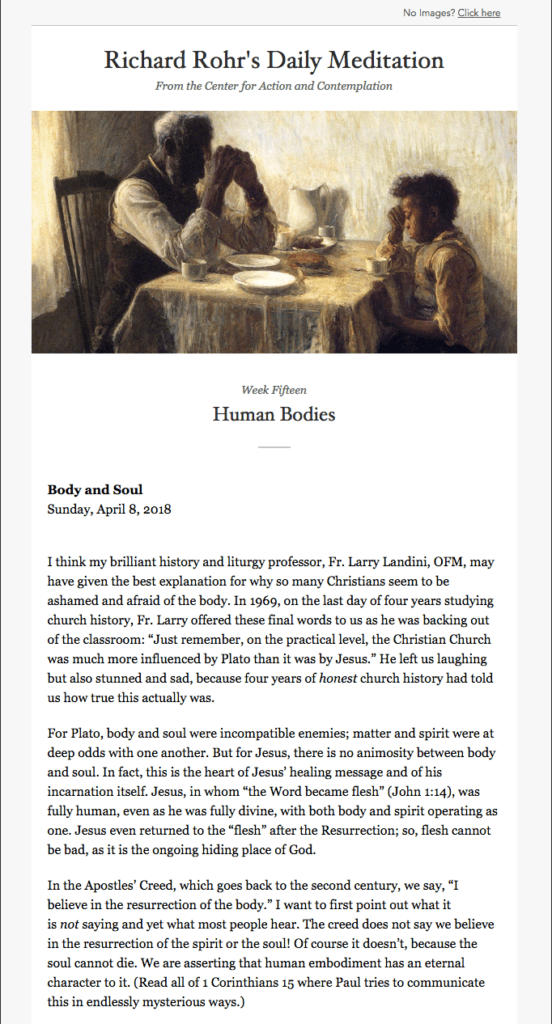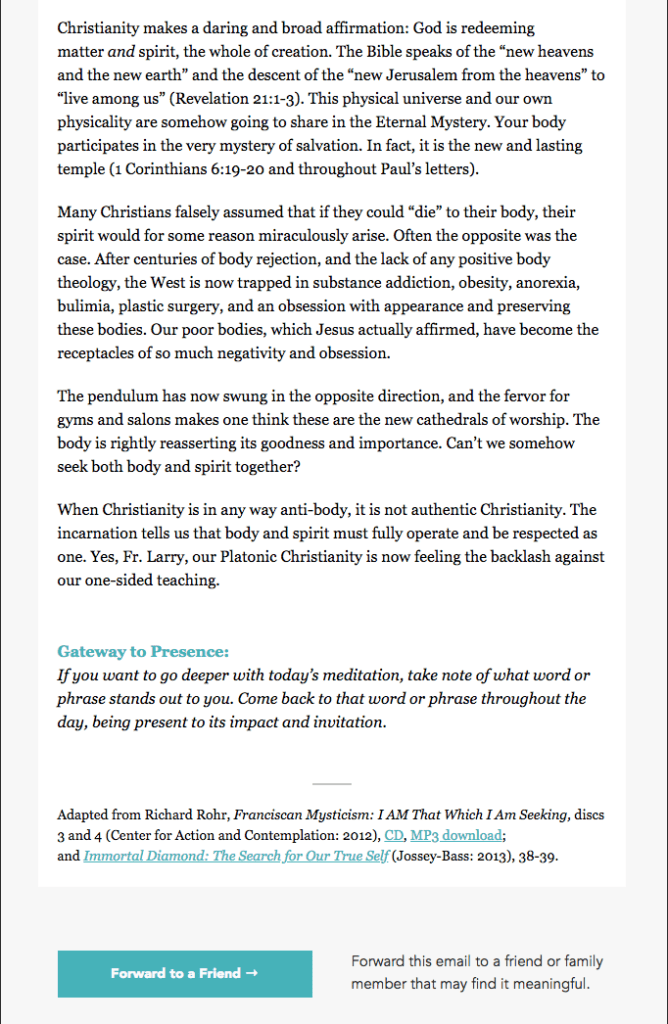 YouVersion
Think of emails like a newspaper: You want to catch their attention with what they can see above the fold. In an email, that's the top part they see before they scroll down. In this email from YouVersion, all subscribers see when they first open it is the large opening image. There's nothing wrong with the image itself, but it doesn't tell readers what the email is about. If they had added header text or a one-sentence blurb above it, that would have given subscribers a reason to keep reading.
[Photo: YouVersion1-3]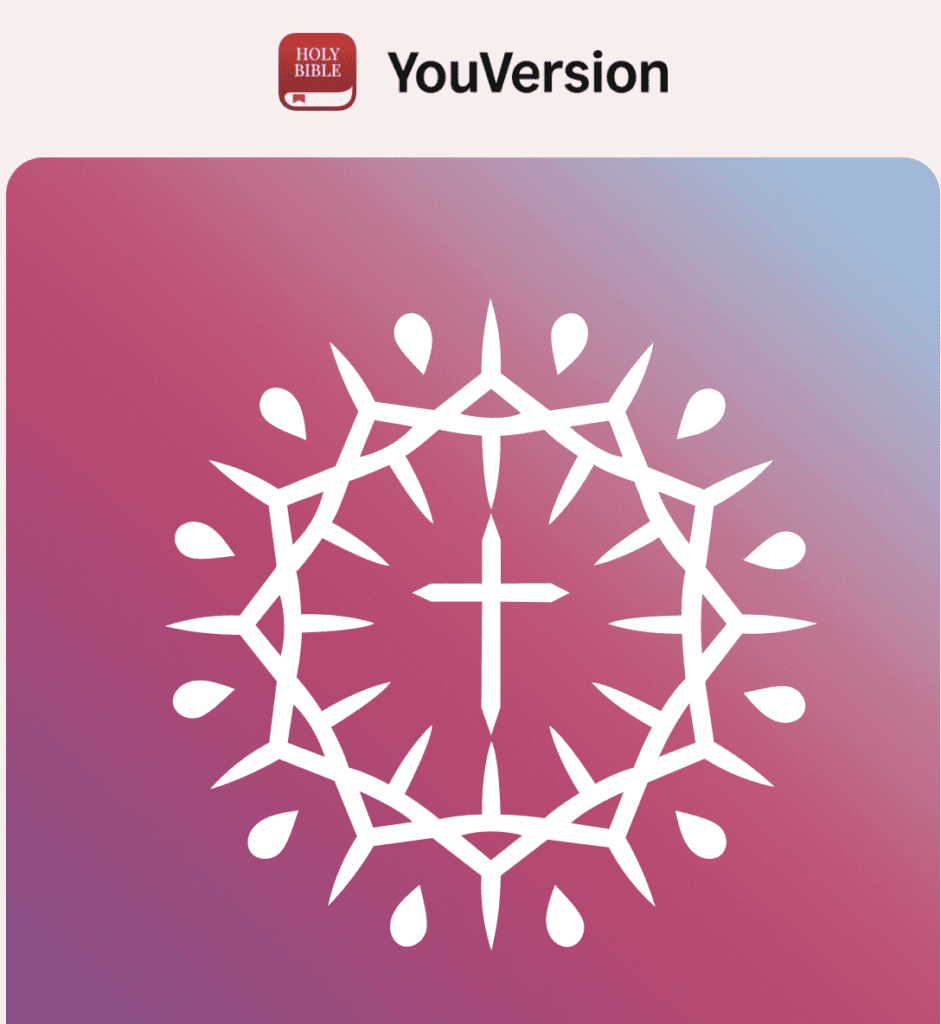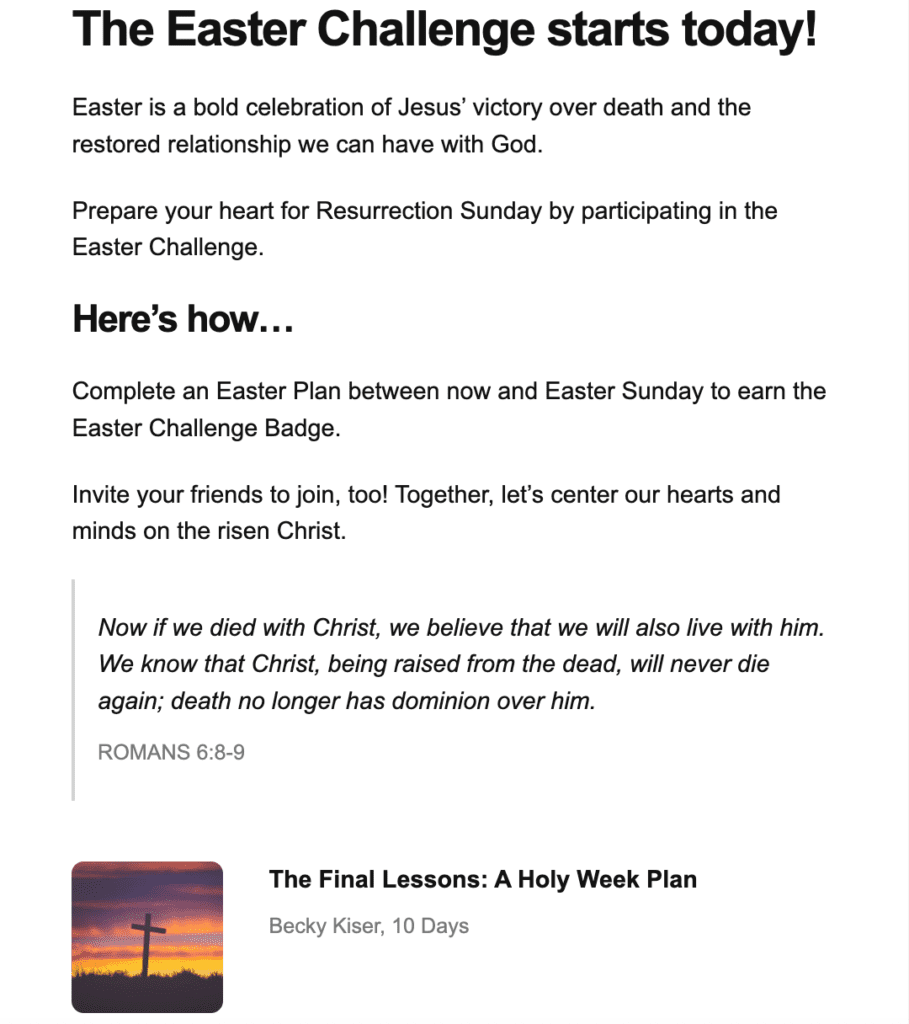 Find what works (and what doesn't)
These examples of religious email marketing campaigns can give you an idea of what might work with your subscribers. But remember, the best way to narrow down what your audience wants is to get to know them. Whether that's with surveys, A/B testing or analyzing engagement metrics, learn what they do and don't like so you can ensure your campaigns deliver.