Church newsletters are an excellent way to inform your congregation of upcoming events, recent news, and fundraising opportunities and keep churchgoers in the loop. Best of all, church newsletters foster a sense of community, encouraging your congregants to stay connected with church happenings and church leaders.
Historically churches and religious groups used an in-person approach to inform the community. The ways of brochures and face-to-face communication have declined, and many organizations have opted to communicate digitally. Email newsletters are not only cost-effective, they also land directly in your audience's inbox.
Email is a fundamental part of people's everyday lives and will not change anytime soon. According to Statista, in 2020, the number of global email users was slightly over 4 billion and is forecasted to grow to 4.6 billion in 2025.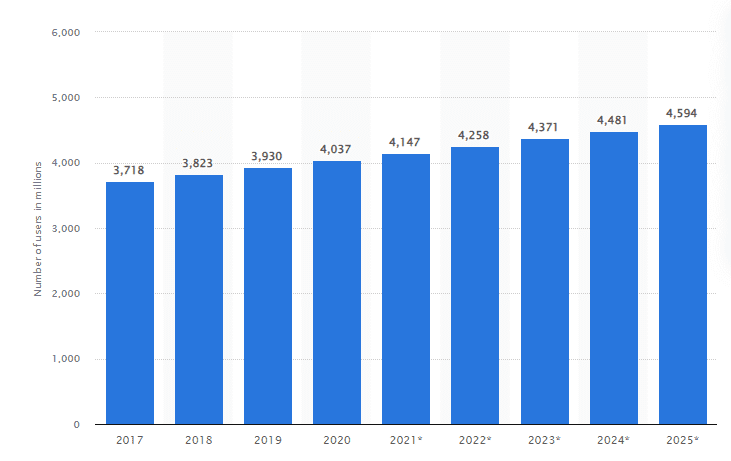 In this blog post, we will discuss some of the essential elements that every newsletter should have and take a deep dive into the different types of content that you should consider adding to it.
The basics of an email newsletter
There are some vital components to a newsletter that separates an ordinary one that misses your audiences' attention and the one they look forward to reading each time you send. Let's go over these components:
1. A catchy subject line:
Standing out in the inbox can be tricky, but it's crucial in the email space; according to TonerBuxx, 149,513 emails are sent every minute, so how do you ensure your email catches the eyes of your reader? Keep it short, to the point, and include a sense of urgency. For example, "Don't miss out on this week's church service!"
2. Engaging content:
Once you have caught your recipients' attention with a great subject line and it's time to deliver on the promised content. Your email newsletter should include interesting and relevant information that will keep readers engaged from start to finish. (keep reading for more assistance on the types of content to include in your newsletter)
3. A clear and concise call-to-action:
Every email newsletter should have a clear call-to-action (CTA) that tells recipients what you want them to do next. Whether for attending a church service, signing up for a Bible study, or making a donation, make sure your CTA is easy to spot and understand.
4. Social media share buttons:
Include social media share buttons (if your church has a social presence) in your email newsletter so that recipients can easily share the content with their friends and followers on their social media channels. This is a great way to increase the reach of your church's message and potentially grow your subscriber base.
5. An unsubscribe link:
Unsubscribe messages are compulsory in every email that you send from your organization. It allows people who no longer wish to receive your emails to remove themselves from the list easily, keeps your email list up-to-date, and helps comply with CAN-SPAM laws.
Why is it important to follow the CAN-SPAM law?
CAN-SPAM gives individuals protection from spam and other unwanted email promotions. It's required that organizations closely follow the rules set forth by the CAN-SPAM act if they want to avoid possible fines and ruin their reputation as trustworthy email senders in the eyes of inbox providers like Gmail, Yahoo, and Outlook.
6. A consistent layout and mobile-friendly design:
Nearly 50% of all emails are opened on mobile devices. In addition, 85% of adults own smartphones, and almost 60% of people check their emails from their phones first thing in the morning. That said, a mobile responsive email template ensures that your email messages will be displayed appropriately on all devices, keeping your readers engaged and interested in your emails.
Content elements of your newsletter
The purpose of a church newsletter is to communicate information about your church. It is a connection between the members, staff, and community. But what types of content should you include? A mix of different kinds of content can ensure that your church newsletter is informative and engaging. It also allows you to test what type of content resonates with your audience; with that data, you can redefine your messages when needed.
A weekly or monthly church calendar
One crucial element is a church calendar. A church should include all of the church's upcoming events and any special services or meetings that may be taking place. The church calendar is a great way to keep your congregation informed of what is going on and provide readers with all the necessary information that is needed for upcoming events.
Event photos
Including photos of events and happenings in and around your church will make your newsletter more engaging and fun. People are visual creatures; photos are a great way to capture attention. And, if the photos are well-chosen and relevant, they can even help support the message of your newsletter.
Share a spotlight on those who have gone above and beyond
Spend time recognizing individuals who have given their time to the church. This can be done through a featured article or simply by listing their names, photos, and a brief shoutout. Doing this helps to show that the church appreciates its volunteers and encourages others to get involved.
Share volunteer opportunities
Provide readers with a list of upcoming volunteer opportunities in the community. Readers can view the available options and decide if they are interested in helping. Then, go one step further and make it easy for readers, including a link to a volunteer sign-up form.
Share upcoming worship songs and readings
Some churchgoers like to be prepared, so why not give your audience a list of upcoming songs and readings that will take part in the next mass? It will give people time to prepare beforehand and allow them to participate fully in the event.
Include a monthly scripture
Many churches have a scripture of the month, including this in the newsletter is a great way to encourage community members to stay engaged with the Bible and to apply its teachings to their lives. The scripture of the month can be used as a starting point for personal study or for group discussion when churchgoers meet up.
Form a human connection and include a special message from the Pastor
As church email programs become more popular, many church newsletters now include a message from the Pastor or priest. There are several benefits to this practice:
It helps to personalize the newsletter and forms a human connection, knowing the Pastor took time to create this message just for its newsletter readers.
It allows the church to share its mission and values with a wider audience.
It allows subscribers to connect with the church on a deeper level, forming a more personal and meaningful connection.
Include interviews in your church newsletter
Involve community members with one-to-one interviews. Interviews are an excellent opportunity to connect with people on a personal level. In addition, you can create a sense of fellowship and participation by featuring different members of your church community.
Reach out to someone you'd like to interview and arrange a time to chat. Once you have the interviewee's permission, start asking questions! Here are some ideas to get you started:
What led you to join our church community?
What do you enjoy most about being a part of our church?
What are your hopes and dreams for our church community?
What is your favorite Bible verse?
How has your faith journey been so far?
Don't forget to ask about any upcoming events or projects in which church members can get involved.
Bonus quick tip: Get everyone involved in the creation of the newsletter!
If you're not sure who should be helping to develop your church newsletter, consider these key roles:
Church administrators – Church administrators, should be in charge of setting publication dates and working on the logistics of distributing newsletters on time.
Pastors – Pastors can be responsible for providing content for the newsletter, including articles, sermons, and any special announcements.
Deacons/elders – Deacons or elders can help proofread content and check for accuracy.
Lay leaders – Lay leaders can be responsible for gathering information from church members and writing articles or announcements. They can also help with proofreading.
Church members and volunteers – Include the words of your church's members from time to time. This ensures congregants feel appreciated and can showcase recognition.
Delegating responsibilities ensures that your church email newsletter is accurate, timely, and informative. Plus, everyone involved will feel responsible for the success of the publication, encouraging them to do their best work.
Conclusion: Engaging content is key!
Overall crafting engaging content is the end goal. By following the tips and advice in this article, you can ensure that your church newsletters are more memorable and your congregation is well-informed and engaged with the church community!
Still not sure where to get started or need some inspiration? We've put together nine of the best and worst examples of religious email campaigns to show you what does (and doesn't) work.