They say breaking up is hard to do, but with all the options we have these days, it's actually pretty easy. Old-school methods like voicemails and letters are still an option. You can also Skype, Slack, Facebook message, or Zoom to your heart's content. Oh, and don't forget email.
Enter the breakup email. When someone is thinking about unsubscribing from your newsletter or otherwise ignores every attempt you make to reach them, it's time to say goodbye.
But keep your chin up! It doesn't have to end here. There's a variety of ways to let your subscribers  know you won't bug them anymore that can actually get responses. Sometimes, they may even change their mind.
Today we'll cover what a breakup email is, the elements of a good one, and share some examples along the way. Let's get started, shall we?
What is a Breakup Email?
As we already mentioned, there are times when someone decides to unsubscribe from your emails or has ignored everything you've sent for several months or more. In these cases, you want to send a short, but sweet, final message. This process works for both inbound and outbound sales.
When done effectively, the breakup email gives readers a chance to reconsider or confirm their decision to be on your email list. This is important because laws like the CAN-SPAM Act and GDPR require marketers to include an unsubscribe link in every email.
The important elements in the regular unsubscribe process are the landing page and the final email.
The process has  a structured formula that goes like this:
Reader clicks an unsubscribe link or button at the bottom of an email.

The reader is directed to a landing page that either states they are unsubscribed, allows them to make changes to their subscription, or allows them to confirm/continue the subscription.

Final breakup email arrives in their inbox, which oftentimes gives them the chance to resubscribe.
If you are "breaking up" with an unresponsive contact, the process is different. You are the one starting the process, and the goal is to get a response. The flow looks like this:
Isolate your unresponsive, unengaged contacts.

Send an email with a catchy subject line and wait for a response.

If no response is received within a specified amount of time, you remove them from your list. If they confirm they don't want to receive emails, remove them.
Element #1: The Landing Page
When someone clicks the unsubscribe link from your newsletter or marketing emails, direct them to a landing page that asks them to confirm if they really want to unsubscribe.
If you're sending a breakup email to an unresponsive customer or someone who says they're not interested in your product or service, the landing page isn't necessary. Skip directly to the next section.
Daily deal site Groupon uses video to inject humor into the process. When you unsubscribe from their emails, their landing page includes a video that features a guy named Derrick. According to Groupon, Derrick is the one who thought you'd enjoy getting so many emails from them. The button under the video gives viewers the option to punish him, which begins playback of Derrick getting a beatdown from another Groupon employee. The end of the video asks the user: "That was pretty mean…I hope you're happy. Want to make it up to Derrick?" A button to resubscribe follows.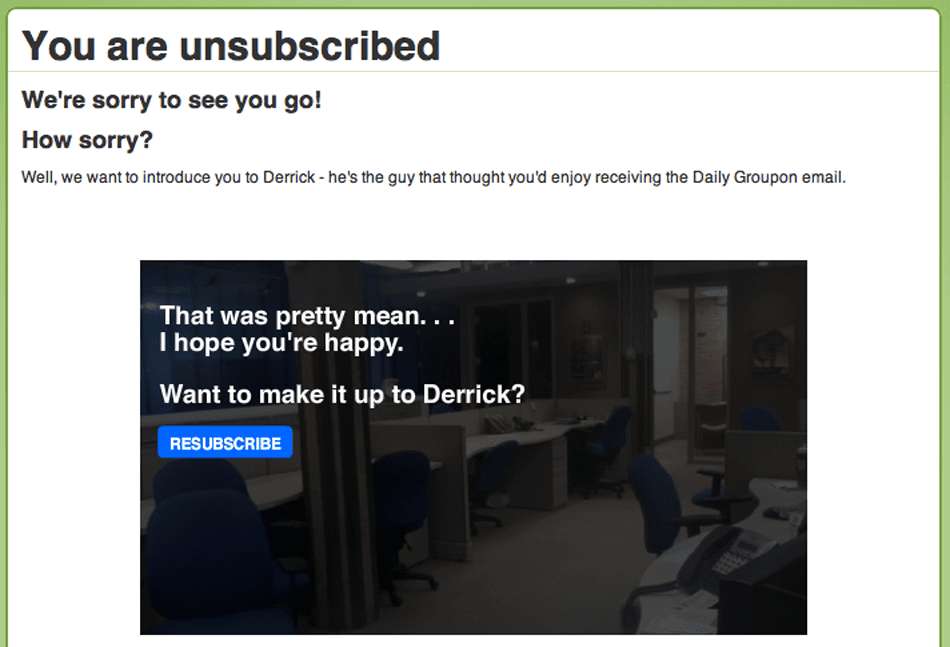 (Source)
The non-profit charity: water takes a similar approach. Their video includes the CEO getting attacked by water balloons from another employee.
don't unsubscribe… from charity: water on Vimeo.
And for one last dose of inspiration, check out Hubspot's breakup video from Inbound Marketing Specialist Dan Sally.
If you send emails frequently, another option is to allow readers to choose how often they get emails or what kind of emails they get. The example below from Bonobos gives several options.
Element #2: The Subject Line
No matter what kind of breakup email you send, a catchy subject line is key to getting people to open and read your email. If you need a refresher, check out our subject line guide for an in-depth guide to writing subject lines that get noticed.
When crafting clever subject lines for your breakup email, be honest. Deceptive practices like using "Fwd:" with no subject may get opens but can also get you reported as spam. Once your domain is blacklisted, no one will get your emails.
To get you started, we've created a list of subject lines you can use for your breakup emails.
Unsubscribe Emails
    This is your final message.

    Now it's time to say goodbye *sniff*

    Ciao, <First Name>!

    We received your unsubscribe request

    You are now unsubscribed

    We'll miss you, <First Name>!
Sales Breakup Emails
    Permission to close file?

    It's not you, it's me.

    Was it something I said?

    Is <Company name> still interested?

    Closing the loop
Notice that the sales breakup subject lines often contain questions. Since you are dealing with unresponsive prospects, the question may prompt them to open up and see what's inside.
Since people respond to different subject lines, setting up an A/B test for various subject lines will help you determine which one is best for your audience.
Free tools
The best subject lines are emotionally charged. Since you are breaking up with a prospect or reader, you want to let them know you respect their wishes but want to go the extra mile to get them to stick around. The Advanced Marketing Institute has a great free tool to check the "emotional marketing value" of your headlines.
Another tool to check your headlines is CoSchedule's Headline Analyzer. Even though it was created for blog post titles, it is a great way to see how powerful your subject line is, too.
Now it's time to get into the meat of your breakup email: the message body.
Element #3: Message Body
If you've carefully crafted a subject line that gets your email opened, congratulations! You're on your way to possibly winning back your unresponsive prospect or potential unsubscriber.
Here's the deal with these messages: you have to be respectful, but you want to convey that you'd love to have them back.
For unsubscribers, your landing page is often enough to make them change their mind. But sometimes, a thoughtful and personalized email is necessary to show them how much you value them.
Usabilla specifies six big ideas to improve the user experience of unsubscribe landing pages. However, these ideas apply just as much to final emails as they do to the pages that precede them. They are:
Show your personality.

Keep it to the point.

Show that you care.

Offer a resubscribe option.

Offer alternatives.

Keep it simple, but relevant.
Keeping the above points in mind will provide guidance to writing your email. You don't want to sound desperate or accusatory, but let them know you want to stay in touch if possible.
Providing yet another chance for unsubscribers to re-subscribe gives them a minute to pause and think about their decision. If their issue is with the volume of emails, let them choose how often they'd like to receive them. If it's with the type of emails, let them choose which ones they want and don't want.
For unresponsive prospects, your email will be a little different. Obviously, they haven't chosen to stop receiving communication, but their lack of response indicates a lack of interest. Ask them if they want to continue hearing from you and if they still don't respond, remove them from your list.
Avoid the spam folder
Many emails never get opened because they are flagged as spam and don't make their way into a reader's inbox. To avoid being filtered, use a tool like ISnotSPAM or Postmark's spam checker to make sure this isn't the case.
Before hitting the send button, edit your email with Grammarly and/or the Hemingway app. You'll quickly catch embarrassing mistakes before your reader ever sees them.
Final Thoughts
Breaking up doesn't have to be hard to do. With a little creativity and a lot of patience, you're well on your way to creating emails that win back readers or rekindle relationships with fickle prospects.
If you're just getting started with email marketing or already a customer, Robly is here for you. Get started with a free trial today or ping our support team if you need help setting up a Breakup Email.