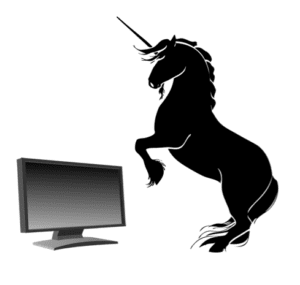 You don't need a magic spell or complicated code to improve your email open rates – though we must admit, it would be nice if there was a secret shortcut. Fortunately all it takes is some savvy marketing techniques and the right tools.
Open rates are calculated by dividing unique opens by the total number of emails sent, minus bounces. Don't worry, your marketing automation platform handles the math.
Your task is to figure out ways to boost that number.
Unless you've discovered flying unicorns and have a 100-percent open rate, there's room for improvement (also if you've discovered the unicorns please send pics immediately).
Email open rates vary widely by industry, but they tend to fall around the 20-percent mark.
If you're ready to watch your email open rates go up fast, start incorporating these five techniques now.

1. Cut Unengaged Contacts
You just hit 100,000 newsletter subscribers? Outstanding! Here's a digital pat on the back.
So what's your open rate on that impressive milestone? Not that great, huh? It's time to weed out unengaged contacts.
One of the quickest ways to improve your email open rate is to cut people who aren't interacting with you.
It really is about quality over quantity – it's better to have a smaller, more engaged list than a huge list with a low open rate. 
How To Improve Interactions
Start by identifying the contacts that are weighing down your open and click rates.
You can easily identify these contacts in Robly by using Segmentation. Use the Subscriber Engagement option to put together a group of contacts who have never opened and/or clicked and add them to a standalone list.
Once you've them grouped together, you can try to salvage your relationship with them one more time by sending a "We Miss You" or "The Last You'll Hear From Us" type email that says they will be removed from your list if they don't respond or open the message.
After that last attempt, it's time to say sayonara to those who don't open. Need some inspirational music to go along with that?  Here you go:
In Robly, you can easily remove all your unengaged contacts using Engagement Management – it lets you easily remove contacts who are unengaged over various time periods with the click of a button.
You can also give contacts the power to remove themselves from your lists with an unsubscribe button at the top or bottom of your email. That way, you can get rid of contacts early on who don't want to read your messages — and that keeps you from having to cut them later. 
Robly includes an opt-out link in the footer of every email you send – but buttons have better visibility and make for a better call to action.
2. Get a Little Personal
Consumers are smart enough to know mass emails aren't going out to just them. But that doesn't mean you should throw best practices out the window and generate emails that look like they're coming from C-3PO: He might speak more than six million languages, but I don't think email is one of them.
Emails that look like they're coming from a real person will get more opens.
For starters, make sure your "From" field is a person, department or company name — not an email address. Consistently using the same "From" information will also help your contacts better recognize your messages.
You'll also want to put some effort into creating a personalized, click-worthy subject line.
You've got about 50 characters to work with (fewer characters show up on smaller devices), so make them count. Open rates are 12.5 percent higher for subject lines with fewer than 49 characters, and click-through rates are 75 percent.
Make this your new subject line mantra: Less is more.
Avoid jargon and spammy phrases and maybe throw in an emoji if it makes sense. The point is for your subject line to catch their attention and get you that click.
Consider using a merge tag to add the person's first name into the email – while this tactic is par for the course anymore, it's not going to hurt your open rate to try it.
Your subject line is tasked with:
explaining what's in the email

standing out from the dozens of other emails

engaging your contact

building trust
That's a pretty big job for a few short words, so make them count. Your open rate will thank you.
3. Set Your SPF Record
Beef up your sending reputation and trustworthiness with the receiving email server by creating or updating your sender policy framework (SPF). 
If you don't, you risk the chance that your emails get rejected by spam filters or spammers can send messages from forged addresses on your domain — both of which hurt your open rate and overall deliverability.
Establish an SPF record that identifies the mail server you use as the authorized server for your domain. That way, your contact's mail server can check the SPF record for your email address to ensure it's a valid message.
An SPF record is specific to your website's domain, so this update can be done via your domain host – for example, GoDaddy, Bluehost, etc.
This can prevent your email from (unnecessarily) landing in someone's spam folder.
4. Run A/B Tests
Not sure whether to send Wednesday morning or Thursday afternoon? Want to know which subject line will work better? Use A/B testing to test send times, content, and subject lines to see what nets the best open rates.
Be sure to only test one thing at a time so there aren't any other variables that affect the results. You can test things like the subject line, send time, or different offers in your content.
Also, perform the tests simultaneously, send them to as large of a group as possible, and measure the results. Once you figure out what's working, you can repeat the more successful patterns.
In Robly, you can create an A/B test and automatically choose the winning campaign based on open or click rates.
5. Take Advantage of Segmentation
No two contacts are the same, so why would you group them together and call it a day? You're going to be more successful if you can segment them into different lists and then send emails that appeal to each group.
Think about this: 77 percent of return on investment (ROI) comes from segmented, targeted, and triggered campaigns. We'd say that's pretty solid proof that it works.
You can segment contacts using a variety of factors like location, interests, engagement stats, or whatever makes sense for your company — and then create targeted emails for each group to improve your open rates.
Robly has a one-click tool called OpenGen, which results in increased open rates upward of 50 percent, compared to pre-OpenGen levels.
This automation feature sends your campaign to your original subscriber base. Then, it schedules a second campaign that goes out 24 to 48 hours after the original campaign went out to contacts who did not open it the first time.
You can control the time lag between sends and modify the subject line in the second campaign. It helps customize your marketing efforts to increase open rates.
Start Improving Your Email Open Rates
It's a pretty simple formula, even for those of you who loathe equations: The more people who open your emails, the more engagement you'll have, which ultimately means more sales for your business.
And luckily, it's not rocket science to start improving those email open rates now.
Beyond some of the quick fixes we shared, you can also boost your email open rates with killer content, images, and company updates your contacts won't want to miss.
Open rates aren't the only metric that will show you how engaged your audience is, so be sure to track other measurements like click-through rates, too.
What's your top tip for improving email open rates? Tell us in the comments!
By Lauren Dowdle