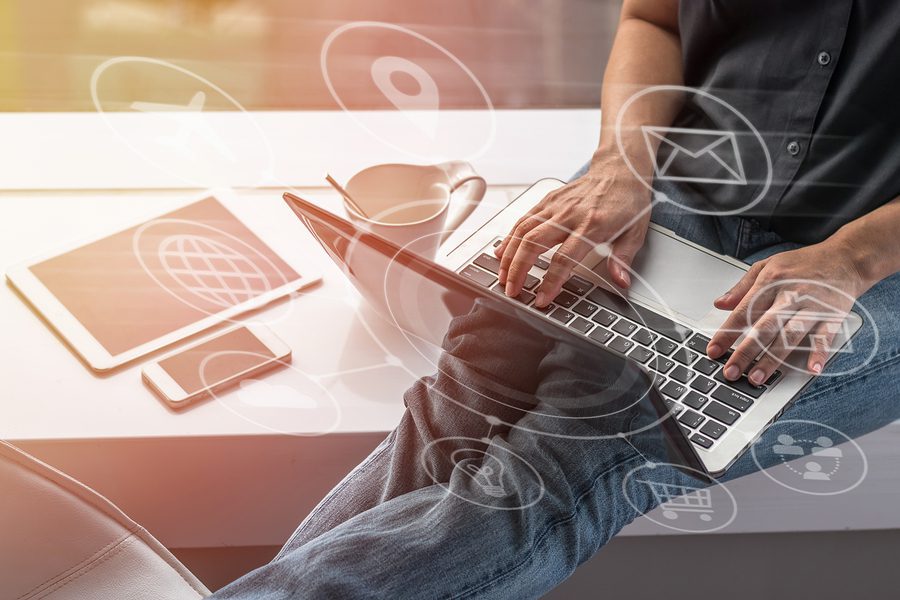 It's not an underground, hush-hush secret that email marketing, out of all digital channels, is one of the most profitable forms of marketing. As found in this VentureBeat Insight study, for every $1 that's spent on email marketing systems, there's, on average, a yield of $38 in ROI.
However, the same research has also shown that 78% of marketers "experienced challenges with list growth and fatigue," meaning that the majority of email marketers aren't effectively using the tools at their disposal.
It needn't be that way.
By using a handful of simple business process automations for processes, not only can you get the most out of the tools in your e-toolbox, but you can also save yourself time and effort every single day.
What are business process automations? In layman's terms, it's when two or more pieces of software communicate with each other. Through this communication, certain tasks can be automated. This saves you having to do the manual labor yourself, and you can save precious time in the process.
Usually it isn't possible for multiple software products to communicate so seamlessly. But with automation tools like Zapier, it's easy.
To help you get started, we're featuring 3 easy-to-implement Zaps you can use straight away. These Zaps will automatically add new contact information to Robly, subscribe survey respondents to a Robly email list, and add new customers and buyers as Robly contacts.
The first of these automations will be between Robly and Process Street which, if you haven't used before, is checklist Business Process Management (BPM) software. Process Street helps you create and standardize processes so you can do your best work possible.
What You'll Need to Get Started
Before jumping into the business process automations, you'll need the following:
For the Process Street automation:
A free Zapier account.
A Robly account with an active subscription.
Robly API key details. This can be found by clicking "My Account" in Robly, then navigating to the "API Details" tab once your account is active.
A free Process Street account.
Your organization in Process Street's API key. The API key can be found by clicking on your organization's name in the top right of the Process Street app, and then clicking on the "Settings & API" tab.
The free Process Street "Cold Calling Checklist" template added to your account. Fill out the "Record details of the call" task — even with test dummy details — as soon as possible, so we have data to set the automation up.
For the Magento automation:
A URL domain.
A Magento API User. This is created in the "Admin Panel".
A Magento API Key. The API key is assigned when creating an API User in the "Admin Panel".
A Robly account with an active subscription.
Robly API key details.
For the SurveyMonkey automation:
Once you have the required accounts, subscriptions, and API keys, you're one step closer to learning how to be more productive at work, and becoming an overall less-stressed marketer.
Let's now deep-dive into the automations themselves.
Automation 1: Add a New Contact to a List in Robly After Using Process Street's Cold Calling Checklist
The use case for the first business process automation is as follows: After successfully using Process Street's Cold Calling Checklist, a new contact is added to a list in Robly.
This is particularly useful for when you're in the heat of a cold calling campaign. You don't want to take your focus away from the campaign's most integral duty — calling up potential leads — to carry out simple data entry tasks. Especially when automations can do it all for you.
Set Process Street as the Trigger
The first step of creating this Zap is to go on your Zapier dashboard and hit "Make a Zap!"
After that, search for Process Street and choose it as the trigger app.
For the trigger, you'll need to select "New Task Checked."
Connect your Process Street account to Zapier by putting in the API key.
The next step is to choose the trigger template and task. For this use case, we're using our free public Cold Calling Checklist. Select the task "Pass qualified lead onto the sales team."
To ensure it's been set up correctly, test the trigger. This can be done by going into Process Street and checking the "Pass qualified lead onto the sales team" task. Zapier will then pull in the sample.
That's the trigger selected. We're halfway through.
Set Robly as the Action
For the next step, choose Robly as the action.
Choose "Create Contact" as the Robly action. This means whenever the "Pass qualified lead onto the sales team" task is checked off in Process Street, a contact will be added to a list in Robly.
The next step is adding your Robly API into Zapier. You can find the API ID and API Key by clicking "My Account" in Robly, then navigating to the "API Details" tab.
Once the API details have been added, the next step is to set up which contact details you want to push from Process Street to Robly.
Use the dropdown to find the Robly list you want to add new contacts to – for this use case, the list is titled "Cold calling referrals". Then, in the corresponding boxes, find the "Checklist Form Fields Email Address" and "Checklist Form Fields Name Of Contact" data from Process Street.
You can always edit the Cold Calling Checklist template to include additional form fields, like "Customer's location" or "Customer's telephone number", so that information can be pushed through, too.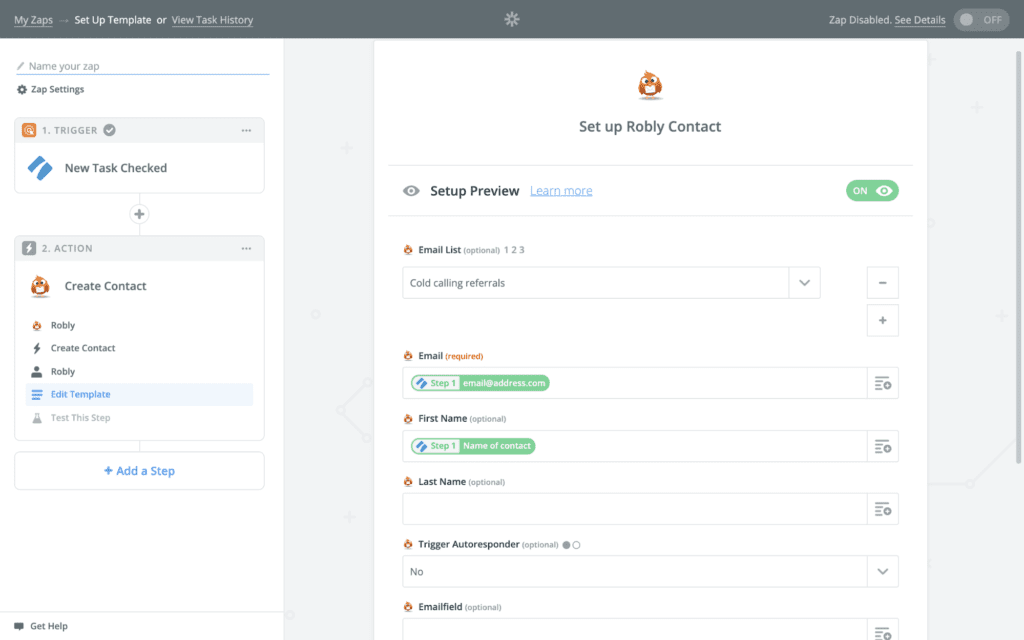 The next step is to test the Robly action.
Go ahead and press "Test Send to Robly."
You should then get a green pop-up on the screen informing you the test was successful.
To double-check that it was indeed successful, go to the list you added the contact to in Robly. The name and email (in addition to any other information you wanted to push through) should be visible.
Voilà. Each time you find a successful lead through cold calling, their details will be automatically pushed straight into Robly.
Automation 2: Subscribe New SurveyMonkey Respondents to a Robly Email List
Surveys are used in countless marketing operations. From sending out surveys to gather critical information on your userbase's needs, to using surveys as a way for subscribers to unsubscribe from emails or notifications, integrating survey tools with marketing software can, without a doubt, provide advantageous data.
One of the largest survey software companies marketers use is SurveyMonkey. Despite being founded in 1999, they're still at the top of their game. Trusted by 98% of Fortune 500 companies and with over 17.5 million active users, SurveyMonkey is the go-to survey product for successful organizations.
With this business process automation — which transfers the data of each new SurveyMonkey respondent to a particular Robly email list of your choice — no manual labor to import the data is required. Once that Zap has been set up, new data is automatically imported for you each time, every time.
This means you can focus your efforts on the more important tasks on your to-do list, and save time while doing so. Who doesn't want extra hours in the day?
Click here to get the pre-built automation.
Automation 3: Add New Magento Customers to Robly as Contacts
In 2016, it came to light that 1.66 billion people across the globe used digital services to buy goods. Unsurprisingly, digital consumer numbers are only increasing; it's been estimated that this number will rise to 2.14 billion in 2021.
This is a humongous pool from which to acquire new customers.
To keep your bottom-line healthy, you can't afford to let them slip away.
With this automation — which adds Magento customers as Robly contacts — you can automatically transfer your customers' crucial data to Robly. You can then stay in touch with the customers in question and, with a solid marketing strategy, turn them into repeat buyers.
The team at Zapier have already built out the business process improvement automation for you. All you need to do is to sync your paid Magento and Robly accounts with Zapier.
Click here to get the pre-built automation.
Exploring Further Business Process Automations for Improvement
This concludes your introduction to the world of business process automations.
By using only a handful of Zaps, you've automated recurring tasks, saved time, become more productive, and cut out the stress of handling multiple apps simultaneously. Well done, you!
Now that you've set up your first automations, why not dabble with further Zaps? The only limit is your imagination: As long as the task is repeatable and happens the same way every single time, you can automate it.
Don't be like the marketing executives who lose out on 10% to 15% of their workday simply by not streamlining recurring tasks. Take charge of your email marketing operations and be more efficient with automations.
Thom James Carter is a junior content writer at Process Street. He has previously worked in copywriting and content creation for multiple start-ups and SMBs. He's interested in technology, culture, homebrewing, and hiking up the hills and mountains near his home in Edinburgh, Scotland.