Nonprofit Email Campaign Playbook Part Two - Examples and how to choose the right email tool for your charity
Storytelling is a critical component for nonprofit organizations. As we mentioned in Part One of the Nonprofit and charity email playbook, marketing nonprofits come with a few challenges unique to the industry. The best way to circumvent charity marketing challenges is to be proactive through great storytelling, content marketing, and nurturing your audience using personalized email journeys. We talked about several email strategies that can help nonprofit organizations.
However, an email campaign can only be as good as the tool allows it to be. We have compiled the top things to look for when choosing the right email platform for charities. But before we dive into that, let's take a look at some great emails sent by some of the world's leading charitable foundations and see what they are doing right.
10 Great Nonprofit Email Templates
#1 Make A Wish foundation
Subject line: For a limited time only your donation could be doubled
Email type: Informative email
The Make A Wish Foundation does an excellent job at telling a story in this email. It's short and to the point, and includes the tale of a little boy who wishes to meet his hero, Iron Man – evoking empathy. Demonstrating where the donations will go is a sure way to encourage donors to give back.
The second call out in this email states that for every $1 donated the foundation will match that dollar for a limited time. This is a great way to demonstrate their dedication to the cause they are working towards. Creating urgency in the subject line and throughout the email content (without overdoing it) here drives up email engagement and encourages the subscriber to take action.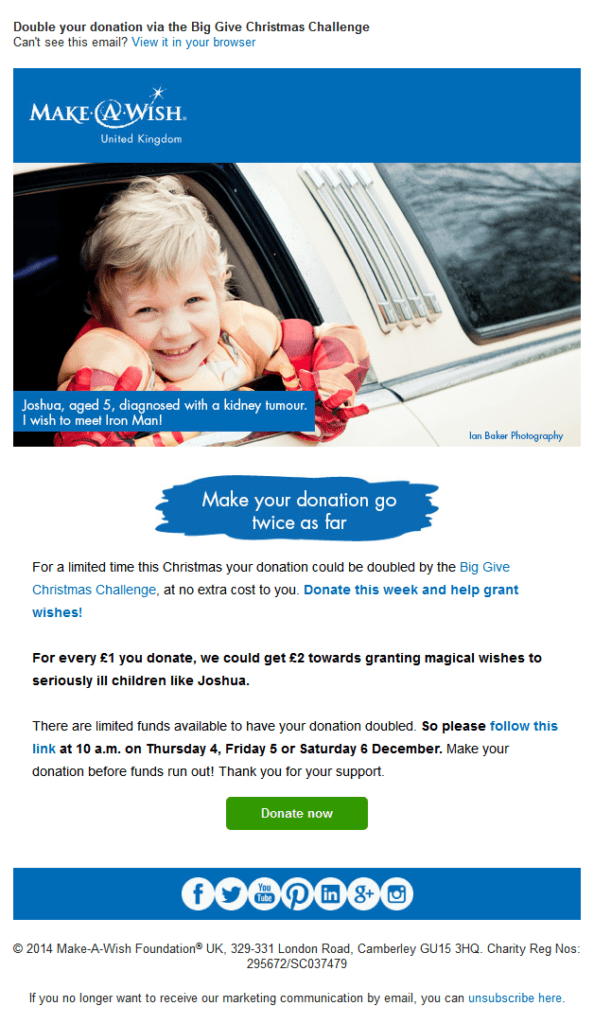 Subject line: Water Is Dangerous
Email type: Informative email
The subject line on this Unicef email alone piques interest and encourages subscribers to click open to read more. Creative play on the subject line is a great way to generate higher opens. However, overdoing it and using click-bait titles can cause your emails to land in the spam folder.
The design of the email stands out and like the previous email from Make A Wish Foundation, it's short and to the point. This email focuses on how the water in a Lawaki Village isn't safe for the children to drink. With many details left out the call-to-action drives the reader to their website to read more. From there, readers can decide to give to the cause.
Subject line: Subject line: We're inspired by your generosity
Email type: Thank you email
The simplicity of this email from Charity Water really stands out. It's a genuine and simple thank you for donating to #GivingTuesday. The email has no other motive and does not try to oversell itself or hook the reader to another action right away, which can be off-putting to some. The email does not contain a call-to-action, apart from a link back to the site on the image.
The email copy shares how their journey started and how far they have come, all thanks to the generosity and support of donors like the recipient.
Subject line: The Big Give Challenge is here! One donation.. twice the impact!
Email type: Informative email
My AFK here does the second example with a donation match offer — a strategy that works well as it doubles down the promise of doing good. The difference here is that they positioned it as a challenge, thereby kindling the want to take action. By donating between a specific date range, one donation has twice the impact which creates a snowball effect.
The email is slightly longer than the others but it tells the story of how the donations will have an impact on the children's lives and includes a video message on how it works and how the donors can make a difference. Videos in email can increase conversions and click-through rates by up to 300% while reducing unsubscribe rates by 75%. Source
Subject line: ⏳ Have 1 minute for wildlife, Chari?
Email type: Informative email
The subject line is the first to stand out in this email from WWF. Not only does it include an emoji (known to stand out in the inbox) it also includes the subscriber's name. Email personalization establishes trust and can increase open rates by up to 50%.
There's a countdown timer included in the email copy, creating a sense of interactiveness and generating urgency in the reader. Finally, the email is signed by an actual person providing a one-to-one human connection.
Subject line: December 31 is the last day to make a tax-deductible donation!
Email type: Donor incentive email
The Canadian Red Cross includes an incentive for the donors, the main focus of the email is to inform readers that they will receive a tax credit for the donation they make to the Red Cross, which many may not have known about.
The grid in the middle of the email demonstrates what the donors will receive depending on what they give. It also provides a link to a calculator to help donors calculate their own amounts. This email is a great example where the focus is on the benefit to the reader. The giving for the cause is the added benefit while an explicit deadline create the right sense of urgency.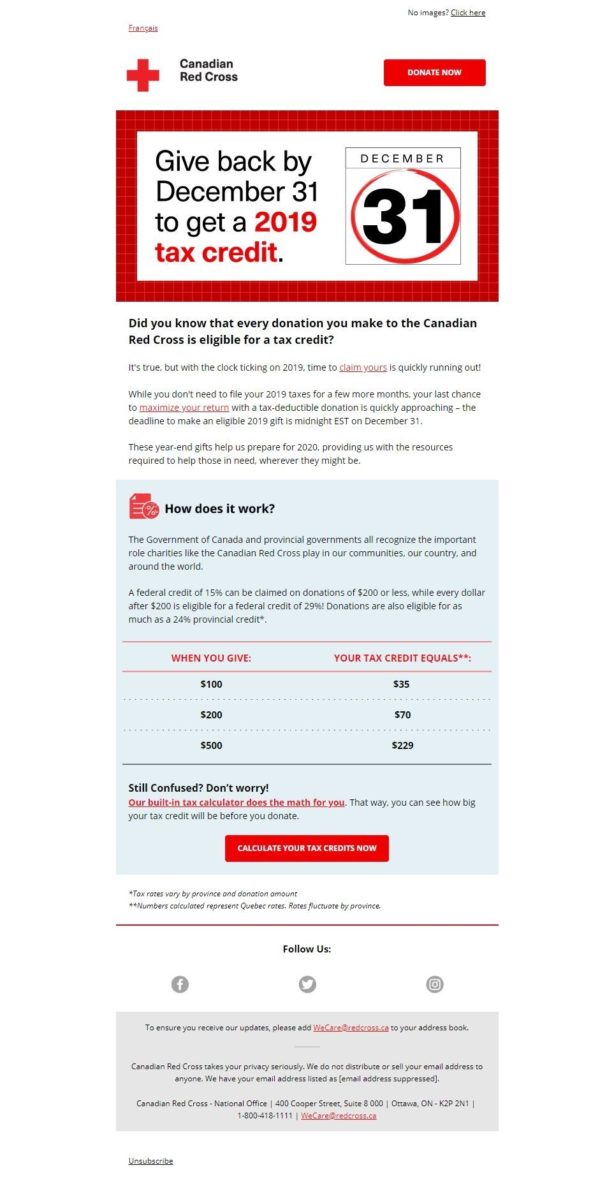 Subject line: 3 ways you can help our coastal seas
Email type: Informative email
WWF collaborated with another nonprofit called Our Planet to help raise awareness for Coastal Seas and the impact that climate change has had on our coral reefs and mangroves.
The email is rich in information that help the readers learn more about what is going on with the reefs. It also includes links to educate readers on how they can make a difference.
The overall design of this email is simplistic and includes just enough information to allow the subscriber to learn more about the cause by clicking through to their website. The sections of the email are well distributed into three bite-sized segments that flows a logical path of learning, acting and driving change. Collaborating with other organizations that share your vision is a great way to amplify your reach.
Subject line: #RescueIsMyFavouriteBreed and POGDOGS
Email type: Newsletter
Battersea's monthly newsletter includes multiple sections that make the email rich in information. With a video, multiple CTAs that lead to more information, and eye-catching imagery for the pets that are in need, the newsletter makes for an engaging read.
The email does not ask for any donations of any kind until the very bottom and does not come off as pushy. The purpose of the newsletter was designed to inform the readers of the happenings at the organization.
While donations are critical to any charity, forging connections through stories and sharing informative content builds trust and loyalty which in turn urges subscribers to become donors.
Subject line: What an amazing year!
Email type: Newsletter (year in review)
CARE Australia did an outstanding job creating this year-in-review digest email. The email is beautifully designed, is modern in aesthetics and looks great on mobile as well. The template is visually striking with bold color blocks and sharp imagery. It includes photos and in-depth numbers of the impact that the donations they received have had. The heartwarming email tells a story and sends many thanks to all who contributed. It has one CTA at the very bottom and that is to learn more about the amazing stories.
Subject line: Welcome, John.
Email type: Welcome email
Welcome emails generally receive four times higher open rates and five times higher click-through rates than traditional emails. Save the Children accomplished multiple important elements that are crucial when developing a successful welcome email. Mobile design, personalization, tone, and value. The tone of the email is positive and provides expectations for what subscribers can look forward to in the future and does a succinct job of explaining the core values of the organization to the reader. The email is able to pack a depth without getting wordy.
How to pick the right email platform for your charity
There is an overwhelming amount of email service providers on the market and choosing the right one for your organization can be intimidating. To help you make an informed decision we have put together the top 10 things you should consider when choosing an email tool for your organization.
1. Easy-to-use email design
The tool you select for your charity should be easy to use and intuitive. Look for a platform that doesn't require a dedicated email developer, technical or HTML coding knowledge. An intuitive visual email builder like Robly's simple drag-and-drop editor allows you to create beautiful, customized, responsive emails without having to code or rely on external designers.
Robly offers a wide range of pre-built mobile-responsive templates that you can choose from our template library. You can create great-looking emails in minutes. We offer a 14-day trial to test what we have to offer and see why hundreds of charities use us to get their word out.
2. Robust integrations
As we mentioned in Part One of our guide, connecting your data sources so you can know more about your subscribers is crucial. Make sure the email tool you pick integrates easily with common marketing and sales tools without having to use complex development. Going back and forth between different tools can cost your organization precious time and money.
Not sure how to integrate the two? Our team at Robly can help you get up and running through both ready-to-go and custom integrations. Robly seamlessly connects with multiple online platforms and also offer an API that your developers can use to build a custom integration easily. Learn more.
3. Deep personalization capabilities
Segmented and targeted emails generate 58% of all revenue according to DMA. Read more on how to personalize emails without being creepy. Emails with personalized subject lines see about 62% more open rates. If you collect subscriber data, you should be able to personalize almost any element of an email from subject line, content, CTAs, and more. Check to see what kind of personalization the email platform provides you with.
Choosing software that allows more than first-name personalization is key. Automatically adding donors' names, titles, organizations, and any specific custom information to send hyper-targeted messages can have a material impact on your email engagement.
4. Segmentation tools
Segmentation allows you to separate your email lists to send more targeted emails to different groups. You can build segments based on how much your donors have donated, engagement history, location, demography, and more. The more information you collect on your subscribers the more catered content you can send their way.
Robly's segmentation functionality makes it easy for you to slice and dice your mailing lists for precise targeting, ab testing, and optimization. You can also track website visitor behavior and tag & segment by prospects, customers, and interests. Segmenting your customer data and campaign activity allows you to send the right message at the right time.
5. Great deliverability
Email delivery is often overlooked when switching to a new email provider, but it is one of the most important factors when selecting a platform. Poor inbox delivery would mean that all your work towards crafting beautifully designed, personalized, and contextually relevant emails are wasted as the reader never sees it. The best way to test for deliverability is to sign up for a free trial and conduct a few test campaigns. Robly prides itself as the inventor of OpenGen, a breakthrough technology that lands your emails in subscriber inboxes and delivers up to 50% more opens compared to other email tools.
7. Easy automation tools
Email automation doesn't just save you precious time but gives you the ability to personalize your emails at scale to thousands or even millions of subscribers. The email provider you choose should have easy-to-use features tailored towards automating not only time-sensitive emails such as thank you and welcome emails but also complex multi-step drip campaigns with rules.
A great example is a welcome email or series, when a new subscriber is added within minutes of the subscription a welcome email is sent. When you choose an email tool, test out their automation and personalization capabilities thoroughly.
8. In-depth reporting
A solid email strategy depends on meaningful, actionable analytics. The email  platform you choose should have a detailed reporting functionality to help keep track of your efforts in real-time.
When exploring your options, look for a tool that can track fundamental metrics such as open rates, click-through rates, unsubscribe rates, and delivery rates. Further, look if they either integrate or offer in-built conversion tracking and traffic reporting.
9. Support from real people
Using a pure self-serve tool means when you hit a snag at some point you are on your own. Evaluate what kind of support infrastructure the company provides. Look for software that offers some type of support from real people, whether it's through email, chat, or phone.  This provides you with some peace of mind that if issues do arise you will have the help you need to get your email message out the door. Some platforms assign dedicated representatives to your account depending on how much you are paying so make sure you look into that too before purchasing.
10. Nonprofit pricing
Most (if not all) email platforms offer special pricing for nonprofit organizations. Review each pricing plan carefully to ensure there are no additional fees that may incur after setup. Many platforms are contact based, while others calculate the cost based on the number of emails you send so it's important to review and pick a tool based on what your needs are and what will be economical for you as you grow.
With so many email platforms on the market, we know that it can be overwhelming. We hope our list helps you choose a platform that works best for you. If you have any questions or would like to hop on a free demo with the experts at Robly, let us know!
We would love to help start spreading the word about your organization.