There are a number of steps marketing and SEO managers need to take in order to optimize and outline their startup's on-site SEO strategy.
When it comes to ranking your website for keywords, you can break the process down into two categories: on-site SEO and off-site SEO.
On-site SEO refers to the practices you should enable on the front- and back-end of your website, which we will discuss in this article.
Off-site SEO, on the other hand, focuses on external marketing of your business. This includes anything from email marketing to social media marketing or any other form of link building (ie, inbound links from external websites).
Having a checklist for both is necessary, especially during the startup stage, because dysfunctional marketing and SEO-strategies leave the door open for competitors to gain more traction and customers online, despite not offering better product or service.
In order to prevent this from happening, we're going to provide you with a twenty-point on-site SEO checklist that you can implement now.
1. Set Up Google Analytics
Google Analytics offers users key insight into a website's traffic, what pages are popular, where your visitors are coming from, and what platform they are using (mobile or desktop). It also shows which websites are referring visitors to your site and what your bounce rate, page views, and time-on-site are. This is probably the most important analytical tool for a website that you can find, and the amount of data you can get from it is invaluable.
2. Install an SEO Plugin (WordPress Users Only)
Yoast SEO helps WordPress users prioritize SEO by optimizing their website and blog posts for Google. It allows you to add meta-descriptions, an SEO title, and a slug to your posts and pages. All In One Pack is a WordPress plugin for users regardless of their level of SEO knowledge. Beginners can use the plugin out of the box and advanced users can take advantage of APIs to personalize the plugin.  
When you install either of these plugins to your WordPress website, you will be able to add important SEO information that communicates with search engines.
3. Make Your Content Organized and Readable
Your content should be broken up by headings and bullet points when possible. Furthermore, you should use proper font sizing (think: 14-point or higher for regular text, higher for headlines or subheadlines) so visitors can read without eye strain. This can increase important metrics like how much time visitors spend on a page, which shows Google that your website offers value.
4. Use Free or Paid Keyword Search Tools
Keywords are terms, questions, and phrases that people search for in Google.  They are critical to on-site SEO success. Your website's pages and blog posts should target these keywords so that you can attain traffic based on the monthly volume of that given keyword. But how do you find out which keywords are searched for and how often?
KWFinder is a good (and free) tool for startups interested in seeing how specific keywords rank, similar suggestions, which websites are on the first page of Google for those keywords, and other key metrics like PPC, search volume, CPC, and keyword difficulty. SEMrush is a paid version with even better, more expanded tools.
5. Search for Long Tail Keywords on Google
Long tail keywords are a better way for startups to determine what users are actually looking for. They are simply keyword phrases of 3 or more words. They are easier to target and rank for, and oftentimes give your business high quality, laser focused leads. An example of a long tail keyword would be "best CRM for startups" as compared to a traditional keyword, "best CRM."
To find long tail keywords, start by typing a keyword you have in mind into Google and then look at the suggestions Google offers you on the bottom of the page. Those suggestions are long tail keywords. Let's use "best CRM" as an example:
Another way to find long tails is by using a tool like keywordtool.io. Just simply type in a keyword and it will bring up several long tail suggestions.
6. Use Social Media To Find Trending Keywords
Websites like Reddit, Facebook, Twitter, and Instagram all offer insight into what's trending and what people are searching for. Look at popular hashtags, see what articles are trending, and read comments for inspiration. If your website already offers social media integrations, you're doing your startup's website a huge favor. Then, take that information and input it into your keyword tool of choice, and you have a topic for the next blog post.
7. Search Question Keywords
People use Google all the time to answer questions, and people type their searches in the form of questions. When your startup has a keyword they want to rank for, turn it into a long tail keyword in question form for more specific results.
8. Include Keyword in URL
Including the main keyword in your URL is a good way to get Google to understand what the page is about. The main keyword is simply the primary target for the page or blog post in question. You can target multiple keywords on the same page, but your URL should only contain the main keyword. Although it has very little effect on search engine rankings, it's still a good idea to show that ideas are organized and consistent in all parts of your startup's site.
9. Use Short URLs
Short URLs are easier for people to remember and they should be universal on your website. They also just look better. For Google, this leads to a better ranking for the keyword because it's easier for Google's ever-changing algorithms to understand what the page is about and how to rank your site.
10. Put the Keyword in Your Title
An H1 tag simply refers to the title of your page or blog post. Placing the keyword in the H1 tag in your HTML code has a more positive effect on SEO than placing it in the URL, so you should do this everywhere on your website. You need to also find the right balance of placing the keyword and attracting attention to your page with an alluring title.

For example, if you are writing an article about dog grooming, and your main keyword is 'dog grooming guide', a proper title would be "The Ultimate Dog Grooming Guide: Everything You Need To Know". That title is both alluring and includes your target keyword.
11. Place Keyword in the Beginning of an Article
The sooner you put your keyword in a page or blog post, the more likely your page will rank better with Google because there's a strong indicator of what the content is about. It also helps reinforce the significance of the keyword. Aim to place it in the first 150 words.
12. Use LSI Keywords
LSI (Latent Semantic Indexing) keywords are essentially synonyms for your target keyword. Google's algorithm is much smarter; there's no need for "keyword stuffing," which is when you place the main keyword too many times on a single page or blog post. Instead, use variations of the keyword to increase semantic relevancy and rank higher on Google. This way, you can prevent over-optimization which is done by having a high (or target) keyword density.
13. Don't Forget Images
Images also should be optimized by renaming the file to fit in with the title and article or page on your startup's website for Google. In your blog posts, the featured image (ie, the default image) should also include your target keyword in the alternative text section, which you can easily edit in WordPress.
14. Increase Overall Content Length
Long content ranks higher with Google — as long as the content itself is relevant. It has been proven time and time again, as seen here in SerpIQ's industry study:
Aim for 2,000+ words if it is an important page or blog post that you'd like to rank.
15. Remember Internal Links
Content should be backed up with facts, and you want your other pages and articles to get more traffic. Use internal links to help strengthen your website's SEO, while increasing time on site and customer retention, and reducing bounce rate.
16. Is Your Site Mobile Friendly?
More and more people are using their phones and tablets to access websites. The easier it is for people to search for your website on a mobile device, the more likely you'll receive a higher ranking. Google takes mobile very seriously, and they're starting to roll out a mobile-first index. This means Google will start using the mobile version of a website to index and rank. Therefore, your primary focus should be on making a mobile responsive website before you fall behind your competitors.
17. Fix Broken Links
If you're using external links in your articles and on your pages, make sure these links still work. Broken links do nothing to help your on-site SEO; they also make your online presence appear unreliable.
Use a free tool like Broken Link Check or a free plugin on WordPress such as Broken Link Checker. They are very self explanatory and save you a colossal amount of time!
18. Add Informative, Attractive Meta Descriptions
Meta descriptions are snippets up to around 160 characters that search engines use to show information about a page. A meta description displays just underneath a search result in Google: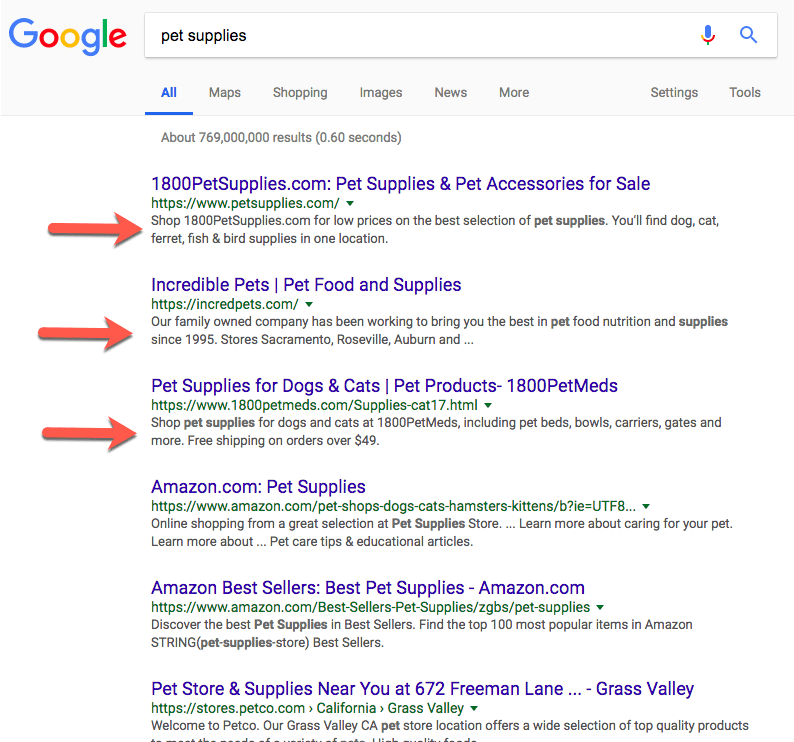 Meta descriptions inform potential visitors what kind of information they will find on a website. They should be concise and match the content implied in the description when a visitor clicks the link. Doing this significantly improves click-through rates.
19. Include Social Media Buttons for Sharing
One of the best ways to get your content and website to spread online is with social media. Adding social share buttons on every page and blog post is a quick way for visitors to share your content. The more people share your links, the better your ranking will be. Most WordPress themes already come with some form of social sharing buttons, but if you need a plugin you can use a lightweight one like Easy Social Sharing.
20. Increase Website Speed
The speed of your website is not only important for SEO, but also for user experience. A slow website means people will leave your website. There are several ways to improve site speed, but some simple steps include implementing a CDN (Content Delivery Network) and caching on your website. WordPress users can do this with plugins from Cloudflare and W3 Total Cache. Note, you still need to register on Cloudflare and host your nameservers through them. Ultimately, you want your pages to load under three seconds or you risk losing traffic and SEO ranking.
The Final Word
By prioritizing and optimizing your SEO strategy, your startup can naturally improve its marketing strategy. Focus on what website visitors are already searching for and how they navigate and interact with your website. Give your website the best chance of being found by making it more accessible on Google. This ultimately increases conversion rates and revenue.
Reuben Yonatan is the founder of GetVoIP — an industry leading business comparison guide that helps companies understand and choose a VoIP system for their specific needs. Follow Reuben on Twitter @ReubenYonatan