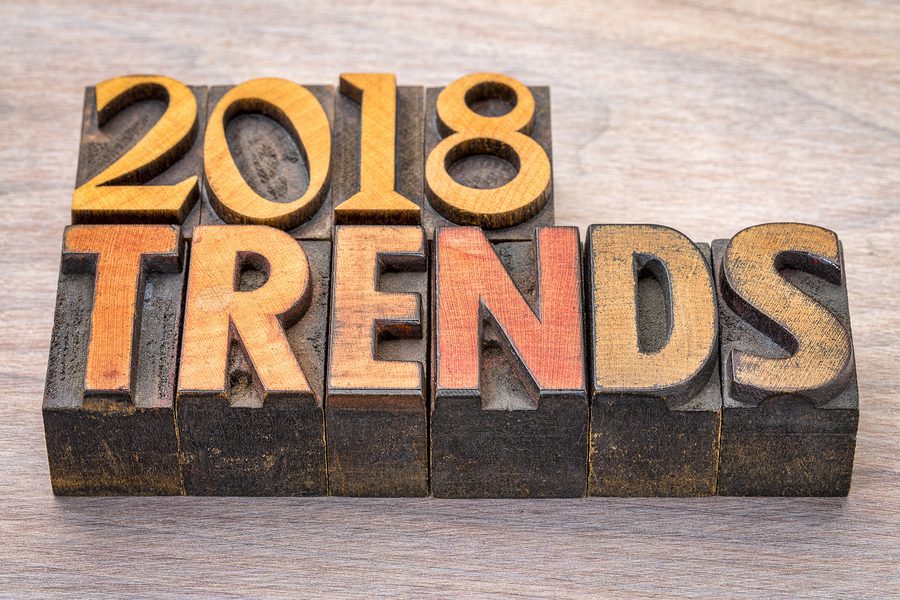 2018 is just around the corner, which means it's time to look at email marketing trends that we'll be seeing in the New Year. We've scoured predictions from 12 different sources and pulled the most popular to give you a head start on your digital marketing strategies.
Sources include: Smart Insights, Email Monday, Fresh mail, Huffington Post, SendGrid, Business2Community, Tower Data, BrightTALK, Expert Sender, Email Monks, Campaign Monitor, and Disruptor Daily.
Here are the biggest trends to look for in 2018 (in no particular order), what people are saying about them, and how you can use them.
1.
Regulation
Regulation isn't a new concept, but expected changes will favor personal privacy and stricter SPAM guidelines. The US has the CAN- SPAM act, Canada has CASL, and the EU has the General Data Protection Regulation (GDPR), with enforcement starting in May 2018. These regulations are expected to increase pressure for data safety and reduce SPAM emails.
In a nutshell, CAN-SPAM requires that email marketers are honest and transparent with their customers. It ensures that customers opt into marketed emails, and have the freedom to opt-out at any time. It also helps curb scams and fraudulent activities.
The new GDPR will improve privacy protection, allow the subscriber to have their data erased or removed, and rights to access exactly how data is being used and/or shared.
Disruptor Daily notes that, "regulation doesn't have to be the enemy….It's usually designed with consumers in mind, which means that as long as you put your customers' needs first, you'll be fine. Give them as much choice as possible about what data you keep and how you use it."
Always make your customers opt into receiving email and include (and enforce) the option to unsubscribe. Be transparent with customers and take steps to safeguard privacy if they make a purchase from you.
2.
Segmentation
Segmentation is the splitting of your email list into specific, filtered groups. Some of the most popular segments are demographics, like age and location, or specific interests. Predictions indicate it's not going away as a useful tool any time soon and will become more targeted.
According to an Email Marketing Industry Census for 2017 from Econsultancy and Adestra, 80% of email marketers are currently using segmentation, with an additional 14% planning to implement it.
According to FreshMail, industry experts believe that more strict regulation, like the enforcement of GDPR that we mentioned earlier, will increase the need for segmenting. Additionally, AI will provide better data to make segmenting more effective (more on AI in a minute).
Groupon has always done a great job of segmenting their subscribers by location and interest: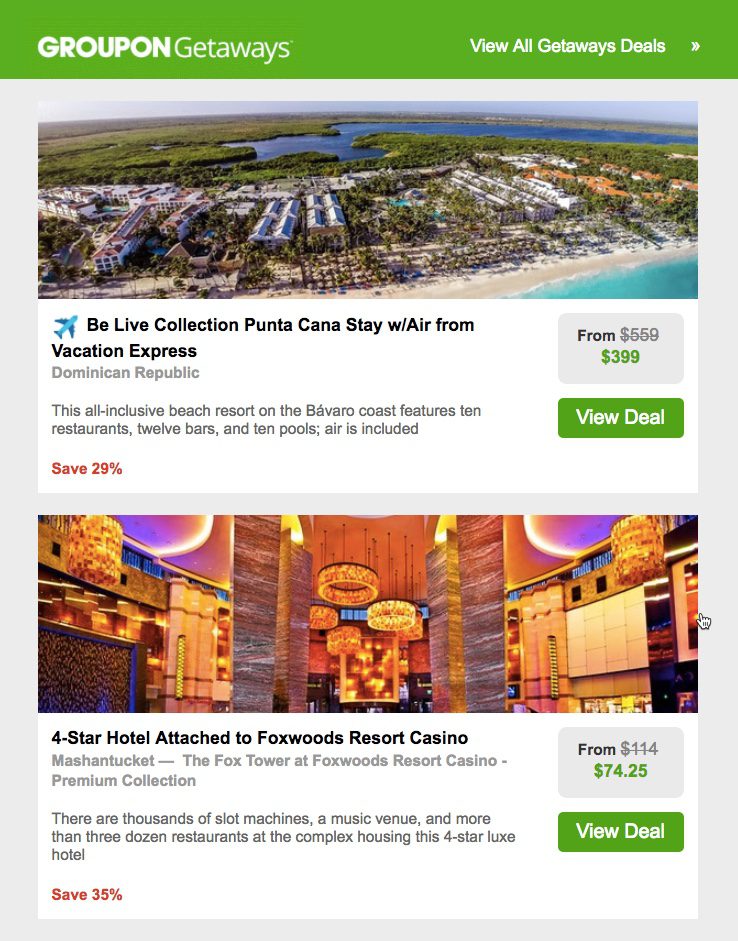 Segmenting is easy to do, provided you're collecting data about your subscribers like location, demographics, and so on.
First, identify what to target. Make a list of the specific characteristics the audience you want to reach has.
Then, find a way to identify those characteristics amongst your list, then segment your list into those groups. If you're having trouble identifying those characteristics in your list,  send out surveys or track their likes and activities for more data.
3.
Artificial Intelligence
This is one of the most popular trend forecasts for 2018. AI can learn and predict customer needs and interests. This information gives companies an edge in providing a personalized, custom experience to the end user.
Huffington Post concludes that "machine learning will make email marketing so much easier by suggesting ways to segment email lists, integrate product recommendations, and send more personalized emails that target individuals."
If the concept of AI makes you nervous, don't be. According to Tower Data, AI processes data efficiently and helps marketers get insight into customer needs and interests. Ultimately, it's a major time saver.
If you're not sure how to get started with AI, look for an email marketing provider (like Robly!) that already offers AI tools. Many companies will use AI to improve subject lines, predict personalization and send recommendations, and increase engagement. You can find more examples at Marketing AI Institute.
4.
Automation
Automation is an amazing tool that allows businesses to generate and send emails automatically, for scheduled and targeted tasks. With the growth of personalization and targeting on the rise, automation will become increasingly necessary for efficient, effective campaigns.
According to Expert Sender, more and more marketers are using automated emails and dynamic code to save time and improve the customer experience.
Chad White, the research director at Litmus, told Fresh Mail, "Creating and optimizing automated emails will be a major trend in 2018. Already, nearly 13% of brands already generate the majority of their email marketing revenue from automated emails…."
Automation can be used in a few different ways. Email blasts can be automated through scheduling. Robly has a one-step automation tool called OpenGen that resends a campaign to non openers. More robust automation tools are action-based and can send out emails to those who take a specific journey through your sales funnel.
Trigger emails are another automation tool, which we're going to talk more about next.
5.
Trigger-Based and Perpetual Marketing
Trigger emails, or autoresponders, can help keep customers engaged with your brand. Specific events like new sign ups, abandoned carts, or reordering prompts can be sent as trigger emails. Perpetual marketing, where a lead is continually reengaged, is done with regularly triggered emails. This ensures consistent brand engagement.
Amazon does a great job of sending trigger emails based on browsing history and items in your cart: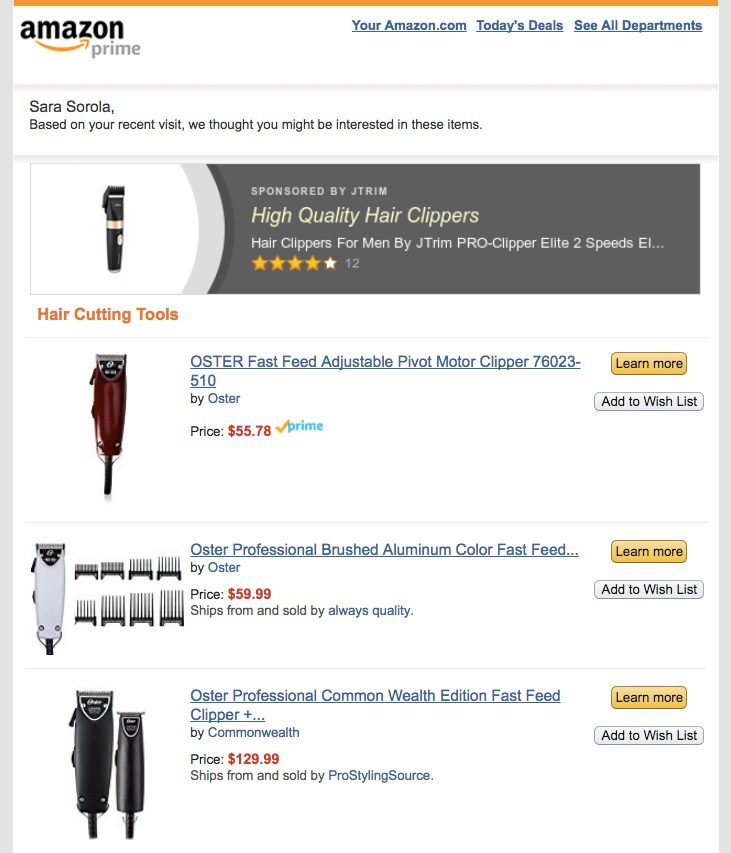 According to Expertsender.com, research shows that trigger-based campaigns can provide 4x more revenue and 18x more profit. As a result, marketers can keep customers engaged, which provides better personalized service and drives the bottom line.  
Trigger emails can be created through the use of AI and automation. One of the most popular triggers is the Welcome Email. Send a welcome email right after a customer subscribes. This creates an immediate connection with your subscriber and sets expectations about what they will receive.
The Knot is excellent at sending emails after the initial welcome. They regularly coach subscribers through the wedding process by predicting their needs — as evidenced by their email encouraging soon-to-be-brides to download a free planning app: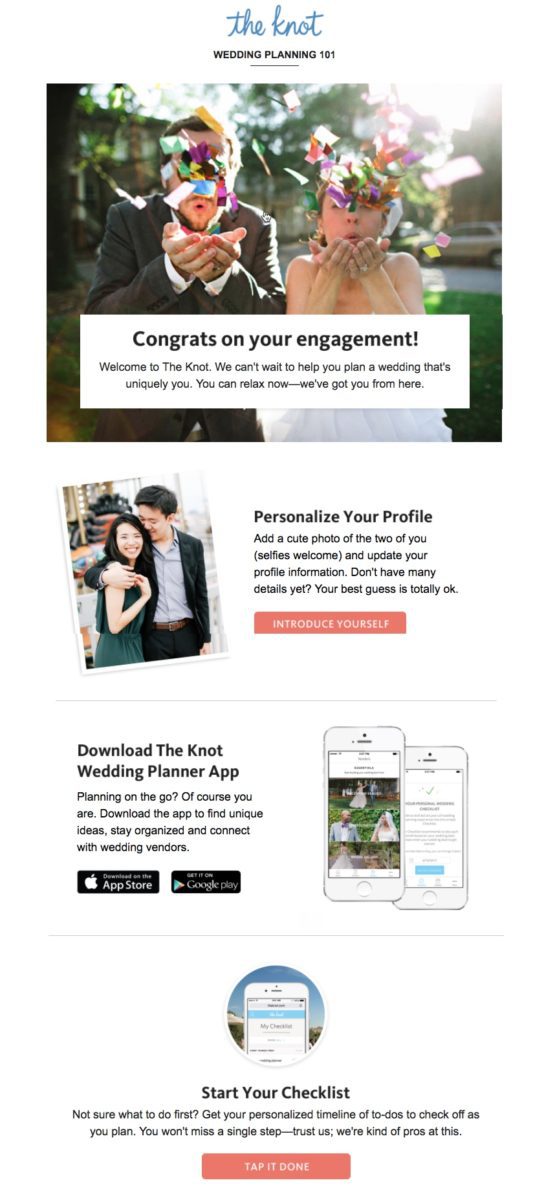 Seems the upward trend of an entire series of introductory emails, rather than a single welcome email, is becoming more popular.
Of course not all of these powerful tools are worth much without a good campaign in the first place. Which leads us to…
6. Personalized Experience
Customization is already key to creating an effective email marketing campaign. While basic personalization itself isn't The Next Big Thing, increased use of automation and AI means a shift toward an even more specific, 1:1 experience.
Creative Director Alex Williams of Trendline Interactive told Campaign Monitor that, "I predict email personalization will start shifting heavily towards 'what's next' instead of 'what was.' Consumers expect everything to work like Spotify's Discover Weekly playlist or Netflix's Recommendation pages. Marketers struggle to deliver those specific kinds of recommendation-oriented experiences."
Tools we mentioned above like segmentation, AI, and automation are making it easier than ever to improve the 1:1 experience.
7.
Mobile Accessibility
People constantly check and interact with email on mobile devices. The more the market trends toward personalized experiences, the more accessible emails will need to be.
According to Customer Think, Google estimates that more than 75% of its 900 million Gmail users access their accounts on mobile devices.
When composing a mobile friendly email, use a clear subject and preheader text, keep the body short, use a single column template, and keep images sized for web use. You can also test your emails by checking them on your own mobile devices before sending.
8.
Microsites and Interactive Experiences
In 2018, companies are expected to ramp up their use of interactive experiences and "microsites," which allow customers to interact with emails directly from their inbox.
Interactive experiences are those that engage someone's attention beyond simply reading an email. Customers are more likely to respond or click when they're given a fun mini game or easy-to-find button.
Using interactive features will allow you to continue improve the personalized, one on one experience by tracking engagement (ie, clicks) to see what performs best.
Customers are also more likely to engage with an email if the interactive elements that are easy to use. Bottom line? Don't make people work too hard. 
According to the Huffington Post, "people love interacting with emails that include image galleries, sliders, buttons, quizzes, search bars, and surveys. This trend will continue on in 2018."
Goldstar gets a gold star here (nyuck nyuck). Check out the way they survey their readers by asking what day of the week is best for them to hit up events:

With the right coding and template options, many different interactive elements can be added to an email — think GIFs, countdown timers, buttons, and more.
The remaining trends we look at here all qualify as interactive experiences, so read on!
9.
Multichannel Engagement
Using email to drive traffic to and from other relevant sites is a great method for engagement (and source for analytics). Integrating social media feeds such as Instagram or Twitter is expected to rise.
Email Monks specifically see Instagram Stories as an effective tool. "Email marketers can include their Instagram stories in their promotional emails and offer an omnichannel experience to their subscribers. It's always good to create a sense of 'familiar' consistency in your marketing plan, regardless of the medium."
Twitter and Instagram have always been good at personalizing and linking feeds to their emails: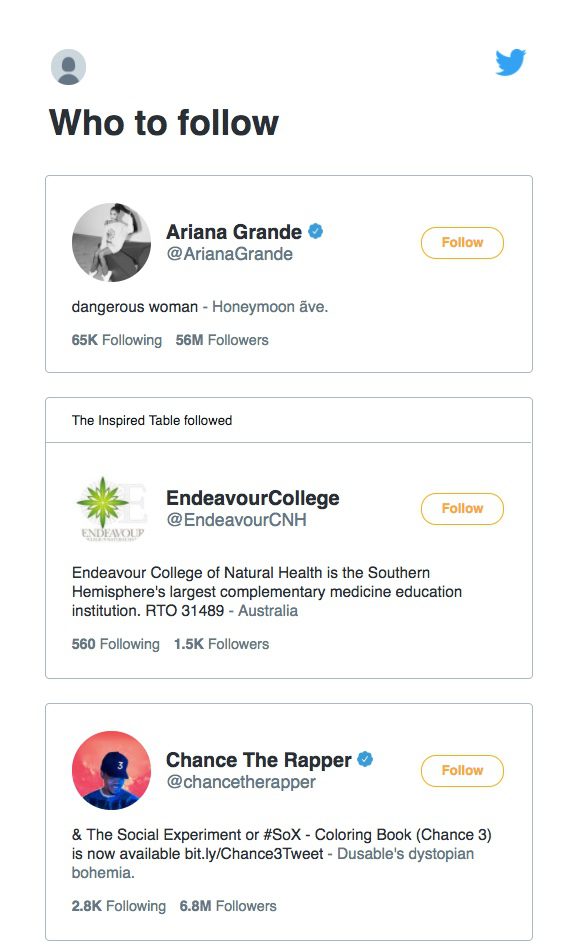 Most social media channels can be added to an email template. Make sure that the feed is relevant, though! Insert a specific hashtag, story, or event theme that will send a clear message to your audience. 
10.
Embedded Video
The most common way to add video to an email is by inserting a screen shot image, then linking that image to the video itself. We predict this will start to change this coming year.
Campaign Monitor estimates that 76% of marketers plan to increase their use of YouTube and video marketing. As a result, they estimate that videos boost open rates by 19%, click-through rates by 65%, and reduces unsubscribes by 26%.
HTML5 Video allows some platforms to play video directly in an email. While most browsers and email clients don't support HTML5 yet, EmailonAcid confirms that Apple Mail, iOS 10, and Samsung will let you play video within the email.
Given the widespread use of video these days, it's likely more platforms will follow suit to allow direct video embedding into email. In the meantime, you can link to a video or use a GIF.
We are particularly fond of cute cat GIFs like the one Hopsy uses to apologize here (click through for the full GIF experience!):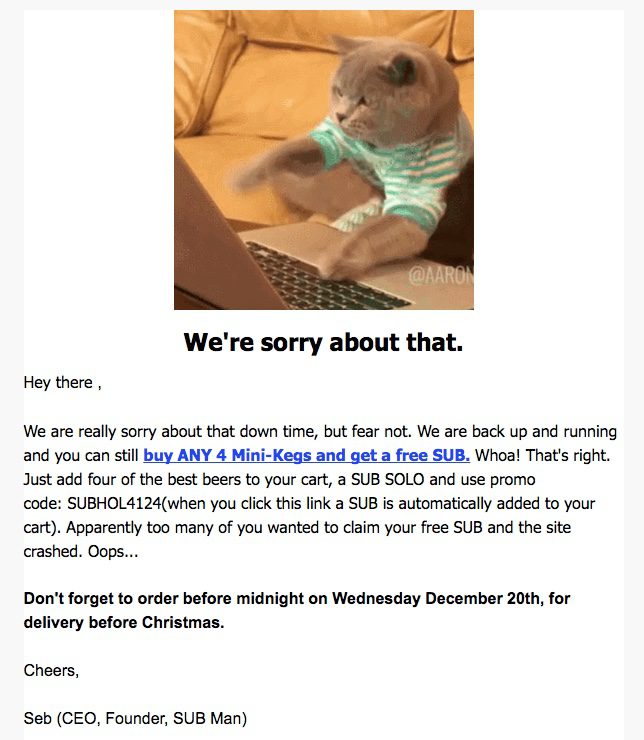 11.
Gamification
Gamifying is expected to be on the 2018 trend map. The concept behind gamification is to offer a reward after a small, interactive challenge or game. Think: quick puzzles, spinning a wheel for a prize or discount, or scratch-and-win.
Co-Founder and CEO of SendPulse, Constantine Rozenshtraus-Makarov, told Smart Insights that, "In 2018 interactive content based on gamification principles will incentivize users to click and become more involved with the brands. Static emails are no longer enough to catch the eye of the ones who want to play, and so marketers will offer them play."
This example from Gwynnie Bee uses the scratch-and-win concept: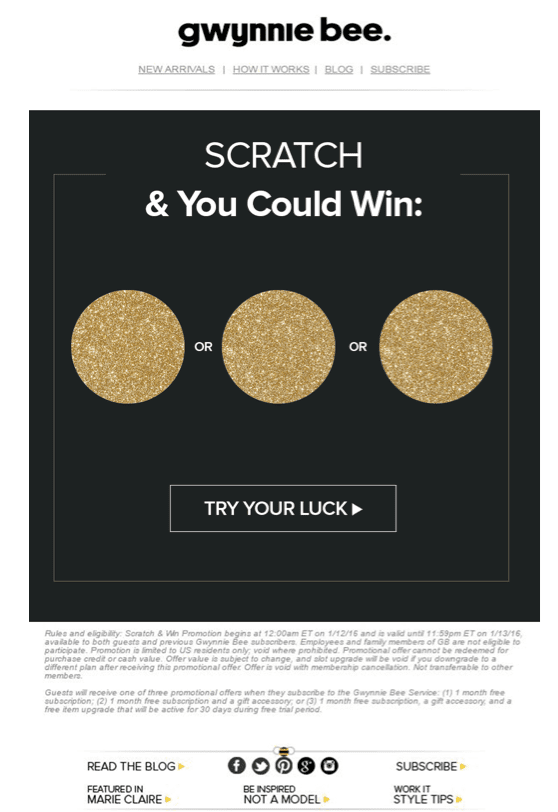 Simple, engaging games make an impact, but it's also important that they're relevant to the reader's personal experience.
What trends do you think we will see in 2018? Share in the comments below!
-Sara Sorola