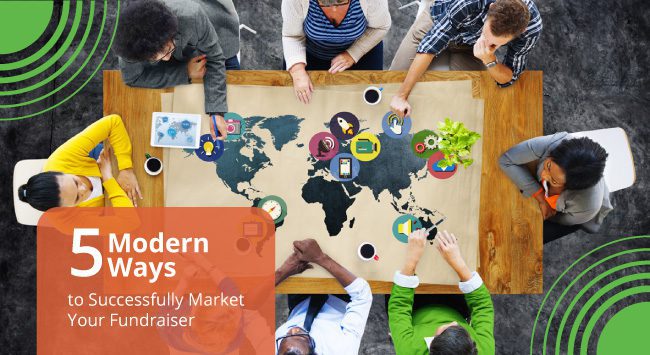 In the fundraising world, technology has highly impacted many nonprofits' processes and overall goals. And as tech evolves, so do ways to raise money more efficiently.
But how does modern technology impact the way you market your fundraiser? In many ways, technology has impacted that, too. There are constantly new ways to collect and analyze data about your donors and to raise awareness about your cause. 
Even if you're using the most current technology, it's still important to have a content marketing plan in place. Adding modern methods into the mix can help you get the fundraising results you need.
In this article, we'll discuss some modern ways you can successfully market your fundraiser. These include:
Peer-to-Peer Fundraising
Email Outreach
Video
Social Media
Merchandise
Try out these methods to successfully run and market your fundraiser. Let's take a closer look at each one in more detail.
1. Peer-to-Peer Fundraising
In today's digital age, there are several ways to promote your cause to your community. One of the most successful avenues you can take involves calling on supporters to help you spread the word.
This is done through peer-to-peer fundraising. During a peer-to-peer fundraising campaign, nonprofits recruit their supporters to fundraise on their behalf using a fundraising platform designed specifically for this purpose.
Here's how it works:
Your nonprofit determines its goal and sets up a main fundraising landing page on your website.
Then, volunteer fundraisers are recruited to set up their own campaign pages.
Your nonprofit provides the volunteers with resources they can use while promoting their pages.
The volunteer fundraisers share their individual campaign pages with friends and family.
Your nonprofit tracks the campaign's progress and offers continued support to the volunteers.
By leveraging peer-to-peer fundraising, you can expand your reach beyond the typical donor circle and raise even more awareness around the cause. Your peer-to-peer volunteers will spread the word about your nonprofit and share their personal connection to the mission. This is especially effective because your volunteers' friends and families are more likely to notice your organization if it's connected to a familiar face.
Here's an example from the Pikes Peak Humane Society 'Pawtoberfest' campaign:

(Source)
If you're interested in learning more about peer-to-peer fundraising, check out Qgiv's guide on the subject.
2. Email Outreach
Though it's considered a more traditional method of outreach, email is still a significant way to grab donor attention and encourage them to support your fundraiser. You can also use email to share news about what your nonprofit is up to, announce new campaigns, and share stories about how donor support is making an impact.
With the right donation request letters, you can raise more for your organization. But there are several extra steps you should take after writing your appeal to modernize your approach:
Segment lists. Segment subscribers into separate lists. While you may have a set of emails that goes out to everyone on your list, splitting subscribers into groups so they only receive messages relevant to them is important. For example, you could split them into prospective donors and past supporters using your email marketing software.
Optimize for mobile. Make sure your emails are mobile optimized. If your readers don't have to zoom in or otherwise adjust their screens to view the content, they will be more likely to read it.
Pay attention to data. One great thing about email nowadays is the amount of data you can collect from it. From open rates to click-through and conversion rates, your email marketing software can help you gain valuable insight into the type of content that is effective.
Tell a story. People want to read heartfelt stories, and stories motivate them to donate to causes all over. Not only will you gain a reader's attention with a compelling story, but they may even be compelled to share it with their peers. Try to include an example of how your fundraiser is working toward the greater good. Make sure to use visual elements like photos or videos.
Here's a great example from Brother Wolf Animal Rescue that tells a story: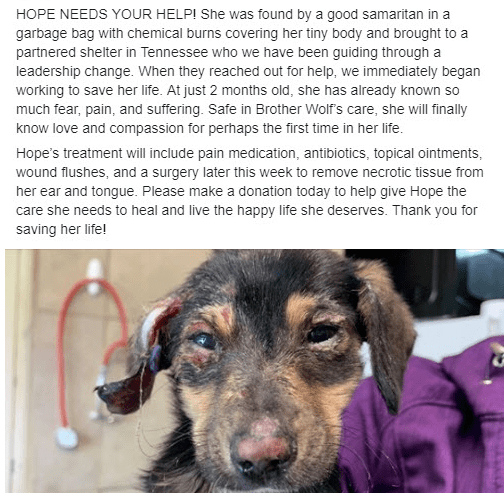 (Source)
Avoid common email marketing mistakes and make sure your email game is at its best. By modernizing your approach and using data, segmentation, and media to tell your story (and tell it to the right people), you'll set your fundraiser up for success.
3. Video
As mentioned earlier, video is a great medium to use in your donor outreach. When running a fundraiser, a video can effectively illustrate your mission and communicate why it's so important.
When producing a video for your fundraiser, try to focus on your cause and the specific communities you're impacting. Here are some important pieces to be aware of:
Your vision. Have a clear vision of what you want to achieve with a video. In the case of your fundraiser, you want to secure donations and support, so decide how best to inspire action from your audience.
The cause. Focus on building an emotional connection between the viewer and your fundraiser. Demonstrate how they can make an impact if they donate.
A call to action. Your call to action should be goal-based. This could include asking for donations, volunteers, or simply sharing the video. Keep your viewers as engaged as possible.
Using video as a marketing tool goes a long way when you put the right amount of effort into producing it. But, more than that, it can serve as a way to spread awareness quickly if it's engaging and people are compelled to share it. Incorporate these practices in your next video and you'll be on your way to achieving your goal.
4. Social Media
Of course, one of the most common and effective ways to market your fundraiser is through social media. Social media is a powerful tool you can use to reach a larger audience, raise awareness for your cause, and connect with your donors.
But there are certain practices you should use when building your social media presence online. You want to build trust with your supporters and give them a reason to support your fundraiser. We recommend these strategies:
Make your content shareable. This doesn't just mean pressing a "share" button. This means creating engaging content that grabs people's attention and compels them to take action.
Put the impact front and center. Help people visualize the difference they can make if they support your fundraiser. Connect the amount of money you raise to tangible outcomes in the community.
Use powerful images. People are more likely to get involved if they're offered a compelling visual. Many nonprofits try to use as many images as they can within a limited space, but it's more effective to use one or two compelling images at a time to highlight your fundraiser and its impact.
Vary your posts. Incorporate teaser posts to get people excited about your upcoming fundraiser, then post updates about its progress (and countdowns) to establish a sense of urgency.
Be responsive. When your supporters interact with your social media pages and reach out with specific questions about a fundraiser, it's important to be responsive. This instills trust in them and creates a positive impression of your nonprofit.
Here's an example from SPCA Florida that highlights how to share via social media.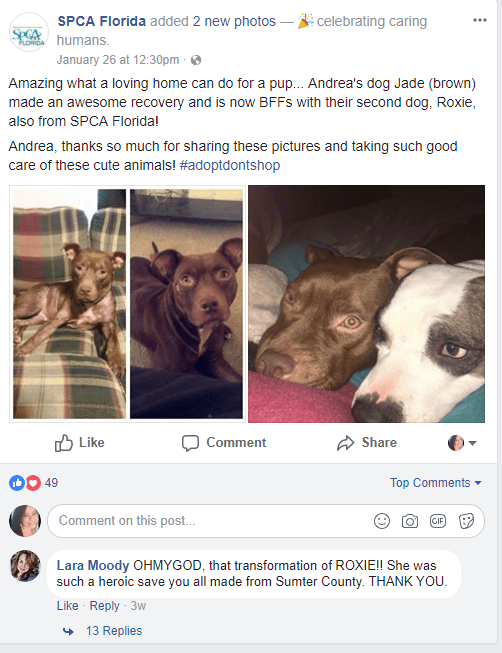 (Source)
Social media can be a powerful marketing tool for your fundraiser. If you offer helpful information and post engaging content, more supporters will interact with your organization online and you'll build more awareness around your fundraiser.
5. Merchandise
The benefits of incorporating merchandise into your fundraiser are twofold. First, you can raise money by selling t-shirts and other merchandise. Secondly, you can spread brand awareness for your fundraiser when people wear or use your branded merch.
Great fundraising products should feature a design relevant to your cause that are eye-catching and consistent with your brand. But how can you modernize this process?
Try these tips when adding merchandise into your fundraising mix:
Use a t-shirt fundraising platform. With online t-shirt fundraising platforms, you don't have to deal with inventory. This takes the stress of organizing sizes and style preferences off your shoulders. Check out Bonfire's platform to get started.
Use a great design. Incorporate custom fonts, attractive color palettes, and unique designs. Your merchandise management platform should offer tools and templates to help you do this.
Offer a variety of merchandise. Sweatshirts, tank tops, and long-sleeve shirts in addition to regular t-shirts will appeal to more people and increase your fundraising revenue.
Check out this example from United Way's Nebraska and Iowa Flood Relief Fund: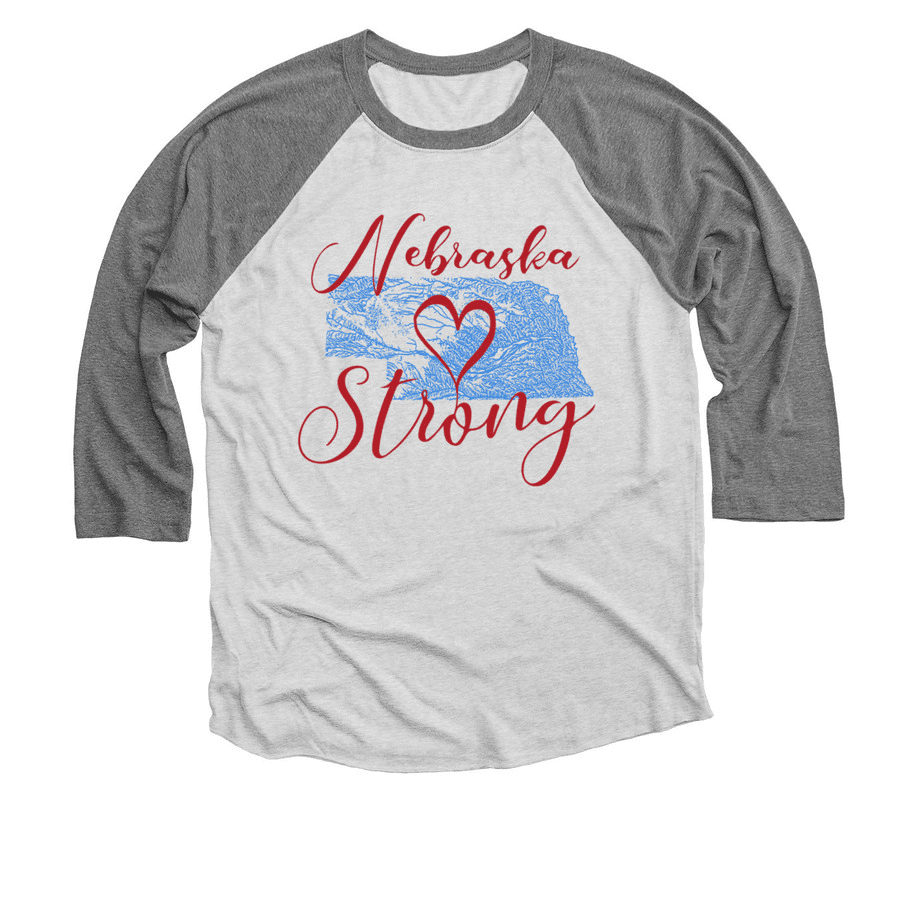 Merchandise can go a long way from a marketing standpoint, especially when you use a t-shirt fundraising platform that manages your inventory for you.
Your platform should also make it easy to design merchandise that reflects your organization and its fundraiser. Streamline your fundraising process, raise awareness with your merch, and raise the funds you need!
---
There are many ways to take a modern approach to marketing your fundraiser. Selling t-shirts can spread awareness, but so can online outreach and media. Use the resources available to you to successfully promote your cause.
If you're looking for specific ideas for your next fundraiser, check out this list!
Abby Jarvis is a blogger, marketer, and communications coordinator for Qgiv, an online fundraising service provider. Qgiv offers industry-leading online giving and peer to peer fundraising tools for nonprofit, faith-based, and political organizations of all sizes. When she's not working at Qgiv, Abby can usually be found writing for local magazines, catching up on her favorite blogs, or binge-watching sci-fi shows on Netflix.