Knowledge is power. We've all heard that saying before. But what about when we need it and don't have it?
You're tasked with gathering information to help you better target, engage and reach your customers. One of the best ways to do that is by collecting their feedback with surveys. But with all the survey tools available, it can help to have a guide that compares them. So here we are and that is what we're going to do.
Why Are Customer Surveys Important?
Sending surveys has benefits, including improved retention and engagement rates. They can also help you improve the overall customer experience by getting feedback straight from the source about what is and isn't working.
Figuring out what your customers think is vital — because if you don't ask them, they are probably not going to tell you. Research found 96 percent of unhappy customers don't complain, but 91 percent of those will leave and never come back.
And if you have no idea that your customer is unhappy, there's no way for you to fix it and retain their business. Not only can surveys help you catch an unsatisfied customer before it's too late, but they can also help you wow customers by showing that you care about what they think.
Once you figure out your survey goals and the questions you want to ask, you just need to find the right tool for the job. There are several to choose from, so we'll break down some of the pros and cons of each to help you decide what will work best for your needs.
1. GetFeedback

Users will find a clean, good-looking survey design for both mobile and desktop versions with GetFeedback. This cloud-based option integrates the feedback program with Salesforce and also allows you to send surveys through your email service provider. It's used by companies like Dropbox and Facebook.
Pros
Rated a high performer on G2 Crowd, GetFeedback is intuitive and offers a wide range of template and design options.
You can reach your audience through a variety of channels, including email, website widget, mobile app, website embed, social media, and text message. There are also real-time reports, role-based dashboards, and Salesforce dashboards/reports.
Cons
Besides the free limited-time trials, there are no free plans, which can deter small businesses just starting out with surveys. The price factor seems to be the consistent issue users have with this tool.
Cost
Their Professional account starts at $50/month, and their Teams version starts at $200/month. They also have corporate and Salesforce plans, but you'll need to contact GetFeedback to figure out your exact cost.
2. SurveyGizmo

Find more than 40 question types, responsive themes, branching/skip logic, custom theme builders and other features with SurveyGizmo. There's also standard and advanced data analysis and reporting to track your data with this G2 Crowd high performer.
Pros
Customization is a major benefit of using SurveyGizmo, which allows users to add branding and images — or design the form from scratch using HTML and CSS.
Unlike some of the other survey tools, this one allows you to create logic actions for sending emails, and it also has Salesforce integration built in.
Cons
Prices and plans have changed, and their customer service can be a bit slow at times. There have also been several updates to the platform — more than normal — which can cause some confusion at times.
Cost
The free plan allows you to have up to three active surveys at a time and gather 100 responses. The basic $25/month plan (billed annually) provides unlimited surveys, questions, responses, and other features. SurveyGizmo also has a standard license plan for $84/month, market research license for $125/month, and full access for $166/month.
3. AskNicely

Send surveys with AskNicely via mobile-friendly emails or from your site, product, or app. This option prides itself on helping you specifically create a survey designed to collect Net Promoter Score (NPS) data. So, if you're interested in surveying subscribers using a NPS tool — instead of the normal multiple-question type survey — this is a good option. Its NPS surveys allow customers to easily rate your company on a 1-10 scale and provide additional feedback. It can also integrate with several software options, two of its most appealing functions.
Pros
You can ask follow-up questions on the NPS score, which helps collect more information than just the standard numerical rating. It also puts together real-time leaderboards that rank your best channels, products, segments, and agents to see which areas are performing the best.
In addition, you can track your NPS over a period of time to measure the impact of certain campaigns and activities.
Cons
Since AskNicely is mostly focused on NPS data, it lacks in other survey areas. There have also been issues with how survey render on non-iOS devices.
Cost
AskNicely's Starter plan is $59/month and allows for up to five users and 500 surveys per month.Their Professional plan is $249/month with up to 10 users and 5,000 surveys a month, and the Advanced plan is $649/month.
4. Typeform

Create professional-looking surveys that are fairly easy to design with Typeform. They offer survey options including NPS, political polls, straw polls, customer satisfaction surveys, Facebook polls, and brand awareness surveys. It also provides reports and analyses.
Pros
The aesthetics for both you and the respondent stand out in all of the right ways. There are plenty of ways to customize the surveys, along with several pre-built templates to make the build phase faster without compromising design.
It also offers a free plan as well as pretty reasonable plan prices compared to some of the other survey tools. Typeform can be integrated with more than 500 tools via Zapier.
Cons
You'll have to upgrade to enjoy the pro features, but that's not much of a surprise. Some customers said they had issues with the logic mapping, as it can be a bit confusing. You also can't send an automated response to a survey participant based off of their answer.
Cost
The free Basic plan allows 100 responses a month, and the Pro plan is $30 with unlimited responses. Pro+ is $59/month.
5. GetResponse
With a wider range of features than your average survey site, GetResponse also provides email marketing, webinars, landing pages, and marketing automation. The survey creation tool comes along with the overall plan and can be customized to match your brand. You can also combine some of GetResponse's features, like offering an online survey during a webinar.
Pros
Building a survey is fairly simple, thanks to the drag-and-drop function. You can use multiple question formats in the survey, with up to 50 pages in a single survey. There's also the option to make changes to a survey that's already published, and the site displays the data and analysis in easy-to-interpret graphs.
Cons
Some customers say they've had issues with customer support, and trouble importing lists was another concern. There have also been some reported issues with the platform's A/B testing.
Cost
They have an Email plan that's $15 month, Pro plan for $49/month, Max plan for $165/month and Enterprise option that starts at $1,199/month.
6. Formstack

Build custom forms, use ready-to-go templates, and collect data with Formstack's features. Its basic (silver) plan allows up to five users, allowing you to collaborate with your team and create streamlined workflows.
Pros
It offers more than 30 form integrations with some of the popular platforms — including Salesforce, PayPal, HubSpot, MailChimp, and others — which can help everything work together more smoothly.
The site also allows you to use conditional logic to create personalized form experiences based on an answer the person chooses for another field on the form. That helps you get the information you want and also tailor their experience. It also gives you flexible options for designing forms and surveys.
Cons
Their level of support seems to be lacking, based on several customer reviews. While they do provide FAQs and some general information on the site, the level of one-on-one help might not stand up to some of the other options. The plan prices can also be a turnoff since there isn't a "forever free" option.
Cost
Formstack allows a free trial period for all of its plans, and the prices start with $39/month for its Silver plan. There's also Gold for $99/month and Platinum for $249/month.
7. SurveyMonkey

The name says it all: SurveyMonkey is known for its survey capabilities. That's pretty much their thing. They offer surveys, net-promoter scores, Wufoo online forms, and survey analysis.
Pros
SurveyMonkey can be integrated with a number of different platforms and sites, including ones for CRMs, email, events, marketing, social media and productivity. It also helps take some of the guesswork out of what to ask subscribers, providing more than 2,500 questions approved by survey professionals.
The site also has more than 100 expert templates to use for surveys, keeping you from having to reinvent the wheel. You also have the ability to create custom themes that match your brand.
Cons
While SurveyMonkey can be an efficient survey tool, that's about the reach of its usability. So, you would need this in addition to your email marketing platform — and the results you collect through the site would be kept separate from your other metrics.
It would be one more tool to keep track of, instead of being housed under one roof with your email service provider — unless it offers an integration for your application.
Cost
They offer four plan options: Basic, Standard, Advantage, and Premier. The basic plan is free and comes with unlimited surveys, but each survey can only have 10 questions and up to 100 responses. The standard plan is $35/month with unlimited surveys, unlimited questions, and up to 1,000 responses per month. Advantage is $34/month (but billed annually) and the premier plan is $99/month (billed annually), and both have unlimited surveys, questions, and responses.
8. Promoter.io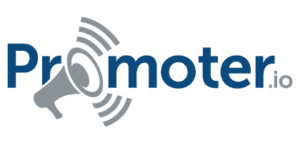 Known for its NPS capabilities, Promoter.io is a pretty intuitive option to capture customer (or employee) feedback. Its responsive emails can be customized with your brand logo, and they also offer the option to segment your campaigns to view separate NPS scores.
Pros
Basically, if you want to create NPS, this is one of the better options. But there are also appealing features beyond that.
Promoter.io allows you to customize and automate a fair number of its features. For example, you can set repeat surveys every three, six, or 12 months, and you can also send automated survey reminders for your subscribers who haven't participated. You can even set survey throttles to prevent a customer from receiving a survey too often.
Cons
Users seem to agree that the platform could stand to see some improvement with its reporting capabilities. It also doesn't have Salesforce integration like some of the other options, although there are some workarounds to connect the two.
Cost
Their plans include Hobby for $29/month, Starter for $49/month and Pro for $99/month. Like most of the plans, they also offer discounts for annual payments.
9. Checkbox

A cloud-based survey tool, Checkbox provides features to create and distribute surveys, along with data collection and analysis. You'll find resources to build an NPS survey or something more elaborate, like a survey with conditional logic and different question types.
Pros
Give survey participants real-time information with Checkbox's follow-up automation. You can set up automation such as in-survey messages, email alerts, or show respondents how their answers compare to others. It gives you the chance to ask questions in a variety of ways, from questions and rankings to happy and sad faces.
Cons
Although it allows you to customize your survey design, it's a little lacking on the available pre-built templates. It can also take some extra time to master the tool's more advanced functions. Their pricing options can seem a bit steep, too, depending on what you need them for.
Cost
They offer online subscription plans, along with on-premises software licenses. Their Basic plan is $450/year, Professional is $1,750/year, and the Team plan is $3,450/year.
10. MailChimp

One of the leading email marketing providers, MailChimp allows users to send simple polls and surveys to their subscribers. Their poll tool adds a question and rating scale, while their survey feature inserts questions with answer options.
Pros
MailChimp is known for its easy-to-use interface and email marketing capabilities, so being able to also create and send surveys with this tool helps keep all of your data in one place. It gives you one platform that can handle email marketing, reporting, and surveys.
Cons
While you can add multiple polls to a single campaign, it only allows you to include one survey per campaign. If you want to add multiple survey questions, you'll need to consider an integration with a site like SurveyMonkey.
Cost
They offer three plans, with one for New Business (free), Growing Business (starting at $10/month) and Pro Marketer (additional $199/month). The free plan gives you up to 2,000 subscribers and 12,000 emails a month. Their Growing Business plan rates depend on how many subscribers and emails you want each month. For example, 2,501-2,600 subscribers and unlimited emails is $35/month. The Pro Marketer adds $199 to the growing business plan you choose.
Lauren Dowdle is an award-winning writer and magazine editor based in Nashville, Tenn. Her nearly decade-long writing career has covered everything from landscaping to marketing.