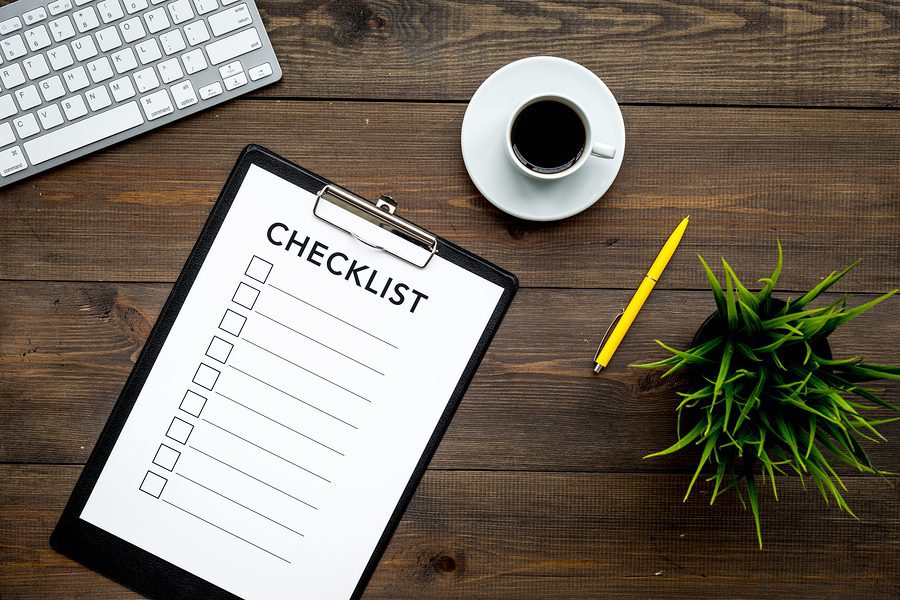 You've read through your newsletter for what seems like the hundredth time. You even showed the email draft to the person sitting next to you at the coffee shop — look at you making new friends. But, you're still nervous to hit send.
We all want our emails to look and work perfectly, so it's only natural to feel a bit hesitant to send it out to subscribers. To eliminate that stress, be sure to check off these nine tasks before scheduling your next newsletter.
Edit, edit, edit
There's nothing that takes away from an email more than misspellings and grammar mistakes. Those types of errors will make your message look unprofessional and possibly spammy. One survey found that 74 percent of participants said they noticed the quality of spelling and grammar, and 59 percent said they wouldn't use a company whose site included poor grammar.
But luckily, there's an easy fix to avoid these common pitfalls: Edit your content.
A good rule of thumb is to read your text out loud — including your subject line, header, body content, and signature — after you feel like you're finished. Then, let someone else read it.
And finally, read it all again once you've had a little time away from it to make sure you didn't miss anything. You can also paste your text into Word or use a free online editing service like Grammarly to help you catch mistakes.
Beyond avoiding major blunders, make sure you structure your sentences to use an active voice whenever possible. For example, "Our team used your donations to support local students" sounds much better than, "The donated money was used by our team to support local students."
Choose the right list
Hopefully you've created a targeted newsletter that's sure to catch your desired audience's attention. Don't mess that up by sending the message to the wrong list of contacts.
Once you've imported your contacts into your email marketing platform and segmented them into lists, you just need to choose the right one for the campaign. Make sure all of the lists are unchecked to start with and then click the one(s) you want to send to. Before you mail out the newsletter, your platform should confirm the list(s) your email will go out to.

Add an opt-out link
To avoid getting in trouble with email servers and your subscribers, make sure your newsletter includes an easy-to-find opt-out link. Your platform should add an unsubscribe option to the bottom of your email automatically, but you'll want to double check that it's there.
While the majority of unsubscribe options are placed in the footer of the email, you can also add one to the top to cut right to the chase and help prevent spam complaints. The location isn't as important as the fact that it's included, especially with the new EU General Data Protection Regulation (GDPR) rule. It isn't just a common courtesy: It's the law.
Share who it's from
What name do you want people to see when they open their inbox? It can be the company name or the person whose signature is in the email. Whatever you decide on, double check that you put that name in the "From Name" field before the email goes out — and remain consistent with who you're sending messages from.
Along those same lines, your email signature also needs to match who the email is from. Include a name, title and contact information in the signature. That's how you're going to build personal relationships with your subscribers, so make sure all of those fields are correctly filled out.

Check for spam alerts
Most email marketing platforms will let you know how likely your subject line and other factors will be marked as spam.
Certain words, phrases, and image sizes can alert the platform to potential issues, so steer clear of anything that sounds salesy or like a scam. Try out several subject lines to see which one gets the best possible success rate from the platform. Subscribers aren't going to read your email if the subject line doesn't catch their attention, so spend extra time on it.
Provide valuable content
It's easy to forget why you're sending the newsletter. Sure, you know it needs to promote an event, drive traffic to a new landing page or share some company information. But does it accomplish what all good emails do and give your subscribers something they want and value?
Reread your content with fresh eyes; pretend you are your audience. Will it catch their attention and provide useful information? You should never send an email just to send one, so make sure your newsletter has a purpose. If you can't answer the question, "Why am I sending this email, and what's in it for my subscribers?" with a solid answer, it's time to go back to the drawing board.

Clear (and Working) Call To Action
Every email — whether it's sharing event information or your latest blog — needs to include some sort of call to action (CTA). Your subscribers need to easily be able to figure out what it is you want them to do.
Your CTA can be a button, link, or even an image with text. Just be sure your newsletter has one that's prominent with a working link. It doesn't have to be above the fold of your email design, but it does need to stand out.
Send a test email
All of the images and text look great, and you've got the design just the way you want it. Now it's time to send yourself and any other team members a test version of the newsletter. Look for the "Send Test" button, and enter in your email address. If you send it to others, you can also include a note to let them know this isn't the real deal.
Once the message makes its way to your inbox, here are a few things to check:
Subject line:

Is it cut off? Does it catch your attention? If you

used an emoji

, is it appearing properly?

Images:

Do they appear correctly? Are they visible above the fold? Is the alt text visible if you hover over the image? How will your email appear if the subscriber has the images turned off?

Links:

Do all of your links and buttons work properly?

Devices:

How does the test email look on your desktop vs. your mobile device? Did you use a responsive template?

Inbox providers:

Test a few different email providers like Gmail, Outlook, etc. Does the email look good everywhere?
Sending a test email is a must, even if you think everything looks great once you're done building the email.
Know your schedule
Make sure you double check the date and time you're scheduling the newsletter for if you aren't sending the campaign immediately. It's easy to get a.m. and p.m. mixed up or click the wrong date, and mistakes like that can have a huge effect on your open rates.
If you're using a platform with optional mailing functions — like Robly's OpenGen technology — make sure you enable them to take full advantage of the feature. You want to make sure you're getting the most from your campaign and your email marketing platform.
Lauren Dowdle is an award-winning writer based in Nashville, Tenn. Her decade-long writing career has covered everything from landscaping to marketing.