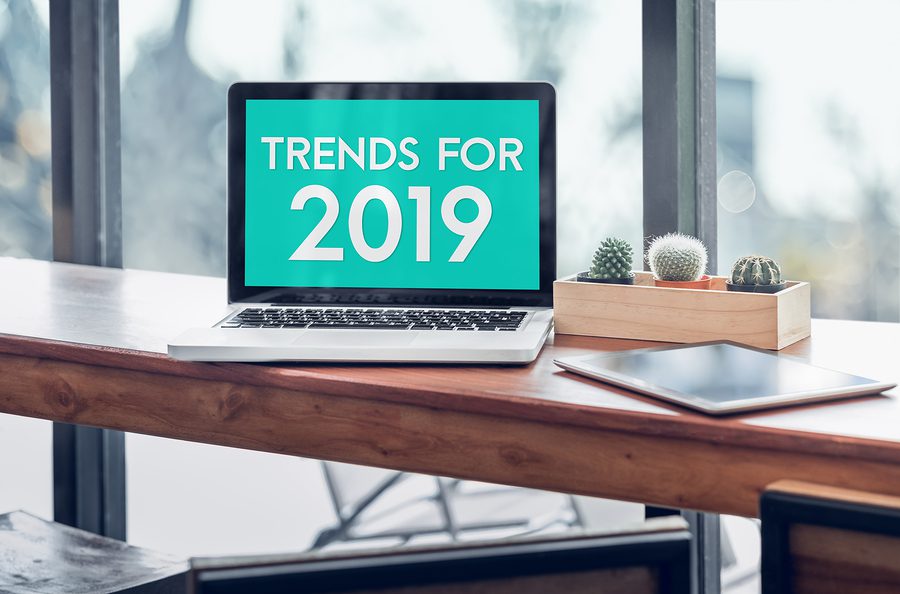 Who doesn't love a good list, especially when there are some solid stats thrown in to back them up? We sure do, so we put together one to give you ideas and pointers for your upcoming campaigns. Here are some of the top email marketing trends of the year to help you better connect with your audience.
1. Up close and personal
Carrying over from last year, the hyper-personalization approach will continue to be a game-changer for many companies. Personalization is nothing new, considering personalized emails deliver six times higher transactional rates compared to ones that aren't personalized — and they also generate a median ROI of 122 percent. But hyper-personalization takes that concept a step further.
Instead of just using the customer's name, location or other surface-level piece of information, hyper-personalized campaigns incorporate elements like their purchasing or real-time behavioral data.
American Express is a good example of a company seeing success with hyper-personalization. Their newsletter, "Your Business by the Numbers," showed customers real-time account information, spending insights, reward balances, business trip summaries and other current stats.
Using this personalization technique, their newsletter saw a compound annual growth rate of 150 percent each year in three years with performance and engagement. After implementing this tactic, their email newsletter grew to 1.2 million Business Card Members. Their email achievements also won them awards for best campaign, so it's obviously working for them.
Netflix is another brand that uses customer history — like views, clicks and related media — to personalize their email experience, like sending suggested movies and shows to watch. They know how to keep their nearly 150 million subscribers engaged and binging.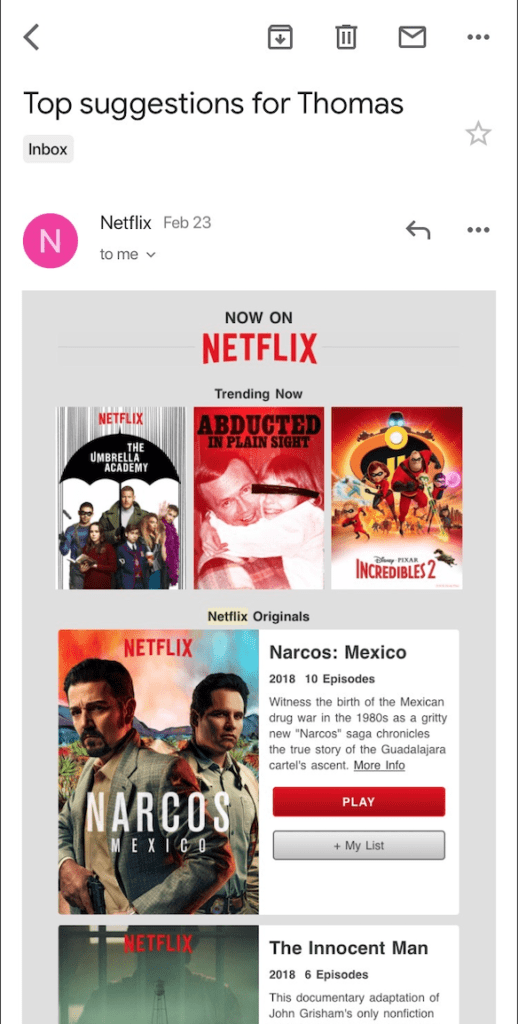 2. Less likes, more sends
Consumers are increasingly savvy to the tactics pros are using on social media, and they're growing weary of it. From influencers sharing advertisements — you know, the ever-so-popular #ad and #sponsored — on Instagram to the growing distrust of Facebook, social media has lost some of its appeal and integrity. In fact, 59 percent of people no longer trust social media companies, according to an Edelman report.
This shift is pushing many consumers to turn to other sources for their content, opening the door for email marketing campaigns. That allows you to interact with them directly, without any outside noise like algorithms, unrelated ads, or false information they're looking to avoid.
Consumers want to have an authentic experience with brands, so make sure that's what your campaigns are conveying. Show how your brand values transparency by sending a conversational note from the owner or an apology if something went wrong. People are becoming more skeptical of the information around them, so make sure you provide content they'll value.
3. Keep 'em separate
How you collect data continues to improve, whether it's from your CRM, email marketing platform, social media engagements, purchase history, surveys or chatbots — so your segmentation better be improving, too.
Email list segmentation is the most effective way to personalize lead nurture, according to 51 percent of email marketers. And segmented email marketing campaigns earn 15 percent more email opens and 60 percent more clicks, compared to non-segmented campaigns.
You probably have access to more data than you know what to do with, and that trend is only going to continue as AI improves and expands. Your audience knows you have the deets on them, so if you're not sending them content you know they want to see, you're going to lose their trust. Big brands like Target and Amazon are masters at segmentation, making customers feel like they really know them, building loyalty in the process.
4. Long-form content is back in
Unlike the micro-captions seen on Instagram or Facebook, long-form content is still worthwhile. And like other trends, they won't all work for every company. But if your audience enjoys reading valuable content — like blogs, whitepapers, or longer personal messages on your social feeds — don't be afraid to send long-form emails. Heck, even Twitter doubled its character count.
AWeber found emails from 100 of the top marketers have an average of 434.48 words, which takes about 3.3 minutes to read. And 24 percent of those marketers' emails have 601 or more words.
So, don't be afraid to include more text, if what you're sharing is of value to your audience. That could mean including a full blog, or at least a good chunk of it, in your email. For users who don't want to click links anyway, that will leave them with a smile.
5. Get on the interactive wagon
Along those same lines of people not wanting to leave their inbox, interactive emails are also gaining some ground. This email type ranked No. 2 for 2019, according to a Litmus poll, with 32 percent saying it will be a top trend. And consumers back that up: 82 percent of respondents said they respond better to interactive messages. Make the email the main product, not just a tool to earn their clicks.
Brands like Home Depot are using this technique, including reviews that can be filled out in the email — which gave the brand a 55-percent increase in completed reviews. Nike created a campaign with elements that reacted when scrolled over. Embedded videos are another option that are gaining traction with some audiences, as well.
Interactive elements can be a way to liven up campaigns, gather information or get them closer to making a purchase — all while they hang out in their inbox. Just remember: About half of email conversions come from smartphones, so the design better be optimized for mobile, whether it's interactive or not.
Don't forget what works
Trends like automation, AI, data privacy, storytelling, and darn-good content will continue to have their place in email marketing: That much isn't going to change. Instead, techniques like these will be the foundation of any good campaign as new tactics and technologies expand the possibilities.
Lauren Dowdle is an award-winning writer based in Nashville, Tenn. Her decade-long writing career has covered everything from landscaping to marketing.