[It seems just like yesterday they were opening your emails, engaging with your content, visiting your site, and making purchases. Oh, the good days. But now, some of your subscribers are AWOL — and you miss them.
Even the best brands see once-active subscribers go silent, so you're not alone if your email metrics are on the decline. And considering the average email list already decays by 25 percent each year from attrition alone, you don't want to lose even more of your subscribers to inactivity.
Instead of writing off subscribers who have stopped engaging with your company — whether it's been a few months or longer — try winning them back with a re-engagement email.
What is a re-engagement email?
This type of email goes out to subscribers who have stopped (or greatly slowed down) interacting with your email campaigns. We've all seen this type of message. The subject lines go something like, "We miss you," "It's been a while," or "We want you back." And they often come with a coupon to make the comeback even sweeter, like in this Pinkberry email.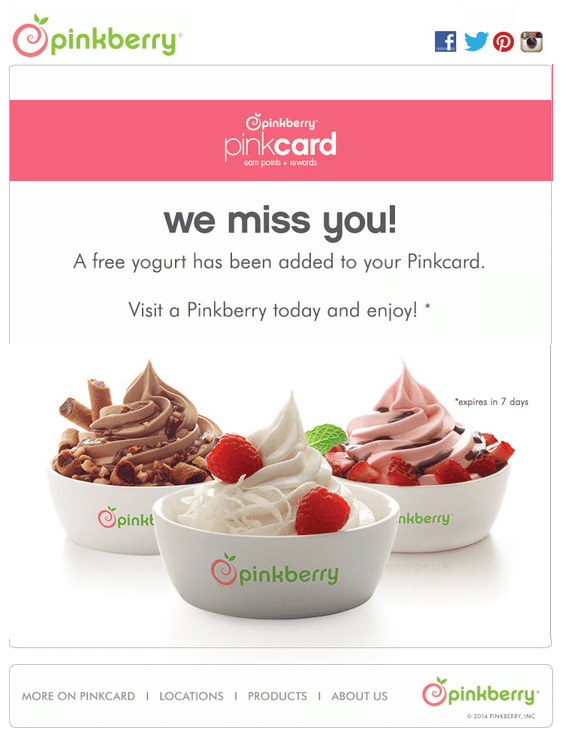 The purpose of this type of campaign is to gauge the engagement level of the subscriber and (hopefully) win them back. The good news is that they work, if you can get your wayward customer to open the message. Of subscribers who receive re-engagement emails, 45 percent read subsequent emails.
Even if they're too far gone, you'll be able to find that out too and eventually remove them from your list. Or, you can put them on a list where you don't contact them for a certain amount of time before trying again. Not ideal, we know, but that ultimately makes them happy because they're obviously not interested in your content — and you can improve your metrics by cutting them because they're pulling the numbers down anyway.
Besides hurting your engagement metrics, sending emails to disengaged subscribers can also take a toll on other important factors, like your email deliverability rates and sender reputation. If landing in inboxes and having a healthy open and click through rate are important to you, make sure you're following these best practices to retain and engage subscribers.
Who makes the list?
Deciding which subscribers would benefit from a little push is the first step. Set a parameter to identify who you'll be targeting. That could be anyone who hasn't opened your email in months, stopped making purchases on your site, or hasn't clicked through to your site via email. You can also further segment them by how they originally signed up for your list (ex. lead magnet, organic search, etc.) or other data (ex. location, age, gender).
The specific time frame you choose to focus on will depend on your brand. For example, a company that sends daily messages would want to send a re-engagement email sooner (between every three weeks and every three months) than one that only sends messages a few times a month.
A re-engagement campaign should become another one of your automated messages if someone fits the qualifications you've set (ex. no interaction for three months). It's not a question of "if" you should be sending them but a question of "who" and "when."
How do you win them back?
Each brand does re-engagement campaigns a bit differently, but there are some general approaches that seem to work across the board. Ultimately you want to shake up your regularly scheduled content to and subject lines with one of the ideas outlined below.
The deal
Who said bribery was a bad thing? Try offering them a discount or freebie to show you miss them. You can add some urgency, like Thrive does in this example. Be sure to include you have something for them in the email subject line, or it might become another one of your emails they don't open.
The question
Did you do something wrong? Now's a great time to ask them what you can do better to earn back their engagement. Give them a way to respond — whether it's through email or by clicking a link to a form — so they can explain any issues. Just make sure you respond and do your best to repair the relationship.
The out
Not all re-engagement emails end with the two of you holding hands as you walk into the sunset. And that's okay. Maybe their needs have changed or they just aren't that into your company anymore. Whatever the reason, give them the chance to opt-out of your emails.
Let them know you hate to see them go, but they can stop receiving emails by following the provided link. Subscribers aren't always the best at finding the opt-out option on regular emails, so this makes it easier for them to find. Or, take the opposite approach like HubSpot and give them a CTA to remain a subscriber. Then, if they don't click-through, you can remove them from your list.
The FOMO
The fear of missing out, or FOMO, is real, especially in today's social-media-driven society. So, let your subscribers know what they've been missing since they last interacted with your brand. Maybe the company has undergone changes like in this Lowe's example, launched new products, added a new loyalty program, or posted new content. Make them feel like they can't afford to miss out on any of it.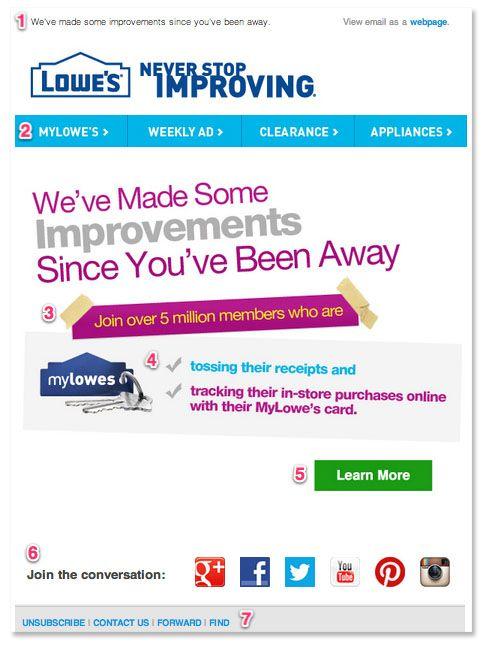 The goodbye
If you've already sent them a re-engagement email in the past, you can try one last time to see if there's a chance with an email saying "this is it," like in this one from Rue 21. If they don't respond, you'll know it's time to let them go.
The cleanup
Once you've reached out in the way that makes the most sense for your subscribers, we recommend that you manually clean up your list after you've given recipients a week or so to re-engage. In Robly, this is easily done with our RoblyEngage removal tool. If you're not using Robly, you'll need to check your ESP to determine how best to segment out users who haven't engaged in the time period you're using (ie, 3 months, 6 months, etc).
Keep your lists healthy
There are plenty of reasons why subscribers stop engaging with your emails, ranging from a lack of interest or time to being overwhelmed with messages. Sending a re-engagement email is a greatway to figure out what it will take to win them back and start improving your overall metrics.

Lauren Dowdle is an award-winning writer based in Hoover, Ala. She writes about marketing trends, best practices, local features and the landscape industry for a variety of companies and magazines.