Wish you could just sit back and let something else attract emails to grow your lists? Sounds like you should start putting lead magnets to work.
What is a lead magnet?
A type of marketing tool, lead magnets help generate leads by giving visitors an incentive or piece of content in exchange for their email address or other contact information. Most of the time, the lead magnet is some sort of downloadable content, but it can also be a signup for a webinar or other event.
The whole purpose of this tool is to collect leads. But today's savvy consumers aren't simply going to hand out their email address and other info for nothing. You need to make the lead magnet worth their while, so ensure yours meet these criteria:
Free: While the dollar cost is zilch, their information is the true payment.
Provide value: Remember, the content needs to be worth it to them to share their information.
Meets a need or solves a problem: The content should provide a solution for your consumer's pain point(s).
Immediately available: Either email it to them right away or set it up to automatically download once they submit their information (or both).
Niche content: The best lead magnets target a specific audience and issue. Don't try to reach everyone online with one piece.
Related to your brand: The content needs to have some sort of connection to your brand — like a realty company offering a PDF on "7 Things to do Before Listing Your Home."
Now that we've covered what lead magnets are, let's take a look at several types of them and how you can start using them to grow your email list.
Guides, ebooks, whitepapers, & case studies
These are what most people think about when it comes to lead magnets. Someone gives you their email address, and you give them a useful piece of content — from guides and eBooks to whitepapers and case studies.
Guides and eBooks are a good entry point to engage with visitors and can provide valuable info, without going too in-depth. These are the how-to type pieces you use to get people in your sales funnel.
HubSpot has more than 100 eBooks you can download, but they keep a pretty generic signup form for them all.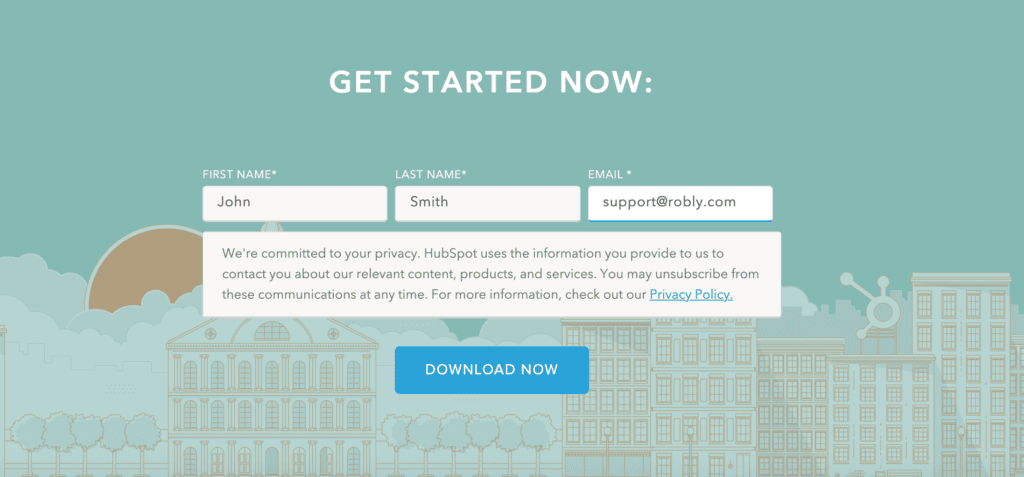 To target people who have already become a part of your funnel, try whitepapers and case studies. These are more detailed resources, great for those who are already familiar with your brand but just need some more information and proof on why to choose you.
Infographic
Who doesn't love a good infographic? While these can be more time-consuming to create than some of the other options, they can also be one of your highest-performing lead magnets. You just need compelling facts showcased in an eye-catching design.
Programs like Canva, Piktochart, Visme.co, and Easel.ly are pretty intuitive and don't require any design experience: For the most part, you just drag and drop different elements to create your infographic.
As for the meat of the graphic, you can use information from past surveys or findings from reputable sources (ex. universities, .gov sites, or trustworthy publications) to create the infographic. Just be sure to credit whoever you source — and let them know you did; perhaps they will share the infographic, too.
Free trial
If you have an online service, software, or tool, you can use a free trial to gather information and also let them test out your product. At Robly, we include a button for our free trial at the top of all of our pages. People who sign up for your trial are ones you'll want to target for conversion since they are just one step away from being a new (or returning) customer.
And here's another example from Email Monks. They put their lead magnet box on the right side, and it stays there as you scroll down.

Survey or quiz
What dog breed would you be? Which song best describes your life? What house style matches your personality? Surveys and quizzes — from the silly to the practical — are all over social media and sites like Buzzfeed because they work.
People like seeing and sharing their results, and brands like them because they can capture information, including email addresses. After a person has completed the questions, ask them to enter their email address for the results. One marketer found that 84 percent of users who start a survey enter their email address to see their results.
The UNiDAYS quiz uses this lighthearted lead magnet, which has a 68-percent conversion rate.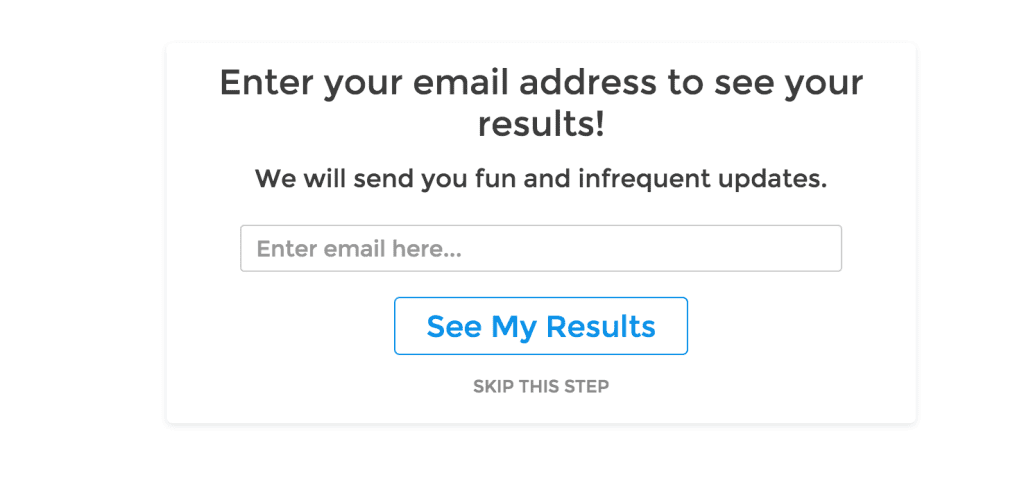 Checklist
Normally shorter than the average eBook, a checklist can be a one-page piece of content that gives your reader an overview of how to do something. For example, "5 Steps to Making a Sale," "10 Things to Bring to the Beach," and "Don't Leave These 10 Items Off Your Back-to-School List" are all checklist ideas.
Officevibe spells out what their checklist includes…by using a checklist.
Webinar or online course
These video and/or audio tools have a high perceived value, making them a great option for your next lead magnet. You can either use an in-house expert to cover the topic in the webinar or online course or find a third-party influencer who your audience would be interested in hearing from. Create a script beforehand to stay on topic, and encourage attendees to submit their questions during the event.
Some good webinar platforms to try out are WebinarJam, GoToWebinar (from GoToMeeting), and Webex. To collect even more leads, put a limit on how many spots are available for the webinar, and let people know the spots are filling up fast. You'll tap into people's FOMO (fear of missing out) for the live event.
After they sign up, be sure to follow up with an email that explains how they can join the webinar or course when it starts, along with a reminder of the date and times. Once the event is finished, you can send them the recording, slideshow, or other materials used and try to engage with them again.
Estimate
Anyone in the service industry knows how beneficial a free estimate can be to earn someone's business. Why not use this approach to create your next lead magnet? This type helps qualify the lead even more than some of the other options because they're expressing interest in your services, not just a downloadable piece of content or course.
Here's an example from Williford Roofing & Construction for an estimate button.
Contests
Getting people to sign up for a contest or giveaway is one of the easiest ways to earn their email address — because who doesn't love the chance to win something?
The lead magnet could be as simple as an "Enter to Win" CTA, or you could create a button with an image of what they could win to really catch their attention. Or, the CTA can have a related stock image, like the one from Gigs in Scotland. You can also allow people to share the giveaway via email or social media to expand your reach.
You do have to be a little more careful with these email addresses, though. People might jump at the chance to win something but then not feel as ecstatic about receiving your weekly newsletters. Or worse, they might not even know who you are or that they signed up for your list when they entered the contest. Make sure to use a double opt-in to let them know what they've signed up for, beyond the giveaway.

Lauren Dowdle is an award-winning writer based in Birmingham, Alabama. She writes about marketing trends, best practices, local features, and the landscape industry for a variety of companies and magazines.