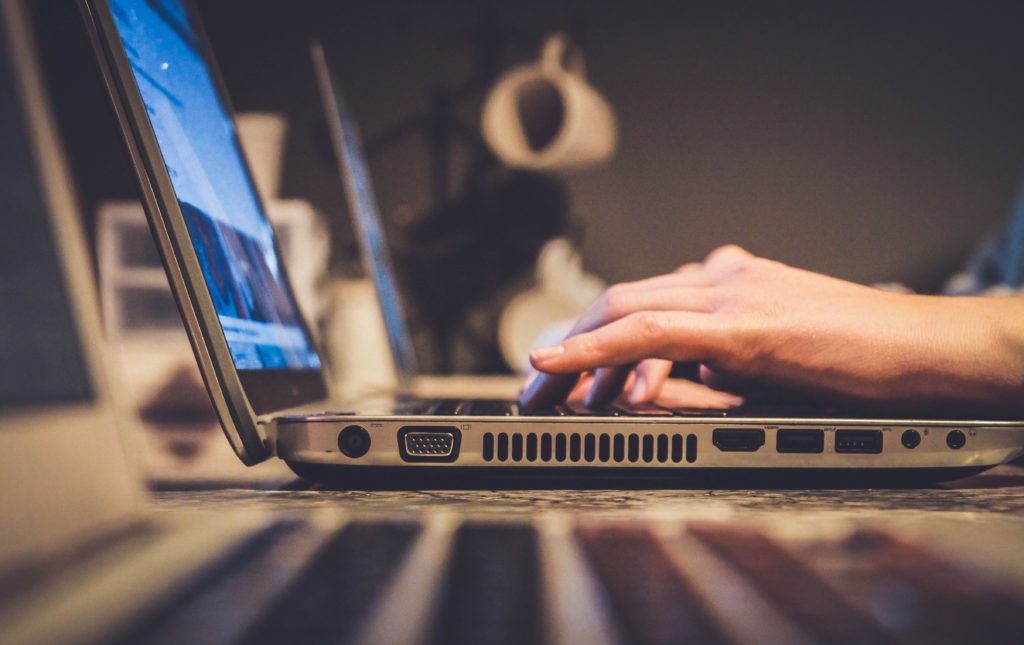 Not sure what to send your email subscribers? Here are eight types of email marketing messages you should be giving them to keep them engaged and loyal to your brand.
1 Welcome aboard!
One of the first interactions you'll have with your new subscriber is the welcome email, so make sure it's a good reflection of your brand. It should let them know they're subscribed to your list, what to expect from future communications, anything important to your brand (ex. mission or values), and how they can start interacting with you now — whether that's on your site, social media, or another app.
Warby Parker does a good job of that with their welcome email:

[Your welcome email can have a dual purpose and also serve as your double opt-in. This method requires them to take an extra step after the initial opt-in to confirm they want to be on your list. The double opt-in approach will also help ensure you have a healthy list. That helps you confirm that the email address is correct, the subscriber wants to be on your list, and helps to avoid any possible GDPR issues.
2 Enjoy our latest deals
We all love a good sale, and what better way to share one with your customers than through email? Studies have found 75 percent of consumers say they scour their inboxes to look for relevant discounts, and 70 percent say they've used a discount that was emailed to them in the previous week. With those kind of stats, email deals are a no-brainer.
You can send discounts for special occasions, a timely event (like the Super Bowl, elections, etc.), and holidays — or just to do something nice for your customer. Here's an example from an online clothing retailer that offers subscribers a special code to enjoy discounts:
Subject line: Let's Go Halfsies – 50% Off Clearance! ?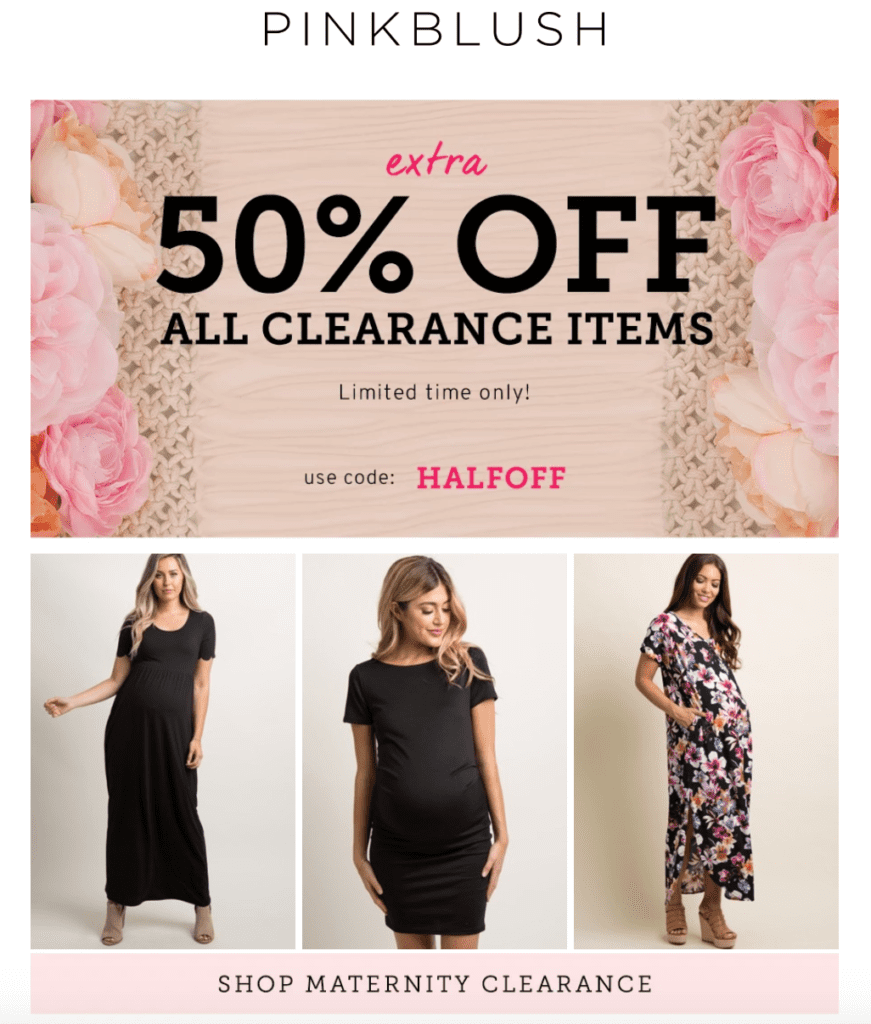 Get subscribers ready for a fun shopping experience with a playful subject line and email content.
3 Happy holidays
From New Year's Day and the Fourth of July to Thanksgiving and Christmas, there are plenty of holidays to celebrate with your subscribers. You can also have fun with daily holidays that relate to your brand, like Dentist's Day, Hamburger Day, or Organize Your Home Day (calling all kon mari fans!).
Holiday-themed emails are a way to provide timely content and create a lighthearted interaction with your audience. Just make sure to think ahead and put the holiday email in your content calendar so it doesn't sneak up on you: This type of email only works if it's on time.
Valentine's Day is an obvious time to show your customers some love, so pile on the hearts, candy, or sprinkles, in this brand's case: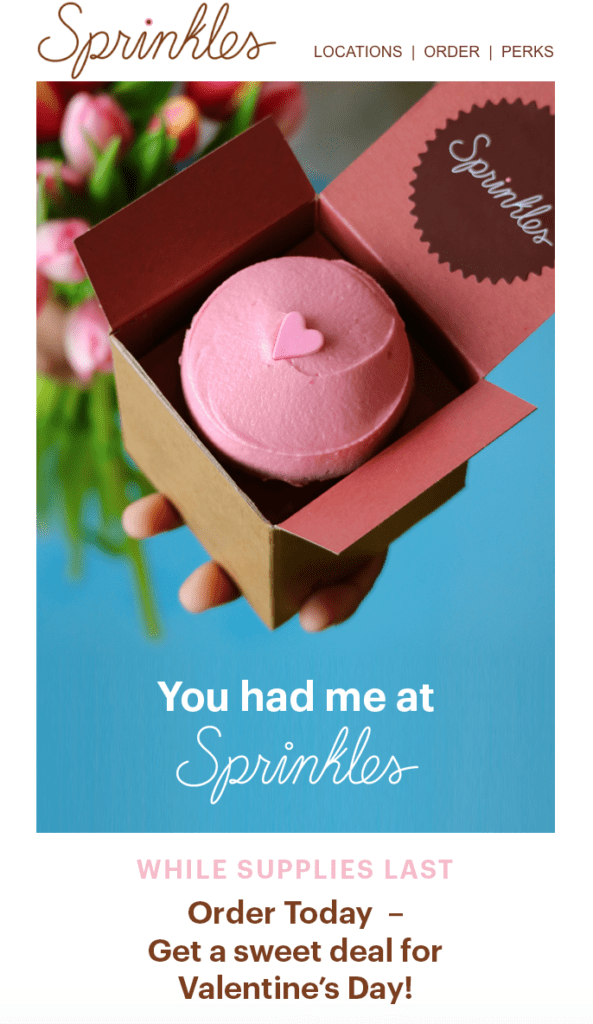 4 Read the latest
After spending all of that time crafting a new piece of original content, don't forget to share it with the people who will it enjoy it the most: your subscribers. That could be a blog from your site that you preview in an email or your regular newsletter. A popular email template for this type of content is to use a photo with a short snippet from the article, along with a link to the full article.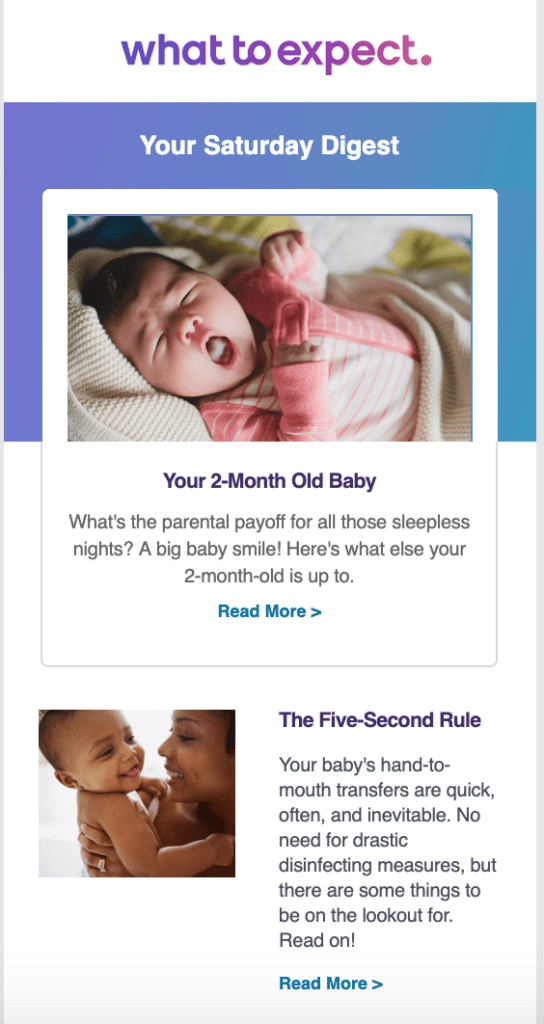 To keep your subscribers on the lookout for your message, schedule the content to go out at the same time/day. (Note: You can use your email marketing platform to determine the best time to schedule your emails. Better yet, if they have a send time optimization tool like we do, use it!)
5 We thought you should know
Have a new product or an update from the company? Keep your subscribers in the know. They obviously care about your brand and what it offers, so let them be the first to know when you have news.
If you have a press release on your site already, put together a simple email with a clear CTA to direct them to the page, like this one from Universal.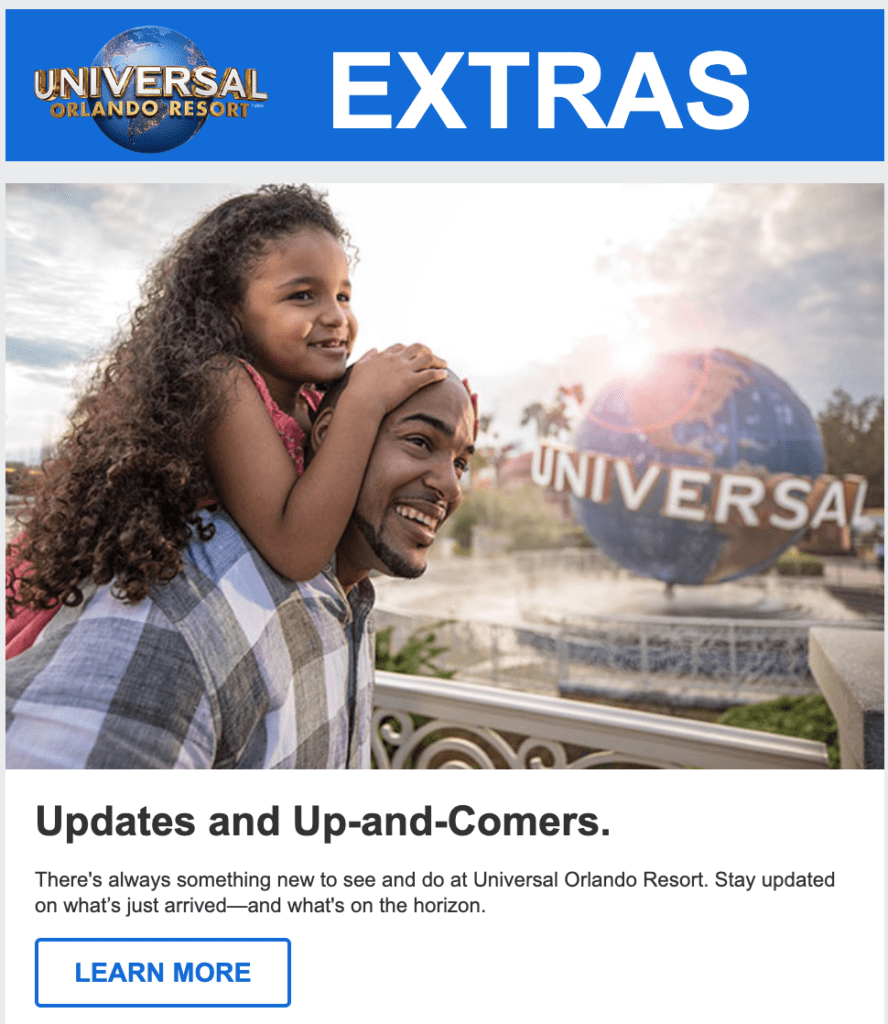 6 You left something in your cart
Maybe your website visitor got sidetracked, or maybe they are still deciding if they really need those new shoes. Whatever the reason, your visitor failed to make a purchase. So close!
Before you give up on them, send a cart abandonment email because, well, they work. More than 40 percent of cart abandonment emails are opened, and half of the users who clicked through on the email completed their purchase.
Give them an extra little push to finish their purchase by offering them a discount or other incentive like this brand did: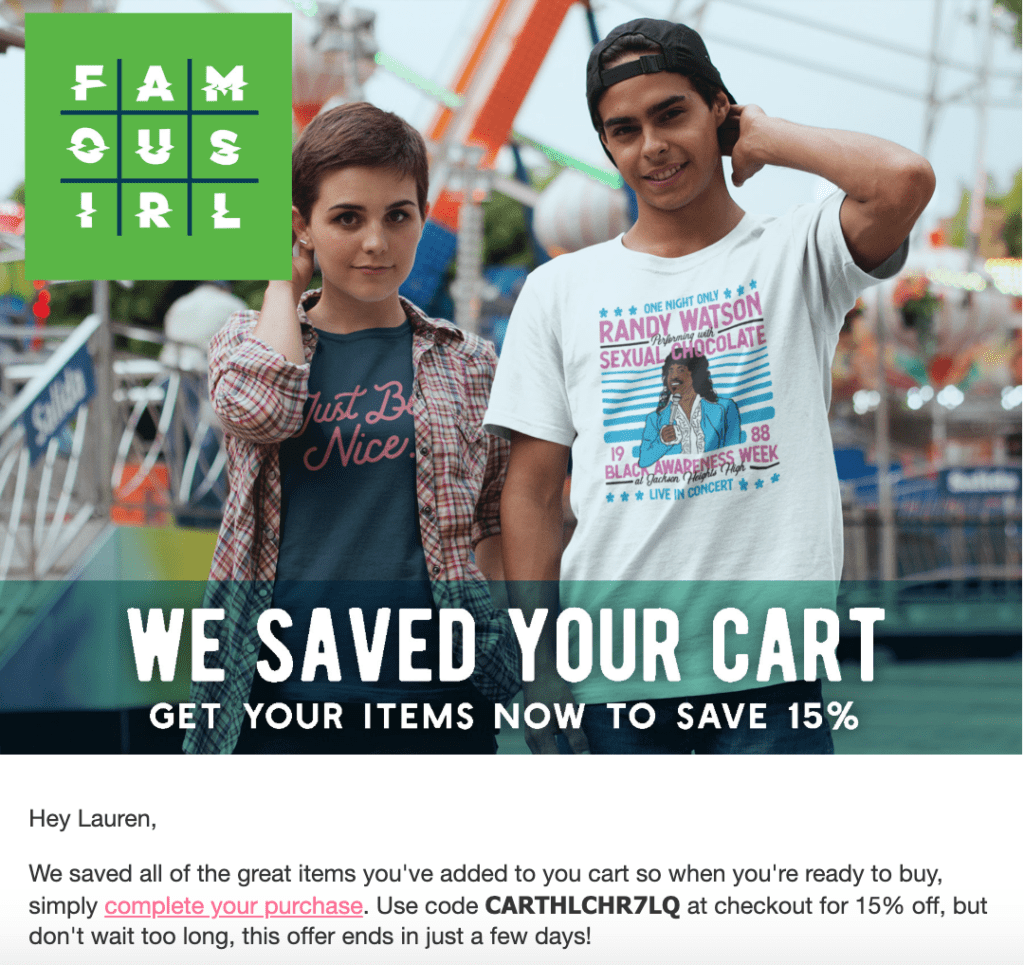 7 Thanks for your order
A confirmation email gives customers reassurance that you received their order and everything is good to go. This email can cover all of the basics and serve as a receipt: what they ordered, confirmation number, when it will ship/arrive, and how much they paid. You can also thank them for their purchase to make them feel even better for doing business with your company.

8 We miss you
Do you have a group of subscribers who haven't opened your email in a few weeks or months? If they've become delinquent, send them a message to help win them back. You can try offering them a deal to come back, let them know what they've been missing out on, or take a fun approach like this example from Urban Outfitters.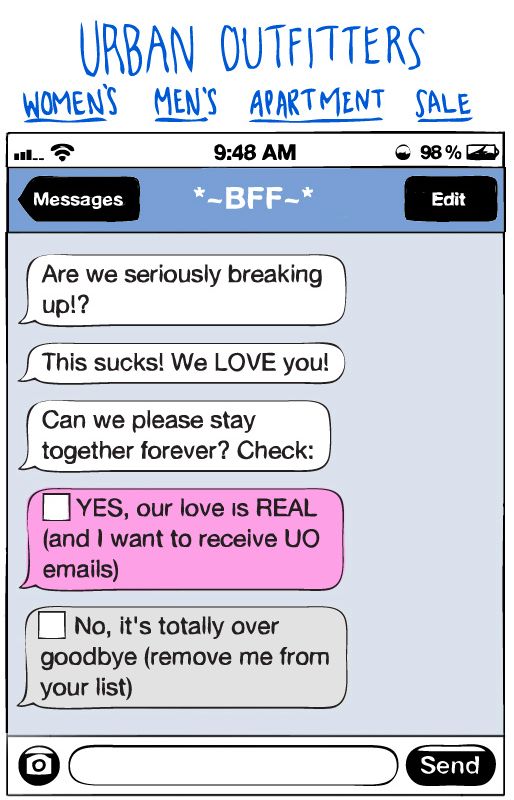 If nothing seems to be pushing them to re-engage with your brand, it may be time to remove them from your list. It's not doing either of you any good if they aren't interested in receiving your messages — and in return, they're pulling down your email metrics.
Time to hit send
Once you create your basic email marketing messages, you can automate them to go out based on subscriber actions or based on a schedule. Keep them engaged with regular messages, and you'll start building a solid relationship that will hopefully continue for the months and years to come.
Lauren Dowdle is an award-winning writer based in Nashville, Tenn. Her decade-long writing career has covered everything from landscaping to marketing.