Parents' expectations of their child's education has risen (with good intent and reason), and they want to be kept up to date and engaged in every step. Parents are interested in what is happening at school and how it can be communicated back home so that the student receives the necessary support from the school district throughout his/her educational journey.
Email is an effective channel many schools use to create and reinforce relationships with students and parents. Although social media communication has grown, parents want to receive the information directly instead of looking for it online.
Research by Blackboard has shown that the most effective way for their child's teacher to communicate with parents about their child's progress in school is by email.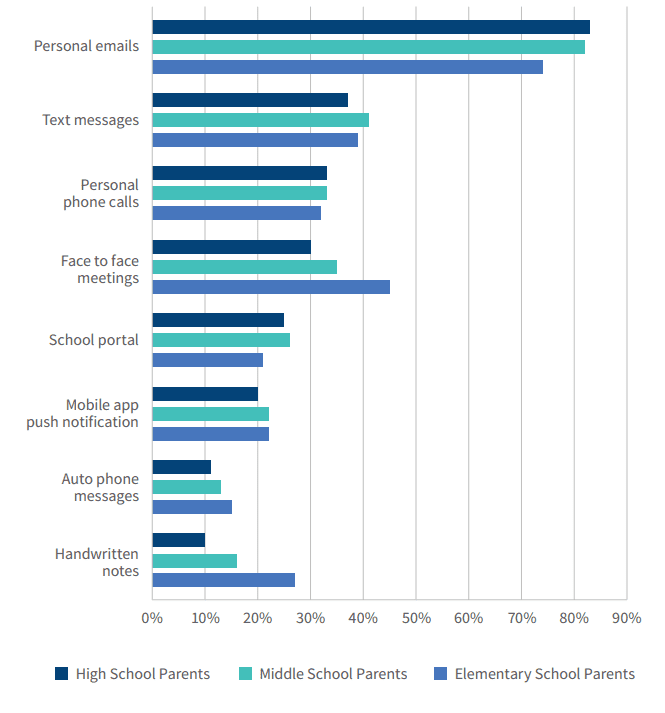 Many school administrators feel stuck or aren't sure which strategies work best for creating a solid, well-oiled email program for their school.
Here at Robly, we know it can be challenging to find the right strategy that works for your school district, so we have put together 13 different email strategies and tips you can begin implementing today.
How to create the perfect school newsletter
#1 Establish a goal for your school district's email newsletter
Email is an excellent way to keep your school district's community up-to-date on news and events. But before you start sending out email blasts, it's essential to take a step back and establish goals. So what do you want your newsletter to achieve?
Do you want to increase communication between parents and teachers?
Increase transparency around district decision-making?
Keep the community informed about upcoming events.
Once you've established your goals, you can start thinking about how to design your newsletter to help you achieve those goals.
For example, if you want to increase communication between parents and teachers, you might want to include a section where parents can submit questions or feedback.
If you're trying to increase transparency around district decision-making, you might want to include a section highlighting recent decisions made by the school board.
By taking the time to establish email goals upfront, you'll be in a much better position to create a newsletter that meets the needs of your school district.
#2 Map out an email capture strategy
If you're looking to grow your email list, you can use a few different strategies. On-site sign-up forms are a great way to capture the email addresses of visitors to your website. You can also add sign-up forms to your email newsletters, making it easy for readers to join your list if it has been forwarded to another parent or student.
Add an email sign-up form to private social media pages or groups you have created for your school.
Sign up forms at the office that allow parents to sign up for different email notifications from the school.
Whichever method you choose, ensure your sign-up forms are prominently displayed and easy to use. By making it easy for people to join your email list, you'll be well on achieving your email goals.
#3 Plan content that is both informative and engaging + create a content calendar
As a school administrator, planning informative and engaging content for your email messages is crucial. Doing so will ensure that your recipients read and act on your messages.
Why is a content calendar important?
A content calendar can be a helpful tool for staying on track and ensuring that your messages are timely and relevant. When creating a content calendar, consider what events or announcements you need to communicate, and plan your messages accordingly. Having a clear and well-executed content strategy will help you stay ahead of the curve and ensure that your communications are effective.
Here are a few content ideas for your school newsletter:
Message and updates from the Principal
News about recent events
Sign up forms for extracurricular activities
Student progress reports
Updates from teachers and staff
Bus delays or school closures
Cafeteria menus
#4 Follow branding guidelines
When creating an email template, it's essential to follow branding guidelines. This will ensure that your email looks consistent with your school's brand across all your marketing channels. It's also necessary to ensure that your email is mobile-friendly. More and more people are reading emails on their phones, and if your email isn't optimized for mobile, it could be challenging to read and may not display correctly. (read more on mobile emails on tip #9)
By following branding guidelines and ensuring your email is mobile-friendly, you can be sure that your email will look great and be easy to read, no matter where it's viewed.
#5 Personalize and segment your email mailing lists to target student personas
When it comes to email marketing, personalization and segmentation are key. By personalizing your email messages and segmenting your mailing list according to student personas, you can ensure that your messages are more relevant and targeted. As a result, your emails will be more likely to be opened and clicked on.
There are several ways to personalize and segment your email lists. One way is to use data from previous student interactions, such as website clicks, course registrations, and event attendance. This data can be used to create student personas, which later can be used to segment your mailing lists.
Personalization and segmentation are essential tools for any email campaign.
Quick personalization tips you can implement today:
Recipient name in the subject line (This could include parent, student, or staff member name depending on whom the email is targeted to.)
Student name in the subject line (This benefits parents when scanning their inbox.)
Grade, class, teacher, and student names can be displayed in the email's body to give the recipient a more personalized experience.
Date of an activity or event that may be coming up at the school.
#6 Send newsletters regularly and on time
To create and maintain a good relationship with parents and students, keeping a regular cadence regarding the number of emails sent is crucial. If you over-send emails, it can come across as nagging or intrusive, damaging the rapport you have worked so hard to build. On the other hand, parents and students may feel ignored or unimportant if you under-communicate.
Finding the right balance can be tricky, but it's essential for maintaining a positive relationship with your school community. When in doubt, stay on the side of caution and send fewer emails rather than more. Your recipients will appreciate your restraint, and you'll be able to avoid any potential misunderstandings.
#7 Include clear CTAs
When sending out email messages, including clear call-to-action buttons and links is essential. People often skim emails and may not see a link if it is not prominently displayed. Including a button or link makes it easy for people to take the desired action.
In addition, use persuasive language when creating your call-to-action. For example, instead of saying "click here," you could say "click here to learn more about our special offer."
Quick tips to refer to when brainstorming the copy for your CTAs:
Speak directly to your audience. (Will vary from student, staff, or parent.)
Keep CTAs short and sweet.
Try adding directional cues to the CTA button (Let's go, follow us, visit our site, get started, etc.)
Use contrasting colors for the CTA button (but remember to follow brand guidelines.)
Use approachable action verbs
Create urgency to encourage engagement right away.
Are you looking for some examples? Check out this post on our blog sharing 56 Examples of Engaging CTAs.
#8 Use images and videos to break up text and add visual interest
Adding images and videos to your email messages can help break up the text and add visual interest. In today's fast-paced world, people are constantly bombarded with information from all sides. As a result, capturing someone's attention and holding it for any length of time can be difficult. Images and videos can help overcome this challenge by providing a welcome break from blocks of text.
Images and videos can help illustrate your point or highlight a key message that grabs the reader's attention and ensure that your message is remembered.
So, if you want to add extra interest to your next email campaign, consider adding some images or videos.
The example below displays a short email from Busuu, an online learning platform. It includes visually appealing images that coincide with the message they are trying to convey.

#9 Think mobile
Recently, there has been a shift towards using email on mobile devices like phones and tablets. This trend will only continue, making mobile-friendly email designs even more critical.
Mobile email users are likelier to delete an email if it doesn't look good on their screen, so take the time to format your messages correctly.
In addition, mobile email users are more likely to interact with email messages that are designed for touch screens.
Some things to consider:
The font should be at least 16 points for paragraph text to make it readable. You don't want anyone zooming in on your emails with their fingers!
Keep your message and subject lines short and sweet. This will help you stand out in the inbox where word count can be limited.
Stick to a one column layout and use appropriate white space so your email doesn't look jumbled up.
Indicate what's in the email by including a call-to-action button. Rather than give every detail, please provide enough information to peak their interests and direct them back onto your website for more details. This will help you maintain an organic traffic flow without using too much animation or language that could turn off readers who are not interested at first glance!
Avoid adding any navigation links or menu bar. It's an email not a webpage.
Before you hit, send, preview, and test your email on the phone. If it doesn't make sense or looks wonky, go back into the editor to fix the issues.
#10 Ask readers to provide feedback on the newsletter to refine the newsletters
Any newsletter should be continually refined to ensure that it provides readers with the information they want in the most effective way possible. One of the best ways to do this is to ask readers for feedback. This can be done through a survey or poll, allowing you to gather valuable data to improve the newsletter in the future.
Asking for feedback also shows readers that you value their input and are committed to making the newsletter the best it can be. It can help to build a stronger relationship with your readership by making them feel like they are part of the process.
#11 Track your results and measure the success of the newsletter
Any successful email program depends on tracking and measuring success, But what metrics should you analyze to ensure your newsletter is on the right track?
Open rate
The first metric to track is the open rate, which measures how many people open your newsletter. This metric gives you an idea of how successfully your subject line and opening grab the reader's attention.
CTR
The Click-through rate is the number of people who click on links in your newsletter. This metric tells you how effectively your content engages readers and encourages them to take action. It also provides data on where people are clicking, the top vs. middle of the email, etc.
Unsubscribes
Finally, the third metric to track is the unsubscribe rate, which measures how many people unsubscribe from your newsletter. This metric helps you gauge how well you deliver value and keep subscribers engaged.
Tracking these three essential metrics ensures that your newsletter is on the path to success.
#12 Optimize your emails with effective A/B testing
When it comes to email, one of the most important things you can do is ensure your email list is clean and up-to-date. After all, there's no point in sending email newsletters to people no longer interested in receiving them.
This is where A/B testing comes in. By testing different versions of your email content, you can see what works and doesn't with your audience. For example, you might test different subject lines, from names, CTAs or copy/images within the email.
Continuously testing and tweaking your email campaigns can help you understand what is resonating with your audience and allows you to send more target emails.
#13 Automate email sequences
Email automation and workflows can be a massive help for schools when sending out welcome emails to new students and parents. By using email automation, schools can set up automated messages that will be sent out as soon as a new student or parent registers. This can help to ensure that everyone gets a timely and personal welcome message and can be a huge time-saver, mainly when dealing with large groups of contacts.
Additionally, a series of automated emails can help to keep track of who has and hasn't received the welcome email, making it easy to follow up with anyone who may have missed it.
How can you use automation at your school? These are just some examples:
Welcome emails
Event reminders
Term end dates or upcoming important dates
Report card updates
Info on sports and team events
To learn more about email automation, check out one of our blog posts titled: What Is Automation and Why Should You Care?
Wrap up
So what's next? Start implementing some of the tracts above to see which ones work for your school. Of course, more goes into effective email marketing than the above- but following these guidelines should give you a good foundation on what could work for your school district.