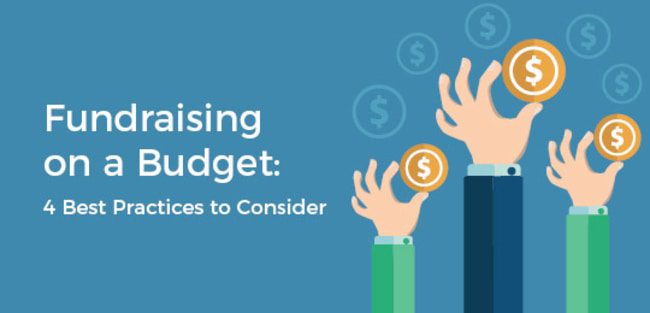 Fundraising for nonprofit organizations is not a simple task. Fundraising successfully is even harder. But fundraising successfully on a budget? Now that seems downright impossible.
However, things are not always as they seem. It is possible to fundraise on a budget and do it effectively. It is possible to soundly call your donors to action without spending a fortune. While it can certainly prove to be challenging at times, minding costs will make your overall fundraising campaign more efficient with respect to both time and resources.
The first step to fundraising on a budget is to create a budget based on reality, not expectation. Start by assessing your organization's current financial state and priorities.
Once you've established your fundraising budget, it's time to consider which of these best practices you'll use. Each will magnify the fundraising effect without burning through funds:
Incorporate peer-to-peer fundraising.
Deepen donor relations with online fundraising.
Offer matching gifts.
Invest in software.
In this article, we'll expand on each best practice that can help prepare your organization to surpass fundraising goals but not the budget. Let's start saving!
1. Incorporate Peer-to-Peer Fundraising
Peer-to-peer fundraising is a prime option to promote your fundraising campaign without a continuous flow of capital.
With peer-to-peer fundraising, your organization creates a compelling fundraising page that promotes your brand, shares your mission, and tells your story. Your supporters keep the ball rolling from there, customizing your page with their endorsement and sharing it with their social circles.
Here's an example from Donately: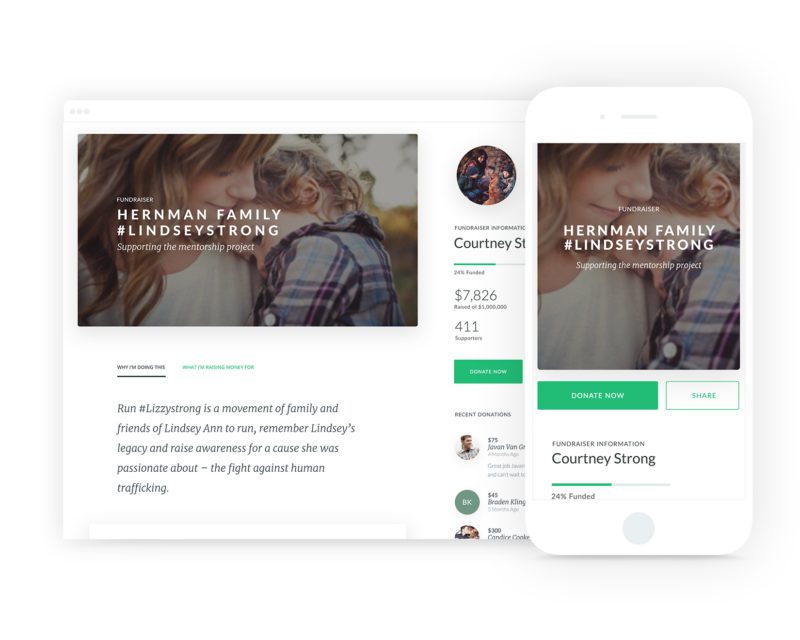 Peer-to-peer (P2P) fundraising enables supporters to augment your fundraising strategy for free. By bolstering your initial fundraising platform with their own personal, organic message, donors can naturally relate to a larger audience and draw in more support.
However, in order to conduct a successful peer-to-peer fundraising campaign, it's important that you adhere to some peer-to-peer fundraising best practices:
Set a fundraising goal. Determine the goal amount based on your previous fundraising history. Be honest about your organization's capabilities to make your goal achievable, especially if you're on a budget.
Choose a peer-to-peer fundraising platform. This is dependant upon your budget and your needs, so research which platform will best suit your interests.
Design your campaign page. Keep your nonprofit's brand and messaging strategy in mind. Be sure that no matter what tweaks your supporters make to the campaign page, the story you want to tell stays intact.
Promote your fundraiser. Mobilize supporters to indirectly fundraise for your organization by crafting personalized fundraising pages and sharing them on your behalf.
Allow supporters to personalize and promote your campaign. Provide guiding materials to your supporters to enhance their fundraising experience and your fundraising results!
Hold fundraising events. To complement the community unity created by peer-to-peer fundraising, try holding community events. This way, your supporters can create anticipation within their social networks. Individuals will be supporting the event and your nonprofit! For ideas on bringing your community and your fundraising mission together, check out this list.
With peer-to-peer fundraising, you can bring your community of supporters together and unite them with a mission to help you fundraise. You've just extended your outreach to prospects tremendously without having to dip into your funds.
None of this is feasible, however, without strong, existing relationships with your donors.

2. Deepen Donor Relations with Online Fundraising
The importance of sustaining donor relations cannot be underestimated. A sobering statistic, it's estimated to cost 10 times more to convert a new donor than it does to keep a current one. The cost of relationship-building strategies is an absolute necessity to include in your fundraising budget.
If your organization is concerned about the cost of maintaining donor relations, don't worry! Here's a list of the top things to incorporate into your fundraising strategy that will deepen donor relations without busting the budget:
Email Marketing
Whether your organization's budget for fundraising is minimal or vast, opting to invest in email marketing is a great way to save money while increasing your effective outreach. Email is much cheaper than direct mail fundraising (245 times cheaper!) and much more efficient, accounting for 28% of all online fundraising revenue.
Whether your organization sends nonprofit email newsletters or hyper-personalizes your messaging, sending email marketing campaigns ensures you relate to and establish meaningful connections with donors.
Try incorporating these email marketing techniques to bolster donor relationships and engagement:
Grab your audience's attention and keep it. Don't let your email subject lines fall into the periphery — make your email the center of your donor's attention. Create compelling subject lines by customizing according to donor segmentation, providing relevant information, or crafting a killer call-to-action.
Craft a killer call-to-action. An effective call-to-action is a wonderful way to prompt your supporters to take immediate action, encouraging engagement without continued solicitation. That means more donors without spending more money.
Hyper-personalize your messaging. Tailor each message on an individual level as much as possible. Use segmentation to personalize the email beyond just their first name. Be sure to not only reflect on a specific donor's prior giving, but to recalibrate their past giving to your nonprofit's needs today.
Be authentic. With the sheer amount of advertising mechanisms monopolizing the social media market today, many users are gravitating toward email campaigns — if they trust them. Supporters want an authentic experience when it comes to your brand, so make sure you publish trustworthy, transparent, and traceable content.
Enhancing your email marketing strategies is an effective and economical method to maximize your outreach with your donors without tacking on additional costs.
Email campaigns are especially efficient because they allow direct interaction with your supporters, without distracting advertisements competing for your supporters' attention.
While email marketing is a low-cost, high-reward best practice that will deepen donor relationships, do not forgo incorporating the benefits that social media has to offer when planning your fundraising budget.
Bonus! Click here for more of the top email marketing trends that can revitalize your fundraising strategy without killing your budget.
Social Media
Some of the best features of online fundraising for a fraction of the cost come from social media.
Social media enables effective communication with your audience (and their audiences). This maximizes the prosperity, promotion, and persistence of your fundraising without constricting your budget.
Becoming familiar with various social media platforms is essential for an effective communication strategy that can save money. While each platform offers its benefits, focusing on one platform to start engaging your donors on will be more beneficial to your organization in the long-term.
It's easy to get overwhelmed with an incessant stream of social media updates and applications, so honing your skills and optimizing your fundraiser for one or two platforms will revitalize your donor relationships!
Let's dig into some of the fundraising capabilities of the top social media platforms:
Facebook
Facebook's Audience Insights. With Facebook's new targeted marketing tool, you can use current donor demographics to customize your target audience.
Facebook Giveaways. Offering relevant prizes solidifies your connection with your donors, enhances their engagement with your fundraising campaign, and increases their likelihood to share your content. While you may not be able to offer an extravagant giveaway on a tight budget, confer with your board members to see if any local businesses will donate to a giveaway.
Instagram
Planned Content Videos. Producing this type of content creatively showcases your nonprofit's mission, your work, and your current goals.
Instagram Live. With these vlog-style videos, your organization connects directly to your supporters. Sharing your nonprofit's events builds bonds with donors and instantly allows followers unable to attend fundraisers to participate via online donations.
IGTV. With Instagram TV, your organization can upload long-form videos for your followers. Be careful with the content you create for these types of posts — remember that relevancy is more important to donor relations than length.
Instagram Stories. Succinct and short-lived, these brief videos are a wonderful tool to immediately market to different segments of your supporters. Instagram stories are posted to the top of a user's Instagram feed. It's important to note that Instagram orders stories for users based on how much they interact with the account posting the story. For that reason, it's good practice to post content on a regular basis to keep your donors engaged.
Twitter
Tweet Chats. Have your organization host a tweet chat on topics your supporters are interested in. These are wonderful ways to organically communicate with your supporters and reach a larger audience.
Twitter Polls. Polls are an effective method to promote your fundraising campaign, get your Twitter community engaged, and learn more about your supporters simultaneously. By polling users on relevant topics, you'll learn more about their preferences by increasing your interaction without any direct solicitation. Just be sure to incorporate hashtags and links that reinforce your organization's brand.
By optimizing your social media presence, you can inexpensively expand your online donor network.
Social media and email marketing are just two ways to optimize your online fundraising. To get the most bang for your nonprofit's fundraising buck, it's worth looking into matching gift opportunities.
For more online fundraising ideas to inject variety into your fundraising campaign without breaking the bank, check out these examples from Donately.

3. Offer Matching Gifts
Working with a challenging budget? One of the best practices to secure donations and save money is to incorporate matching gift opportunities into your fundraising strategy.
In the world of corporate philanthropy, matching gifts are the ultimate buy-one, get-one-free coupon. Matching gifts allow a donor to double their donation by submitting an application to their eligible employer's corporate giving program. Once processed, the employer matches their employee's gift to your organization.
Matching gifts provide a powerful discount to the cost of acquiring gifts. For the price of getting one donor to give, you get two donations (and possibly three or four), depending on the corporation's matching gift ratio.
However, like any coupon, matching gift opportunities are only valid for a limited time and come with certain restrictions. Not every donation is eligible to receive a match.
How can you offer matching gifts to eligible donors?
A donor makes a gift to your organization.
They check their eligibility in a matching gifts database.
If eligible, they submit their matching gifts application before their company's deadline.
Your organization receives the donor's initial gift plus a matching gift from the donor's employer based on their matching gift ratio.
Your organization just saved a bundle without any extra work on your organization's part and increased both your organization's fundraising efforts and your donor's impact two-fold!
To see a successful matching gift offer in action, check out the Leukemia and Lymphoma Society's matching gift donation page.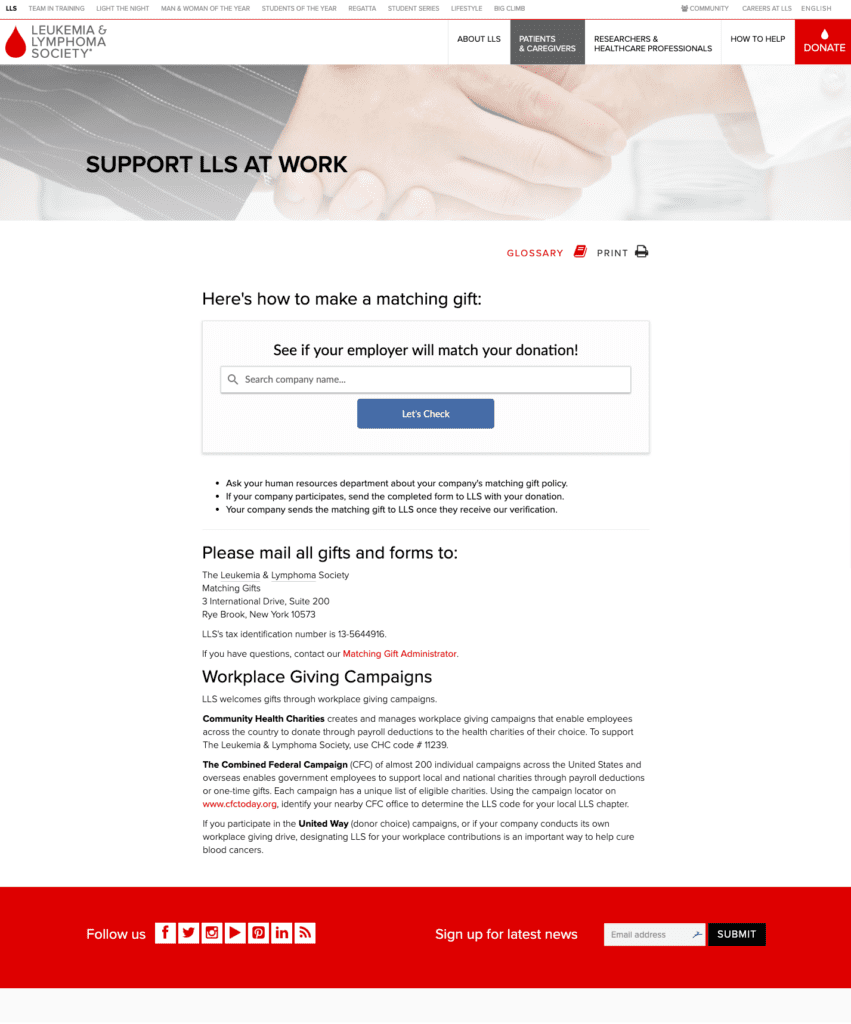 The more your organization expands its community engagement and encourages matching gifts with the right software, the greater the success your fundraisers will achieve and the greater the impact your organization and its supporters will have.
Investing in a matching gift software is certainly worthwhile. But, it isn't the only software update that can save your fundraising strategy money in the long run.

4. Invest in Software
Technology can offer myriad conveniences for the modern nonprofit, including saving you money. If you are fundraising on a budget, it might seem counterproductive to invest your limited capital into software. You need to allocate those funds for more important things, right?
Wrong. If your organization spends money on online fundraising (which it should), why wouldn't you invest in the landing page that turns an accidental visitor or a prospect into a donor?
Investing in the right software will help you reap such returns on your initial investment. Ultimately, you'll wonder why it took your organization this long to upgrade the way you fundraise. Researching, investing in, and implementing the right software into your fundraising campaign can largely impact its overall productivity and effectiveness.
The right nonprofit fundraising tool can expedite projects and allow your nonprofit organization to expand your fundraising strategy to reach larger audiences.
Before you begin a search for the best fundraising software for your organization, be sure you can answer these questions:
What are my organization's current fundraising needs?
Where are my nonprofit's areas of improvement?
What is our current price range?
Be completely honest with your answers. These questions are not meant to dissuade your fundraising opportunity, but to maximize it. Honest answers will allow your nonprofit to conduct the most fitting search for fundraising software that best aligns with your nonprofit's current goals.
From there, you can consider software such as:
Investing in the right software can broaden donor engagement in your organization's fundraising campaigns, thereby boosting your efforts in donor development and increasing your recurring donations without depleting your funds.
---
When fundraising on a budget, it's important to shop smart and use the resources you have to their greatest extent. By considering incorporating peer-to-peer fundraising, deepening your donor relations with online fundraising, offering matching gifts, and investing in software, your nonprofit will maximize its success without maxing out your funds.
Andrew Berry is the head of marketing and customer success for Donately. After getting involved with nonprofits at a young age, he discovered a passion for helping the organizations that are making the world a better place. Knowing how vital online fundraising has become, his goal is to help nonprofits raise more money online each year! In his spare time, you will find him cooking up dinner, playing with his dog or cheering on Boston sports teams.