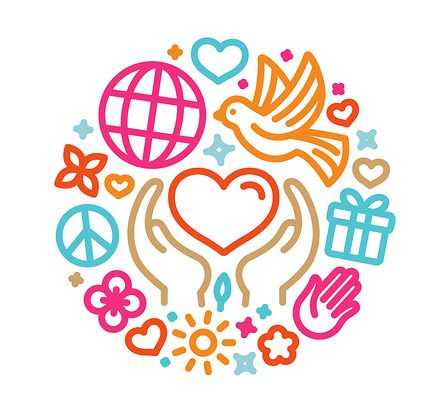 Behind the more than 1.5 million nonprofit organizations in the United States alone are volunteers, donors, and other supporters who work to help the organization succeed in its mission.
If you're part of a nonprofit organization, email marketing is a must — read on to learn about the benefits and best practices for sending successful email marketing campaigns.
Benefits of Email Marketing for a Nonprofit
We all know nonprofits are typically strapped for money, time, and personnel. That's nothing new. So why should a nonprofit invest limited resources into email marketing? Because they can't afford not to.
Here are just a few statistics that show how important emails are for a nonprofit organization:
Direct mail fundraising is 245 times more expensive than email.

Email messaging accounted for 26 percent of all online fundraising revenue.

For every 1,000 fundraising emails a nonprofit sends, an average of $17 will be raised.
Email marketing allows you to reach countless people, give them information on your cause, and provide ways for them to help. You can make it easy for them to donate,  request information immediately, and interact with others who care about what you're doing.
You're also able to track email results to get a sense of how campaigns perform — and share those findings within your organization. There's no guessing if people saw your printed mailer or heard your radio ad.
You can also quickly find out when people open and interact with your messages, in addition to other metrics. You can see what does and doesn't work so you can change tactics for better results.
The benefits for nonprofits to use email marketing are clear. We've put together the best practices for how nonprofits can be successful in email marketing.
Optimize Website for Subscriptions
Before getting down to the nitty-gritty of email marketing, you need to have a list of subscribers to email. One way to capture those contacts is by adding pop-up forms to your website or including an HTML sign-up form on your webpage.
But don't just include a "Sign Up Here" button with a place for an email address. For the best conversion rate, give the person a good reason to join your list. Luckily, nonprofit businesses have several selling points.
For example, encourage them to sign up to get updates, read testimonials, or offer ways to join the cause. Your CTA needs to show why there's value in your newsletters.
Just make sure all of the sign-up and donation forms work on mobile devices and desktops. Why? The conversion rate is 34 percent higher when a nonprofit website and donation form are mobile responsive. You can also include sign-up information on your social media pages and encourage followers to share content.
Make sure you use double opt-in, which confirms they want to receive your emails. It helps weed out potentially unengaged contacts, which proactively helps improve engagement metrics and reduce hard bounces and unsubscribes.
You can then immediately send them a welcome email to thank them for signing up and letting them know what they can expect to receive. Nurture that relationship right from the start.
Personalize Email Components
We all know the basic elements of an email. There's the subject line, from line, reply-to address and body text. Every nonprofit is working with these same components, but that doesn't mean all nonprofit emails are equal.
See what you can do to improve and personalize your email basics.
Get Creative with Subject Lines
You can have the best email content and design ever created. But if no one ever opens your message, none of that matters. One of the key ways to get your message read is by crafting an engaging subject line since it's probably the first thing your contact is going to see.
Start by figuring out the type of subject line that will work best. Is your nonprofit lighthearted and fun, or does it pull on heartstrings with its mission? Knowing the overall tone and goal will help you find the right voice for your subject line.
Here are a few tips on how to write an eye-catching subject line:
Personalize it.

Add their

first name

to some of the subject lines to improve the open rate.

Ask a question.

One that will make them stop and think — and hopefully open your message to find the answer.

Add a hint of mystery.

We are all a bit curious, so anytime you can use that to your advantage in the subject line, go for it. Just be sure not to be too vague because they still need to get a sense for what the email is about.

Test, test, test.

You can send out a few options in-house to get feedback, or email different subject lines out via A/B testing to see what works best with your contacts.

Choose your words wisely.

You might want people to donate to your cause, but actually using the word

"donate" in your subject line

can be a turnoff. Find more creative ways to get your message across, and test which words give you the best results.

Show urgency.

You don't want to be the boy who cried wolf by saying every email you send is highly urgent, but occasionally using words like "hurry," "now," "limited," "don't miss," and "today" in your subject line can lead to more opens.
Want to see those tips put into action? NonProfit PRO offers these examples to show how you can improve your open rates (shown in parenthesis) by livening up the subject lines:
"It's a trashy party, and you're invited!" (35 percent) outperformed "Join us at the Red Clay Valley Clean Up!" (28 percent)

"Uh-oh, your membership is expiring!" (35 percent) outperformed "[Organization Name] Membership Renewal" (29 percent)
Subscribe to other nonprofit newsletters to get ideas and see what does or doesn't work in your opinion.
Note: The average open rate for nonprofit emails is between 15 and 18 percent, though they can be as high as 40%.
Set Your From and Reply-To
These elements don't have to be changed every time you hit send on an email, but you do need to figure out what you want subscribers to see each time they get a message.
Most nonprofits will send emails from their organization's name, while some might send from something like [NAME], President of [NONPROFIT]. You want to keep your emails consistent so people can easily recognize they are from your nonprofit, instead of trying to figure out who it's from.
The reply-to section isn't always the same as the "from" line because it needs to be linked to a real account that is checked regularly — not a random info@companyname.com address. You want your contacts to reach out to you and engage, so make sure their responses are handled by someone. It also helps for people to see a person's name with the reply-to address to make the message more personable.
Body Text
Congrats! If your subscribers are opening your email, you've won half of the battle (the other half is getting them to click-through or follow another CTA). Now, you just need to follow through with your end of the deal and give them something valuable for their time.
We'll go into detail on what types of content works for nonprofits in the next section, so we'll just stick to the basics of what should be included in your email in this part. Here are the key components to an email body:
Informative Header

Eye-Catching Image(s)

Concise Content

Clear CTA (

Buttons

work best!)

Signature/Contact Information

Social Media icons/links

Unsubscribe Option
These are the essentials. But as a nonprofit, you can also include a short blurb at the end of your messages that share your organization's story. Think of it as your elevator pitch. You could simply share your mission statement or have a short paragraph that describes what you do. It's an easy way to remind your contacts what you're all about.
Share Content that Works
The meat and potatoes of any email newsletter is the content. That can range from an exciting company update to a major milestone or achievement to a message encouraging donations. No matter the topic, you need to make sure the content is something your subscribers will value.
The best option will depend on your nonprofit and the type of message you want to get across, but here are some of the top techniques to help generate great content.
Personal Stories
One of the most popular approaches with nonprofit emails — and for good reason — is sending a story about a person, group, or cause the nonprofit organization helped. A good example of that is the type of messages St. Jude Children's Research Hospital sends.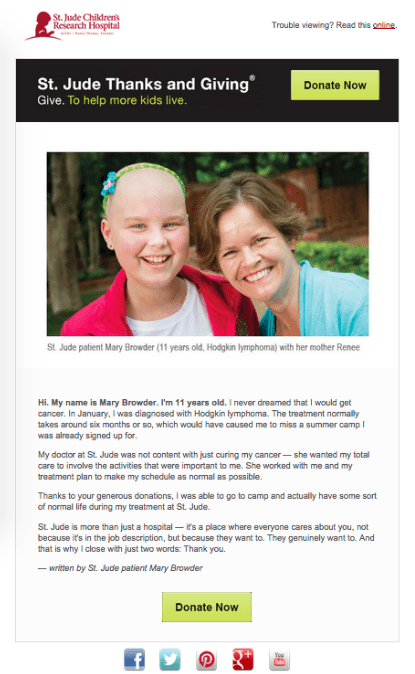 They let patients share their stories to show how St. Jude's has helped people, while also putting a face to their cause. This type of content can be very powerful and is probably one of the reasons why subscribers were interested in supporting your nonprofit.
This type of approach works best if you can provide first-person content along with a photo, like in the example above. Subscribers will feel more connected to your mission, which ultimately improves engagement. It's a fairly simple concept that can have a big impact.
Say Thanks
Another important topic to regularly cover in your content is gratitude for support. Whether that's from donations or joining a newsletter, their backing is vital to your success. Make sure they know how much you appreciate them.
Beyond a simple "thank you" message, you can get creative with your emails. Take this example from Liberty in North Korea (LiNK). They were aiming to put a smile on their subscribers' faces, thank them and show them how important their donations are to the cause.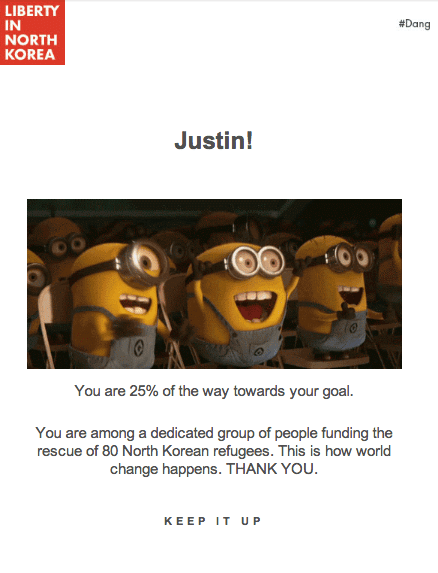 Adding a fun image or gif can help make your email the best one they see that day. And isn't that the goal?
Educate Your Readers
Your subscribers probably know the basics of what you support. But, we'll venture to guess they may not know all of the things your nonprofit does and where all of the funds go.
Share information on exactly what happens with donations. This could be an email series, each one highlighting a cause that the money supports. You can tie in some of the personal stories, photos, or even videos for each example.

You can also share what a specific donation amount will achieve. We've all seen examples of this: "Give $10 and feed a family for a week." This breakdown provides a tangible outcome to a donation and shows what impact someone can have with a few dollars. There's a reason so many nonprofits use this type of messaging.
Event Promotion
Do you have an upcoming event, either locally or digitally? Send your subscribers an email to share all of the details and drum up excitement.
The email can cover the basics — what, when, where, and why — and you can also include a link for more information. Keep the email fairly short, with just a few small paragraphs.
Be sure to include a share button or link so that your contacts can forward the event to their friends. Word of mouth is a powerful tool.
Stay Out of the Spam Folder
No one wants their email to end up in the spam folder. But for nonprofits, making sure your emails are landing in contacts' inboxes is especially important. Think about this staggering finding:
Nonprofits lose about $15,000 a year in donations because of spam filters blocking fundraising campaign emails from prospects' inboxes.
We'll let that sink in for just a moment. It's hard to think about losing such a large amount of money because your message went to into a spam folder. According to that same study, nonprofits can boost their email fundraising revenue by about 14 percent by reducing their spam rate.
Those are concrete numbers highlighting what we all know: You don't want your email to be considered as spam. But how can you avoid it?
One of the biggest no-nos that will land you in the spam folder pretty much every time is using purchased lists. It's not only illegal, but it can also get you blacklisted and sent straight to spam folders. If you're still buying lists, stop. It really is that black and white.
You should also avoid sending emails with large images or attachments.  A "big" email – ie, one with lots of bandwidth-sucking images and potentially virus-harboring attachments will definitely land straight into spam folders.
Having a double opt-in system in place is another way to make sure your emails are landing in inboxes. It helps you better qualify your list to ensure they want to receive your messages.
You'll also want to keep your list clean, which means removing addresses that have bounced or haven't engaged during a certain period of time. Cleaning your lists is something you have to do regularly to improve your rates and sender reputation. Trust us, it's worth the time and effort.
And finally, keep the promotion and sales lingo to a minimum. Using words like "free" or "prize" can raise a red flag with email service providers, especially if they are used in different emails several times.
You can check the chance of your message ending up in the spam folder in your email marketing platform, but be sure to also follow these best practices to help reduce the risk.
Create Segmented Lists
Even nonprofits need to segment their contact lists, and having those separate lists can result in even more conversions (aka donations). Nonprofits who fail to use this technique will miss out on the benefits: 77 percent of email marketing ROI comes from targeted, segmented, and triggered campaigns.
So how can you successfully segment your lists?
Each nonprofit is different with its own unique kinds of subscribers, but here are some of the main ways to break down your lists.
Donation and Engagement Levels
Someone who gives thousands to your organization every year deserves to be recognized for their support. The email you send to them should be different than what you'd send to someone who has never donated and just receives your emails. Create separate lists based on how much they have given — like gold, silver, and bronze lists.
You can then personalize the emails to each group. For example, in your bottom or "bronze" list, encourage contacts to donate or simply learn more about your organization. That will help cultivate a relationship with them so they might one day support your organization.
For your top list, thank them for their continued support. Share what their money has been used for (real examples), tell them how much more you need to reach your goal, and make them feel special for being a part of the nonprofit. Basically, you want to roll out the email red carpet for them.
Build Customer Personas (Avatars)
Put the information you have on your subscribers to good use and segment your lists based on their characteristics. You can separate them based on their locations, ages, preferences (ex. cause, department, topics), when they open your emails (date and time) and other factors you learn about them.
Not only can you use this information to segment your lists, but you should also put that knowledge to good use to personalize the messages. For example, if your lists are separated by location, let those subscribers know what the nonprofit has going on in their area.
Cater to the Relationship
Nonprofits interact with a range of people and businesses, so your email marketing lists should reflect that. What you would send to a consumer interested in your cause shouldn't be the same as what you'd email a company that partners with your organization. That one is pretty straightforward.
How to Choose an Email Marketing Platform
You have several choices when it comes to picking an email marketing platform. While we are obviously a little partial to everything Robly has to offer, we want you to find the one that meets your specific needs.
To begin narrowing down your search for the right platform, ask yourself these questions:
What features (ex. analytics, A/B testing, automation, mobile-responsive templates, integrations, etc.) are important to my organization, and which ones are included?

Do they have any features that help me predict the best send times?

How intuitive is the platform's user interface?

What's the cost, and what do I get for that amount? Also, do they offer a free trial?

Is there a nonprofit discount?

Do they offer

customer support

and resources, such as how-to videos, easy-to-read posts, live chat, and/or phone support?

Will the platform grow with me, or will I eventually hit a wall once the nonprofit reaches a certain point?
Every platform is different, so you have to figure out which one best meets your needs. Take advantage of the free trial to see if it has everything you need for your nonprofit's email marketing efforts.
Once you've found the right platform, it's time to start sending those emails and boosting your engagement!
Lauren Dowdle is an award-winning writer and magazine editor based in Nashville, Tenn. Her nearly decade-long writing career has covered everything from landscaping to marketing.