The more you know about your customers, the better you can engage them. Like with any relationship, one of the best ways to get to know someone is by asking questions. That's why you should be sending subscribers surveys.
Surveys provide invaluable information to help you better understand and target your audience. There's no doubt that surveys are a powerful tool for any business or marketer, so the question becomes how to make them worth the subscribers' time. Here are six ways you can encourage your customers to complete a survey.
1 Give them something
One of the best ways to ensure your subscribers complete the survey is to give them something they value more than their time. A great example of that is a gift card, and there are a few ways to go about giving those out.
One popular option is to offer a large amount to one lucky participant: "Take our survey and be entered to win a $100 Amazon gift card." That gives them motivation to answer your questions, and you're only having to give out one prize. You could include a way for them to share the survey (ex. forward email or share on social media) for an extra entry into the gift card giveaway.
Another option is to give a gift to the first 100 respondents (or whatever number you choose). We like that approach because it pushes subscribers to take the survey as soon as they receive it to ensure they win, instead of putting it off until later — which we all know means they will forget about it.
2 Share survey results
Not everyone can afford to offer gift cards and other monetary prizes. If that's the case, there's still something valuable you can give them: information.
People like to be in the know, and they also like to see how their responses compare to others. You can share your survey results with the respondents, saying something along the lines, "See how your answers compare," or "See what others had to say." This could be done as a follow-up email or in real-time once they answer a question.
3 Keep the survey short
Time is money, so don't use up too many of your subscribers' minutes with your survey — or they won't take it. Not only will they bail out of this survey, but they might also assume all of your surveys are long, meaning they won't take another in the future.
Using too much of their time isn't the only issue you might run into with longer surveys. The accuracy of their responses can also drop with each additional question. For example, on a one-question survey, the time spent per question was 1 minute and 15 seconds. On a survey with 26 to 30 questions, the time spent per question dropped to 19 seconds.
You should also give them an estimated time for how long it will take to complete the survey. Bonus points if you add a progress bar that shows how close they are to being finished.
The bottom line is to keep surveys short and sweet. If you have a lot you need to ask, either break them up into multiple surveys or ask them if they're willing to answer additional questions after they've completed the main ones. That way, what they answer from the first part is saved, whether or not they agree to continue on.
4 Target the right people
You might craft the perfect survey questions, but if they don't apply to the audience you send them to, none of that matters. For example, if you send a survey about dogs to someone who doesn't have pets, why would they take it?
Segmenting your email lists is a great way to target the right people with your survey. Whatever topic you're covering should apply to them — or else you're wasting both of your time.
Of course, you can't always know if they are a good fit for the survey, so be sure to start with a screening question. Going with the dog example, you could ask, "How many dogs do you own?" and include "None" as an answer. If they select that, you can send them straight to the end of the survey to thank them for their time.
5 Make the survey mobile friendly
Did you know 75 percent of people complete surveys on their mobile devices? So, if they click your survey and they can't easily answer the questions on their phone, they aren't going to complete it.
To ensure your questions and overall design show up correctly, test different device views in your survey builder tool. You can then make any needed adjustments to give them the best user experience.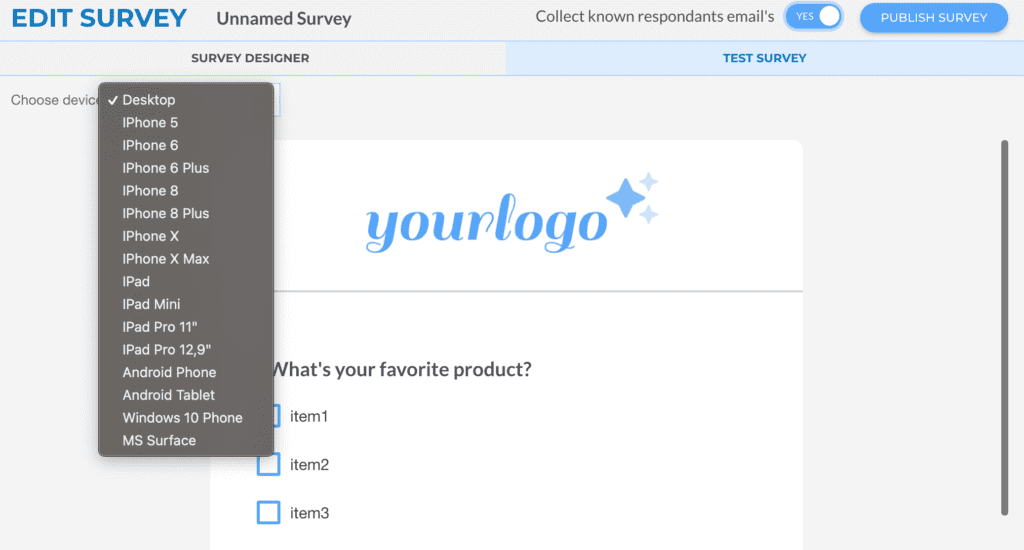 You're already fighting against limited attention spans, so don't give them an easy reason to close out of your survey.
6 Follow up with subscribers
If they didn't open or click-through the initial survey email you sent, try again a few days later. Maybe they skipped over the message or didn't have time for it when they initially received it.
Use a different subject line approach to better catch their attention. For example, if your initial subject line was, "Please take our 2-minute survey," try something like, "We want to know what you think."
What makes a survey worth their time?
The answer to that is simple: The survey needs to provide them with something of value. Figuring out exactly what your audience values — i.e. what matters more to them than the time it takes them to complete the survey — can take a little trial and error. Whether that's a gift card, discount, information from the survey, or a thank you message, find what works best for them.
And when it comes time to create your next survey, Robly can help with that!
You can completely customize your survey in Robly, from your logo and survey description to the type(s) of questions you want to ask. The user-friendly survey tool can also collect the known respondents' emails. The drag-and-drop survey designer means no design experience is needed to craft the perfect survey for your customers!