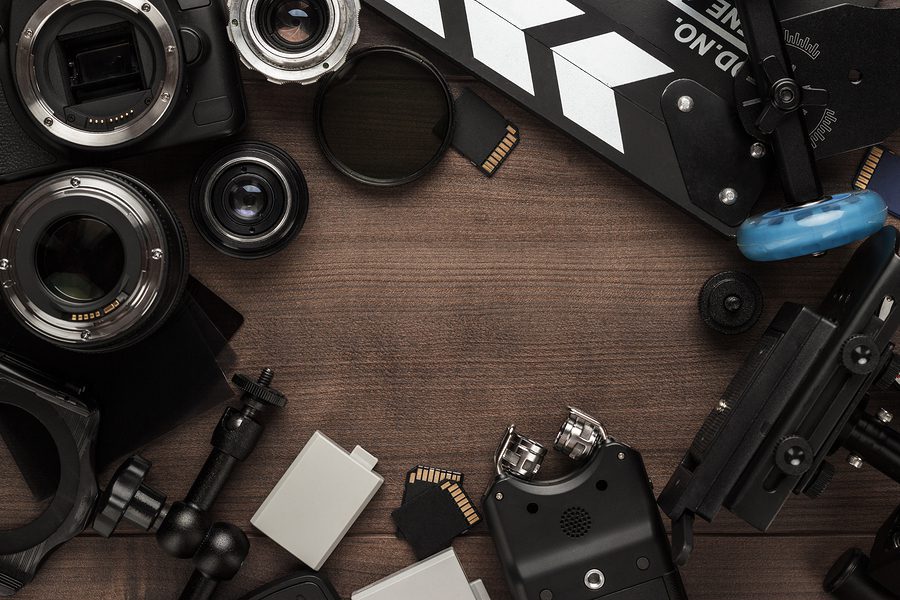 Let's start with a question: how many YouTube videos have you watched today? What about Facebook Live broadcasts or Instagram stories? That's what we thought…
Video is everywhere. It's inescapable!
Which means your company needs to take a serious look at implementing the medium into its marketing efforts, if it isn't already doing so.
Recently, we went over how to do live video for your business. In this post, we'll outline everything you need to know about using non-live video to market your business. You'll see the stats on video marketing's prominence, learn the different kinds of videos you can create, and get a few ideas for appropriate content.
We'll even educate you on the top video promotion techniques and the best apps to make your content both more professional and easier to create and market.
It's all here. Shall we get started?
Why Video?
Have you been resisting the video takeover? Unfortunately, that may no longer be a viable option for your company. Video has just grown too much! And, honestly, it's what most audiences want.
According to DreamGrow:
Studies show that 74% of users who watched a product explainer video eventually bought the product.

83% of businesses currently using video to market their products feel that it has a good return on investment (ROI).

57% of consumers report feeling more confidence when purchasing online

after

watching a video from the company.

Your company is 53 times more likely to land on the first page of Google search results if there's a video embedded on your company's website. FIFTYTHREE TIMES!
Ready to invest in video marketing yet?
A Note on Strategy
Video is a fantastic platform to market your business. The stats we just referenced are pretty mind-blowing. But just like any other marketing medium, the tactics you use are only as good as the strategy you implement behind them.
As you read this guide, we encourage you to keep this in mind. If you use the information we provide here to craft a personalized video marketing strategy for your business, we're sure you'll see the impressive results you're hoping for.

Video Variations
Next, we'll talk about the different kinds of videos your business can create:
The Traditional Variety
These are the kinds of videos you probably think of when you think of "video marketing." They're pre-recorded (i.e., not live) and can cover just about any topic that relates to your business and intrigues your audience.
In a later section of this post, we'll talk about specific kinds of content you can include in your company's videos.
The Live Variety
Live video marketing has taken the world by storm in the last couple years. As the name suggests, live videos are recorded and broadcast to an audience in real-time.
For those bold enough to go live, this medium can be incredibly useful for marketing a business due to the high level of engagement live videos receive and the smaller amount of competition businesses face in this area.
We've written a complete guide on live video marketing if you're interested in learning all the nitty-gritty details.
The Animated Variety
Animated videos are just like traditional marketing videos, except the "characters" in your film won't be real. This type of video marketing can work perfectly for certain types of businesses and help relate a fun, whimsical element to your brand.
And don't worry if you're not the artistic type. There are many companies out there that will work with your business to create beautiful, animated marketing videos your audience will love.
If you're serious about using animated videos in your marketing strategy, but aren't in a position to create the animations yourself, we recommend you look into partnering with these companies: Animoto, Powtoon, and Wideo.
In this post, we'll be focusing on pre-recorded video content, which could fall into either the traditional or animated categories.
Video Content Ideas to Market Your Business
The trick to creating amazing video content that will move your business forward, is to first understand the people you're creating content for. Who is your audience and what do they want to see from your company?
Once you've established who you intend to reach with your video marketing efforts, you can then choose from the following list of content ideas. This list is by no means complete! These are just a few popular options you can use to get you started.
The Brand Video
Brand videos are (surprise!) all about your brand — the vision and values of the company and the products or services it offers. These kind of videos are great for attracting new audience members and growing awareness for your business.
Starbucks really nails this brand video by emphasizing why they do things the way they do and highlighting a few of their most popular offerings:
The Demo Video
Show potential customers how your product or service works. Depending on your business type, this could manifest itself as a tour of your software's main features, an unboxing of a physical product and a demonstration of its uses, or an in-depth look at a specific service you offer and what a potential customer can expect if they hire you.
Nightingale does a great job of showing us what their product is capable of in an entertaining way in this demo video:
The Educational Video
Many companies use their blogs to educate their audience on specific topics that matter to them. Actually, that's what we are doing right here, right now!
Why do we do this? In the hopes that through our content, we'll develop a relationship with our audience, build trust, and become their first choice when they look to purchase a subscription to email marketing software.
This is called content marketing and you can do the same thing for your company through video. Create educational videos for your audience that explain how they can better solve their problems.
Moz has been making these kinds of videos for years now. Their whiteboard Friday sessions now have a cult following and have inspired many others to do something similar:
The Testimonial Video
Do you have happy customers? Ask them if they'd be willing to give you a video testimonial! These marketing pieces are powerful and the more of them you can get, the better.
Think about it; when was the last time you bought a product without reading reviews or asking a friend for their opinion? Unless the price was low, we're guessing you regularly read up on other people's experiences before you spend your hard-earned money on anything.
Your prospects are the same way. They need to know that others have used — and enjoyed — your products or services before they commit. A video testimonial is a great way to share a happy customers positive experience.
This video from Freshbooks really captures the ease-of-use of their software. Any potential customer struggling with their day-to-day bookkeeping tasks will be able to connect with the customer's endorsement:
The Interview Video
Do you have a relationship with any well-known experts in your industry? Or maybe you already have expert-level talent on your staff. Get them in front of the camera and interview them. Ask their opinions and advice on topics of interest to your audience.
HubSpot has built their entire business on the expert use of content marketing. So it's no surprise that they've produced many great interview videos. Here's one of them:
The Employee Spotlight Video
The modern consumer enjoys "knowing" the brands they buy from. It makes the relationship feel more personal and allows for greater trust between customer and company.
Try fostering this trust with employee spotlight videos that tell the viewer the team member's name, role, and reason for working at your organization.
Quick Tip: post these videos to your company's website in place of the traditional written employee bios to stand out from your competitors.
Great Sky Films uses this technique really well and sets their company apart from others in their industry: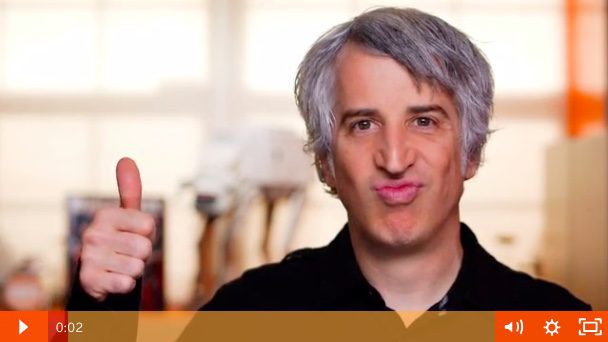 The Behind-The-Scenes Video
Take your audience behind the scenes and show them how your products are made or the way your team interacts with each other around the office.
This will often times prove interesting and entertaining to both your current and potential customers and may even allow your company to forge deeper relationships with them. It will "humanize" your brand and make it more relatable.
This is just a fun, quirky, behind-the-scenes video from Josh Coffy, owner of Flight Media. And if you read the comments, viewers found it both entertaining and relatable: 
Get Eyeballs on Your Videos
You've just created an amazing video using one of the tactics we just outlined here in this blog. Time to upload that bad boy to YouTube and watch the views roll in, right?
Unfortunately not.
The only way you can hope to get a significant amount of eyeballs on your newly created content is to promote it. In fact, you should plan to spend even more time and energy promoting your videos than you do creating them.
But don't worry; we're about to give you all the juicy details on video promotion. After reading this section, you'll be a video promoting ninja, guaranteed.
Quality Content
While this isn't necessarily a "promotion" tactic, your videos will only be watched if they contain valuable content that your target audience wants to see. It seems obvious, but it's overlooked by many businesses. Be better and create something worthwhile.
Optimize Your Videos
If you want your videos to be seen, you need to make them easily discoverable. This is what we call optimization: including specific keywords and other information (like tags, descriptions, and more) so that your videos appear in search results.
Depending on your niche, it may be incredibly difficult to rank well in search results for certain topics. But as your following grows, you'll start to see the benefits of SEO — if you've optimized your videos correctly, that is.
Distribute Like You Mean It
Once your video is created, post it on your website. Also, post it to YouTube, Facebook, Vimeo — wherever your ideal audience is and may stumble upon your content. The more places your video exists, the more cumulative views it's likely to receive.
Sometimes the best way to get more eyeballs on your content is to actually go "chase" the eyeballs: be where they are.
Make Some Noise
Have you created amazing video content, optimized it for search results and distributed it to every channel your audience frequents? Great! But you're not done yet.
Now you now to actually tell people about it. Start with those who are already connected to your company. Email your list and let them know about your latest video and how they can watch it. Post about it (multiple times, over multiple days) on social media, too.
If you truly feel you have an outstanding video; something that clearly rises above the rest of the content currently being published in your niche, you may consider promoting it via paid ads. Both Facebook ads and Google Adwords can potentially bring a lot of new viewers to your videos.
Use (or Grow) Your Network
Utilize the people in your network to help get the word out about your videos. Ask your audience to share them, partner with others in your industry and ask them to promote your content to their followers.
If you're really feeling ambitious, contact the big players in your industry — the most popular influencers — and ask them to share your video as well. Just make sure you approach them correctly:
Always be respectful and keep your messages short and to the point.

Make sure you offer them something valuable in return for their help.

Realize you might get no response. If you do, they might decline to partner with you.
Working with influencers could be an entire post by itself. But these few quick tactics will get you started.
Repurpose Your Top Performers
Once you've had a video perform well, put it back to work and repurpose it into other bits of content. These could include:
Short video clips for

Instagram stories

and Snapchat.

Video transcripts to be posted to your company blog.

Screenshots of your videos to be made into Slideshares.
With every repurposed piece of content, include a link back to the full video. This will not only increase the amount of views your video receives, but could also help it rank higher in search results.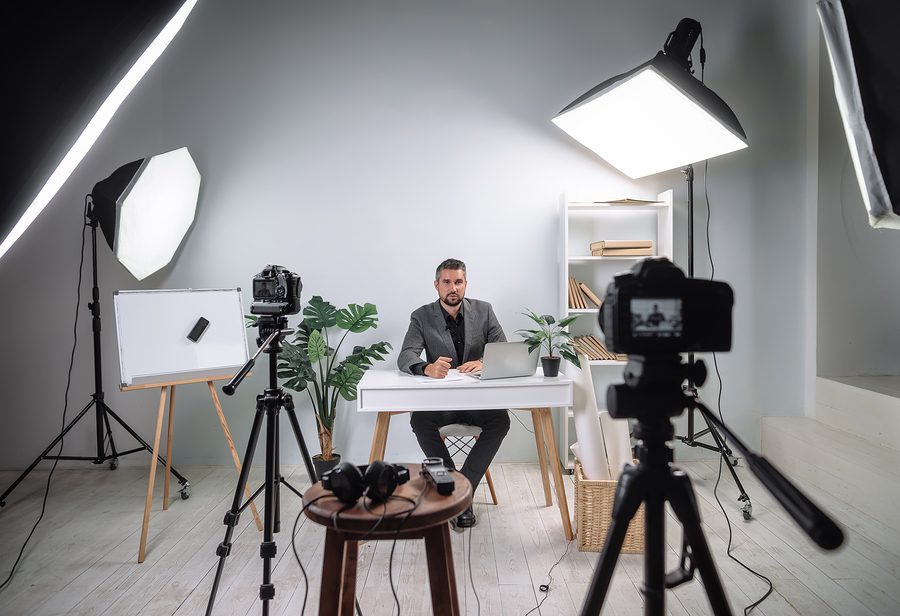 The Tools You Need
If you own a brain (you do) and a smartphone (who doesn't these days?) then you literally have everything you need to create effective marketing videos for your business.
But if you're ready to step up your game and join the "big boys," or you just want to make the entire process more convenient, you've come to the right place.
Here are the top video marketing tools your company should consider investing in:
The Basics
iMovie
This free Mac video editing app is a great beginner tool for those looking to upgrade from their current smartphone video setup.
Windows Movie Maker
Basically the iMovie equivalent for Windows users, this app is another great option for those looking to level up from editing videos on their smartphones.
Adobe Spark
Use an iPad? Then Adobe Spark may be the perfect video editing app for you. It's intuitive and free.
Advanced Tools
WeVideo
This app gives you two video editing options: Storyboard for simple video creation, and timeline for greater control. Certain plans also allow for multiple users so creatives can collaborate with each other, and marketing features to help businesses better promote their videos via social media.
Wave
Wave makes video editing extremely simple and includes features such as instant resizing options to optimize videos for every social platform, drag and drop capability, and the ability to add custom text and music.
The service also comes with a massive library of stock video clips. Meaning you don't even need to shoot your own footage to make a marketing video with this app!
Expert Level Gear
Wistia
Wistia is a major player in the world of video marketing apps. And with features like video player customization, CTA options, and password protection capabilities; it's not hard to see why.
This site is more than just an editing app, though. The platform actually hosts your videos and allows you to embed them across the internet. It also comes with SEO options, robust analytics, and automation features.
Wistia provides integrations with HubSpot, Pardot, Marketo, MailChimp and ZenDesk; and is used by SquareSpace, Unbounce, and Casper among many others.
VidYard
Just like Wistia, VidYard is a video hosting platform that allows you to embed marketing videos across the internet, and comes with specific marketing features like SEO, analytics, and CTAs.
It currently integrates with SalesForce, HubSpot, Marketo, Hootsuite, and more; and is used by a list of major marketing teams that includes LinkedIn and Microsoft.
A Few Final Notes
We've given you a lot of information so far in this post. Think you can handle a bit more? Let's cover the last few things you need to know when marketing your company with video:
Post Consistently
While creating video content sporadically can still benefit your business, video marketing is most effective when it's pursued consistently.
That doesn't mean you need to post every day, or even every week. But it does mean that you should pick a posting schedule that works for your business and stick to it.
This will help you grow a following, develop trust with them, and ultimately win their business.
Audio Matters
Video — it's all about the visuals, right? Wrong! Audio plays a VERY important role in the success (or not) of your videos.
Make sure that the words you're saying are easily understood and that there are no obnoxious background noises to distract viewers.
Also, consider adding music to your videos. There are many sites that offer royalty free music you can use as well as companies that allow you to license professional tunes for a fee.
Match Your Brand
Finally, make sure that the video content you create matches your company's brand. If your company sells organic cookies, for example, you may want to shoot in the kitchen, while wearing an apron.
If your business uses hand-drawn graphics on it's website, animation might fit perfectly. And if you generally write on your blog in a light, fun and slightly sarcastic tone, make sure this is also the way you talk in your videos.
Just ensure that you're giving your audience what they expect and have to come to love about your company when you create video content.

Did Video Kill the Blogging Star?
Not quite! But video is a growing medium and your business should definitely consider using it to market its products and/or services.
As we've broken down in this post, successful video marketing boils down to having an effective strategy, choosing the kind of videos you want to create (traditional, live, or animated), the kind of content you want to include (product demos, trainings, testimonials, etc.) and then promoting your creations like crazy.
And when you're ready to upgrade your smartphone video rig, make sure to check out the various apps we mentioned. They'll help you create better content, much faster and more easily.
Is your company currently using video in its marketing efforts? Tell us about it in the comments! What's working and what isn't? Anything else we should include in this guide? We'd love to hear your thoughts.
Jacob Thomas is a freelance copywriter and content marketer based in Bend, OR. His professional writing approach has helped numerous businesses gain more traffic, leads, and sales. To contact Jacob, visit www.jtcopywriting.com.