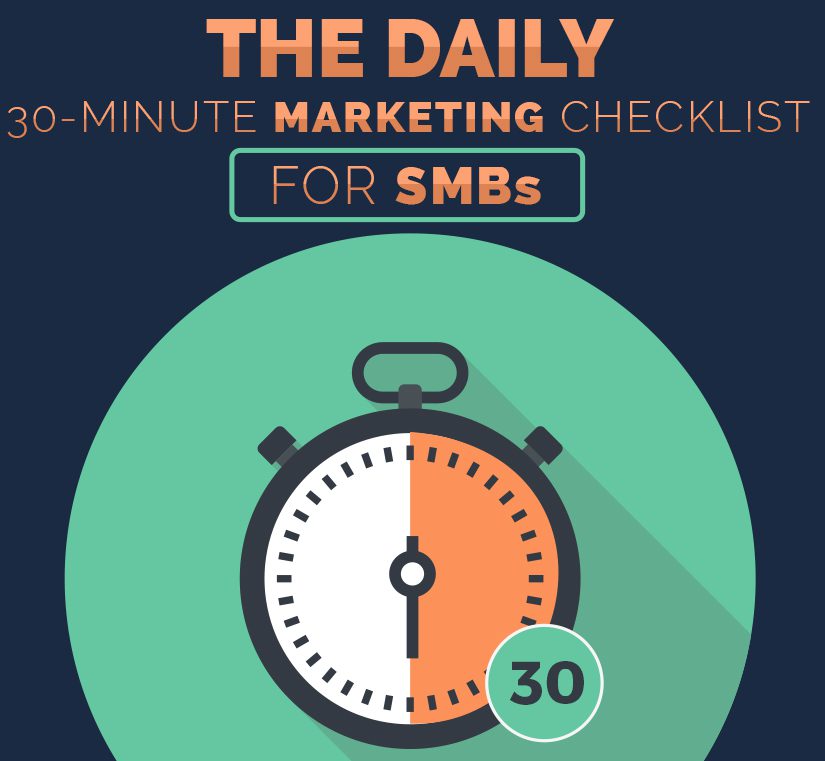 Marketing presents an interesting problem for small businesses. There are thousands of opportunities to reach potential customers with messages and build relationships with your current audience. To not do it consistently can cause a business to lose marketing momentum. If not carefully managed, the daily process could consume precious time that needs to be spent elsewhere in the business.
This is why it is very important to craft a daily checklist tailored to your business goals and to firmly understand how each component relates to your overall marketing plan.

The Requirements
If you've developed a marketing plan for your business, you are already ahead of 90% of business owners in that regard. The key to developing the perfect 30-minute marketing checklist to your business is to boil down your key performance indicators (KPIs) to a handful of items that can be observed and recorded in only a few minutes.

Failing to Plan Is Planning to Fail
In order to have an effective 30-minute marketing checklist, a business must already have an actionable long-term plan. This plan should be extremely clear and objective, setting the daily actionable goals, as well as parameters and criteria to monitor and better execute your actions tomorrow.

Know Your Way Around the Neighborhood
The more familiar you become about knowing the best ways of starting conversations, speaking to your audience in a non-intrusive way, and where to look to find critical information, the more efficient you will be when it comes to executing your daily marketing plan. Not only will your process become more streamlined, but you will become much more adept at recognizing new patterns.
For example, if you only know how to check your daily traffic in Google Analytics, you may be limiting yourself to only one dimension. By checking your daily traffic, and then going to your Audience, then Gender tab, you may realize that exponentially more males are finding your site on a daily basis. Information like this is great feedback to your marketing strategy and can allow you to adjust other marketing efforts to exploit this trend, such as launching your next Facebook ad campaign to target only males.

Your Daily 30-Minute Marketing Checklist
Without further ado, here are a few of the most common metrics that should be checked on a daily basis.
Engage Your Social Media Channels:

6 Minutes

Respond to Google Alerts:

5-6 Minutes

Respond your Reviews on Yelp, Google, Facebook, etc.:

2-3 Minutes

Start the Communication Process with Your Leads:

5-6 Minutes

Gauge Marketing Success with Google Analytics:

4 Minutes

View and Network with Blogs Specific to Your Industry:

5-6 Minutes

Engage with Your Social Media Channels
Total time: 6 Minutes
Merely having an account that regularly posts on Facebook, Twitter, and Instagram is hardly acceptable in 2017. With a social media marketing strategy that regularly posts on scheduled times comes the responsibility to manage your interactions with your audience.
Think of all the missed opportunities businesses regularly let slip up without regularly responding to messages their social media accounts.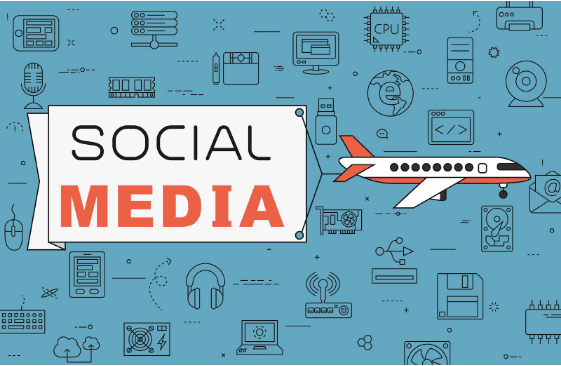 Facebook: Interact with your Facebook inbox and wall to see who messaged you, liked, and commented on your posts. This is an excellent way to start conversations with your audience and build your brand. Letting a Facebook comment sit without a response for any longer than 24 hours comes off as unprofessional. Follow up with users that sent you direct messages and find ways to add value to their day. Engaging and becoming part of the conversation is one of the strengths of Facebook, so be sure to maximize it.
Twitter: Check your feed for replies, retweets, mentions, and direct messages. People who are liking and retweeting your stuff deserve some appreciation, and the brand that goes the extra mile to engage with them has a higher chance of converting them into fans. While on Twitter, search for a few keywords that apply to your business and find ways to enter the conversation.
Instagram: Again, checking your feed is the bare minimum. You could go as far as to follow users that have liked your pictures, commenting on their pictures and even sending them direct messages.
Quora: By answering relevant questions on Quora, you are able to establish yourself as a knowledgeable figure in your industry. With information and links connecting your profile to your site, people who got a significant amount of value would likely be willing to follow your blog, social media, and—possibly—even purchase your products or services.
Respond to Google Alerts
Total time: 5-6 Minutes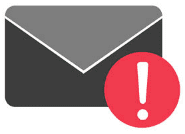 Google Alerts is an easy way to stay on top of your business mentions and industry trends. By setting up a few key alerts, such as your business name, competitor names, and your industry and location, you are able to streamline this process. These alerts will send you an email every day to give you a pulse on what the word on the digital street is.
You will learn more about your competitors, industry, and how your business is perceived. You will also have the power to actively reply to questions concerning your industry and business. This gives you the opportunity to recognize trends and push relevant content through your social media channels.
Respond to Your Reviews on Yelp, Google, Facebook, etc.
2-3 Minutes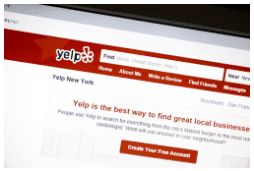 The internet has enabled customers to potentially make or break brands. Thankfully, businesses are able to make the most out of positive and negative reviews with consistency and urgency. The longer a negative review stays public without being addressed, the more it could divert potential new customers to your competitors. By checking your reviews every single day, you can hastily respond and rectify any negative complaints and protect your brand.
Responding to your reviews isn't only about damage control. By collecting positive reviews and reaching out to already happy customers, you can keep the conversation open and potentially convert them into champion users. Thank them, offer them a discount or any other form of recognition, and they will be grateful.
Since they've already had a positive experience with your business, they are far more likely to use your products and services again or refer friends. You could also convert positive reviews into testimonials to showcase on your site and social media.
Start the Communication Process with Your Leads
Total time: 5-6 Minutes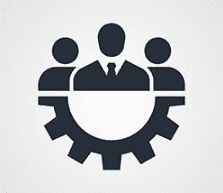 Not responding to your leads is an excellent way to allow all your calls-to-action, landing pages, and contact forms to go to waste. Your site is a 24/7 salesman that collects inbound leads. Many of these leads are ephemeral, in the sense that they must be contacted or closed within a certain period of time or else they become useless.
By incorporating lead response in your marketing checklist, you will make sure they enter the funnel as soon as possible. If you have automated your lead generation and response process, you must still oversee it to understand how your marketing process is functioning from a holistic perspective.
Gauge Marketing Success with Google Analytics
Total time: 4 Minutes
Google Analytics provides a wealth of information that can be incredibly revealing to patterns and trends, but, for the focus of this checklist, we only want to get the information that is relevant to our marketing efforts. There are so many ways of engaging with your audience, and so many options, that it is understandable most business owners can get overwhelmed with just the analytics component by itself.
If you don't have Google Analytics, this should become a priority. It's very powerful, free, and easy to use. It takes less time to set up than this section takes to read, so go do that if you haven't already. There are also subscription-based services such as ThriveHive that offer business owners an aggregated view of all of their analytics from all of their marketing efforts and not just their website.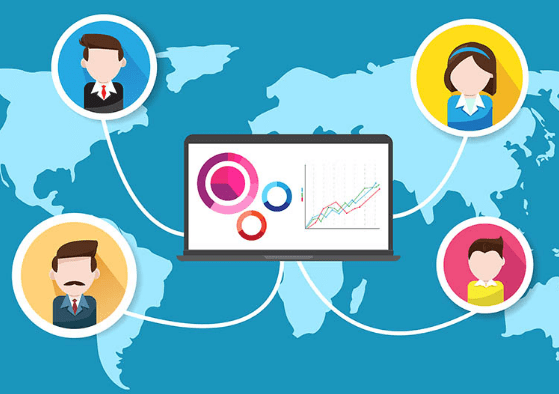 The key to integrating Google Analytics into your daily 30-minute checklist is to know what you are looking for, analyzing it, and moving on before numbers start flying around your head. A couple of very useful key criteria to pay attention to include:
Number of Visits to Your Site: Google Analytics already has this laid out in an easy-to-digest chart format. You should take into account any other promotions you currently have going on to see how effective they are at driving traffic to your site.
You also want to set median points for consistent growth of your site to get a better understanding which spikes and troughs in traffic are temporary, and how much traffic your site receives organically. Some strategies, like a press release or Facebook ad campaign, might show sudden spikes in traffic, whereas other long-term strategies, such as SEO, might show a gradual increase.
Key Demographics: By viewing the Demographics tab, you will understand more about your audience. The Age and Gender tabs can be incredibly telling of how your messages are working. This also gives you the opportunity to adjust your long-term strategy if you want to interact with the type of traffic you are attracting, or whether you want to change your marketing efforts to target a completely different audience.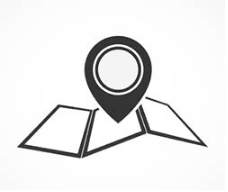 Geo: Your Geo tab shows where your traffic is located. This should be relatively consistent, but it can fluctuate, sometimes, based on your marketing efforts. Small businesses are able to see everything from their traffic on a global scale, all the way down to specific cities. This allows you to make sure your marketing efforts are targeting potential customers and not going to waste.
For example, if you are a local plumber in Los Angeles and you commission a sponsored post with a household blog in California, you might start seeing bubbles of traffic incoming from San Francisco, Sacramento, and other out-of-reach cities. By viewing this tab, you will be able to adjust the course of your strategy before spending any additional money on traffic that likely won't convert.
Visitor Activity: The numbers might be useful, from a quantitative analysis, but, without looking at visitor activity, you won't be able to know whether or not the content on your site is useful to your visitors. Viewing your Bounce Rate, Entrances, and % Exit will let you know how effective your on-site content is at keeping users on your site.
If your content is useless, or your site is otherwise clunky in terms of speed and design, users will bounce. Your bounce rate measures the number of users who left your site without visiting any additional pages—other than the one they landed on. Your exit percentage measures the number of users who left after visiting the same page, but it takes into account the fact they could have been on other pages beforehand.
Traffic Source: It is also important to know where the source of your traffic is coming from. The Acquisition tab shows which channel (Social, Direct, Organic Search) is doing the best job at sending traffic your way.
In order to master your Analytics, you must constantly be refining your strategies and researching ways to better analyze the flow of traffic on your site. Take into account that most sites are cyclical, and it would be better to compare days to their corresponding day in the previous week, as opposed to in sequential order (i.e., compare a Tuesday to a Tuesday, rather than a Monday).
View and Network with Blogs Specific to Your Industry
Total time: 5-6 Minutes
Subscribing to a handful of industry-specific blogs is an excellent way to brainstorm content ideas and trends you otherwise would be unaware of. This process could be as extensive as a few hours of in-depth market research or a quick skim of the top email newsletters. Even if you only have five minutes to do this, you will still be much better off in guiding your marketing efforts and understanding what customers may respond to before you commit any additional capital to marketing.
Shooting out an email to establish a relationship with the blog itself is also a good strategy to build your network in the industry. These connections could be utilized for anything from bouncing ideas about industry trends to guest posting in the future.

Conclusion
It is very important to keep your marketing checklist as concise as possible to be able to realistically check it every single day without eating up precious time. With these 6 steps, you will be able to engage with your audience through a variety of different mediums, as well as keep track of your brand mentions, understand industry trends, engage with your audience, move leads along the pipeline, and get an analytical perspective of your site's traffic.