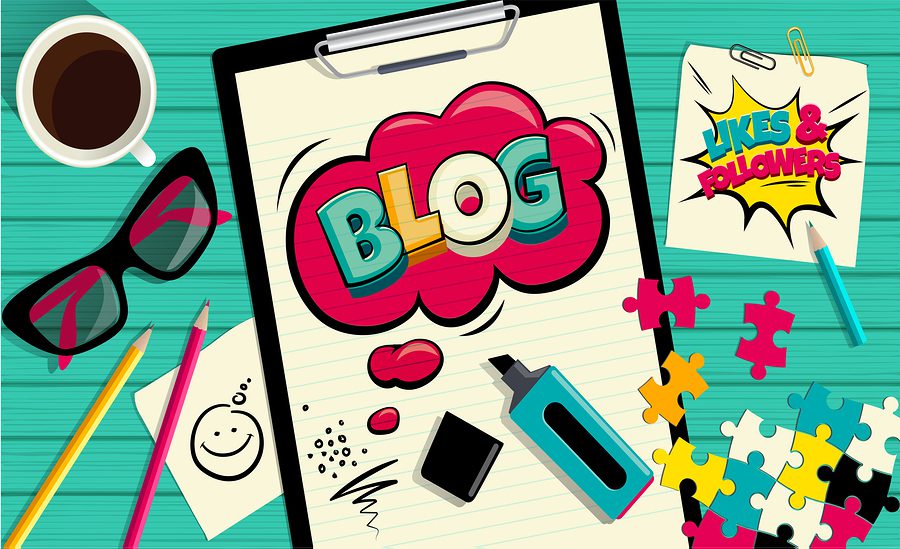 Maybe this sounds familiar: You've spent all week brainstorming the perfect topic for your next blog post. Not one of those 500 words listicles, but actionable content your audience will love.
After a couple of days, the end result is a post you're sure will bring a flood of traffic once it goes live. An hour later your published masterpiece is available for the world to see.
You watch traffic like a hawk and after an hour, the post has two views. After a day there's no change. Then, a week later, the post has been seen by almost no one.
You think about closing the blog down once and for all; it's clearly not working. All the famous bloggers you've heard about must be lucky or spent a lot of money to promote their blog posts.
Anyone who has ever blogged has experienced this before: that feeling of disappointment when it seems like all your hard work has gone to waste.
But what if we told you that driving traffic to your blog post doesn't depend on luck or money? It actually takes work — lots of it. All the great digital marketers work hard at promoting what they create.
In this post, we're going to lay out some of the methods everyone from Jon Morrow, Derek Halpern, Brian Dean and Noah Kagan use to get their blogs seen by thousands — and sometimes millions — of people.
1. Have great content
Seems like a no-brainer right? But we had to mention it first because no amount of promotion will save bad content. If you haven't already, check out some of the blogs we mentioned above. The content they produce is incredibly detailed and actionable. You can bet they spend a lot of time creating it.
These are the blog posts that go viral. Why? Because people like sharing valuable content. There's a saying in marketing that great marketing starts with a great product. The same is true of your blog post. It won't get shared if it offers no value.
The Brian Dean blog post shown below is close to 7,000 words long; it also includes images and videos to give it more depth.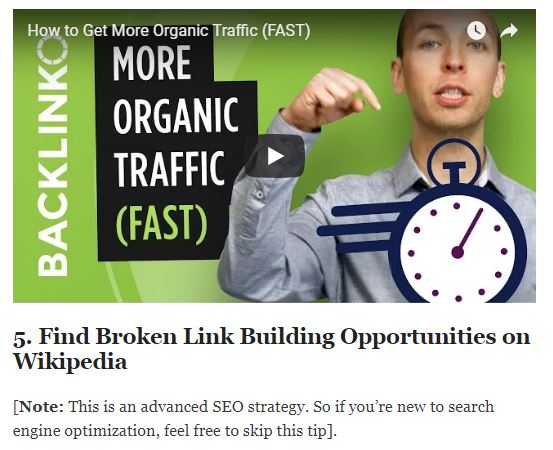 You can be sure that after creating a blog post with that much information, he spent time promoting it.
Great content combined with great promotion pays off. That post alone has over 1,000 comments.

And, according to Buzzsumo, it's been shared thousands of times the past year alone:

Brian Dean invests a lot in promoting his content (we'll get to that later), but he starts by making great content worthy of being promoted.
So how do you create a quality post?
We could go on for days about this subject, but here are some guidelines for creating content that stands out.
Start with a great headline
Since this is the first thing readers see, the headline of your blog post matters. Don't just go with the first thing that comes to mind. Write up to 10 headlines to start with. The more time you spend on your headline, the more compelling it becomes.
Here's an example of a great headline from Derek Halpern.

Make your post long-form
A study of 1 million search results conducted by Backlinko revealed that the average word count of a first page result on Google was 1,890 words. But writing long-form content doesn't just help you rank higher. Longer posts are also more likely to get shared on social media.
In 2015, Moz and Buzzsumo analyzed the shares and links of over 1 million articles. They discovered that long-form content not only got more shares but even had more websites that then linked back to the piece.

Make a point to think about how you can make each post comprehensive. Make sure it covers the pain points and concerns of your readers.
Add Images
Include images in your post to ensure that readers don't get overwhelmed by text. We learn better and remember more when visuals are used — not to mention content with images are 30x more likely to be read.
Include Video
Videos are becoming increasingly important to marketing efforts. Consider that 34% of B2C marketers say video will be crucial to their success. And according to the Aberdeen Group, video marketers get 66% more qualified leads per year and a 54% increase in brand awareness.
Now that we've covered the importance of starting with great content, here's how you can get more engagement for your own posts.
2.
Tell your email subscribers about your post
Email marketing delivers excellent results and we love it. While we may be biased, we know of no other channel that is more efficient. Email marketing returns $41 in sales for every dollar spent, more than social media at $12.71, display ads at $19.72, and search engine marketing at $22.24.
It's no surprise that email is one of the best ways to promote your blog post, which is why you should spend time building your email list.
Noah Kagan of OkDork ran a little experiment where he sent this tweet to his 57,300 followers on Twitter.
As you can see, it got 2 retweets and 55 clicks, which is low.
So he sent the same thing to his 60,251 email subscribers and got 3,600 clicks.

In other words, email performed 6,445% better than Twitter. It's that powerful.
Noah Kagan isn't the only one aware of how powerful email can be. Jon Morrow of Smart Blogger also shares his blog posts with his subscribers.
Here's an email he sent after publishing a new post; note how he keeps it short, sweet and builds up anticipation before putting a big, easy-to-see button as a call-to-action at the bottom: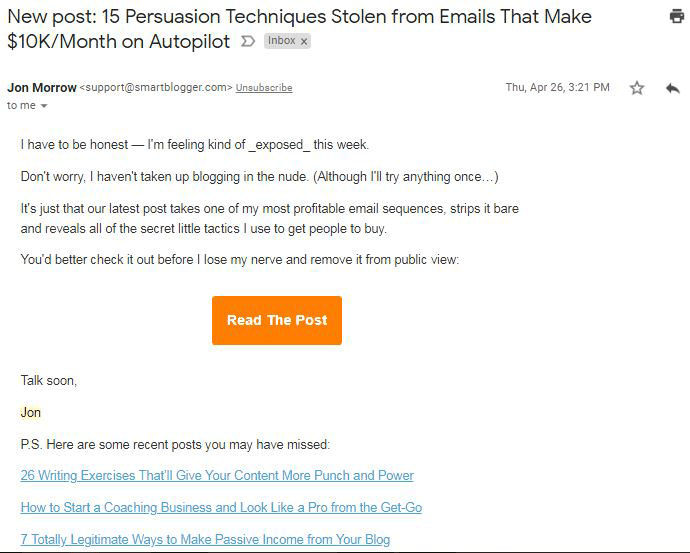 Pro Tip: Pay attention to his awesome P.S section.
You've spent time and energy creating something your audience will love, so tell them about it! Which brings us to our next item.
3. Promote on social media for extra reach
So we've told you that email marketing is awesome, but what about when you want to reach people whose email addresses you don't have?
This is where social media comes into play.
Reach out to influencers on social media
Influencers are great, they have a lot of authority and know so many people that getting them to promote your content can get it seen by thousands. But you can't just ask an influencer to share your content, any more than you would ask a complete stranger for a referral. You have to build a relationship with them first.
Twitter is great for outreach because unlike Facebook or LinkedIn, you can appear on an influencer's radar by just following them and contributing when they tweet.
How to find influencers
If you don't know influencers in your niche, use a tool like Buzzsumo to find them. Buzzsumo offers a free trial if you want to take a test drive. To use Buzzsumo head to the homepage and enter the keywords of the content you just created into the field that's front and center.
For example, if you wrote a post called "10 Essential Car Maintenance Tips," you can just type "Car maintenance" in the search bar and click Go.
Buzzsumo will by default provide you with a list of the most shared content for that keyword. To find influencers click on the Influencers tab:
This takes you to the Influencer page, where you can then type in your keyword(s) and click the search button: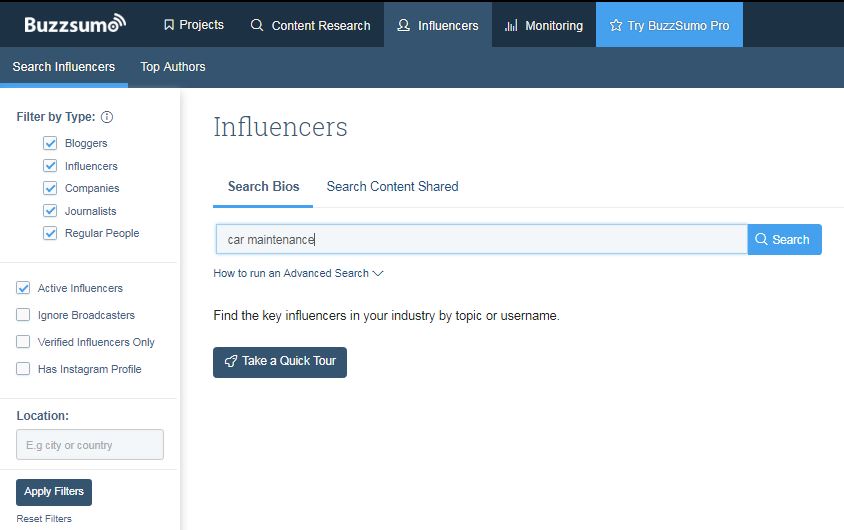 Buzzsumo will show you influencers in your niche. You can even sort the results to find bloggers, journalists, or companies.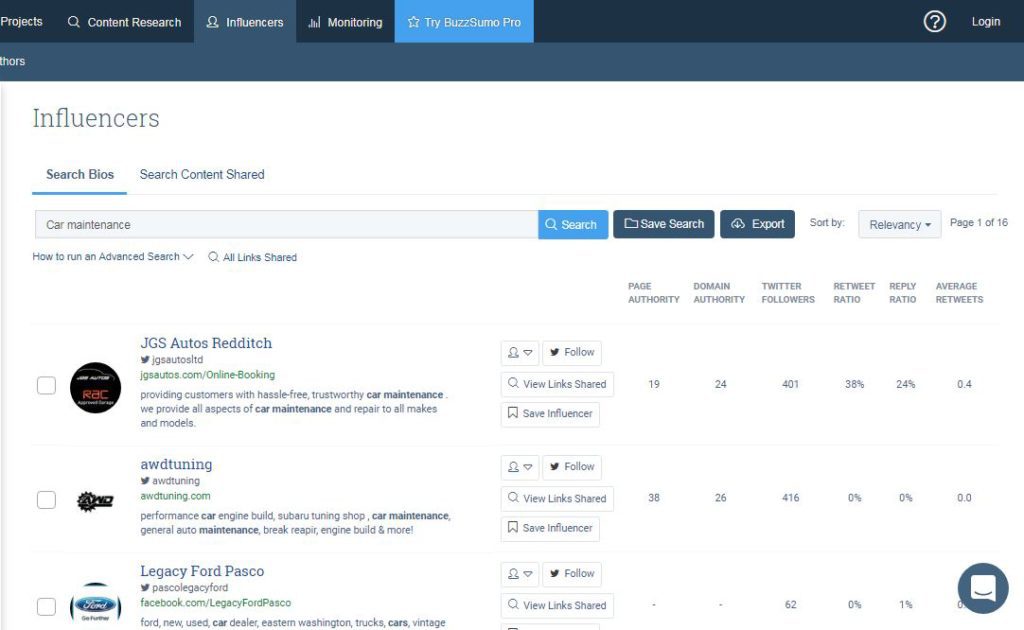 Once you have a list of influencers simply follow them, contribute to the conversation, and once you've built a relationship, send them a direct message.
Pro Tip: If you follow a lot of people on Twitter, you can stay up to date on what your influencers are doing by adding them to a list in Twitter.
Here's a general template you can use when reaching out to influencers:
Hi there, I hope you're having a great day. I'm a big fan of your (blog, podcast, vlog). In fact, I mentioned you in my latest post, which I spent the past (how long the valuable post took you to make) creating. I think you'll like it: (Include a link to your post).
Notice that there's no prompt to share. Don't be pushy — if your article is great they'll share. Also notice how the message is focused on the influencer. This gives the person an incentive to check out your post and potentially share it.
But collaborating with influencers isn't the only way you can get traffic from social media, here are a couple more steps you can take:
Share where your audience is
Not all platforms will be good for you depending on the type of content you create and who makes up your audience. If you're targeting a business-minded audience, LinkedIn will work better than Twitter, and if your audience consists of teenagers, then Instagram may be a better option. Facebook, on the other hand, is more popular with millennials between the ages of 25 and 34.
Enable social sharing on your website
If you're using WordPress, a plugin like Monarch will make your images shareable with a single click and you can use Custom Share Buttons to add sharing icons. If you're using Wix or Squarespace the Add This plugin will place social sharing buttons on your site.
Use captivating images
We've talked about how visuals are an important part of great content, but on social media, images matter even more since they're 40X more likely to get shared than other types of content.
Here are a few rules of thumb when using images:
Keep images consistent with your brand

: Pay attention to elements like your logo, color scheme, and graphics.

Convey emotion:

If you're teaching people how to solve a problem, show an image of a person smiling so people can imagine how they'll feel when the problem is solved.

Don't use images from Google

: It might be easy to just run an image search and pick a photo from there. But most of those images are copyrighted and can land you in legal trouble. If you can't create your own images, use

Pixabay

to find free photos. You can also use paid services like

Shutterstock

, which offer better selections.

Compress your images:

Since your images are getting shared on the web, a large file size will take longer to show. So try to compress them to about 200 KB or less. You can use Photoshop or

Canva

to compress images before uploading them.
Post at the right time
There are different opinions on the best time to publish on social media. The only way to know for sure is to check your analytics.
If you publish on Facebook to know the best time to publish a post, simply go to your page insights:
Go to your Facebook page

Click

Insights

Then click on

Posts
You'll be presented with data on the time most of your audience are online and even their most active days.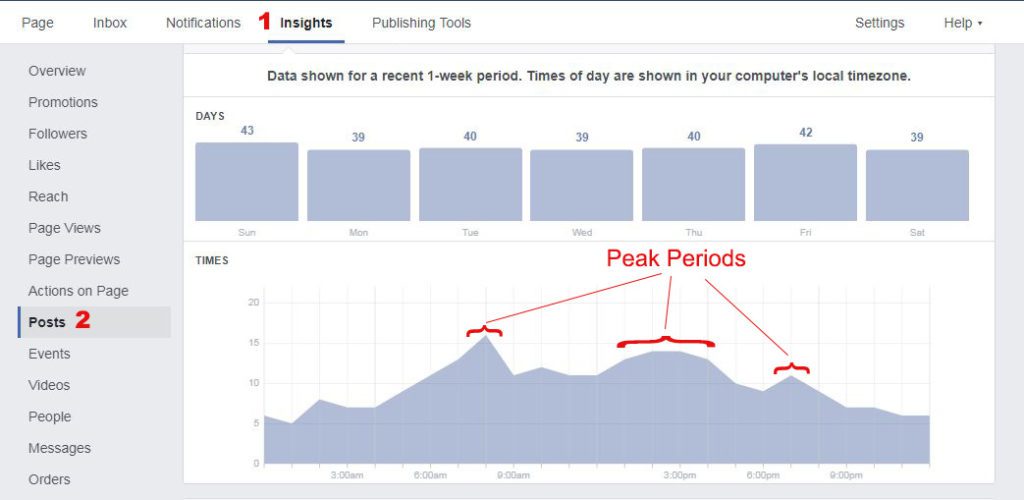 Notice when your content does best and publish at those times.
On Instagram, an analytics tool like Iconosquare will help you understand when to post to reach more of your own followers.
If Twitter makes up a core part of your social media strategy you can use a tool like Tweriod which analyzes your tweets and those of your followers to discover the best time for you to tweet.
For LinkedIn, your post will get more engagement on Tuesdays and Thursdays, during the morning and evening commute at about 7:30 to 8:30 am and 5 to 6 pm.
Share more than once
By looking at your insights, it's easy to tell that most of your followers aren't online at the same time. There's also the fact that only 20% of your Facebook page followers will see your post. Sharing your blog posts more than once increases the likelihood that they'll be seen.
How often should you share your posts? According to 14 social media frequency studies the optimal frequency depends on the platform:
Facebook:

1 post per day

Twitter:

15 tweets per day

LinkedIn:

1 post per day

Pinterest:

11 pins per day

Instagram:

1 to 2 posts per day
Pin your latest post at the top of your page
Another great way to give your post more reach on social media is to pin it at the top of your Facebook page and Twitter profile. Search Engine Journal does this well, pinning their best content to give it more attention. This is valuable real estate and if you publish a lot, you'll want to only pin the post you think deserves the most attention, perhaps the one driving the most conversions or shares.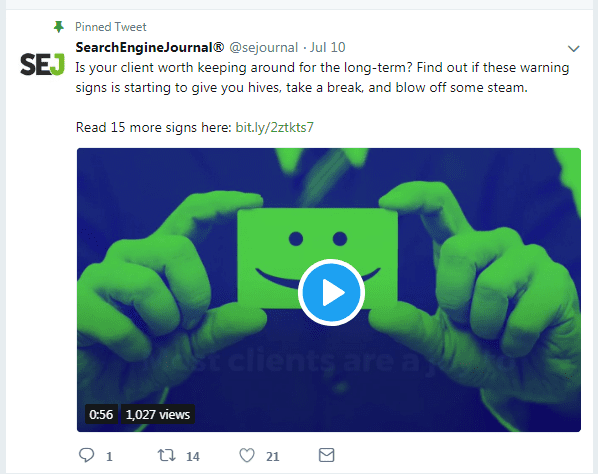 4. Promote your post on related forums
Posting your content on forums is another way to get more eyes on it. The key here is to find the right place to share your posts without making it seeming like you're spamming people. Take the approach of someone that genuinely wants to offer help. This works better if you've created a presence on these forums before posting.
Popular forums include:
While these forums are popular, they might not be the best place to share your content. If you want to find forums in your niche, simply use the Google search bar and input "intitle:forum" + [Niche keyword].
Using our car maintenance example from earlier, this would be "intitle:forum" + [Car maintenance].
Here's the Google search result: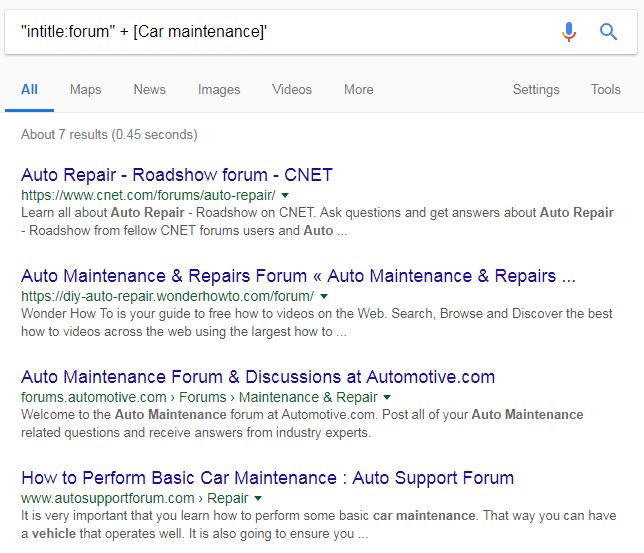 As you can see, it returns a list of ultra-specific forums where you can share your content and build relationships.
5. Use paid promotion
This post wouldn't be complete if we didn't mention paid promotions. This option is also an effective way to get exposure.
Depending on your audience, some social media platforms will work better than others. But the cheapest platform with the most reach and targeting options is Facebook.
Facebook is so effective that 96% of social media marketers consider it the most effective social media advertising platform.
When starting paid promotion it's best to take your time and learn the ropes, so limit your spend until you understand how to use it.
To promote a post on Facebook, simply click on the Boost Post button after you've shared it.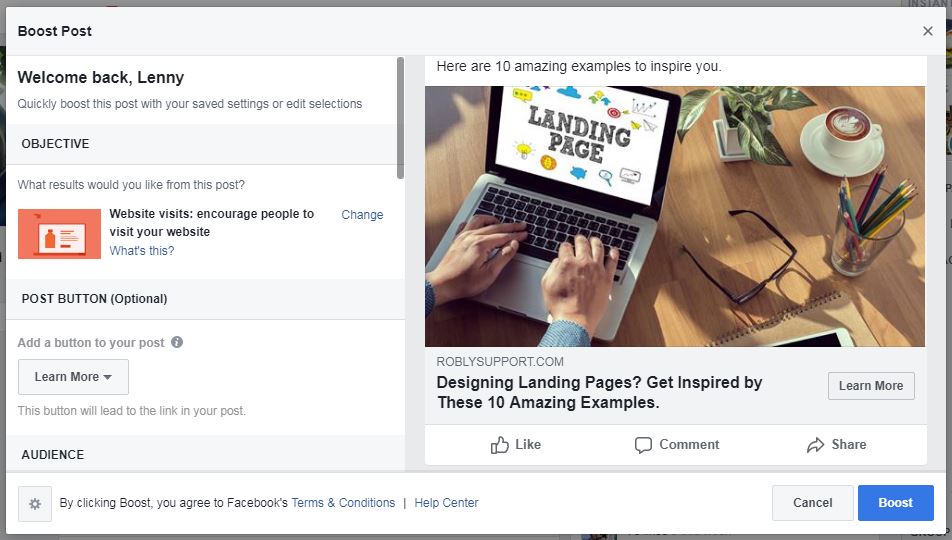 After that, simply select your audience and budget, then click on the Boost button to launch.
Your post will go live after it's been reviewed.
In Conclusion
Creating content is just the first step in content marketing. Promotion is the second. Some marketers advise you go with the 80/20 approach. That's to say that 20% of your time should be spent on creating content and the other 80% promoting it. You spent all that time creating something great and it deserves to be seen.
Ultimately, promoting your content should involve:
Creating great content

Emailing your subscribers

Using social media to share & reach out to influencers

Distributing on forums

Boosting with ads
How do you promote your blog content? We'd love to know in the comment section below.
Lenny Johnson is a freelance writer and content strategist for hire at B2B Content Lab. He engineers high impact content that builds authority, increases customer loyalty and drives sales for B2B SaaS and marketing brands.