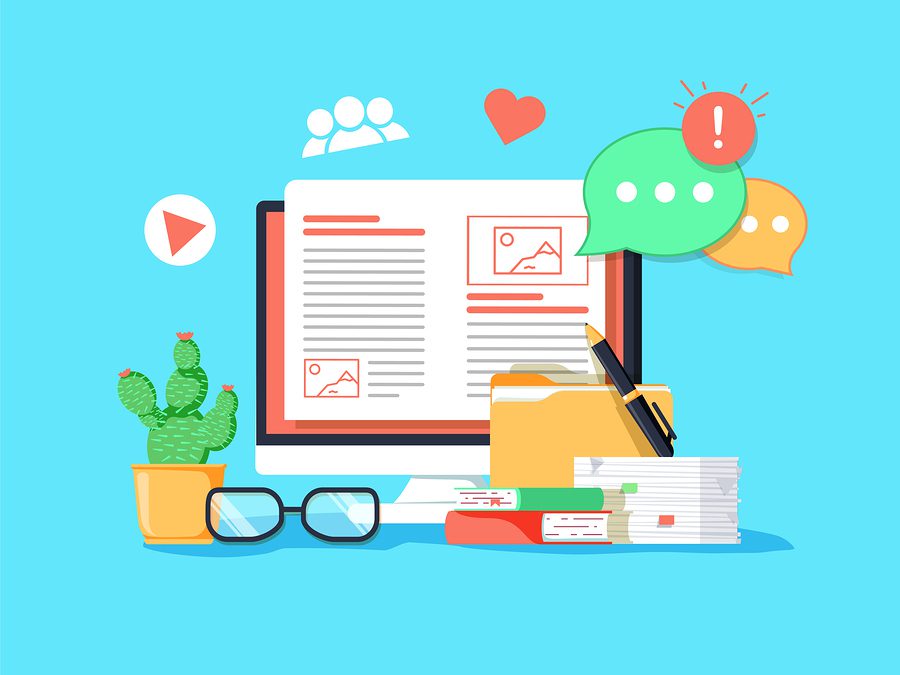 Looking for something good to read over your morning coffee or when you're winding down at night? Instead of scrolling through Facebook for the hundredth time, why not check out an interesting marketing blog that might answer a question or give you the tools to succeed with your next campaign?
There are several options out there, but here are eight of the our favorite marketing blogs, in no particular order.
Neil Patel
Influencer Neil Patel is a co-owner of a digital marketing agency and a New York Times best-selling author. Forbes named him a Top 10 marketer, so it's fair to say he knows his stuff — and he shares that insight throughout his site.
Patel has a variety of blogs covering topics like content marketing, ecommerce, email marketing, entrepreneurship, online marketing, SEO, paid ads, and social media. Simply visit his blog page and choose from the drop-down menu the topic you're interested in reading about.
He also produces daily podcasts where he dives into timely topics, if you'd prefer to listen to the information. You can access the episodes directly from his site or on players like iTunes under "Marketing School."
In addition to his original blogs and podcasts, Patel also purchased Kissmetrics' blogs, merging all of their content with his. So there are thousands of blogs covering pretty much every marketing topic you can think of all on one site.

Buffer
Designed to help you manage your social media accounts, Buffer also offers a wealth of knowledge in their marketing blog. They break their content down into three main categories: The Science of Social Media (also available as a podcast), News and Trends, and Case Studies.
Their blog topics include insights from industry conferences, social media news, marketing tactics, content, entrepreneurship, and proven best practices. Considering they are a social site, it's no surprise their content really dives into in-depth social marketing strategies — covering social media ads, algorithms, updates, and other useful tips.
Social Media Examiner
The site might not look as modern and edgy as some of the others on this list, but don't let that fool you. Social Media Examiner provides a wealth of information for anyone looking to up their social marketing skills.
They have in-depth blogs that walk you through some of the top social marketing tasks, like creating a Facebook location page, using Instagram Stories in your marketing, analyzing Twitter content, using ad transparency tools, and low-cost video tools for social media marketers. We like how they clearly explain how to master social media tasks and show step-by-step photos.
This site also has a podcast: Social Media Marketing Talk Show. Audiophiles can give it a listen on the way to work or as while typing away.

Moz
Moz shares blogs from a good mix of industry experts and publishes new content every few days. From vice presidents of marketing to consultants, their authors bring a depth of knowledge to their blog posts.
They cover 39 categories on their blog with topics like advanced and basic SEO, blogging, branding, email marketing, events, keyword research, link building, video, copywriting, and marketing psychology.
One thing that makes this an excellent marketing blog is that it offers content for a range of experience levels. Whether you've been a professional marketer for years or are just looking for some basic tips to get you started, Moz has something for everyone.

HubSpot
For practical tips on how to improve your marketing efforts, HubSpot serves up a good mix of content. And if you aren't sure exactly what topic you want to look at first, you can simply click one of their "Most Popular" or "Editor's Picks" blogs shown at the top right.
They have blogs on topics like social media marketing, how to convert files, work-from-home advice, how to write press releases, and ways to get more clicks for your content. There's a good mix of practical marketing tips and general work-related pieces.
Also, each post shows how long it takes to read, so you know what you're getting into before making the time investment. In addition to their marketing blog, they also have blogs that focus on sales and service.

DIYMarketers
With blog categories covering everything from marketing and social media to trends and lead gen, DIYMarketers has more of a small-business vibe than some of the others on this list. They state their goal is to help small business owners avoid becoming overwhelmed with marketing by doing less of it. So if that sounds up your alley, this might be the blog for you.
They post a new blog every three to four days, so there's regular content to check out. Topics include how to grow sales without spending money on marketing, how to earn customers, video marketing tips, how to set goals, and leadership advice.

Wishpond
Wishpond has a good bit of content focused on ecommerce, along with blogs on things like email marketing, influencer marketing, improving site traffic with Facebook, holiday contest guides, and social media advertising.
Their blog post authors include CEOs, editors, content marketers, and other business professionals. You'll find a mix of blog lengths and writing styles, which adds variety to their content.

Hootsuite
Similar to Buffer, Hootsuite is another social media management platform — so the majority of its content is focused on providing tips for social sites. For example, you'll find blogs on Twitter ads, creating long-form social videos, top social media apps, how to optimize your LinkedIn page, and Facebook tips and tricks.
Considering the site is based around social media, they know a thing or two — which gives their blog credibility. It's like asking a chef where to eat: You tend to trust their opinion.
Choose from a list of topics, networks, or resources on the right navigation bar to take you directly to the content you're craving.
Subscribe and decide
Most marketing blogs offer newsletter subscriptions, so sign up for ones you're interested in to get them delivered straight to your inbox. Each of the sites offers different topics and writing tones, so pick the one (or ones) that piques your interest.
Make it a priority to read about new marketing practices, ideas, updates, and news to improve your skills. All of the blogs on the list are free to read, so take advantage of the insights available. They might even help you come up with your next great marketing campaign.
Want more marketing blog posts? Check out ours!
Lauren Dowdle is an award-winning writer based in Nashville, Tenn. Her decade-long writing career has covered everything from landscaping to marketing.