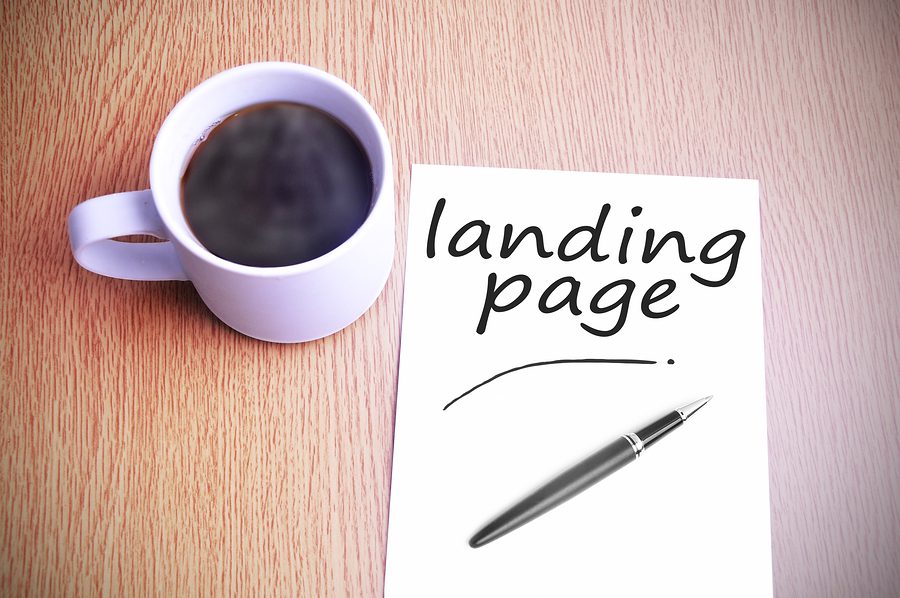 You've put the finishing touches on your latest marketing campaign, and you're ready to send it out and watch the conversions roll in. There's just one thing missing: a place to send them when they click on your campaigns über-important call to action (CTA). And that's where landing pages come into play.
What is a landing page?
It's a page where users land after clicking a link in your campaign — think email newsletters, CTAs, Google Ads, or other marketing materials — that's designed to convert them into leads. These pages are used to collect visitor data, such as names and email addresses.
Landing pages can be the place where visitors subscribe to your newsletter, download a whitepaper, request more information, or any number of other actions. It's basically a targeted page where visitors are funneled to share their info before they are given the goods.
For example, one of your email subscribers clicks a link in your newsletter for a PDF on how to grow their business. That takes them to a landing page that asks them to give their name and email address before clicking a "Download Now" CTA like a button or link to get that PDF.
Landing pages can be a great marketing tool, if you know the best practices of building one. So whether you're looking to create a new landing page or optimize current ones, make sure you include these 10 elements to get the most out of your pages.

1 An Enticing Offer
You're asking visitors to give up their valuable information, so you better be offering them something worth their time in return. Whatever you're giving them — whether it's a whitepaper or subscription to your weekly newsletter — needs to provide value.
One of the best ways to ensure you're giving them that is with a targeted approach. Craft materials that are designed for a specific portion of your audience and then send the landing page link out to them using email segmentation. That will help ensure you're taking a personalized approach that they'll appreciate.
You also need to make sure the materials you're offering are actually going to be useful and interesting to them. View your site and email analytics to see what type of content has performed well in the past, and see how you can recreate those results with something new.
Providing in-depth information using both your insights and third-party sources (ex. trusted sites, universities, studies, and news organizations) will give the materials you're offering up more legitimacy, as well.
You can even share a quote or stat from the materials on the landing page to give them a taste of the great stuff they'll find in your materials. Or, include a glowing customer testimonial that will really show them what they're missing if they don't fill out your form.
2 Limit required info
No one wants to spend their time filling out a long form, so only ask for the information you really need. Keep your form requirements to a minimum: it will improve your conversion rates.
The magic number of form fields to include if you want to get the most conversions is three. Simply reducing the number of form fields from 11 to four will result in a 120 percent increase in conversions. That should serve as a reminder that visitors don't want to spend their time filling out information, so limit what they have to do.
3 Simple design
You want to keep your visitors focused on the task at hand: giving you their information. To keep them from getting distracted — or worse, leaving the page altogether — limit the number of navigational elements or remove them completely. That helps keep them from clicking on other links that will take them away from your landing page.

4 Short and sweet text
Just like with your form fields, you want to be concise with the content on your landing page. Stick to answering the main questions: what they're getting, why they should fill out the form, and when they'll get the content.
Write your content in an active voice to avoid a passive tone that can come across as weak and may lose their attention. You can also add in some bulleted text to help break up the content and highlight the main points.
5 Eye-catching CTA
You want them to click your CTA, whether it's a button, bolded text, an image, or some combination of elements. Putting your call to action above the fold will keep users from having to scroll to find it. It should be a natural progression for visitors to fill out your form and then click the CTA, so group them together.
The CTA needs to stand out and clearly state what you want them to do. For example, CTAs like "Subscribe," "Download Now," "Get Started," and "Join for Free" tell viewers what will happen if they click the button. Use a text or button color that stands out from the rest of the design.
6 Use (compressed) images
Another visual element you don't want to forget is some sort of image. One easy option is to include the cover of your whitepaper or a screenshot of your newsletter. You could also use a compelling image from the materials. Pictures that include faces are especially eye-catching.
Just be sure to compress whatever image you decide to go with to reduce the load time. There's nothing worse than losing a visitor because an image doesn't load or slows down their experience.

7 Put your message in a video
They work on social media, email, and homepages, so why not landing pages? Using video on you landing page can increase your conversions by 80 percent.
Videos can also increase time on site and show them your message so they don't have to read anything (we're all a bit lazy). You can also add a CTA to the video to really drive it home.
8 Mobile-friendly experience
It should go without saying, but your landing page (like all of your digital marketing campaigns and pages) needs to have a mobile responsive design. Mobile traffic is only going to continue to grow, so don't miss out on this big segment.
9 Optimized content
Don't forget to focus on the SEO aspect of your landing page, from the headline and URL to the content. You want Google to rank your landing page to improve your web authority and traffic. If your CRM doesn't provide an SEO keyword research tool, there are several other free options — like KWFinder, SERPs, and Google Trends — available online that can help you figure out the best words to target.
10 Privacy policy
One of the hottest topics in the marketing world and beyond is privacy. With requirements like the EU General Data Protection Regulation (GDPR) and other consumer-protection plans hitting the scene, you don't want to cross boundaries and forget the fine print.
It's as simple as including a checkbox at the bottom requiring them to agree to your privacy policy and terms and conditions. You can link to your terms so they can read all of the details.
If you plan to email them as a result of filling out the form, you'll also want to spell out what what you'll be sending them and how often, and get the proper permission to contact them. This could also take the form of a checkbox; you can follow up with a double opt-in after that.
Put your landing page to the test
Once you've designed what you think is an amazing landing page, test it out. Track your analytics to see how it is performing, and use A/B testing to see if there are ways you can improve on the layout or text elements.
Don't stop improving on your pages once you hit "publish." There are always ways to make them better — which in return will boost your conversions and metrics.
Lauren Dowdle is an award-winning writer based in Nashville, Tenn. Her decade-long writing career has covered everything from landscaping to marketing.