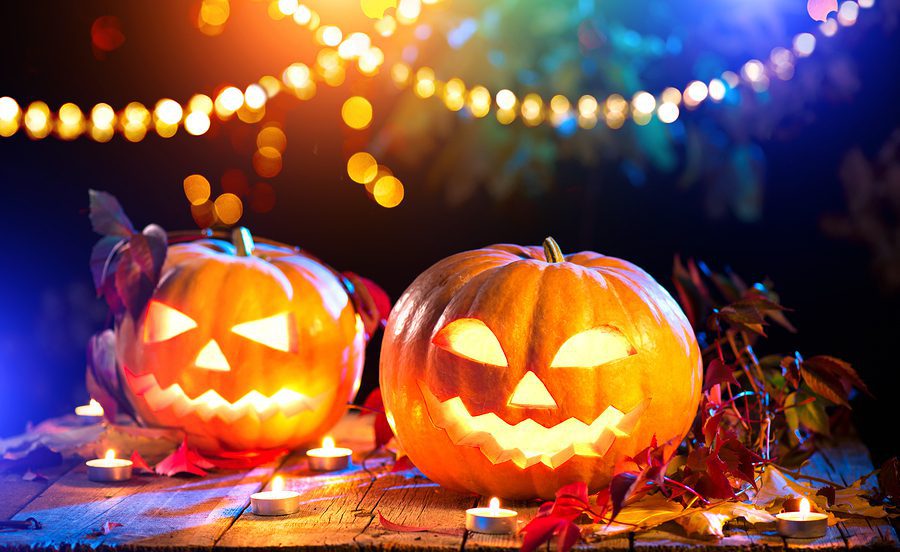 Pull out the costumes, and grab a few bags of candy (Reese's Peanut Butter cups, please). It's that time of year again.
Halloween will be here before you know it, and it's not too early to start planning your chilling email campaign. And, according to Inc.com, Q3 is the right time to start ramping up your holiday send schedule.
Inc.com says emails for Halloween benefited from being sent earlier, since it's a holiday that requires a little more planning than Back to School or Black Friday — think coming up with costume ideas. They found that Halloween emails sent in the first half of October saw 15.2 percent open rates, compared to ones sent in the last half of the month that saw 13.3 open rates.
Ready to get started on your campaign for the most frightening time of the year? We've put together eight examples of Halloween emails that will help BOOst your creativity.
Mysterious Movement
There's nothing like a good GIF to catch your subscribers' eyes. Maybe you use a floating ghost, smiling jack-o'-lantern, or candy like in this newsletter: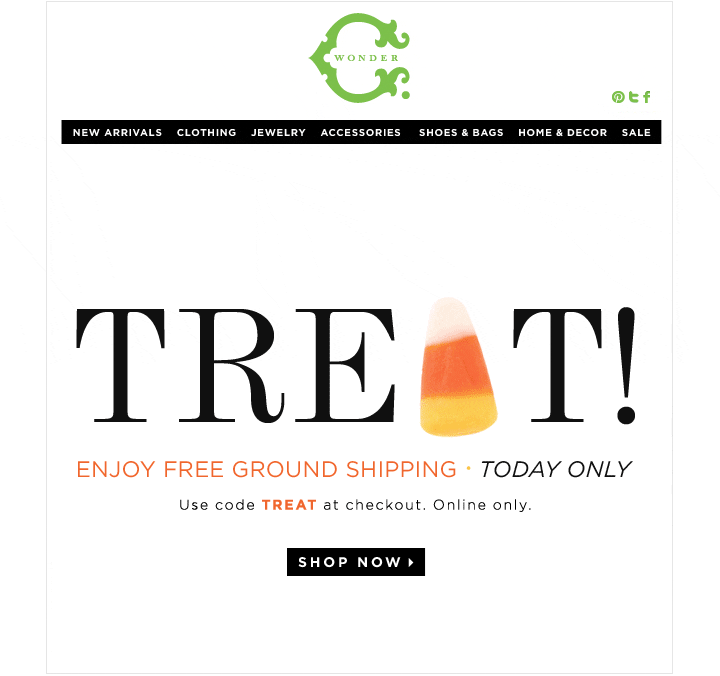 You can use sites like Giphy or programs like Photoshop to create original moving images to add some life to your email. Just be sure to keep the image simple enough that it doesn't overwhelm viewers, and make sure it's not a large file that could send your message to spam.
Shocking Subject Lines
We love a good pun, and what better time to bring out your punny side than on a holiday based around putting faces on pumpkins. You can start by bringing some of those corny vibes to your subject line.
For example, World Market sent this email with the subject line: Save on Boos — Extra 10% off all wine
That ties in perfectly to the spooky occasion and surely caught some of their subscribers' attention with their creativity. And if you need some help coming up with phrases for your email subject line, opening text, or overall theme, you can look through online vocabulary lists for some Halloween-worthy inspiration.
Eerie Engagement
Every newsletter needs some images to bring the design to life, so why not make them the main part of the message? What we like about this Real Simple newsletter is the bottom section that encourages readers to engage by sending or voting on Halloween photos:
Instead of including a call to action (CTA) with only text, they show photos of the different categories. People respond better to images, especially ones of people.
Devilish Design
No matter the holiday, a good design template can help your newsletter stand out from the rest. This one from Whistlefish is fairly simple, but it screams fall and Halloween with its drawing-like images. Even the coupon code is perfect for Halloween.
Most email marketing platforms will have holiday-themed templates and images to choose from, or you can create your own. Pumpkins, black cats, candy, leaves, ghosts, costumes, and gravestones are just a few ideas for spooky images you can use.
Simple Scares
Your Halloween email doesn't have to take hours of design work to earn you the engagement you're after. Take this Redbox email for example:
It has a stock image as a background, text that stands out, product images, and a CTA that matches their branding. They also used an emoji subject line to catch subscribers' attention: ?Find scary good offers inside…
All of their newsletter's elements are pretty straightforward, and that's part of what makes them work so well. They don't overdo it with competing images, and the text is easily readable on top of the background.
Beastly Branding
Using white and black in their marketing materials is kind of J. Crew's thing, and they do a great job of that in this Halloween email:
What we like about this one — besides the yin-and-yang design — is that they carry over their branding into this newsletter, even though it's for a holiday. That's when you know it's a good campaign — when subscribers can tell exactly who it's from when they open it.
So, find a font family, color scheme, or other element that represents your brand or organization, and incorporate those elements into all of your newsletters.
Spooky Savings
This newsletter from Kohl's works for both fall and Halloween, tying in the American-favorite candy apple and discounts. We like the solid background, cutout images, and how they made the deal the main focus of the email. Surely we're not the only ones who want to take another bite out of that apple.
They also add an element of urgency with their opening text, and they end with a CTA that tells readers exactly what will happen if they click it. The email stays true to the treat theme with text like, "Reveal your extra-sweet savings at checkout!"
Tasty Treats
Candy and Halloween go together like gifts on Christmas: It's what everyone looks forward to. So, you can't really go wrong with throwing some sweetness in your newsletter, like this Loft example:
Beyond the whimsical candy images, they also carry over that fun look with matching text colors. Anytime you can match the text to the other color elements in your design is a win. And we're sure you're catching on to the use of "treats" and "tricks" in several of the newsletters. It's obviously a popular saying for Halloween, but don't be scared to come up with something a bit more unique for your campaign.
Sink Your Teeth into Halloween Emails
Don't be afraid to send a Halloween email, even if you don't have a specific deal or product that goes with the holiday. You can use the newsletter just to say "Happy Halloween," share photos of your staff in their costumes, encourage them to share their Halloween stories on your social pages, or maybe pass along some interesting facts about the holiday.
Lauren Dowdle is an award-winning writer based in Nashville, Tenn. Her decade-long writing career has covered everything from landscaping to marketing.