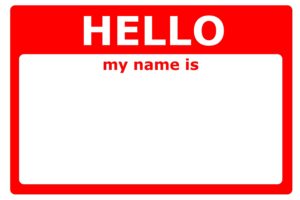 How to add a first name is by far one of the most commonly asked questions we get in support.
While wowing your customers with personalization may require more than just adding a first name to your email campaign sends, you should still absolutely do this – it's par for the course these days.
However, it is important to consider how often you use it – it's not necessary every single time you send, and can be a turnoff for subscribers in the too-early stages of communication.
Fortunately in Robly, adding a merge tag for first name is insanely easy.

How to Add a First Name
All you have to do is tee up the text where you want the name to go (pop the word "Dear" or whatever salutation you want before the name), then just click the button that says Merge Tags in the text editor: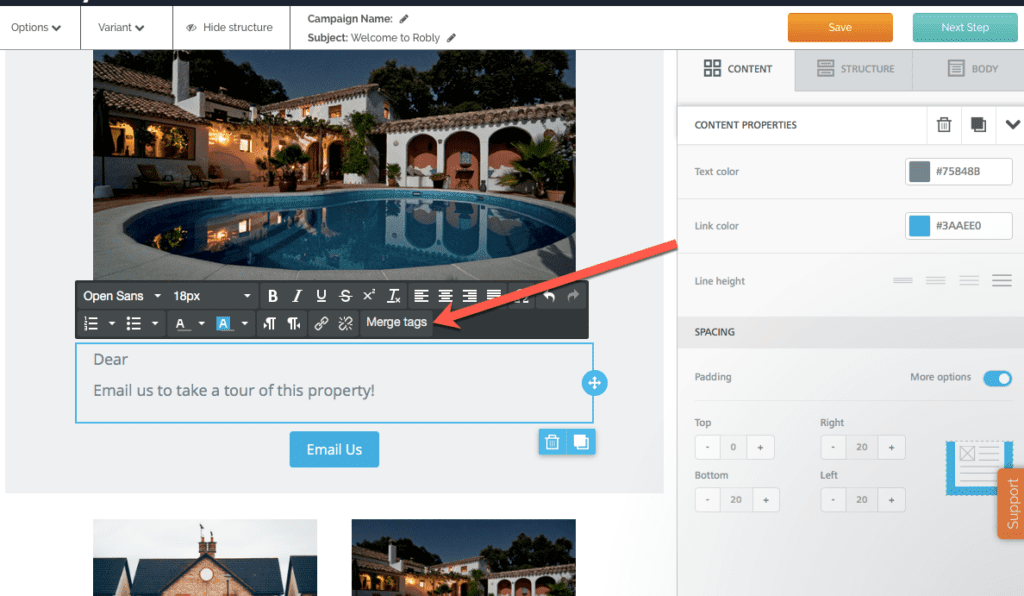 This will automatically insert the –FNAME– merge tag for you:
How easy was that? You're done!
Want to test it to make sure it's working (don't fret, we understand – we feel better seeing it with our own eyes, too)? Just send yourself a test email under Options: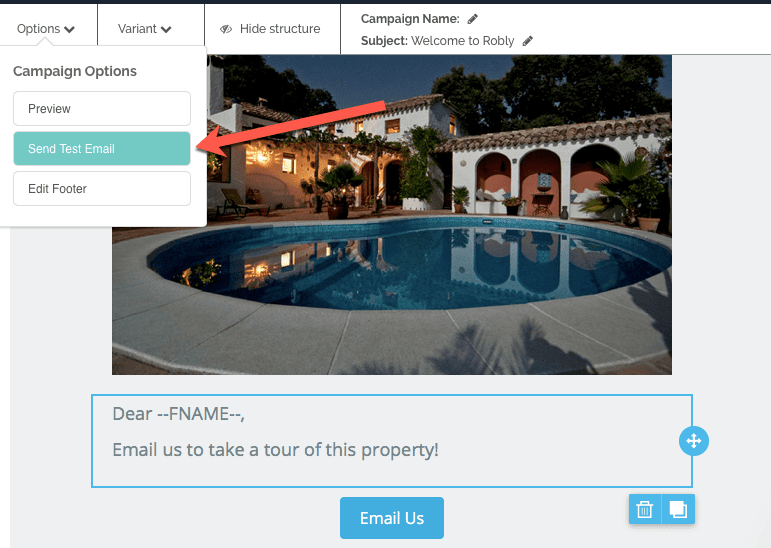 The test email will display the first name for the default contact in your account – which is most likely the email address you signed up for your Robly account with.
Bonus Round
If you don't have a first name for someone, the system will insert "Valued Customer" as a default. You can change that default greeting to anything you like under Contacts > Details > Fields & Tags.
Common alternatives for default tags that we've seen include:
Client
Colleague
Parents and Students
Advisors, Friends and Colleagues
Beautiful
Book Lover
Business Owner
Supporter
Friend
Friend of BUSINESS NAME HERE
Fun Seeker
Greetings
Holiday Shopper
IT Pro
Member
Reader
Real Estate Professional
Sir/Madam
Subscriber
Supporter
There (ie, Hello There)
Travel Enthusiast
Valued Client
Valued Supporter
Valued Volunteer
Want more how-to's and shortcuts? Click here for more Tips & Tricks!
— Anne Vickman