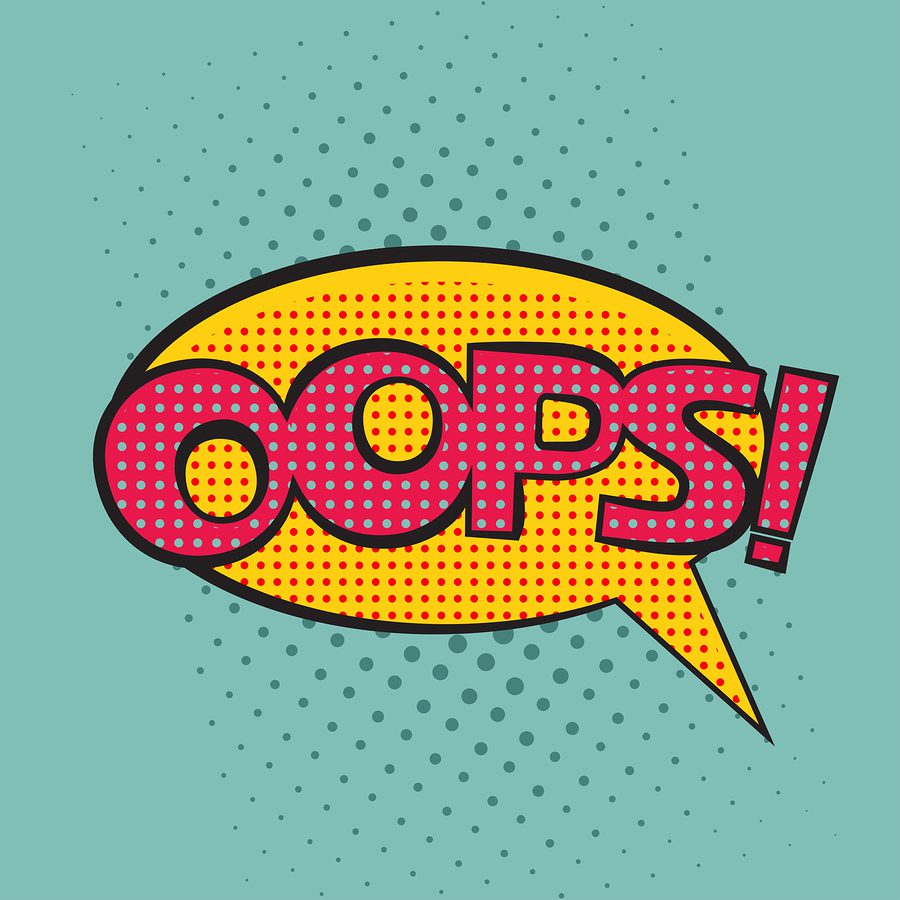 No one likes sending an "Oops" email. Not only does it highlight a mistake, but it means you have to send two emails instead of one. While we did talk about why sending more email can be better for revenue, correction emails aren't going to be ones you want to send out frequently.
Oops emails can seem risky because it means adding another email to someone's (already clogged) inbox and pointing out that your business has made a boo boo.
So what do you do when you're the one who made a mistake?
We've put together a simple risk management and crisis response list for you in case of emergencies. It's important to remember that how you react matters. No business is perfect and mistakes do happen.
Here's how you can master the damage control process.
Step 1: Identify
There are a number of common mistakes we see in modern email marketing. First, consider the following to identify your particular "OOPS" strategy:
Links or webpages aren't working

Social media feed isn't loading

The content or copy is incorrect or has errors

You've sent to the wrong recipients

Addressed the recipient incorrectly

Sensitive or secure information was leaked
Step 2: Evaluate
Once you've identified the fact that you have an issue, then you need to assess the situation properly to determine how to move forward. Here are some questions to ask yourself:
What happened?

When did it happen?

Who was affected?

How big of an impact does it have?
Use these questions to determine the severity of the mistake.
Minor issues, typos, imperfections.

Things that won't really hurt the business or the customer. These are not likely to require a response, but should have action taken to reduce and prevent them in the future.

Embarrassing mistakes.

Technical errors that impede the customer experience, but can be easily resolved.  

Detrimental mistakes.

Blunders like this can cause harm through negatively impacting the customer experience as well as business sales and reputation.

Real problems.

These issues can hurt an organization's revenue, reputation, and could cause long-term damage to the business and its customers.
Step 3: Respond
Once you've determined that an oops email is necessary, it's time to develop a response to the error.
It's a good idea to have a generic response prepared ahead of time to respond quickly in times of crisis. Make sure it's simple and adaptable, though so that you can tweak it to fit the situation if and when need be.
Not every crisis requires that you send a correction email. It's important to note that being overly apologetic, or apologetic for the wrong reasons can hurt your brand's credibility.
Marketingland.com suggests that you only send a correction email if "there was a significant issue with the promotion itself — for instance, if a discount code didn't work on the site, or the percentage off number was incorrect."
Other examples include using the wrong date, time, or location; or a technical glitch.
In this example, Newport News offers a simple and straightforward example of how to recover from a discount code failure:

(Source)
It's also reasonable to send a correction email when there is a website issue due to an update or spike in online traffic, like Bumble and bumble does here: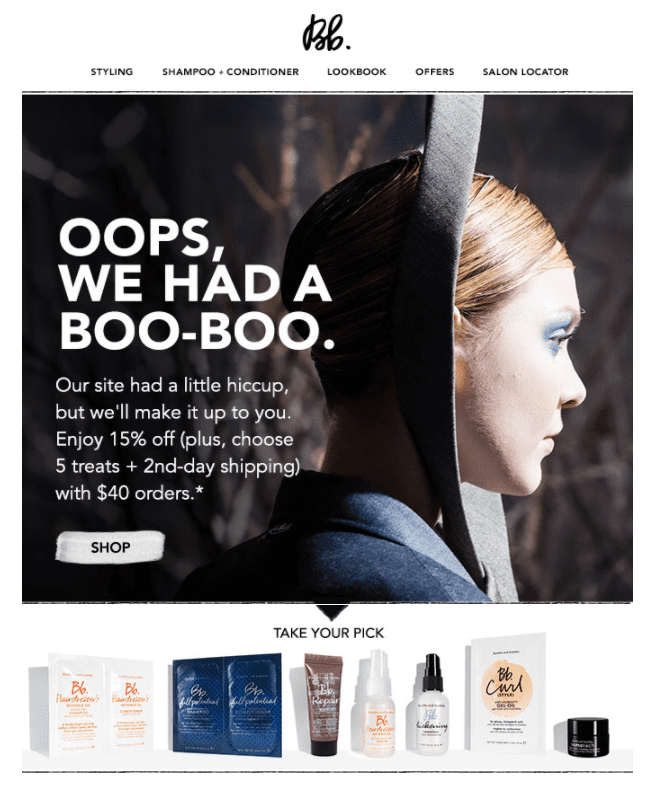 (Source)
Anatomy of a Good Correction Email 
According to Marketing Land, an oops email should have the following components:
A sincere apology

Identify the mistake that was made

Provide reassurance that the issue will not happen again

Give the recipient a reason to forgive the error
Here are some successful correction email tactics with examples:
Use the right subject line. Check out this

list of options and ideas

from

NonprofitMarketingGuide.com

for help.

Oracle Marketing

points out how important the subject line of an oops email is and suggests using "a more emotional, apologetic, and personal tone."

Keep it simple and clear like Newport News did above. Their subject line simply said: "Oops."

Use humor when appropriate. Moosejaw does this brilliantly – we laughed out loud when we read through it:
(Source)
Use relatable concepts for a human touch. Friendly's correction email below utilizes both humor and the idea that a dropped ice cream cone is universally tragic:
Add special deal or discount for the inconvenience such like this suggestion from LifeLearn. Note that pictures of adorable animals always help!
(Source)
Lean into your correction email by honoring the mistake. For example, extend a sale to the mistaken date or offer your audience a discount and free shipping, like Forever 21 does here (and quite well, we might add).



Above all, apologize sincerely. This should go without saying.
Responding to a Crisis
Again, some oopsies don't warrant an email response. Whether or not you choose to use one, follow these crisis response steps:
If your campaign is still running and can be stopped, stop it immediately!

If you can fix the issue by updating landing pages or back end information, do so right away.

Identify and target affected customers. Use analytics to best isolate this group in order to reach out and let them know what happened.

Respond quickly. This is one of the

golden rules in PR

. The good news is that email is a fast, effective tool for communication in a crisis situation. As

ready.gov

says, "A business must be able to respond promptly, accurately, and confidently." Ignoring a situation or waiting too long can make a simple mistake even worse.

For big issues, detrimental mistakes, and real problems, make sure the reply-to email address is valid and monitored. This will help avoid customers taking to social media to get their questions and concerns heard.

If business operations will be affected, customers want to know how they will be impacted. Make sure your response is honest and open. Provide an action plan and time frame in which the issue will be fixed.

Either assign one spokesperson to field incoming responses, or discuss the response with the necessary team members so there is one unified voice to avoid confusion.
Step 4: Monitor and Prevent
Once your oops email is sent, take note of how your customers respond. You can monitor opens, clicks, and so forth through your email marketing client, or set up a Google alert to track social mentions about your business.
It's impossible to please everyone all the time, but make an effort to listen to customer issues and use that information for future damage control.
Here's a list of things you can do to prevent repeat mistakes:
Create a campaign outline that will ensure that the audience, timing, message, and goals are clear 

Outline standard operating procedures for team members that include checking and double checking links and content

Use SPAM filter tests

Use an email client that lets you preview campaigns accurately before sending

Keep customer lists up to date and organized

Make sure more than one person checks, reads, and tests  a campaign before sending
Having an oops email moment isn't the end of the world – damage control is a part of running a business. While mistakes can have some negative impacts, they can be handled in a way that will ultimately minimize any fallout. All it takes is a bit of preparation and a level head.
What are your tips for sending out correction emails? Tell us in the comments!
By Sara Sorola