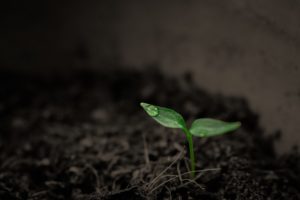 Last week we talked about how to boost your open rates – this week we want to back up a step – how do you grow your list?
You probably already know that growing a mailing list is essential to generating revenue.
If you're unaware (or perhaps skeptical) of the power of a mailing list, then note following statistics:
72% of consumers

prefer to receive communications from companies via email

Depending on your industry, email open rates can reach almost one in four subscribers

On average, email marketing has an

ROI of 4,300%
Shall we get started, then?

Know Before You Grow
Your mailing list provides a direct line of communication between you and your customers (or potential customers), which means you can send product releases, announcements, and special offers to them directly – so the ability to grow your list means the ability to grow your bottom line. 
Furthermore, this connection with your subscribers puts you in a prime position to solicit feedback, which can allow you to fine-tune your offers to those who value your brand most.
Even better, you can increase your brand's reach and exposure through your mailing list by starting with one offer and tweaking it for different groups to maximize its potential.
The Bad News
The caveat to all this is, truthfully, the odds of actually getting a visitor to sign up for your list aren't in your favor.
Depending on the source, the reported average signup rate for a mailing list hovers around 1 to 3% – with 5% considered outstanding. In other words, even the best marketers in the world can only hope to convince one out of every five of their visitors to sign up for their newsletter. In most cases, it's more like one out of every 50 or 100…or more.
Be not discouraged, though! On the contrary, we're telling you this because it's important to have realistic expectations for a reasonable growth rate.
As we move through this article, we're going to discuss three main aspects of growing a mailing list:
How to prepare to grow your list

Strategies to actively grow your list

Maintain your list as time goes on
Onward!
1. Prepare to Grow Your List
Okay, so we've gone over the ways in which growing a list can benefit your company.
But now we need to switch gears and focus on who's really important here: Your audience.
Create Immediate Value 
You gotta learn to crawl before you walk. So first you need to be able to answer one all-important question:
Why should they sign up?
A solid answer to this question is the first step to grow your list. Not only do you need to know the answer to this question, but you also need to be sure your visitors do, too.
So…what's your answer?
While the specifics will certainly vary depending on the products or services your company provides, you can be sure that the main reason a visitor decides to sign up for your mailing list is that they expect to receive some kind of value in exchange for doing so.
You can provide such value with educational and informational material that will help your visitors grow in one way or another. Think podcasts, ebooks, how-to videos, infographics, white papers, and more.

Not only should there be a valuable piece of content at the ready for your new subscribers, you should have a good idea of what else you'll be delivering to them in the future.
Which brings us to…
Plan Ahead, Deliver Immediately
It's incredibly important that you have a decent amount of material prepared for delivery before you start soliciting mailing list signups. If you aren't ready to immediately hit your new signups with something of value once they submit their email address, you run the risk that they'll forget about your brand rather quickly. We'll talk more about creating new content for your mailing list in a later section.
We can't tell you how often people tell us they have a list they've been collecting for three years…that they've never sent to. If you signed up for a mailing list two years ago but never received anything, would you remember that company? Didn't think so.
For now, though, let's assume you have a good amount of content prepared and ready for delivery. Now it's time to think about:
How do these pieces of content fit together?

Does certain content need to be delivered sequentially?

What does your audience want to learn?
Simply put: Your audience won't want to receive arbitrary content that may or may not help them. They want material that delivers value, in a logical order.
So before you even begin promoting your newsletter in the first place, make sure you have a plan of attack for when subscriptions start rolling in.
In Robly, you can create a series of automatic emails using Autoresponders. This allows you to build out all the content first, then have it delivered automatically as new subscribers join your list.
2. Strategies to Actively Grow Your List
In the world of content creation, the theory "If you build it, they will come" simply does not apply.
The reason for this is two-fold:
For one thing, the chances of someone just stumbling across your content is less like finding a needle in a haystack and more like finding an individual fish in the ocean.

Even if they

do

come across it – and even if they

like

it – it's still unlikely they'll 

sign up for your mailing list (remember the 1-5% stat we talked about earlier).
Armed with this information, you need to be as active, deliberate, and helpful as possible when it comes to getting your readers to sign up for your mailing list.
First things first, you need to know where – and how – to best reach your target audience.
Use Site Analytics to Find Activity Hotspots
On your own website, you can dive into analytics data that will tell you which page(s) your visitors spend the most time on, how they engage with your site, and more.
There are a number of analytics tools to help you find this information. While Google Analytics is certainly the most popular tool around, it's up to you to determine which one best fits your needs.
Use Signup Forms and Exit Intent Pop ups
Once you've determined where your visitors most frequently end up on your website, you can then create landing pages, overlays, and exit-intent popups to be presented on these pages that showcase your mailing list offer.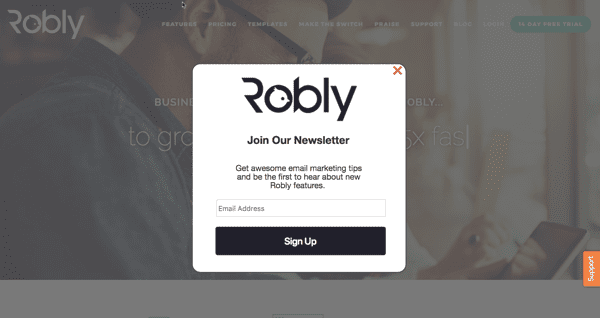 Even if you choose to ignore all analytics regarding your most active pages, you should definitely include a static embedded signup form at the header or footer of your website.  Assuming someone does want to sign up for your list, you don't want them to have to work too hard to find your signup form.
Use Social Media and Blogging
You can use your social media presence as leverage to grow your mailing list, too. The advantage here is clear: your social media followers already know of and are interested in your brand, so their propensity to sign up for your mailing list will likely be higher than that of a virtual passerby.
Another way to get eyes on your mailing list signup form is to write guest posts for blogs that relate to your brand's offering in some way. In doing so, you'll expose a pre-existing audience to your company's services, and can point these individuals toward your website in the process.
It's essential that you stay laser-focused on engaging with your target audience where they already hang out in order to increase overall awareness of your brand – and your newsletter.
Once you've made them aware, though, you'll still need to actually convince them to fork over that email address.
Offer Value to Convert Visitors to Subscribers
Even if you get a ton of people on your signup page, you still need to get them to actually sign up for your mailing list. To get them to take this next step, you'll need to:
Offer something of value

Flex those persuasive copywriting skills

Make the process quick and easy
Take a look at the following image (specifically, the right side):
A few things to note:
The offer provided is irresistible

The reader is told

exactly

what to expect

The emphasis on "FREE" (and on the dollar value of the offer) explains that the reader has nothing to lose by signing up

Only an email address is required
The copy of this offer is crafted in such a way that anyone with even a passing interest in generating web traffic would feel silly not signing up for the course.
Whoever wrote this also made it easy. Visitors don't have to give their name, mailing address, or credit card information. All that's asked of them is to provide that which is absolutely essential for the course to be delivered to them.
Here's another great example of how to grow your list by putting more valuable content behind a subscription wall, as writer Mark Manson does here:
Now, it can be tempting to pat yourself on the back once your mailing list starts to grow.
Yes, you definitely deserve kudos for the work you've done so far, but your duty to your new audience has only just begun, which brings us to the last section.
3. Maintaining Your List
So far, we've been focusing on how you can grow your list.
But your efforts can all be for naught if you're not doing enough to keep your audience interested in and engaged with your brand.
In fact, the general consensus is that mailing lists decrease by around 25% every year simply as a matter of course. This rate of decline could easily increase if you're not keeping your audience interested.
There are a number of things you can do, however, to minimize the number of people who unsubscribe.
In this section, we'll discuss the main tenets of how to keep your audience engaged. 
Use Double Opt-In
Using a double opt in form is the best way to grow your list safely. It ensures that new subscribers truly want to subscribe by requiring a secondary confirmation click via their inbox.
For an example of what we mean, take a look back at the first image in this post. There's a good chance some people simply wanted to receive the "cheat sheet" being offered – and nothing more – but were added to the weekly mailing list.
To ensure your new subscribers know what they've signed up for, create a double opt-in email to be sent automatically to a reader's inbox after they've filled out the initial form on your website. This example from Fab.com shows what that secondary email looks like:
A double opt-in email serves a dual purpose:
It confirms a legitimate registration (i.e., the submitted email address is legitimate, the person who submitted their email address actually wants to receive ongoing communications, etc.)

It allows you to reinforce the value your new subscriber stands to receive from your newsletters, and set expectations regarding frequency of communication
After you've confirmed your subscriber's intentions, you'll be ready to move past the formalities.
Continue to Provide Value
Now that expectations for your new audience members has been set, you have to actually deliver on your promises by providing valuable content in every newsletter you send.
Now, you don't necessarily need to create content specifically for your mailing list (although you certainly can – and should – do this from time to time).
Use Other Resources
In addition to providing your mailing list audience with exclusive content, Darren Rowse of Problogger suggests showcasing recent blog posts or weekly roundups to curated content via your newsletter.
Here's an example of a blog post-focused email from SmartBlogger's Jon Morrow:
Here we have a simple email that provides a roundup of recent SmartBlogger articles that those on Morrow's mailing list would likely be interested in.
He didn't reinvent the wheel or create anything new specifically for the newsletter – he curated a relevant list for his readers to keep them interested in what he has to offer.
Cross Promote
Okay, keeping your mailing list audience interested is one thing; keeping them engaged is a whole different animal.
Sure, you want your readers to continue opening your emails – but your true goal is to get them to do something once they open them.
In the above example, Morrow's goal is clear: he wants readers to click over to his website. He's also sent emails offering free content, as well as paid content, too:
You can use your newsletters to promote basically anything having to do with your service: new products, offline events (such as seminars and appearances), giveaways…the list goes on.
Whatever you choose, you do need to make sure that whatever you promote is of value to your audience.
Tap Into Referrals
Another way to keep your mailing list audience engaged is to offer an incentive to get their friends to join your list. 
Those who are willing to recommend your brand to someone they know are essentially claiming loyalty to your company – which means they're a great resource for increasing your overall reach and ROI.
Incentivizing referrals is a way to grow your list and increase your revenues at the same time. 
Remember: you basically need to accept that you'll lose 25% of your subscribers over the course of each year.
With this data in mind, it's up to you to fight tooth and nail to gain – and keep – as many subscribers as you possibly can, however you can.
Conclusion
There's no doubt that growing a list from scratch can be an intimidating venture – especially as you've probably seen countless bloggers and entrepreneurs talking about how they currently reach tens of thousands of people on a daily basis.
But it's important to remember that they all had to start somewhere.
For long term success at gaining subscribers, use these two reminders:
Create content that a specific group of people find valuable

Get this content in front of as many of these people as possible by any means necessary.

Are you just starting to grow your list? Do you have any other words of wisdom for those just starting to grow their subscriber base? Let us know in the comments below!
By Matt Duczeminski