With Christmas, Kwanzaa, Hanukkah, New Year's (and  Festivus!) just a couple short weeks away, we're nearly in the home stretch when it comes to holiday email marketing. That means it's go time for your digital marketing efforts.
Email marketing brings in 20 percent of holiday retail sales, so it's no wonder so many companies send out email campaigns this time of year. Beyond the dollar amounts, festive newsletters can also brighten your subscribers' days and show your brand cares about them — important parts of customer retention.
Brands are sending out season's greetings, gift guides, holiday discounts, and other merry emails to put people in the spirit.
Need a little inspiration on what to send your email lists this holiday season? We've put together some cheerful examples and useful tips for your own holiday creations.
Lab Partners
We doubt you've heard of this company before, although you've likely seen their design work for major brands like Target, Hewlett Packard, or Tiffany & Co. Lab Partners obviously has the leg up when it comes to the creative, and we think they nailed it with this holiday email.
They share their discount through a fun use of gift boxes. It's a pretty simple idea put together seamlessly. Plus, they added movement with the GIF, so it really does feel like a winter wonderland. And 50% off? That's a pretty compelling offer that's sure to get a lot of click throughs.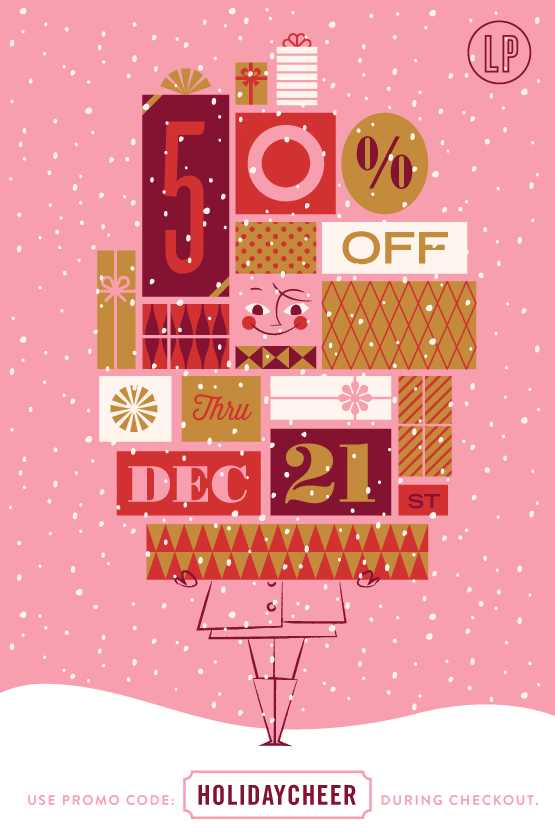 J.Crew
Narrowing it down to one holiday email from J.Crew was a bit tricky, considering they've sent out so many great examples throughout the years. We're suckers for anything cute and fuzzy, so this newsletter won out.
Whiskers aside, this email covers some of the best holiday basics. It has an eye-catching image and headline, concise content, a discount offer, and a clear CTA.
We also like how it has a map at the bottom showing the subscriber where the closest J.Crew store is to them — giving them the choice to shop in-person or online.

Terrain
This holiday email makes it easy to quickly find just what you're looking for — whether that's stocking stuffers, gifts for children, sweet treats, or the gift of the day. That keeps users from having to follow one general CTA link to the site, and instead allows them to get to the shopping destination faster.
Terrain crafted a unique opening image with all of the stocking fillers encased in a package outline, showcasing some of the tiny products they have to offer. The email has a styled, modern look à la Real Simple magazine and is sure to catch people's attention.

Boden
This company created a gift-guide style of email for its customers, along with a discount that's front and center. They cover gift ideas for her, him and children — and they end the email with text encouraging customer engagement on Twitter.
We love all of the fun headings for each of the products and how they also include employee quotes for each of the items. It helps customers get to know the Boden team a little better and also allows them to see someone else's opinion on the gift. And we all know how important hearing another person's thoughts can be (think online reviews).

HomeGoods
Taking the advent calendar approach, HomeGoods showcases some of its gift items and ideas in this email. It's a fun way to display different holiday-themed products and give subscribers a countdown to the big day.
The newsletter also includes a CTA at the top for customers to find the store's holiday hours, something people are regularly searching for this time of the year. The preview text even says it's the "one-stop holiday shop," showing subscribers what they can expect if they open the message.
Joie
Don't let the endless piles of wrapping paper and cups of eggnog make you forget about the holiday that falls a week after Christmas. Be sure to send out another email on New Year's Day, too.
A simple "Happy New Year" with "2018" and your company logo will do the job just fine, like in this example from Joie. Giving it a little razzle-dazzle will make it more festive and catch people's attention. (I mean, this is the day after we watch massive fireworks shows and a giant crystal ball drop.)
Some other ideas include sharing a motivational quote for the new year, reflecting on goals that have been achieved over the past year, or offering a special discount.
As the superstition goes, what you do on New Year's Day, you will do all year. So if your subscribers are reading your message on the first day of the year, that could just mean they will be reading your emails the rest of 2018. And who wouldn't want that?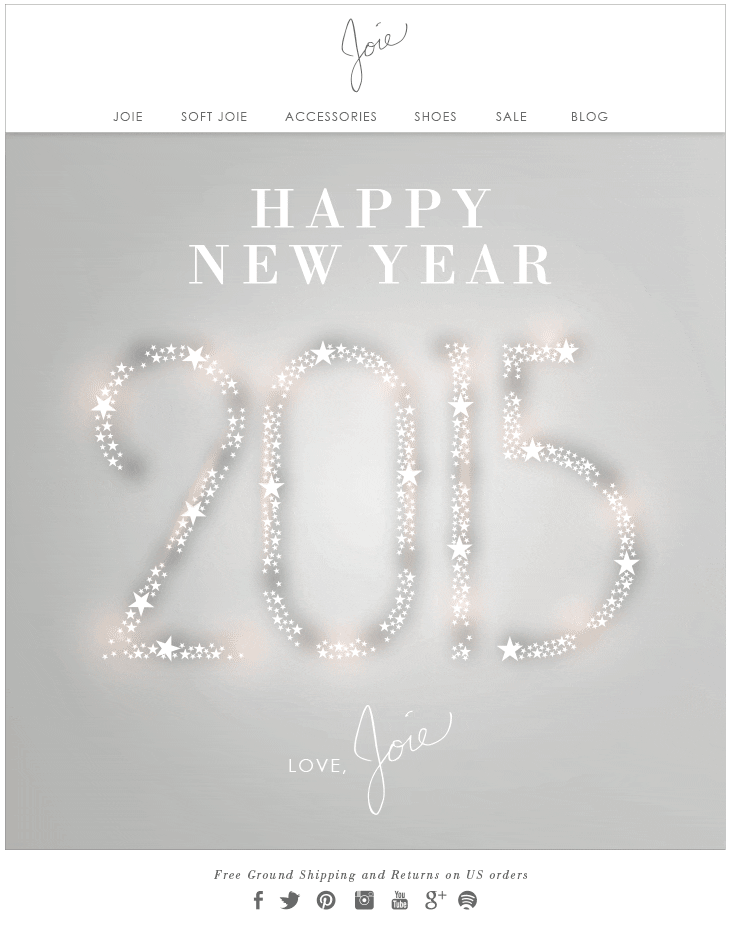 How to Send (Festive) Holiday Emails
It's the most wonderful time of the year, so create holiday emails that are just as special by incorporating these tips.
Before Opening the Gift
Think of the holiday email subject line like the wrapping paper on the gift. It needs to be eye-catching and festive so your subscribers want to rip it open.
Here are some examples of what other companies have sent out during the holiday season:
Holiday shoppin' got you droppin'? We can help. (Walgreens)

Tree-mendous savings on holiday decor. Enjoy 30% off trees, lights & ornaments, ends today! (Target)

We got you a gift… (Cold Stone Creamery)

Ho-Ho-WHOA! 50% off wine gift baskets + holiday food and decor. Last day for two huge coupons. (World Market)

The sweetest winter weather forecast ever. (Dairy Queen)

Our 5 favorite little gifts are… (Victoria's Secret)
From building the reader's curiosity to having fun with some seasonal words and phrases, these subject lines are as sweet as milk and cookies (we're partial to Oreos ourselves). The subject line should be light and cheerful, just like this time of the year.
Start Before Frosty Melts
We're already a little ways into December, so now is the time to work on your holiday campaigns — whether they are coming out before or on the big day. Your contacts will be able to tell if you've just thrown together an email, so don't let that be the case.
Plan now which lists you want to target, when it will go out, your goal, message, and design ideas. Once you have the basics figured out, you can choose a jolly old template or start from scratch.
Remember the Reason for the Season
While your holiday email might be a great way to share a deal or sale update with your subscribers, don't forget that the holiday season is about so much more than just shopping.
Many people look at this time of year to celebrate religious holidays, family, friends, and giving back to others. That could mean you send out warm wishes from your company family to theirs, share an inspirational message or show you care about them (and not just their wallets).
It's time to deck the trees and your subscribers' inboxes with holiday emails they'll want to open right away!
Lauren Dowdle is an award-winning writer and magazine editor based in Nashville, Tenn. Her nearly decade-long writing career has covered everything from landscaping to marketing.