For every customer who reaches out to your support team, there are many who don't. Those people are dissatisfied with your product, but don't care enough to reach out about it. This is where proactive customer service comes in. Put differently,
96% of your dissatisfied customers will not bother to reach out to you
, and all but 5% of those will churn without a peep. They're also probably people who could be helped by proactive support. Traditionally, when we talk about customer support, we think of the reactive type: answering incoming customer inquiries via email, chat, social media, or phone. However,
50% of customers would rather resolve their own issues
, without talking to a support representative. Proactive support offers customers assistance and guidance before they realize they need it. This can come in the form of
email, in-app guidance, or even social media touchpoints.
Email marketing is one of the most straightforward ways to provide proactive customer service. You can target a specific segment of your customer audience, set up an automation to address their specific needs, then let it run with very little human interaction. This type of proactive support can be very attractive to busy teams because it requires little maintenance. Let's take a look at some ways that you can implement this for your own team.
1. Onboarding
Many companies use an email marketing campaign for onboarding along with in-app training journeys. Trello is a great example of a company that does an excellent job of
onboarding
: they keep it simple, effectively target specific types of customers, and keep the onboarding strictly sales-free.
Trello
sends specific campaigns based on what type of plan the user is on, how long they've been using the product, and what support issues they've reached out about.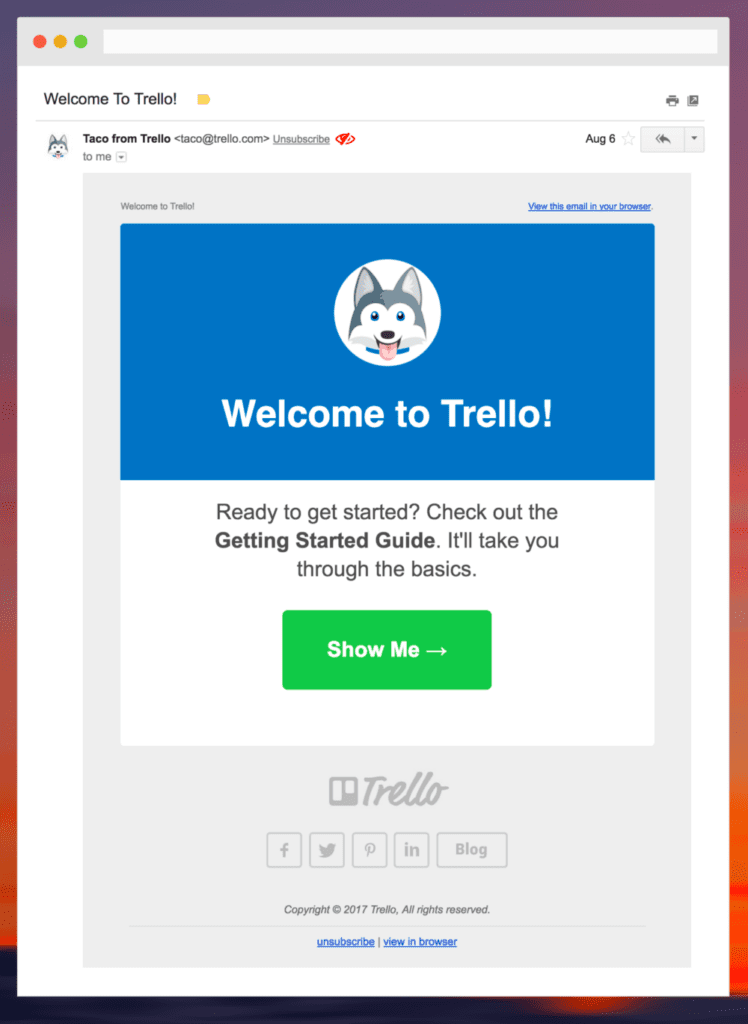 Customer perception is incredibly important:
70% of a customer's buying experience
is dictated by how they feel they are being treated. When you take the time to craft an excellent onboarding experience that provides information about the key features that your product offers and how to use them, the customer feels like you're working magic. Send information to your customer
before
they know that they need it, and you save them from feeling anything close to frustration or anger with your product. When creating your onboarding flow, identify the key parts of the customer journey that you see your most successful customers taking. Then, use data you've collected (think: in-app user actions, common problems) to determine when in the customer lifecycle most users start using those features. By lining up those key points and setting them within the context of your customer journey, you've determined both the content and frequency of your emails. This also helps to remove "low-hanging fruit" from the inbox: theoretically, you've answered any of the simplest "how to" questions in your email onboarding.
2. Documentation abandonment
By now, there's no doubt you've heard of abandoned cart emails. You may have received several yourself — like Amazon reminding you that something was left in your cart. Much like cart abandonment, documentation abandonment allows you to reach out to customers who abandon a search in your help docs to see if they need more information. The idea is that if they've abandoned their search, it's likely that they could not find the answer they were looking for, or could not find it quickly enough. Either of those scenarios opens you up to customer dissatisfaction and churn. Much like the strategies used by eBay and Amazon, retargeting and reaching out can be some of the best ways to
re-engage your customers
. Check out this example from
Bronto
: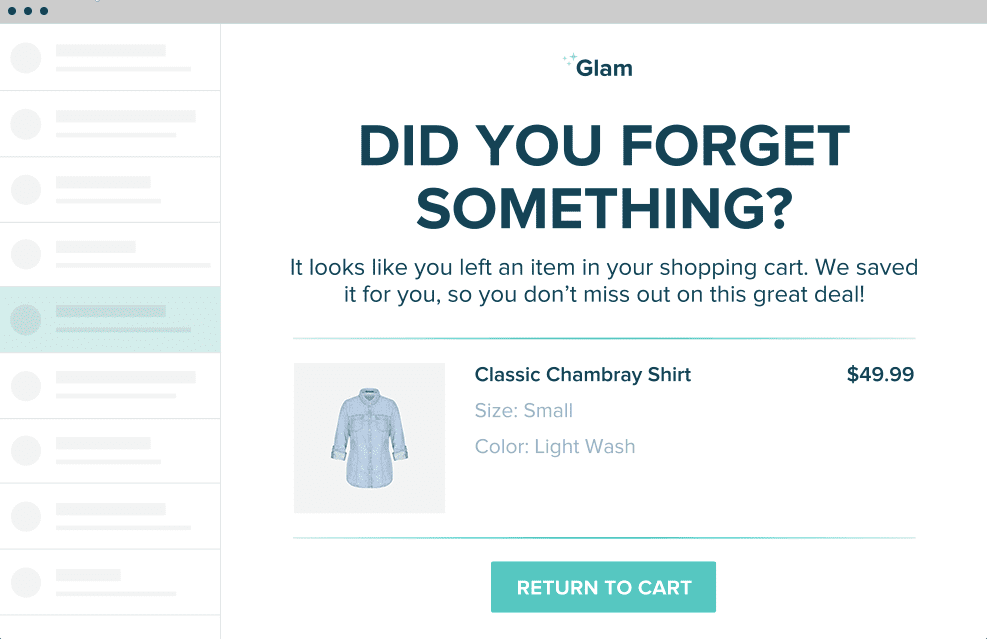 Send an automated email recommending other related documentation and asking customers if they found the information that they needed can help with both ticket deflection and customer satisfaction. After all, you're giving them the information that they were looking for without them having to do any additional work. If you're looking for ways to do this, here are a few automated services that might help you track abandonment and send automated emails:
If you're using WordPress: WPForms has a form abandonment functionality
Robly will soon have a full automation suite but currently has a Shopify integration that allows you to send abandoned cart emails.
3. Sticker shock
Depending on your service, your customers are likely paying for your product on your website, rather than in-person. Even if you're in a traditionally brick-and-mortar industry,
56% of all bills are now paid online
. Similarly, with the rise of online billing confusion, more people are looking for a human touch in the form of a
face-to-face explanation (23%) or a real person on the phone (40%).
That's a
lot
of tickets for something that
could
be fairly straightforward. AT&T is the gold standard example for how to proactively handle bill shock. For every customer's first billing period, AT&T sends a personalized video walking through each section of their bill, going over common questions, and setting them up for future success. All without any direct interaction with a customer.
By answering these questions up front, AT&T's support team handles fewer requests on the subject. This also empowers the customer with information that they would need, before they even knew to ask for it. They've also created
standing resources
for people to find more information about what their bill means outside of their proactive email.
4. Outages and their impacts
Even if your product and site are at 99.9% uptime, that still equates to around
eight hours of downtime per year
. That doesn't even include outages due to third party vendors (think: your domain host or social media sites). Anyone who has worked in customer service during an outage or product downtime knows, especially if your product has a history of downtime, you need to
prepare for an onslaught from vigilant customers
. Providing customers with information before they have to reach out saves you time and prevents stress. One
StatusPage had over 15k requests in a single second during an outage in 2018
— can you imagine if those customers had been required to reach out to get information? That would have been at least 750 emails if we're assuming that 95% of them
wouldn't
have taken the time to act. Reaching out early makes customers feel like you genuinely care about keeping them in the loop.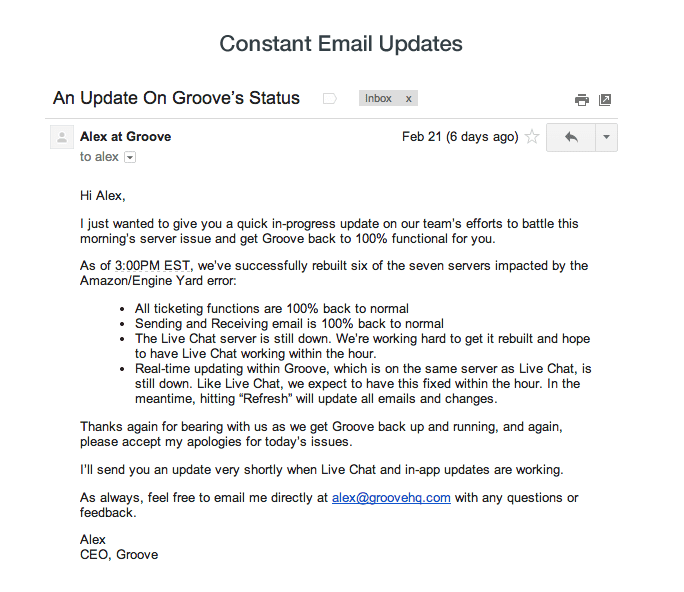 (
Source
) Take the time to reach out via email about outages as they are happening. It's always better to be transparent and honest about your issues than to wait and see if customers reach out about it. Don't want to contact those who aren't impacted? Target only those who are affected. Isolate them via segmentation if it's specific to a feature or demographic that you can pinpoint.
Conclusion
Email marketing for proactive support does double duty: it helps to remove emails from your inbox so that your team can focus on more pressing, challenging inquiries, but it also helps to boost customer satisfaction. Your users want to feel empowered to find information on their own and not have to wait for a response from your support team that may or may not answer their question on the first try. Automate customer contact for the moments when you
know
they're likely to need help. This is most often when they first sign up, when they receive their first bill, and when your product isn't working as expected. When you deliver useful info to customers before they have to ask for it, you're working your own form of magic — the kind that keeps customers satisfied and loyal for years to come.
Yaakov Karda
is the co-founder of
Chatra.io
and a slow coffee enthusiast. When not brewing or working on the startup, he helps his wife with a jewelry business or explores Tel-Aviv on a bicycle.