Are you a heart-eye face or more of a peace-sign hand? We all have our favorite emoji to share over text or social media. Instagram even reports about 50 percent of all the captions and comments on its platform include an emoji.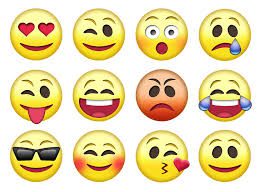 But there's so much more you can be doing with these images, like using them to improve your email marketing rates.

When Should You Use Emojis In Emails?
Not every email is the perfect match for a smiley face or the cat face. You need to be purposeful with your emoji use — just like you are with the rest of your email design — only using them when it makes sense.
They should catch your subscribers' attention, instead of getting overlooked because you send them too often. Don't use them just because you can.
While you don't want to overuse the images, there are some instances where they can improve your blasts. Think holidays, special occasions (birthdays, customer anniversaries), discounts and exciting news announcements.
Maybe you use hearts on Valentine's Day, balloons on their birthday or the celebration cone letting them know about a great deal you're offering. They're perfect for anytime you want to get a little comical and make your message stand out from the masses.
The more creative, the better. There are 56 new emojis set to come out later this year, giving you even more email personalization options.
How To Add Emojis To Subject Lines
So, you've decided you want to spice up your email blasts with an emoji. Now comes the task of actually adding them to your subject line. Luckily, it's pretty simple — no matter what platform you use to send emails.
It really is as easy as copying an emoji and then pasting it into the subject line. There are several sites to pull images from, including Getemoji.com and Emojicopy.com. Just visit the site, find the emoji you're looking for, copy it and then paste it straight into your subject line.
Looking for a quicker way to add your favorite image? There are also some shortcuts. On a Mac, put your cursor where you want to add the emoji. Then, hold down Control and Command and hit the spacebar. That will pull up the palette of emojis for you to choose from. You can also choose different skin tones for some of the emojis by holding down your cursor on them.
On Microsoft, click on the keyboard icon in the lower-right corner to activate the Touch Keyboard. Then, click on the smiley face to pull up the emoji keyboard.
If you're creating the email from your smartphone, you can also pull an emoji from your phone's keyboard. You'll just need to make sure that function is turned on by going to your settings and adding the emoji keyboard, if you haven't already.
Just remember: If your email subject line is too long and you put an emoji at the end, it could get cut off in the preview.
Put Emojis To The Test
Everyone's audience is different, so make sure yours responds well to emojis before you make it a regular part of your marketing strategy.
Test your subject line on a small group to see how they react to your use of emojis. Does it result in a higher open rate, or does it lead to more complaints? You want to get an idea of how they'll perform before sending them to you entire list, which makes it more difficult to measure your results.
To get the most from your testing, here are more tips on how to be successful with emojis:
Mix it up.

Don't use the same emojis all of the time, and try to find ones that aren't as common in other emails.
Stay true to your brand.

As with everything else you do, you have to remember who your audience is and what they will be most receptive to. You might can be a little freer with what you choose if you're catering to a younger audience (maybe a ? or ?), whereas you might want to stick to the tried-and-true images for an older demographic (?or ?).

Check the compatibility.

Make sure the emojis you're using show up correctly with different providers. An emoji can definitely catch a subscriber's attention — just make sure it's for the right reasons.
Emojis are meant to be fun expressions of your thoughts and feelings, so make sure that carries over into your subject lines.
By Lauren Dowdle