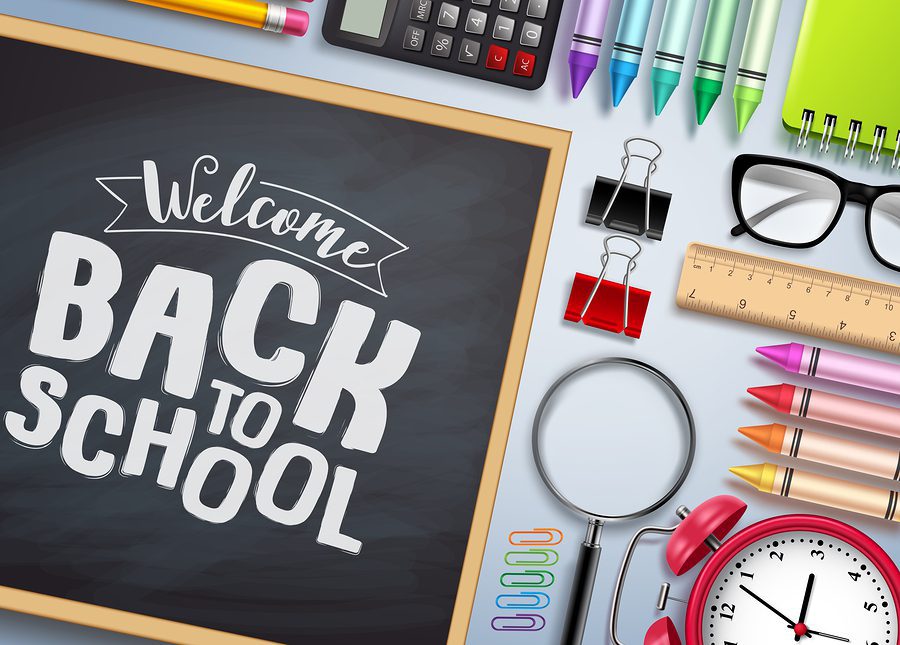 Sharpen your pencils, pack the bookbag, and get to bed early: it's almost time for school to start again.
But before the bell rings, send your customers a back-to-school email that will make your brand top of the class — or at least top of their inbox.
Last year, an estimated $82.8 billion was spent on back-to-school purchases for K-12 and college. As for when consumers were doing their school shopping, 77 percent planned to begin their shopping at least three weeks prior to school starting. And retailers saw a higher purchase rate from customers who made their first back-to-school purchase in July, compared to August.
Sending a back-to-school email campaign in late summer can help target consumers who are ready to make purchases. Don't worry: school supply and clothing retailers aren't the only ones that are getting in on this type of campaign. Brands just need to make the theme relate to the business, like a back-to-school coupon, for their product or services.
So, make no excuses (we know the dog most certainly did NOT eat your email!), and ace your next campaign with ideas from these eight back-to-school emails.
Old Navy
You don't have to go over the top with the back-to-school theme to create a campaign that works. Old Navy stuck with a similar email design to their standard deal newsletter, simply adding "Back-to-School Edition" in their header text.

They also jazzed up the message with a GIF that targets women, men, and kids with the images.
Peek
Nothing says "back to school" quite like a chalkboard, and Peek plays up that image idea through this email campaign. They use different chalkboard photos throughout the design to tie everything together.

You can find stock images — like chalkboards, desks, apples, buses, and other school-related shots — from your email marketing platform or from free photo sites like Pixabay and Pexels. Just make sure whatever image you end up using doesn't have a copyright or other restrictions.
T.J.Maxx
Besides chalkboards, a handy, dandy notebook is right on up there when it comes to school items. T.J.Maxx uses a torn piece of notebook paper in its design, along with school-themed text, to tie this campaign together.
They also pull some of the colors from the products to use in the opening text, which keeps the design from getting too busy. Yellow also seems to be a popular color for back-to-school emails — perhaps we have school buses to thank for the trend?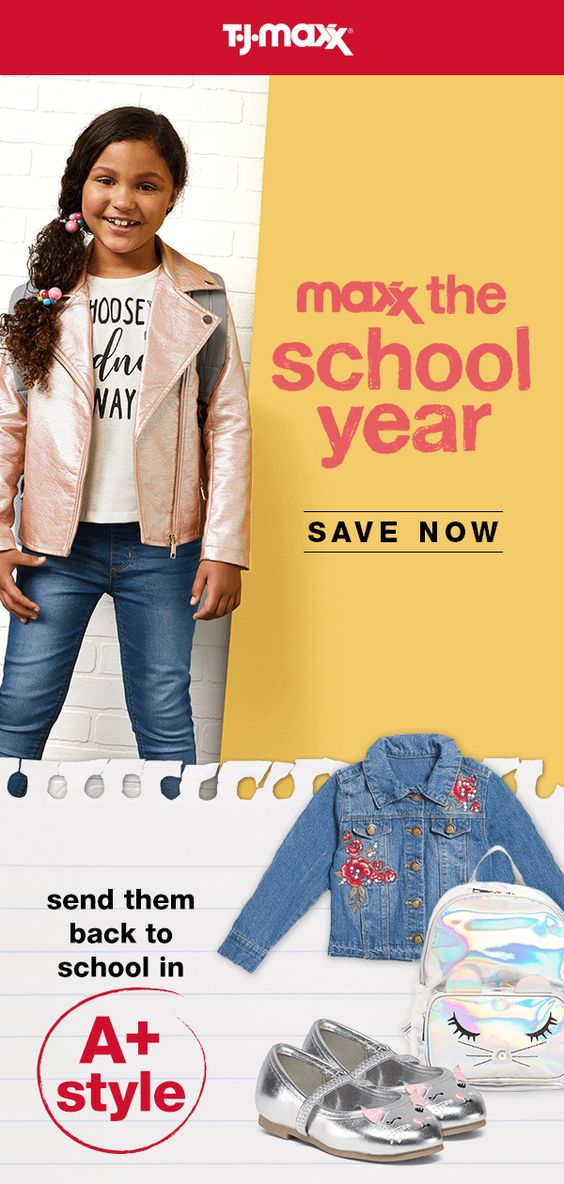 Bed Bath & Beyond
Heading back to school isn't just for younger kids, so don't forget about the college audience and their parents. Bed Bath & Beyond targets the college crowd with a prominent coupon, followed by an eye-catching image showing off some of their products.
The email also has a call-to-action (CTA) for an e-catalog with dorm room inspiration and decorating tips. While it's nice to feature people's face in the design most of the time — because people relate to other people — having a backward-facing person puts the focus on the products, while still including a human element.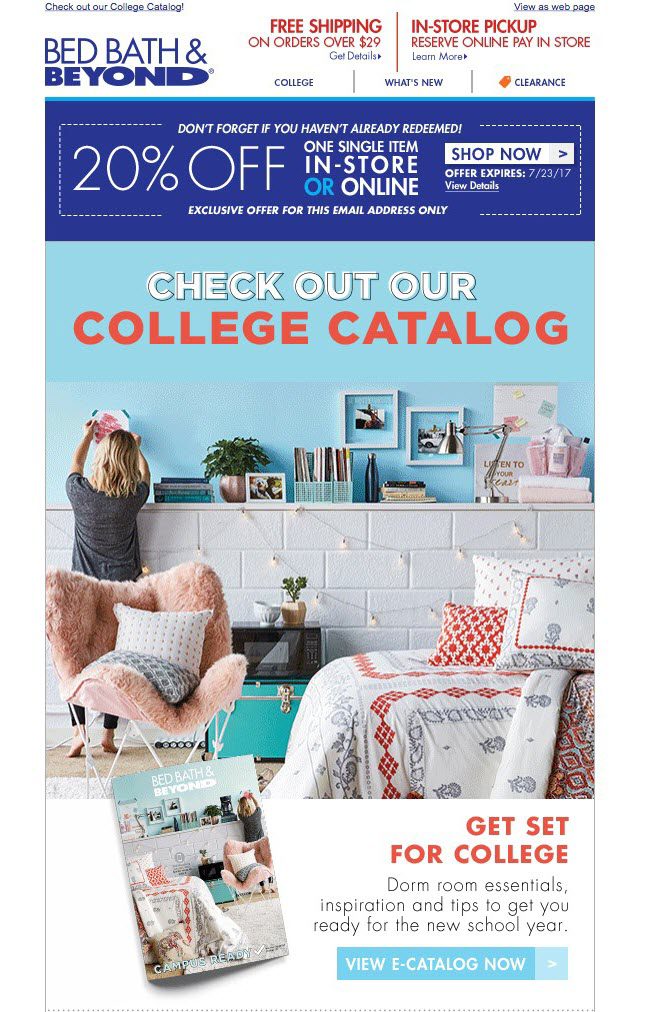 Columbia
Most shoppers aren't thinking about outdoor gear when it comes to your normal back-to-school shopping, but Columbia finds a way to create a related campaign that works for their brand. It might not look like the rest on the list, but that's perfectly okay because it makes sense for them and their campaign. They prove you don't have to be selling school supplies to run a successful back to school campaign.
Ban.do
Remember the days of colorful gel pens, bright highlighters, and sticker-covered notebooks? Ban.do incorporates these types of must-have items with a clean, colorful design.
They section off the products with a bright line, alternating the text and image order as they go down. The product prices are color-coded with the corresponding CTA, and yellow is also used for part of the heading text.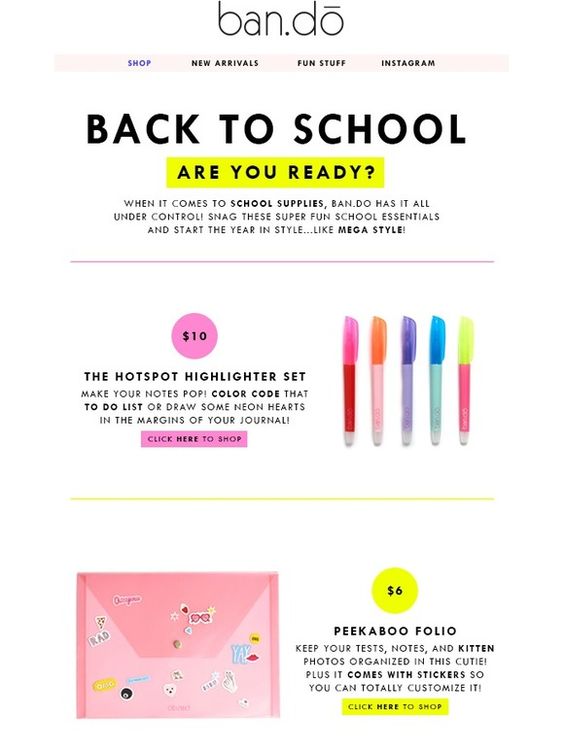 TOMS
Sometimes it isn't what you say, but how you say it. Or in the case of this TOMS email, it's about how you type it. The font reminds us of a mixture of typewriters and labels, both of which fit the campaign theme well.
The email also lists their different shopping categories in chronological order, from preschool through college. So, customers can easily click the section that best fits them, instead of having one catch-all CTA.
Kohl's
Why not mix it up with a graphic background and a studio-shot image? Kohl's combines bright colors, simple text, a clear CTA, and fun school images like a paper airplane and some dope kicks, or whatever the kids are calling shoes these days.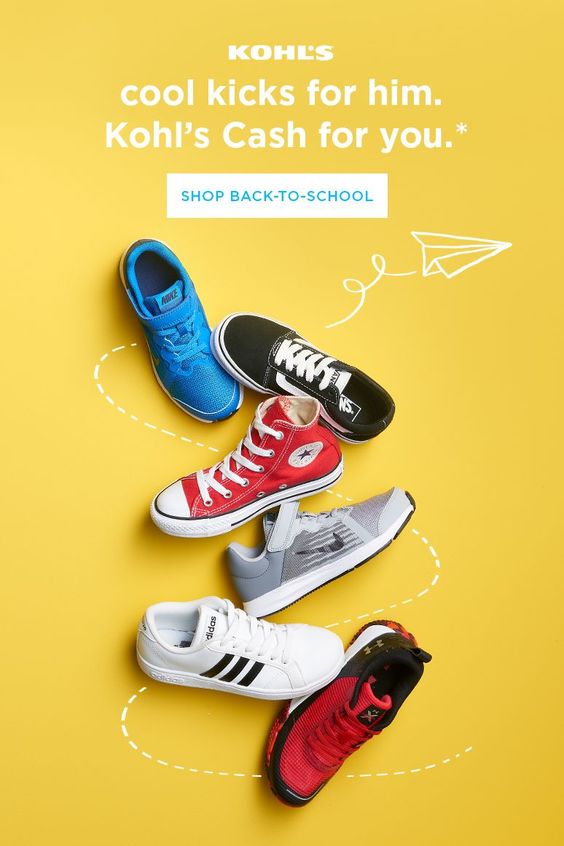 If you don't have a pre-designed image, start by finding a background or other simple image and put it in a design program like Canva. Sites like Canva also offer generic background images and templates you can choose. Then, use a cutout image — like the shoes, in this example — with a transparent background. Rotate the cutout image to make it seem less static and stale, add your text, and you're good to go.
See you next summer
The beginning of school doesn't have to mean all of the fun is over. Put together a back-to-school email campaign your subscribers will engage with and enjoy.
Be sure you don't forget a catchy subject line that helps complete your campaign — like one of these from Omnisend. You can add an emoji like a backpack, book, apple, or bus to liven the subject line up, too.
It's almost that time of year again, so don't let it pass you by without sending a timely back-to-school email.

Lauren Dowdle is an award-winning writer based in Birmingham, Alabama. She writes about marketing trends, best practices, local features, and the landscape industry for a variety of companies and magazines.