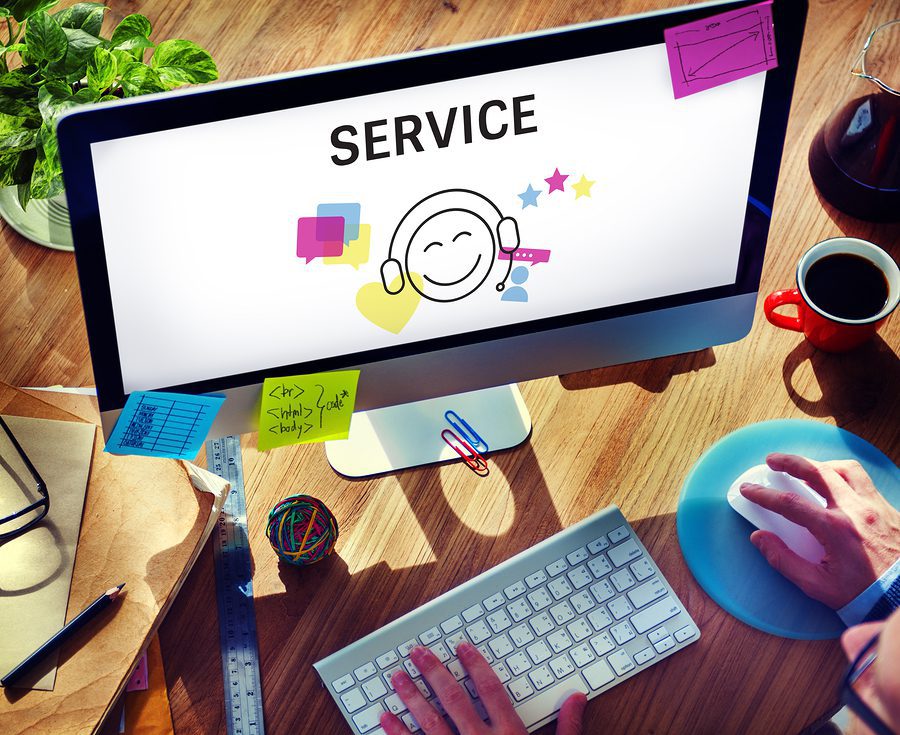 Do you ever feel like you're playing a never-ending guessing game to figure out what customers want?
In a perfect world, they would come straight out and share exactly what they're thinking and expecting from your brand. And who wouldn't love that? But unless you have a magical crystal ball, you'll have to find other ways to get inside their heads.
Instead of throwing a dozen different strategies at your customers to see what sticks, incorporate techniques that they're sure to appreciate. To figure out what marketing strategies will have the biggest effect on your customer experience, you need to first understand what your customers want.
We've put together some of the top customer expectations and how you can meet (and even exceed) them.
1 Quality customer service
It probably doesn't come as much of a surprise that customer expectations include quality service, but you might not realize just how important that is to them: 49 percent of consumers switch companies after they receive service that doesn't meet their expectations.
But what exactly do they consider good service? Here are a few things they're looking for:
Immediate response.

You can't always be at the ready when customers have a question or issue. That's where chatbots and other AI tools come into play. This

type of automation

helps answer quick questions or connect the customer with the right team member.

Listen.

Whether they're contacting you to say how great your brand is or they

have a complaint

, you need to actively listen to what they're saying. Some common courtesy and respect really do go a long way.

Take responsibility.

If you're in the wrong, apologize and find a solution for the problem. That could mean a refund or discount.

Go above and beyond.

Really stand out from the competition by wowing your customers with service that exceeds their expectations. Send them a personalized thank you for contacting you or a surprise freebie after they've had an issue. It doesn't take much to impress.

Knowledge.

They want to talk to someone who knows their stuff and can answer any questions they might have. If you're not the right person to talk with them, know who is so you can bridge the connection.
When you master great service, you're not only impressing the customer, but you'll also enjoy a few other benefits. 70 percent of customers who receive good service say they'll be more loyal, 65 percent would recommend the company, 43 percent would use the company more frequently, and 40 percent would spend more money, according to a NewVoiceMedia report.

2 A personalized experience
We all want to feel special, and one of the best ways to do that for your customers is to personalize their experience with your company. There are a variety of ways to make them feel like they're your one and only, but here are some of the top options:
Say their name.

Add their first name to your email subject line and/or email body copy.

Segment your lists.

Instead of sending a generic newsletter to all of your subscribers, break down your lists using data like their location, demographic, engagement history and job title. Once you have your lists, create content that specifically targets your intended audience.

Share recommendations.

You can also use your data and site history to suggest other topics or items they might like. Show you know them and their preferences.

Add automation.

Set up your email marketing platform to

send automated messages

for things like holidays, follow-ups when they read content, thank yous if they download whitepapers or hit a certain milestone in the buyer's journey.

Keep tabs.

Use a CRM or system that allows you to keep notes on individual customer accounts. That way when they contact you, anyone can be up-to-date on their account history.
Make your customers feel like more than a number; it makes a difference.
3 Special deals & discounts
Who doesn't get excited over a special deal? Your customers will surely appreciate an unexpected email with a discount or present — like BOGOs, percentage off, or a free item.
You can also tie in an element of personalization by sending these deals to your VIP customers, letting them know how much you appreciate them. Newsletters with deals will earn you some of your best email engagement metrics, which is always a nice added benefit.

4 An easy-to-use loyalty program
Customers like loyalty programs: 89 percent of customers are currently enrolled in a loyalty program. That is, if they are easy to use and worth their time. Those loyalty stats also show the main reasons customers leave programs is because either the program didn't offer rewards they were interested in or the program was too challenging to earn points.
To make customers excited about using your loyalty program, make sure it includes these features:
Mobile capabilities.

Gone are the days of punch cards. Your loyalty program needs to be its own app or part of your company's main app so customers can have access to it anytime.

Attainable goals.

The end needs to be in sight for earning a reward, so make sure you don't require too many purchases or interactions for them to get something special. No one wants to have to make 100 purchases just to earn one thing.

Easy to understand.

Do you clearly state how they can earn points? They aren't going to waste time trying to figure out how to get rewards, so keep it simple.

Reward VIPs.

Create levels for your customers so that the most engaged are recognized and earn special deals. For example, Regal Cinemas' Crown Club program has rankings depending on how many movies you see. The better your ranking, the more points you earn for each movie you see.
You can include additional information on how your loyalty program works on your website, which leads us to the next thing customers want from you.

5 A helpful website
There's nothing more frustrating than not being able to find simple information — like an address, contact information, return policy, or pricing — on a company's website (except for a company not having a site at all).
Your customers expect your site to have everything they need: 83 percent of customers go to a company's website for information and 51 percent prefer to have self-service options available. Even more telling is that 55 percent will leave or go to a competitor if they experience website issues.
To make your customer's search easier, make sure you cover all of the basics on your page. You can create FAQs, About Us, and Contact subpages to put all of the important stuff where it's easy to find.
You also need to make sure your site is mobile responsive so visitors can view it on a variety of devices. That goes a step above just having a mobile-friendly site, which isn't as friendly as the name suggests — though it's better than nothing.
Considering mobile devices are projected to reach 79 percent of global Internet use by the end of the year, you want to make sure you aren't missing out on that traffic or alienating those customers.
Still not sure? Just ask.
Every company or organization is different. To get a real sense of what your customers want, simply reach out and ask them. That will also show them you care about their opinion and want to improve their experience.
You can send them email surveys, post questions on social media, or call them — use whatever form of communication works best for them. Once you gather the feedback, you'll have a better grasp on what they want and how you can improve your current strategies.
It's all about giving customers what they want. If you don't, they'll find another company that will.
Lauren Dowdle is an award-winning writer based in Nashville, Tenn. Her decade-long writing career has covered everything from landscaping to marketing.