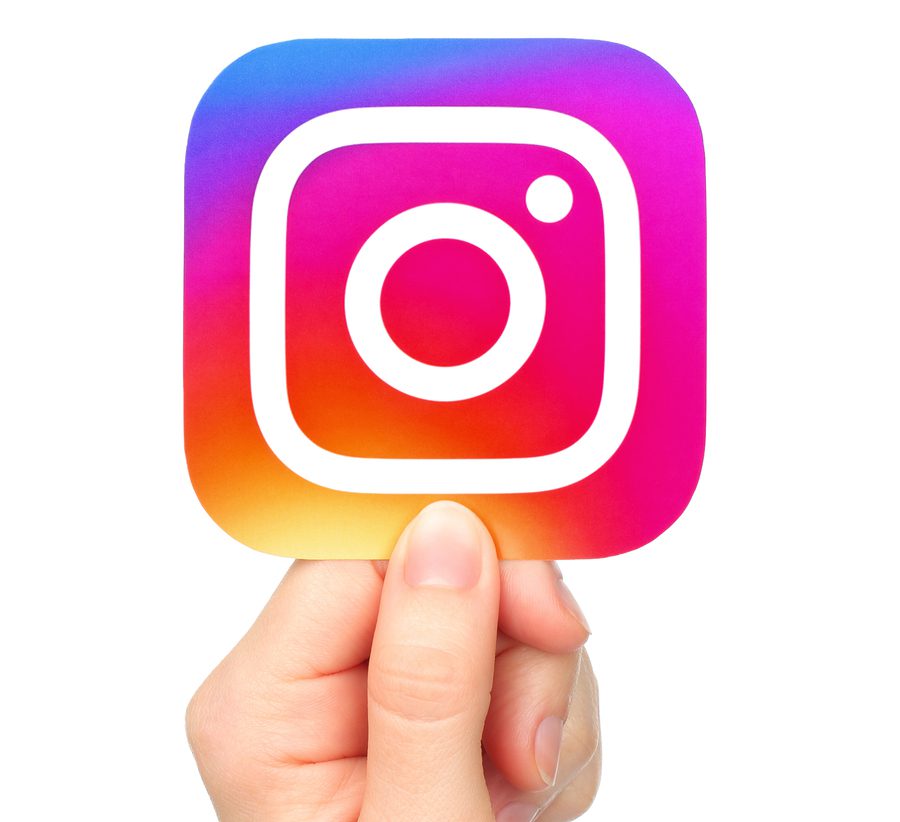 In case you haven't heard, Instagram is kind of a big deal. The platform has quickly shot to over 800 million monthly users and shows no signs of slowing down. A large part of their success is due to the addition of stories, a feature that launched in August 2016 as a direct competitor Snapchat's stories feature.
Now, two years later, Instagram stories has 300 million daily active  users — twice as many as Snapchat — and has helped the network increase the average daily use time to between 24 and 32 minutes (depending on user age.)
So what exactly does all this mean for you and your business? It means Instagram in general, and the stories feature specifically, is a viable platform you should definitely consider using. In this post, we'll explore how stories work and how you can begin to incorporate them into your social strategy. Then we'll dive deeper into a few specific tactics you can use to really supercharge your business. Ready to get started?
Great! What's an Instagram Story?
A story is a sequence of pictures and/or videos that only exists for 24 hours. Once it's been posted, the countdown begins. Due to the ephemeral nature of stories, they're highly engaging and interactive and can be a powerful addition to a business's social media marketing strategy.
Unlike regular Instagram posts, stories don't have public likes or comments. In fact, they don't even appear in the same feed as the normal pictures and videos you're used to seeing on the platform. When you post a story, it will appear in a separate bar at the top of the Instagram feed next to other stories posted by various users your audience follows. To view your story, your followers just have to click on your profile picture: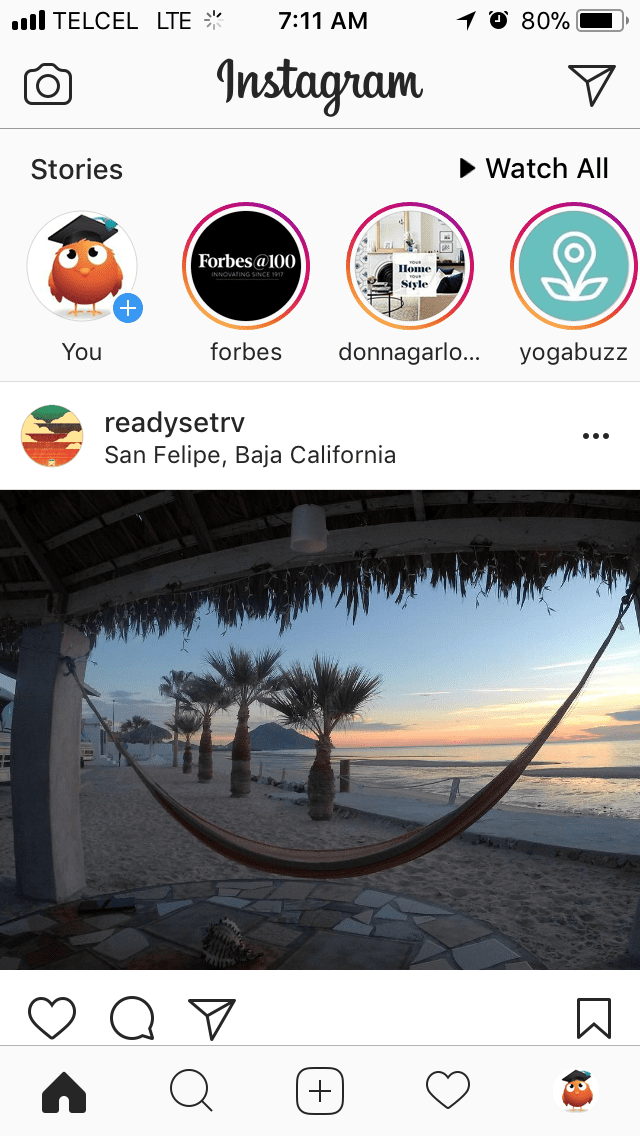 Create Your Story
To create a story, open Instagram and tap the camera icon at the top left hand corner of your main feed or simply swipe left. Once inside the stories camera, you can take new photos and videos or swipe up to access your phone's camera roll and post content you've already created within the last 24 hours.
When shooting inside the app, you have a few different modes to choose from:
Normal
This one is pretty self-explanatory. Tap the button once to take a photo or hold the button down to record a video. It's important to note that video clips cannot exceed 15 seconds in length. Towards the end of this guide, we'll discuss a workaround for this, though.
Live
Again, pretty self-explanatory. By switching to live mode, you'll begin broadcasting live on Instagram as soon as you hit the record button. Your followers will then be able to leave comments and when you finish, you'll have the option to discard the recording, share it, or add it to your story for the next 24 hours.
Boomerang
A boomerang clip is a short, looped video clip (the result is like an animated GIF), which can last for up to three seconds.
Rewind
This mode allows you to record a video and play it back in reverse.
Superzoom
Engage the superzoom feature and your video will begin to zoom in on the subject while playing music. You're given the musical options of "Bounce," "Beats," "Dramatic," or "TV Show."
Hands-Free
Hands-free mode allows you to record video by tapping the record button rather than holding it. This is great for, say, product demonstration videos where you need both your hands. We just advise you to make sure your phone is well propped and stable before recording!
Type
Type is a newer feature (introduced in February 2018) that allows you to create text only slides in your Instagram stories — no photo or video necessary.
Stop-Motion
Have you ever watched a claymation video or something similar and thought,"I'd love to make something like that,"? Well now you can AND add it to your Instagram story at the same time!
Other Options
Thunderbolt:

This engages the flash.

Arrows:

Allows you to switch between the front and rear-facing cameras.

Happy Face:

Employ fun face filters such as puppy or rabbit ears, a crown and more. Instagram regularly adds new options here.

Editing Features
After your photos and/or videos are taken, you'll have the option to edit them by adding stickers, text overlays, hashtags, polls, a location and more.
Stickers
Stickers are a fun way to spice up your stories and can be added by tapping the square smiley face button in the top right corner of your screen after you've taken a photo or video. There are stickers for every occasion and more are constantly being added. When you've selected the one (or five) that you want, they can easily be resized and placed anywhere in your story.
Hashtags, Locations, GIFS, and Polls
These four are technically just stickers, but they deserve a special mention. By adding a hashtag sticker and typing in your desired keyword, your story will become searchable. This is a fantastic tactic to get your content in front of your ideal audience who may not have heard of your company yet!
The location sticker allows you to add a searchable geographical location to your story. When users search for the specific spot you've tagged to your post, your story will be included in the results. Posts with a location receive 79% more engagement.
We all love a good GIF and Instagram just announced that this feature is now available in stories! To add a GIF, select the GIF sticker and scroll through the available options. You can also use the search bar to look for something specific. Once you've selected the perfect one, you can easily adjust its size and location with your fingers.
The poll sticker is a handy tool for increasing engagement. Add one to your story and ask your followers questions. This feature is currently limited to just two possible answers (like either yes or no) but can be customized to fit your unique brand personality. For example, "Yes" and "No" can become "Heck Yes!" and "No Way!" Only users that participate will be able to see the results of the poll.
Text Overlays and Drawings
Instagram gives you the option to add text, drawings, or both to your stories. To add text, click the "Aa" icon in the top left corner of your screen. You'll now have the option to choose where the text is located, as well as its color and font.
To add a drawing, click the "pen icon" and choose from the four different pens available. Then simply use your finger to draw a picture, write words by hand or anything else your heart desires.
That's Not All
Want more? Additional editing features include:
Filters: Similar to what's available for traditional photo posts, filters can be applied by swiping left or write while editing your story.
Background Colors: Take a picture, click the pen icon at the top of the screen and select a color from the available options at the bottom. If you don't see the exact color you're interested in, tap and hold the closet option and the full color spectrum will appear. Once you've selected the perfect shade, hold your finger down on your picture and the entire picture will fill with your color choice.
When your masterpiece is finished, tap either "Next" or "Your Story" to share it. Once your story has been shared, a colorful ring will appear around your profile picture informing your followers that you have a new story ready to view.
Analyze This
Instagram gives business profiles a few basic metrics to study and optimize. KPIs include:
Reach: This metric tells you how many individual people have watched at least a portion of your story. By analyzing your reach, you can track your accounts overall growth and engagement levels.
Impressions: This metric is similar to reach, but tracks total views rather than total number of individual accounts who have watched your story. For example, if you post a story and your friend views it three times, your reach will be one and your impressions will be three. Because of this, your number of impressions will typically be higher than your reach.
Taps: The taps metric measures how many times viewers either tapped forward to see the next photo or video in your story or tapped backwards to review a particular photo or video again. Ideally, you want to see a low number of tap forwards. This will indicate that your followers find your story content interesting and engaging. A high number of tap backs may be a sign that your followers find your posts highly entertaining and want to rewatch!
Replies: Another engagement metric, replies measures how many people clicked the "send message" button inside your story. This is the only metric that can be turned off if desired.
Swipe Away: Finally, this metric will tell you whether your entire story is being watched or not. Users can exit your story in a few different ways. They can swipe left to watch another person's story; swipe down to return to the main Instagram feed; click the X on your story; or close Instagram all together while viewing your story. The fewer swipe aways you receive, the better.
By tracking these five metrics, you can learn a lot about your audience and the effectiveness of your social marketing strategy regarding Instagram stories.
Grow Your Business with Instagram Stories
Alright, now that we understand the basic functionality of how Instagram stories work, we can dive a bit deeper into using some specific strategies and tactics to grow your business! Let's start with strategies.
Effective Strategies
All successful marketing begins with an effective strategy. And since stories is such a distinct feature inside the Instagram app, we recommend devising a specific strategy for using stories apart from your overall Instagram marketing strategy.
Post Frequency
This will ultimately depend on your unique audience. How often do they want to hear from you? If you're not entirely sure, try posting at various frequencies and measure the engagement levels you receive. In general, though, consider posting stories more often than you post to your traditional Instagram profile. Since stories only last for 24 hours, you'll have a better chance of being seen by your followers if you post at least once per day.
Time of Post
Again, this will ultimately depend on your audience and when they are most engaged on Instagram. By posting when your followers are currently active on the platform, your stories will appear at the start of their feed, ready to be viewed. Typically, Instagram users are most active at lunch time (11am – 1pm) and in the evening (5pm – 7pm) so if you're unsure of when you should post, we recommend scheduling your 'grams within these time frames.
What to Post
If you're using Instagram stories for business, it's important to keep your posts professional. But this doesn't mean you can't have fun and post something funny or even goofy from time to time! This is a social network after all. Users are there to engage with people and companies they like and have a good time. Here are a few ideas of things you could post:
Behind the Scenes Content:

Give your followers a glimpse behind the curtain, as it were, and show them what a typical day at the office looks like. How do your employees spend their lunch breaks? What is your team currently working on? Your fans might love to know! Share the creative process behind what you do and let your following in for the show.

Special Announcements:

As people, we love to be "in the know." Why not use this to your advantage? Announce your latest partnership or newest product in an Instagram story. Your followers will love it!

Limited Time Offers:

In the same vein, make limited time offers to your audience through your stories. Reward your followers with discount coupons or free samples of popular products. The special offer combined with the ephemeral nature of Instagram stories could combine for a powerful marketing campaign.
As a final note in regard to strategy, remember that stories are a real-time medium. So it's okay if your posts are a bit more "raw" than you would usually post to your traditional Instagram feed. We're not encouraging sloppy or unattractive work. But your fans will appreciate the authenticity your brand portrays by posting "in the moment" and not polishing every aspect of your story.
Specific Tactics
Strategy can't be set in motion without specific tactics. Let's go over a few here:
Highlights:

Highlights are a way to save your favorite stories to your profile so that they don't disappear after 24 hours. When a highlight is created, it will reside on your profile beneath your bio and above your traditional Instagram feed. This is a fantastic feature that can really help solidify your brand on Instagram. For more information on Highlights, check out

this post

.

Instagram Live:

Live videos in themselves are powerful. But Instagram now allows you to also add these live videos to your stories! You can use this feature to try and build up anticipation for your next live broadcast or simply share valuable information you gave during the live event. Learn all the Instagram live tips and tricks

here

.

Story Links:

Links may be the single most important story feature for businesses. Unfortunately, only business accounts with 10K+ followers have access. With this feature, you can now add direct links to your website or landing page right from your story. Viewers just have to swipe up and they'll be taken directly to your link. This is

incredibly

valuable in a world of constant distraction and shrinking attention spans. If you already have an account with 10K+ followers, begin using this feature immediately. If not, it's something to aspire to. For complete details on how to create stories with links,

click here

.

Tag Other Accounts:

Tag influencer or other business accounts and you'll be able to expand your reach. You can also use this feature to tag specific audience members and increase engagement. This should go without saying, but we advise against spamming other users. Only mention influencers and businesses if you already have a relationship with them or your story is highly relevant to their brand.

Story Takeover:

What's a takeover? Simple: it's when one brand takes over another brand's account for a set period of time. By hosting a takeover with a well known influencer, you'll have the chance to really increase your company's exposure. Conversely, taking over another brand's story can also be highly effective. Learn the essentials of Instagram story takeovers

here

.

Stickers:

We discussed stickers in detail earlier, but they're worth mentioning again. Because the hashtag and location stickers you place on stories are searchable, they're incredibly useful for introducing your content to new potential audience members. And poll stickers are a great way to drive engagement with your followers.
Up Your Game with These Additional Tools
The Instagram app gives you a lot of features and customization options. But it may not be enough to craft the perfect story you're looking for. The following free apps will give you more versatility and help you create truly stunning content.
This app is available for iOS and allows you to add animated effects to your photos. It has specific sizings for Instagram stories and once an animation is chosen, the app will turn your picture into a 4 second video clip. This makes the whole creation process incredibly convenient!
This is another iOS app that allows you to add interesting and creative text overlays to your content. Inside, you're given size and import options as well as the ability to record new photos and videos directly inside the app. HypeType makes story creation a breeze!
If you're an Android user, InShot may just become your new best friend. It makes beautiful story creation simple. Easily edit videos, adjust video size, add special effects and text and more!
This app is available on both iOS and Android and is perfect for creating interesting photo and video collages. Choose your preferred layout and simply arrange your chosen pictures and videos inside the grid.
This handy little app takes all the hard work out of video slicing. Instagram only allows video clips to be 15 seconds or shorter inside stories. But what if you want to share something longer? Use CutStory! Import you video into the app and it will automatically chop your video into 15 second segments and save the clips to your camera roll.
Note: CutStory is only available for iOS, but Story Cutter for Android will give you the same results.
Now It's Your Turn!
Instagram stories is an increasingly popular medium. The proper use of it will enable you to better connect with your customers, build a stronger brand and boost your company's reach. Spend some time exploring the feature, use this post as a guide and create amazing, interactive content.
Have you started using Instagram stories? Tell us what kind of stories you post and what tips you have for those who are just getting started! Oh, and don't forget to follow Robly on Instagram @roblyemarketing.
Jacob Thomas is a freelance copywriter and content marketer based in Bend, OR. His professional writing approach has helped numerous businesses gain more traffic, leads and sales. To contact Jacob, visit www.jtcopywriting.com.