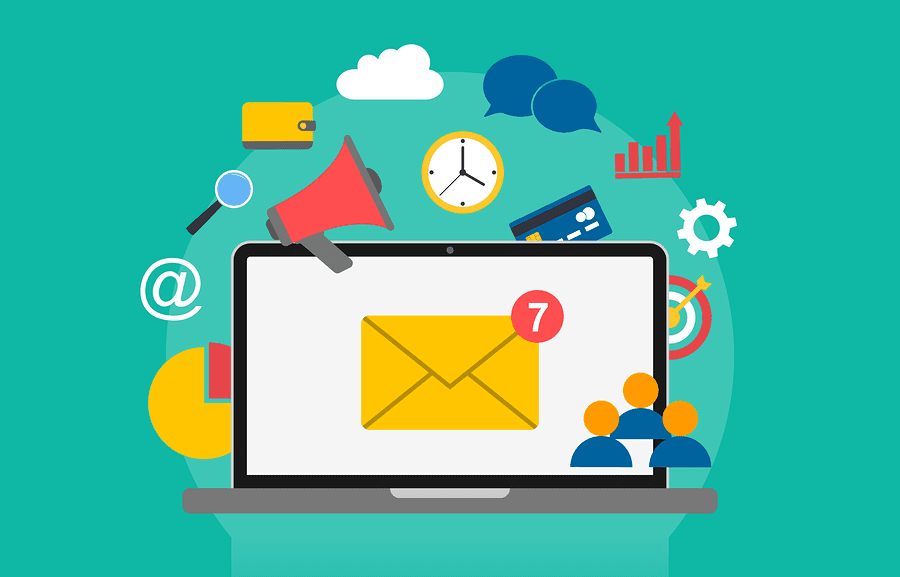 We are (obviously) nuts for email marketing. There's no better way to get into your customer's inbox and get their attention.
But even the best of us get complacent. After months of emailing our hearts out, we fall into a rut. Each monthly newsletter looks the same as the last. Our open rate plummets faster than the sales on our redesigned website. We start to lose touch with our customers. You get the picture.
Does this sound like your email marketing program? Don't lose hope: we're here to save the day. If you're looking to spice up your emails, we have just the thing!
Nurture Sequence
What exactly is an email nurture sequence? And what in the world does it have to do with marketing?
An email nurture sequence is a way to convert website visitors or inactive customers into buyers with a well-planned, multi-part email campaign. It's basically a way to warm people up to who you are and what you're about.
The key to these sequences is not asking for the sale right away. Start by saying hi first. Think of a nurturing sequence like a romantic relationship. You certainly wouldn't ask someone to marry you on the first date, would you? Hint: no, no you wouldn't.
There's a ton of free swipe files available for almost every industry, so we won't go into too much detail here. But here's an example of what a sequence looks like in action:
Inactive Customer Nurture Sequence:

We miss you email

New blog content email

Connect with us on social

More helpful content

Sale coupon or special promotion for subscribers
The example above is a very simple way to reconnect with existing customers who haven't purchased for a while or are otherwise inactive.
Once you get good at these, you can make them a little more complex. If someone follows you on Instagram by clicking through an email, the last two emails could be different than the above example. For people who don't connect, they would continue to receive the emails listed above.
You can also use the same formula to create breakup email sequences. For a more in-depth look at sequences, check out our beginner's guide here. Need e-commerce sequences? Check some out here.
Special Offers
We already know what you're thinking. "Why would I want to send a special offer? I get those all the time, and I just delete them!"
But there are reasons why special offers are a great idea:
They remind your customers what you sell and that you exist, if you've been less-than-regular with your campaign sends.


Reminding customers who you are and why they should care is crucial to winning the battle for the inbox. In the old days, people were limited to places they could drive to. Today, customers can choose from vendors around the world that are selling the same things. When it's time to order something, if people haven't heard from you in a while they might forget your company name or that you sell what they need. Special offers keep that from happening.

People love sales and free stuff.

It goes without saying that people love a deal, but it's worth repeating anyway. Even better, give away a free product with your order, and you have a customer for life.

Adding a deadline creates a sense of FOMO (Fear of Missing Out).

Urgency. It's the pace of the world today. We have deadlines, calendars, meetings and commutes. Communicate your deadline in your subject line and your special offer will sell like hotcakes. People hate to miss something, especially if it's a sweet deal. That's where the FOMO comes in.

Even if they don't open your email, they might visit your website anyway.

This may sound counterintuitive, but even if you never get a single open on your special offer, you've taken an important step in the right direction. As long as that reader sees the subject line, they're going to remember you. They might even visit your website before hitting the unsubscribe button and see you have that thing they were looking for — and buy it at full price.
Contests
What's one thing that customers enjoy even more than a good deal or free stuff? Winning.
That's why contests are so effective at building brand awareness and engagement. You can build engagement by asking people to add a specific hashtag to a photo they post on Instagram or Facebook with your product, or discover extremely talented photographers, bakers…whatever you're looking for.
National Geographic collected over 66,000 stunning travel photography shots with their #wanderlust contest on Instagram. Not only did they get tons of social media engagement, but they got free content to use in their marketing, too. The rules for the contest were simple: all US residents with a public Instagram account could submit original travel photography. The standards were high, and the images collected were stunning.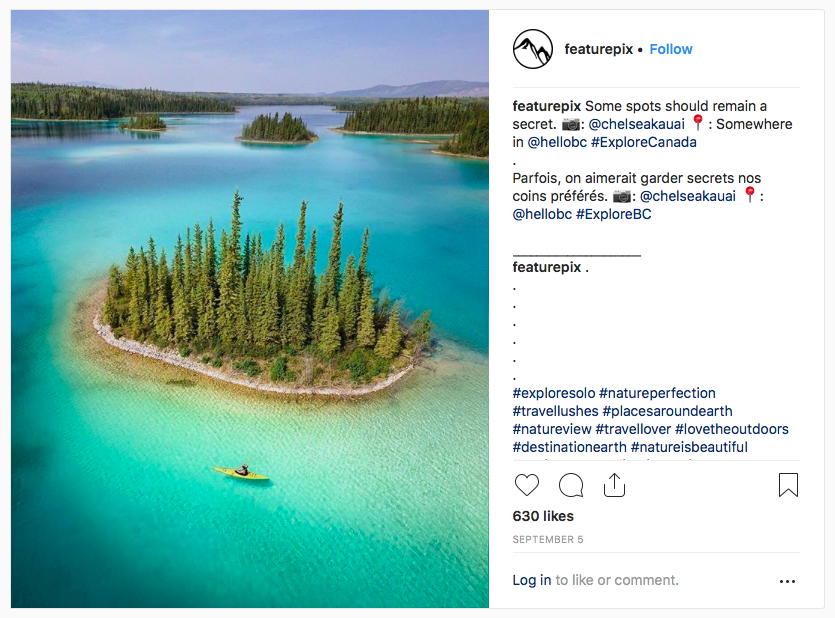 (Source)
Can't think of an awesome contest idea? Take a cue from the big boys at CVS and offer a cash prize in exchange for filling out a survey printed right on the sales receipt. You don't have to give away an entire year of profits to motivate people, though. While contests with cash prizes may cost more than Instagram hashtags, they provide you with valuable market research you can use to target people who buy your product.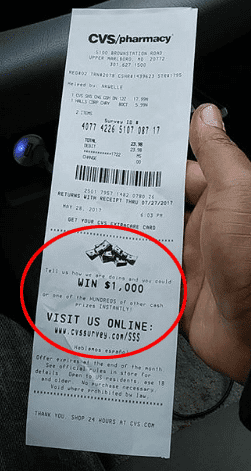 A relatively easy and inexpensive way to run a contest is to offer free products or services in exchange for something like a follow on social media or a Tweet that includes your website's URL. These contests cost next to nothing and create a buzz about your brand.
If you offer services, consider giving away a month or year of free service. You could also band together with other business owners and ask them to donate free products like books to sweeten the pot
A word of caution with contests: they need to have rules in order to be successful. When it comes to email marketing, using lists collected via sweepstakes and giveaways can oftentimes have high bounce and spam complaint rates, so be sure to enable recaptcha on your sign up form and make it crystal clear that by participating in the contest, users agree to receive email marketing from you. You may want to clean the list prior to sending to it, too, using a system like Neverbounce. This can eliminate those who sign up with a fake email address solely in order to win the prize in question.
Also, if you're hosting a contest on social media, some sites (like Facebook and Instagram) have rules of their own your contest must follow. Be sure to do your research to avoid getting in hot water.
Request Reviews
Every time a customer has an interaction with your support team or buys a product from you is an opportunity to ask for a review.
Reviews are a powerful marketing tool and reputation booster. Research shows that more than 84% of customers trust online reviews as much as word of mouth. Online payment processor Square states that customers trust user-generated reviews more than professional ones.
Brace yourself. You'll often hear crickets when people are satisfied with their experience. When they're not, you'll get an earful. But in order to find out what is and isn't working, you'll have to take the bad with the good.
While it's not pleasant to receive negative reviews, when handled appropriately they can actually help your reputation. If someone complains about your company openly on Facebook or Twitter, your response is visible to everyone. By handling these situations quickly and courteously, not only do you have a chance to win back an unhappy customer, you also show the world how much you value your customers.
Respond to every comment, review, and complaint quickly and politely. Every interaction is an opportunity to delight your customers. Don't take it lightly!
Hubspot Research reports that word of mouth and referrals are the best way for small and medium businesses to grow. That's why reviews are so important. People trust them.
According to Marketing360, the best way to get reviews from customers is to:
Consistently deliver stellar service

Ask for reviews via email and Facebook

Respond to all negative reviews

Offer incentives

Monitor your brand for mentions
Have a strategy in place to get those positive reviews, and post them on your website and social media where everyone can see them. There are a variety of strategies you can use, but some of our favorites include: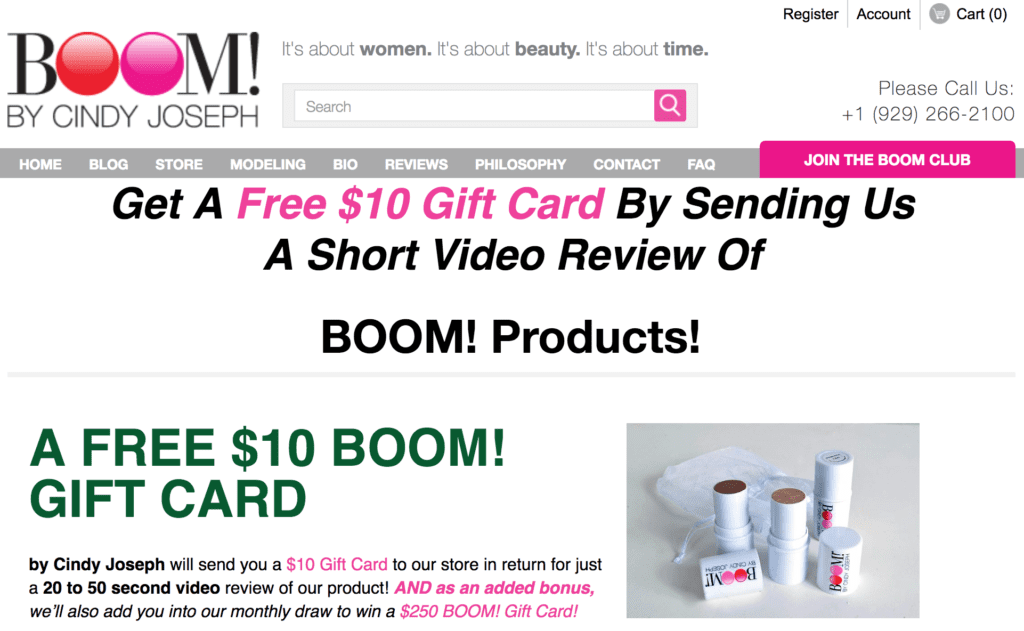 Reorder Reminders
These days we collect tons of data about our customers. This often happens automatically, and sometimes we never do anything with the information we collect.
You know when your customer's last order was. Check your CRM. Look at what they purchased. How long has it been since they placed an order and how often do they usually buy from you?
Once you've answered these questions, you've got some work to do.
For example, if a customer normally orders from you every 30 days like clockwork, send them a reorder reminder 28 days after they purchase. Include a link to a pre-built shopping cart with all their goodies already in there, and you've just saved them a TON of time.
Maybe they'll take that extra time and order some more.
Companies like Amazon often email offers for items related to something you've already purchased. Why not include links to related items on their reorder email to get them interested in something new?
The easier you make it for customers to order from you, the more likely your chances are of keeping them for years to come. Take this example from 1-800 Contacts: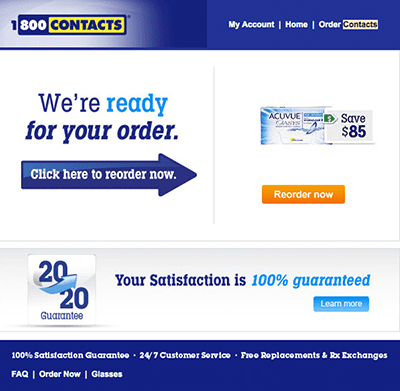 Many of your favorite CRMs have automated reminder emails built directly into the software, and you can also connect them to your Robly account via Zapier to create more attractive ones if you like.
Wrap it Up
If you're tired of sending email newsletters every month, try mixing it up and doing a contest or a offering something special instead. The possibilities are endless.
Not sure how to format your special offer? Try one of our pre-designed templates. There are hundreds available inside the Robly email marketing suite that suit a wide variety of industries and holidays.
While you're there, check out our free 14-day trial complete with OpenGen and Robly AI. We guarantee 50% more opens than with those other guys.
How do you mix up your email marketing? We'd love to hear about it in the comments!