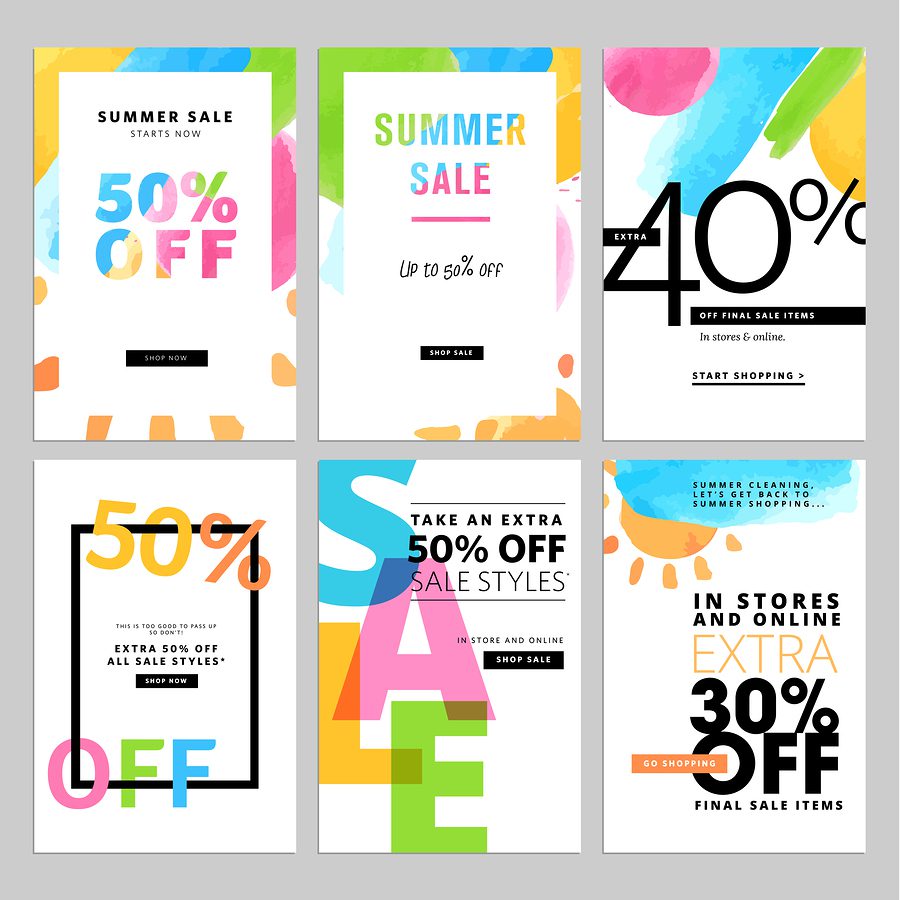 Ever wonder what kind of magic dust marketers are sprinkling on their campaigns to make them grow into something insanely successful?
There's no secret ingredient to building an engaging marketing campaign. It comes down to creativity, knowing your audience, creating an authentic voice, and using the right channels and tools to share your message. However, there are definitely brands that have mastered the art of campaigns better than others.
We've put together a mix of five of the best social media, email, print, and ad marketing campaigns, along with ways you can recreate their success through your efforts.
Create real-time interactions
Using social media to share and promote your campaign is nothing new, but some companies are making the most of the real-time features sites offer, like Airbnb did with a recent campaign.
This home and vacation rental company took to Facebook Live to make their audience feel like they were visiting new destinations from across the globe, like Miami or Paris. Winning a Facebook award, this campaign allowed viewers to experience the different places in an authentic way.
Viewers watched real people explore new locations, all while giving the audience the chance to interact with them in real time with the chat. Airbnb earned millions of views from all of the videos, helping to build brand awareness.
Takeaway: One of the main reasons people turn to social media and the Internet in general is to find timely information and updates in an instant. Besides using Facebook Live — which is a great way to get immediate feedback and interactions with your audience — you can also host Twitter chats using a unique hashtag, create an Instagram Story to share with followers or use a chatbot for Facebook Messenger.
Don't be a one-and-done
Your campaign shouldn't be a one-hit wonder. It needs to keep people engaged and wanting more, whether it's through social media, email or traditional media outlets. To achieve that goal, it takes more than just sending multiple messages: They need to have a purpose and work together.
Baldwin Wallace
Any organization holding a fundraiser can also benefit from this type of campaign approach by sending updates on how much money has been raised — and of course, sending one once your goal or deadline has been met. In this example from Baldwin Wallace University, they not only share the dollar amount raised, but they also break down who donated. This newsletter also serves double duty by thanking donors for their support.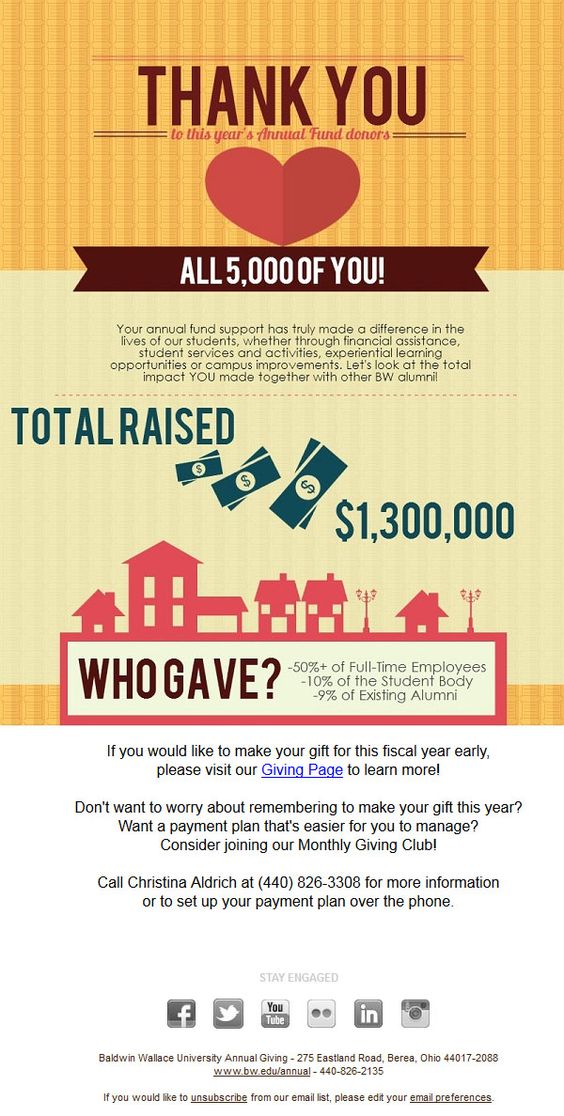 Fitbit
Fitness-tracking brands like Fitbit are obviously a natural fit for progress emails, too. They send users regular and annual tracking updates, along with how they match up to users in their country and around the world. People love seeing how they are performing against others, so creating that sort of competition makes people more likely to open and interact with your messages.

Grammarly
Grammarly is another business that shows how users are performing and how they compare to others with their weekly updates. Their emails share how long the customer has been using their program, mistakes made, level of productivity, and other writing-performance metrics. Subscribers come to expect the messages each week (building anticipation) and know what they're going to get from the messages (setting expectations).
Takeaway: You don't have to be a nonprofit, health brand, or editing program to incorporate this type of approach. Use email automation to touch base with subscribers as they make their way through the buyer journey, or continue to send them blogs on a topic they enjoy. You can also send them updates on how long they've been your customer or their loyalty rewards earned to date. It provides that level of personalization they crave, while also keeping your brand consistently in their inbox with valuable content.
Take your progress email campaign to the next level by giving customers the option to share their stats on social media (like you see above with Grammarly). People love to share how they're performing, and that also allows your brand to reach more people.
Burger King
Consumers have a way of sniffing out a fraud, so stay true to your brand and values with your campaign. Don't be tempted to incorporate a trend or address a popular topic with your marketing efforts if it isn't a good fit for your company. Instead, focus on what's at the core of your business — even if it means taking a jab at your brand like Burger King did in a recent ad.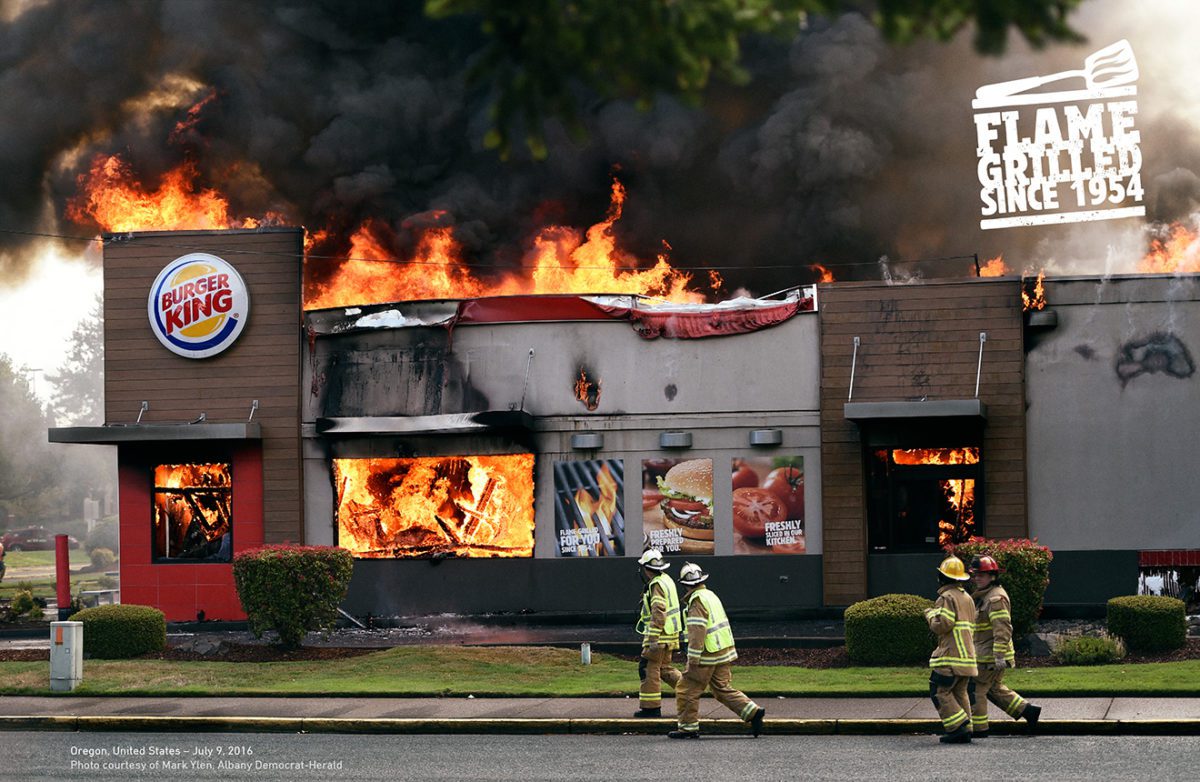 The restaurant created its "Burning Stores" campaign, which highlights they have had more restaurants burn down than any other fast-food chain. That might not seem like something you'd want to advertise, but it all comes together with the headline "Flame grilled since 1954."
Burger King shows they know what others are saying about them, own it and can even have fun with it. That's a brand that knows itself and isn't afraid to come across as self-deprecating. The campaign actually won the Cannes Grand Prix award for print.
Takeaway: You should know your company better than anyone else, so make sure your marketing efforts shine a light on the real version of your brand — not just what you want the company to be like. Staying true to your brand will also help build customer trust and loyalty.
Pepsi
There are countless examples of major companies bombing with their marketing campaigns. We all remember Pepsi's attempt at a political protest ad and the backlash that followed. So, that's the last we heard from the brand, right? Uh, not quite.
The company went back to its roots and created a campaign that featured its history, celebrity spokespeople and some fun, recreated scenes through the decades. And they didn't debut their new message just anywhere: The commercial aired before the Pepsi-sponsored Super Bowl halftime show. They weren't afraid to jump back in with a big splash (and budget), and we think they beat out their main competitor, Coke, with their ad during the Super Bowl.
Takeaway: Just because one of your campaigns flops hard doesn't mean you should call it quits. Instead, go back to the drawing board to see what did and didn't work. Collect customer feedback from social media, emails, metrics, or surveys to see why the campaign wasn't a hit. Your next best campaign might come from learning from your failures.
Time to dig deep
The best marketing campaigns come from companies that know their brand, audience and goals. Those are things you can achieve on any budget, so start testing new messaging ideas and ways to reach consumers.
Have a favorite marketing campaign? Share it in the comments below!
Lauren Dowdle is an award-winning writer based in Nashville, Tenn. Her decade-long writing career has covered everything from landscaping to marketing.