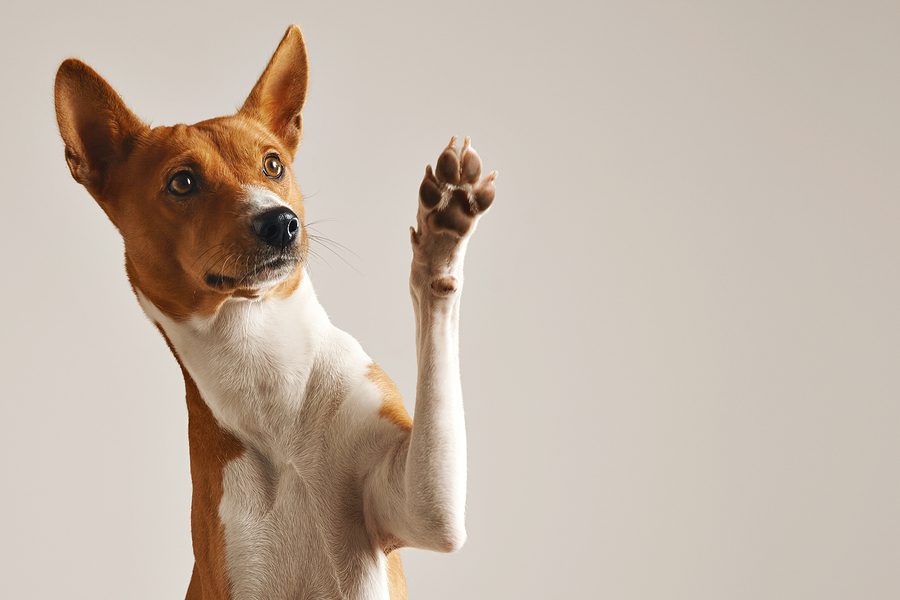 We all have things we're loyal to. Maybe it's a brand, person, place, or employer. No matter what it is, that loyalty didn't just happen overnight. Something was done by that brand or person to build that level of trust with you. This is customer loyalty.
Defined as a strong feeling of support or allegiance, loyalty is one of the most valuable things a company can earn from its customers. Not only will loyal customers provide valuable repeat business, they can also become your biggest cheerleaders.
Here are some interesting statistics about customer loyalty:
82 percent of U.S. adults are loyal to brands

84 percent are loyal to retailers

92 percent of loyal customers rank price and value as the top driver for loyalty to specific retailers

89 percent of American consumers are loyal to brands that share their values

81 percent say loyalty programs make them more likely to continue doing business with a brand
Ready to start getting in on some of that brand devotion? Focus on these five tactics to build customer loyalty for your company.
1 Show your appreciation
A "thank you" can go a long way. There's really no reason that's too big or too small to warrant a simple thank you, be it for a purchase, download, or glowing review. This makes your customers feel appreciated, which can go a long way toward building that loyalty you're after.
Take Kohl's, for example. Whenever you shop at their store and have your rewards card scanned, they send you an email thanking you for visiting. They personalize the name on the email and the store location, giving it more of a personal touch.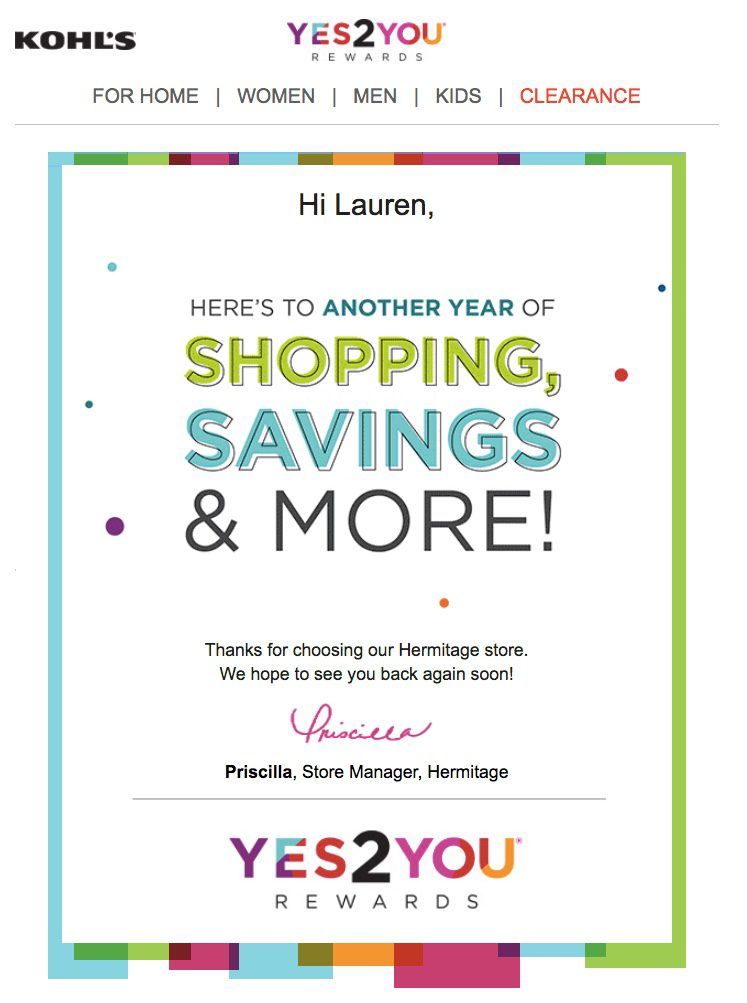 Although Kohl's is a national retail brand, they connect with customers on a local level, which is where it really matters. You can work to build a relationship with your customers no matter your company's size.
2 Keep it personal
We're sure you're already adding the customer's first name to the email subject line or body text of some of your newsletters (hint hint). But to take personalization a few steps further and really impress them, use your customer data to customize the type of content and information you send them.
That could be anything from an empty-cart reminder message to one highlighting all of the blogs on a topic you know they like. You can start your emails with something like, "We thought you'd like this" or "Just for you, [First Name]."
Give your customers that one-on-one attention they crave to make them more loyal and connected to your brand. Plus, when a campaign really hits home with them, like this one from Sephora, they are more likely to make another purchase.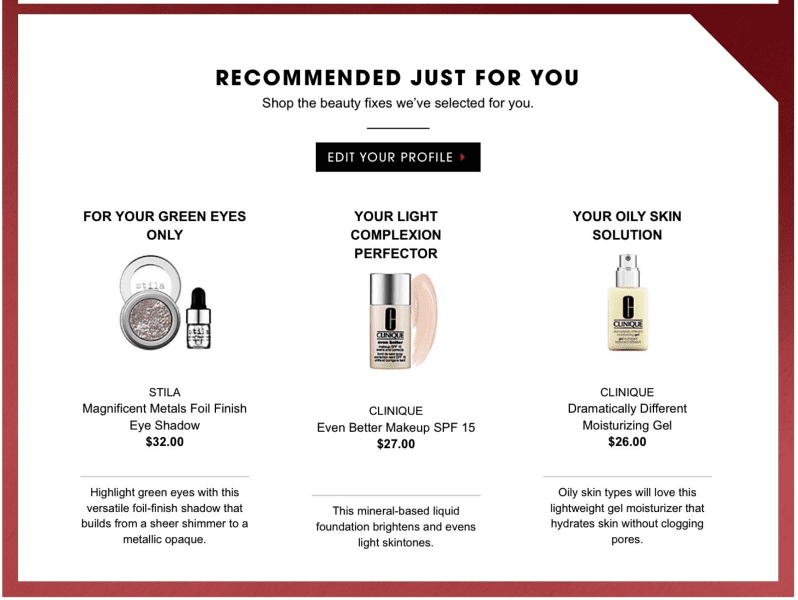 Learn about what they're interested in by sending them surveys, tracking their actions on your site, or asking them when they subscribe to your emails. The better you're able to personalize your messages, the higher your open and read rates (and customer loyalty) will be — and who's going to complain about that?
The more you know about your customer base as a whole also allows you to better tailor your messages on email or social media to catch their attention and build that relationship.
3 Remember the special times
You expect your significant other to remember your anniversary, birthday, and other special occasions — that is, if they don't want to make the sofa their permanent sleeping arrangement. So why should companies be any different? Win customers over by showing you'd never forget those important days.
Here are some of the top times to send out automated messages:
Customer anniversary:

Send them a sweet message and special deal to celebrate their time with your business.

Holiday:

There are plenty to choose from — including

Thanksgiving

,

Christmas

, New Years,

Valentine's Day

and the Fourth of July. Put together a short, sweet message (and maybe a discount) to brighten their holiday.

Birthday:

You don't want to miss out on their biggest day of the year. Throw in some confetti, a fun gif, and a coupon to make their day extra special.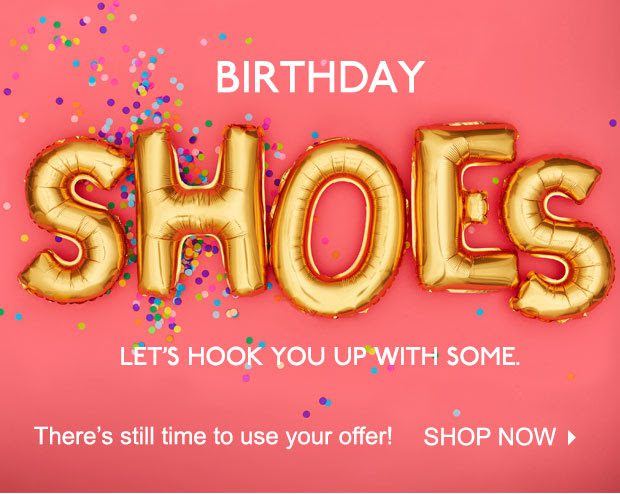 You want to show customers you care, and what better time to do that than on some of the most special days of the year?
4 Share your passion
Think about the people you feel a real connection with: Do you share common interests, or are you both dedicated to the same cause? When you find common ground with someone — especially when it's something you're really excited about — you form a deeper connection. So, it only makes sense to bring that idea over to your brand.
"If people believe they share values with a company, they will stay loyal to the brand." — Howard Schultz, Starbucks CEO
There are several companies that put their passions at the forefront of everything they do, and you can take a page or two out of their marketing playbooks. Love Your Melon is a great example of a company that pairs its mission and product together perfectly.
They sell beanies and other hats, and their goal is to give every child battling cancer in America a hat, while also supporting nonprofit organizations who are fighting against pediatric cancer. It's easy to see why customers feel a connection with this brand, especially if they or someone they know has battled cancer, right?
Even if what your company supports isn't as prominent as something like Love Your Melon's mission, you can still let your customers know what's important to your brand. For example, share photos on social media from a community project your employees volunteered with or send an email highlighting a group you supported. Show your customers you care about what's important to them.
Just be sure to stay true to your brand; don't connect it with dozens of causes to attract more customers. You need to be genuine to build real loyalty.
5 Create a Customer Loyalty Program
When "loyalty" is included in the name, you know it's got to make the list. Loyalty programs are a great way to reward customers for doing business with you and encourage repeat purchases.
74 percent of consumers will choose a store based on it having a strong loyalty or discount program. So what makes a program good, you ask?
It needs to have a clear and attainable rewards system, offer deals they value, and be accessible via mobile. Punch cards are passé, so create an app or some other digital option to make it easy. Plus, it's then easier to track buying habits so you can send targeted messages and deals. Win!
Starbucks is known for having some pretty loyal customers, so it's no surprise they have a solid loyalty program. They make it clear how people can earn stars, what they can earn and ways to track their progress.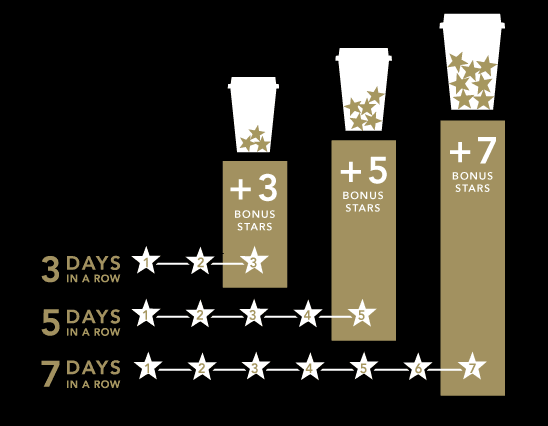 Give 'em what they want
Create loyalty with your customers by showing them you care. Build a personable relationship with them and put their needs first. If you're loyal to them, they'll pay the favor back for years to come.
What other strategies do you use to keep your customers coming back for more? Share in the comments!
Lauren Dowdle is an award-winning writer based in Nashville, Tenn. Her decade-long writing career has covered everything from landscaping to marketing.